Morning!
Thursday again, which means that Movie Weekly is back tonight at 10 on http://www.zackfm.com. Be great if you could join me. Elsewhere, it's business as usual with plenty to recommend.
Stay safe, look after yourself and Happy Thursday!
AMAZON PRIME
NATIONAL LAMPOON'S EUROPEAN VACATION (15)
Starring: Chevy Chase, Beverly D'Angelo, Jason Lively, Dana Hill, Eric Idle, Robbie Coltrane
Comedy, Adventure
The Griswolds win a vacation tour across Europe where the usual havoc ensues. Very silly sequel to National Lampoon's Vacation. Moderate sex references and strong language.
STAR TREK (12)
Starring: Chris Pine, Jennifer Morrison, Simon Pegg, Eric Bana, Winona Ryder, Zachary Quinto, Zoe Saldana, Karl Urban
Science Fiction, Adventure, Action
The brash James T. Kirk tries to live up to his father's legacy with Mr. Spock keeping him in check as a vengeful Romulan from the future creates black holes to destroy the Federation one planet at a time. Well made reboot of the popular TV show. Moderate violence and threat.
NETFLIX
SCHINDLER'S LIST (15)
Starring: Liam Neeson, Ben Kingsley, Ralph Fiennes
Biopic, War, Drama
In German-occupied Poland during World War II, industrialist Oskar Schindler gradually becomes concerned for his Jewish workforce after witnessing their persecution by the Nazis. Steven Spielberg's extraordinary Oscar-winning drama. Strong violence, threat, language. Black and white.
PANIC ROOM (15)
Starring: Jodie Foster, Kristen Stewart, Forest Whitaker, Jared Leto
Thriller, Crime
A divorced woman and her diabetic daughter take refuge in their newly-purchased house's safe room, when three men break-in, searching for a missing fortune. Incredibly tense thriller from David Fincher. Strong language and violence.
NOW TV/SKY CINEMA
GHOSTBUSTERS (12)
Starring: Bill Murray, Dan Aykroyd, Sigourney Weaver, Harold Ramis, Rick Moranis, Annie Potts, William Atherton, Ernie Hudson
Comedy, Fantasy
Three former parapsychology professors set up shop as a unique ghost removal service. Hugely successful and hilarious comedy fantasy. Moderate sex references and language.
KINGPIN (12)
Starring: Woody Harrelson, Randy Quaid, Vanessa Angel, Bill Murray
Comedy, Sport
A star bowler whose career was prematurely "cut off" hopes to ride a new prodigy to success and riches. Bad taste comedy from the team behind Dumb and Dumber. Frequent moderate sex references, language and slapstick violence.
DISNEY+
THE GAME PLAN (U)
Starring: Dwayne Johnson, Madison Pettis, Kyra Sedgwick
Comedy, Drama, Sport
An NFL quarterback living the bachelor lifestyle discovers that he has an 8-year-old daughter from a previous relationship. Cute Dwayne Johnson family comedy.
NATIONAL TREASURE: BOOK OF SECRETS (PG)
Starring: Nicolas Cage, Ed Harris, Harvey Keitel, Diane Kruger
Action, Adventure, Mystery
Benjamin Gates must follow a clue left in John Wilkes Booth's diary to prove his ancestor's innocence in the assassination of Abraham Lincoln. Mild violence and threat.
MOVIES ON TERRESTRIAL TV
THE PRINCESS AND THE PIRATE (U)
11.15am Sony Movies Classic
Starring: Bob Hope, Virginia Mayo
Comedy, Adventure
A cowardly actor and a runaway princess are voyaging on a ship that is captured by a notorious pirate who recently buried his treasure on a secretly mapped island. Wise-cracking Bob Hope comedy. Mild violence and sexual references.
THE BRAVADOS (PG)
12.55pm Film4
Starring: Gregory Peck, Joan Collins, Stephen Boyd
Western, Drama
A man is chasing four outlaws who killed his wife and finds them in a small town's jail, but they escape to Mexico. Tough western with a young Joan Collins. Mild violence and sexual assault.
NIGHT OF THE BIG HEAT (15)
1pm Horror Channel
Starring: Christopher Lee, Patrick Allen, Peter Cushing
Sci-fi, Horror
While mainland Britain shivers in deepest winter, the northern island of Fara bakes in the nineties. The boys at the Met station have no more idea what is going on than the regulars at the Swan. Only a stand-offish visiting scientist suspects aliens are to blame. Little seen British sci-fi horror. Violence, mild language and one scene of sexual assault. May be edited for content.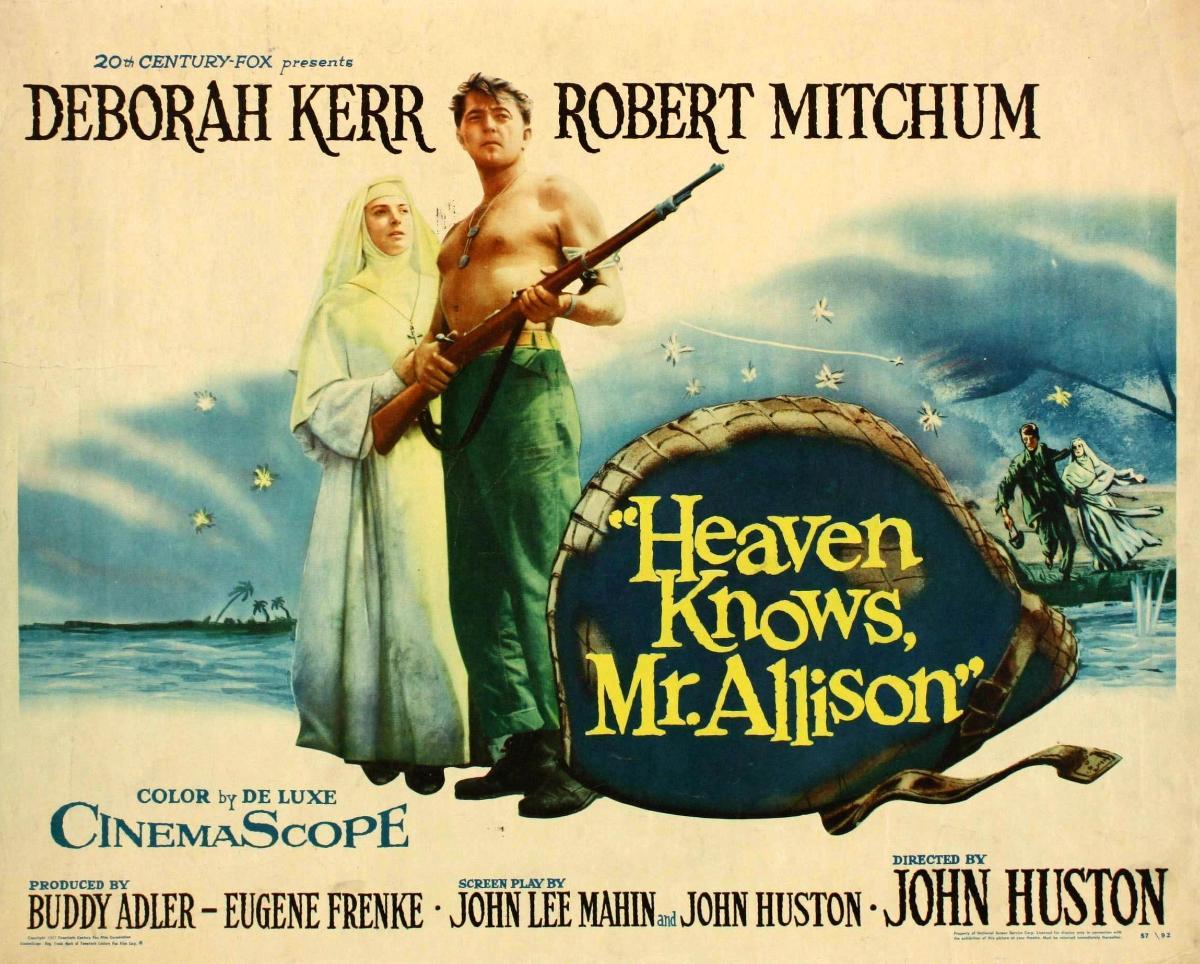 HEAVEN KNOWS, MR ALLISON (PG)
2.55pm Film4
Starring: Deborah Kerr, Robert Mitchum
Adventure, war, drama
During World War II, an American marine and an Irish nun form an unlikely friendship after being stranded on a South Pacific island. They find comfort in one another as the two hope for a rescue. Classic wartime drama. Mild violence and war peril.
THE VICTORS (12)
4.10pm Sony Movies Action
Starring: Vince Edwards, Albert Finney, George Hamilton
War, Drama
The story follows in the footsteps of a squad of young American soldiers from the early days of the Battle of Britain, through the fierce fighting in Italy and France, to the uneasy peace of Berlin. Lesser-known war drama. moderate violence and some racist terms. Black and white.
WINCHESTER '73 (U)
5.05pm Film4
Starring: James Stewart, Shelley Winters, Dan Duryea, Stephen McNally
Western, Action, Drama
The journey of a prize rifle from one ill-fated owner to another parallels a cowboy's search for a murderous fugitive. Classic western adventure with James Stewart. Mild violence.
RICKI AND THE FLASH (12)
5.05pm Sony Movies
Starring: Meryl Streep, Mamie Gummer, Sebastian Stan
Drama, Comedy, Music
A musician who gave up everything for her dream of rock-and-roll stardom returns home, looking to make things right with her family. Another strong performance from Meryl Streep. Moderate bad language, sex references, drug references.
THE RUNNING MAN (PG)
5.10pm Sony Movies Classic
Starring: Laurence Harvey, Lee Remick, Alan Bates
Thriller
An Englishman with a grudge against an insurance company for a disallowed claim fakes his own death, but is soon pursued by an insurance investigator. Carol Reed's tense thriller. Mild violence, threat, sex references, language.
WE JOINED THE NAVY (PG)
5.30pm Talking Pictures TV
Starring: Kenneth More, Lloyd Nolan
Comedy
This is the story of the riotous, romantic, exciting, astonishing and highly entertaining adventures of Lieutenant Commander "Bodger" Badger, R.N. (Kenneth More). An exceptionally likeable fellow, the Badger has one besetting sin, a shining honesty. Enjoyably slight British comedy. Mild bad language, mild suggestiveness.
BEHIND ENEMY LINES (12)
6.55pm Film4
Starring: Gene Hackman, Owen Wilson
War, Adventure, Drama
A Navy navigator is shot down over enemy territory and is ruthlessly pursued by a secret police enforcer and the opposing troops. Meanwhile his commanding officer goes against orders in an attempt to rescue him. Gripping modern-day war drama. War violence and some language.
FUN WITH DICK AND JANE (12)
7.10pm Sony Movies
Starring: Jim Carrey, Tea Leoni, Alec Baldwin
Comedy, crime
When an affluent couple loses all their money following a series of blunders, they turn to a life of crime to make ends meet. Likeable remake of the 70s comedy. Brief language, some sexual humour and occasional humorous drug references.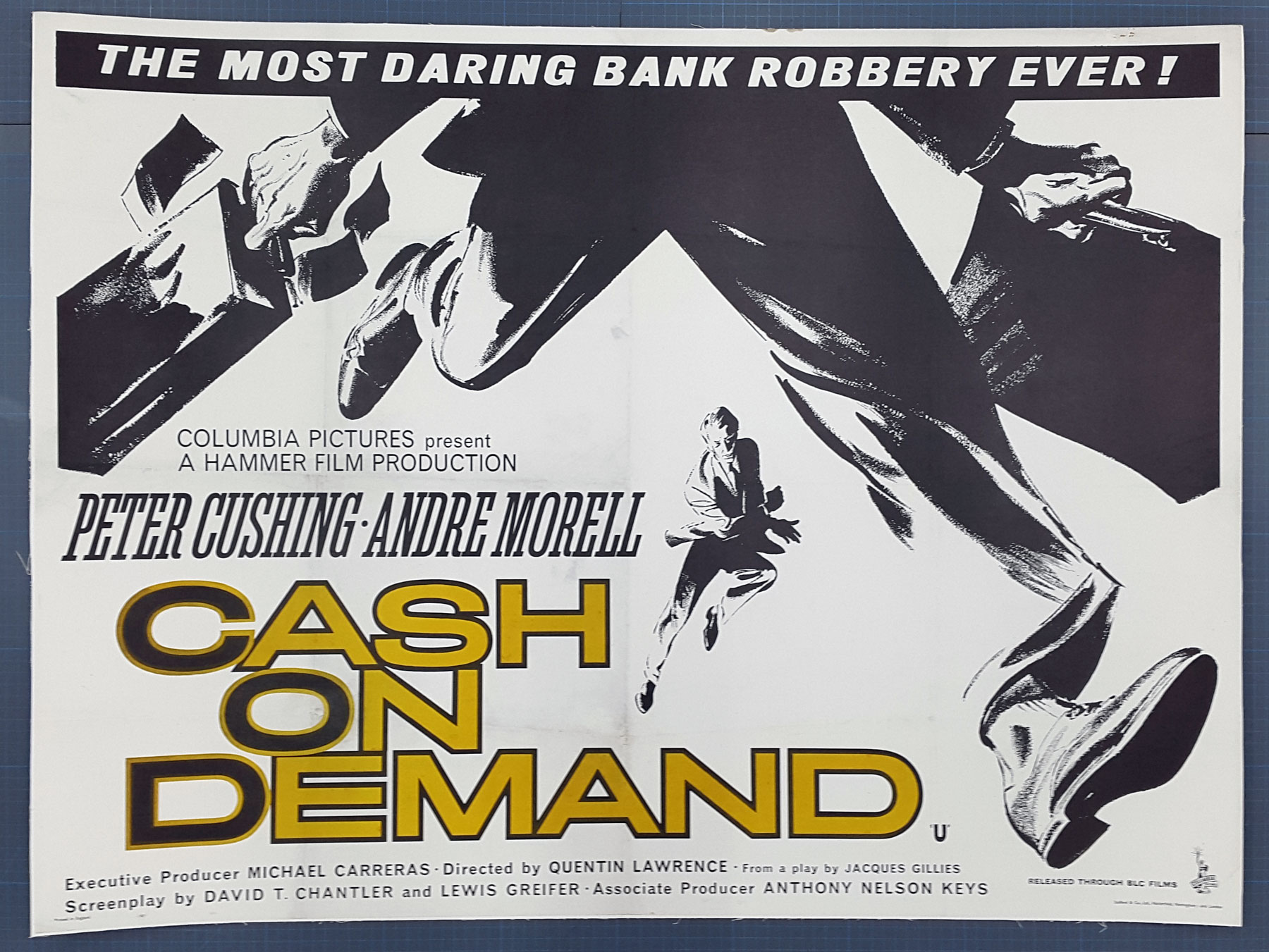 CASH ON DEMAND (PG)
7.20pm Sony Movies Classic
Starring: Peter Cushing, Andre Morrel
Crime, thriller
A charming but ruthless criminal holds the family of a bank manager hostage as part of a cold-blooded plan to steal 97,000 pounds. Hammer crime thriller. Mild threat. Black and white.
THE FUGITIVE (15)
9pm ITV4
Starring: Harrison Ford, Tommy Lee Jones
Action, crime, drama
Dr. Richard Kimble, unjustly accused of murdering his wife, must find the real killer while being the target of a nationwide manhunt led by a seasoned U.S. Marshal. First-rate action blockbuster. Violence, language.
THE TAKING OF PELHAM ONE TWO THREE (15)
9pm Sony Movies Classic
Starring: Walter Matthau, Robert Shaw, Martin Balsam, Hector Elizondo
Action, Crime, Thriller
In New York, armed men hijack a subway car and demand a ransom for the passengers. Even if it's paid, how could they get away? Superb thriller from the 70s. Highly recommended. Strong language and violence.
LAYER CAKE (15)
9pm Sony Movies
Starring: Daniel Craig, Kenneth Cranham, Dexter Fletcher
Action, Crime, Drama
A successful cocaine dealer gets two tough assignments from his boss on the eve of his planned early retirement. Crime thriller that brought Daniel Craig to the attention of the Bond producers. Strong brutal violence, sexuality, nudity, pervasive language and drug use.
PASSENGERS (12)
9pm Film4
Starring: Jennifer Lawrence, Chris Pratt, Michael Sheen, Laurence Fishburne
Sci-Fi, Drama, Romance
A spacecraft travelling to a distant colony planet and transporting thousands of people has a malfunction in its sleep chambers. As a result, two passengers are awakened 90 years early. Dubious concept saved by the charismatic leads. Moderate threat, brief injury detail, sexual activity.
OUT OF SEASON (18)
9.15pm Talking Pictures TV
Starring: Vanessa Redgrave, Cliff Robertson, Susan George
Drama
Middle-aged Ann (Vanessa Redgrave) and her teenage daughter Joanna (Susan George) manage a failing hotel on an island off the British coast. One day, the hotel receives an unexpected guest, a man named Joe (Cliff Robertson). Joe and Ann had an affair years ago, and it's suggested (though never stated) that Joanna could be their child. Sensual drama. Language, sex, sexual references and nudity.
TOUCHING THE VOID (15)
10pm Channel 4
Starring: Joe Simpson, Simon Yates, Richard Hawking
Documentary, Adventure, Drama
The true story of two climbers and their perilous journey up the west face of Siula Grande in the Peruvian Andes in 1985. Heart-stopping documentary. Strong language and extreme peril.
QUATERMASS AND THE PIT (12)
11.05pm Talking Pictures TV
Starring: James Donald, Andrew Keir
Science Fiction, Horror, Drama
A mysterious artefact is unearthed in London, and famous scientist Bernard Quatermass is called into to divine its origins and explain its strange effects on people. Terrific sci-fi horror from Hammer. Moderate horror.
HIGH-RISE (15)
11.15pm Film4
Starring: Tom Hiddleston, Jeremy Irons, Sienna Miller, Luke Evans, Elisabeth Moss
Sci-Fi, Drama
Life for the residents of a tower block begins to run out of control. Superior sci-fi drama with an excellent cast. Strong violence, sex, very strong language.
MAD MAX (15)
10pm ITV4
Starring: Mel Gibson, Joanne Samuel
Sci-Fi, Action, Adventure
In a self-destructing world, a vengeful Australian policeman sets out to stop a violent motorcycle gang. The original Mad Max movie that made Mel Gibson a star. strong threat, violence, language, injury detail.
BREAKER MORANT (PG)
12.55am Sony Movies Classic
Starring: Edward Woodward, Jack Thompson, John Waters, Bryan Brown
Drama, war
Three Australian lieutenants are court-martialed for executing prisoners as a way of deflecting attention from war crimes committed by their superior officers. Impressively acted Australian drama. Mild violence and sexual references.
ALL THE WAY UP (12)
1.05am Talking Pictures TV
Starring: Warren Mitchell, Pat Heywood, Kenneth Cranham
Comedy
Fred Midway may be a bit short on brains but he's got plenty of ambition. However, before he can gain promotion as a salesman he must make his family more socially acceptable. British comedy farce. Brief sexualised nudity.
THE BUTTERFLY EFFECT (15)
1.10am Sony Movies
Starring: Ashton Kutcher, Amy Smart
Drama, sci-fi, thriller
Evan Treborn suffers blackouts during significant events of his life. As he grows up, he finds a way to remember these lost memories and a supernatural way to alter his life by reading his journal. Interesting sci-fi thriller. Strong language, violence, sex references and child abuse theme.
GREEN ROOM (18)
1.35am Film4
Starring: Anton Yelchin, Imogen Poots, Patrick Stewart
Thriller, Horror
A punk rock band is forced to fight for survival after witnessing a murder at a neo-Nazi skinhead bar. Extremely brutal drama. Strong brutal graphic violence, gory images, language and some drug content.