Morning!
The weather is heating up and so open the doors and windows, try not to get burnt so maybe stay in and watch one of today's recommended movies.
Stay safe, look after yourself and Happy Thursday!
AMAZON PRIME
ONCE UPON A TIME IN AMERICA (18)
Starring: Robert De Niro, James Woods, Elizabeth McGovern, Treat Williams, Tuesday Weld
Drama, Crime
A former Prohibition-era Jewish gangster returns to the Lower East Side of Manhattan over thirty years later, where he once again must confront the ghosts and regrets of his old life. Magnificent epic gangster drama from director Sergio Leone. Strong violence, sexual violence, language and some drug use.
GODS AND MONSTERS (15)
Starring: Ian McKellen, Brandon Fraser
Biopic, Drama
James Whale has directed two classic monster movies in Frankenstein and Bride of Frankenstein but since Hollywood realised that he was openly gay, they have scorned him. In his final days, he finds himself reliving his past as well as well as toying with young men. A brilliant biopic with a superb Ian McKellen. Strong language, moderate violence and sex references.
NETFLIX
DEEP IMPACT (12)
Starring: Robert Duvall, Elijah Wood, Vanessa Redgrave
Action, Drama, Romance
A comet is discovered to be on a collision course with Earth. As doomsday nears, the human race prepares for the worst. One of two meteor disaster movies out in the same year. This was less painful. Intense disaster related elements and brief language.
LAND OF THE DEAD (15)
Starring: Simon Baker, John Leguizamo, Asia Argento, Dennis Hopper
Horror, Sci-Fi, Thriller
The living dead have taken over the world, and the last humans live in a walled city to protect themselves as they come to grips with the situation. Fourth of George A. Romero zombie movies. Strong language, violence, horror and gore.
NOW TV/SKY CINEMA
BLOOD DIAMOND (15)
Starring: Leonardo DiCaprio, Djimon Hounsou, Jennifer Connelly
Adventure, Drama, Thriller
A fisherman, a smuggler, and a syndicate of businessmen match wits over the possession of a priceless diamond. Cracking adventure with three strong leads. Strong violence and language.
ST ELMO'S FIRE (15)
Starring: Emilio Estevez, Rob Lowe, Andrew McCarthy, Demi Moore, Judd Nelson, Ally Sheedy, Mare Winningham
Drama, Romance
Seven friends – Alec, Billy, Jules, Kevin, Kirby, Leslie and Wendy – are trying to navigate through life and their friendships following college graduation. 80s Brat Pack drama from the director of The Lost Boys. Strong language, sex and drug use.
MOVIES ON TERRESTRIAL TV
THE BOOK OF LIFE (U)
11am Film4
Starring: Diego Luna, Zoe Saldana, Channing Tatum
Animation, Adventure, Comedy
Manolo, a young man who is torn between fulfilling the expectations of his family and following his heart, embarks on an adventure that spans three fantastic worlds where he must face his greatest fears. Bright and colourful animation similar to Coco. Mild fantasy violence, brief scary scenes.
MACHINE GUN KELLY (12)
11.15am Sony Movies Action
Starring: Charles Bronson, Susan Cabot
Action, Crime
The criminal exploits of Public Enemy number 1, George 'Machine-Gun' Kelly, during the 1930s. 50s low-budget Roger Corman production with Charles Bronson in the lead. Moderate violence. Black and white.
BUILD MY GALLOWS HIGH (PG) (aka Out Of The Past)
11.20am Sony Movies Classic
Starring: Robert Mitchum, Kirk Douglas, Jane Greer
Crime, Drama, Film-Noir
A private eye escapes his past to run a gas station in a small town, but his past catches up with him. Now he must return to the big city world of danger, corruption, double crosses and duplicitous dames. Cracking film-noir. Mild violence.
THE GHOST TRAIN (U)
11.45am Talking Pictures TV
Starring: Arthur Askey, Richard Murdoch
Comedy, Horror
High jinks and chills ensue when a group of people become stranded at an isolated station and a legendary phantom train approaches. Comedy legend Arthur Askey stars in this classic comedy. Black and white.
CRACK IN THE WORLD (U)
12.55pm Film4
Action, drama, sci-fi
Starring: Dana Andrews, Janette Scott
A dying scientist pushes forward his project to tap through to the Earth's magma layer, with results that threaten to destroy the Earth as we know it. Disaster movie from the 1960s. Mild violence.
THE CONSTANT HUSBAND (U)
2.30pm Talking Pictures TV
Starring: Rex Harrison, Margaret Leighton, Kay Kendall
Comedy
Charles Hathaway (Sir Rex Harrison) wakes up in West Wales with no recollection of who he is or how he got there. With the help of a Cardiff specialist, he traces his life back to his gorgeous wife and their large London house, so all seems well with the world. But more detective work starts to uncover an alarming chain of further stunning wives and a way of going on that the new Charles finds pretty unacceptable. Delightful British comedy.
ICE AGE 2: THE MELTDOWN (U)
2.55pm Film4
Starring: Ray Romano, John Leguizamo, Denis Leary, Queen Latifah
Animation, Adventure, Comedy
Manny, Sid, and Diego discover that the ice age is coming to an end, and join everybody for a journey to higher ground. On the trip, they discover that Manny, in fact, is not the last of the woolly mammoths. More animated adventures with the three mismatched friends. Mild adventure peril, language and innuendo.
ANGEL FACE (PG)
4pm Sony Movies Classic
Starring: Robert Mitchum, Jean Simmons
Thriller, crime, film-noir
Ambulance driver Frank Jessup is ensnared in the schemes of the sensuous but dangerous Diane Tremayne. Forgotten film-noir thriller. Mild references to violence. Black and white
YESTERDAY'S ENEMY (PG)
4.15pm Sony Movies Action
Starring: Stanley Baker, Guy Rolfe, Leo McKern
In World War II, during the Japanese invasion of Burma, the lost remnant of a British Army Brigade HQ, led by the ruthless Captain Alan Langford, escapes through the jungle toward the British lines. Wartime drama from the Hammer studio. Violence. Black and White.
THE LONG DUEL (PG)
4.15pm Talking Pictures TV
Starring: Yul Brynner, Trevor Howard, Harry Andrews, Charlotte Rampling
Drama, Adventure, Action
To protest against British oppression and tyranny a tribal leader becomes a bandit. Epic adventure. Mild language and moderate violence.
MEGAMIND (PG)
4.30pm Channel 4
Starring: Will Ferrell, Brad Pitt, Jonah Hill, Tina Fey
Animation, fantasy, comedy
The supervillain Megamind finally defeats his nemesis, the superhero Metro Man. But without a hero, he loses all purpose and must find new meaning to his life. Silly but enjoyable animated comedy. Mild language and comic fight scenes.
THE CORE (12)
6.20pm Film4
Starring: Hilary Swank, Aaron Eckhart, Tcheky Karyo, Stanley Tucci
Science Fiction, Action, Fantasy
The only way to save Earth from catastrophe is to drill down to the core and set it spinning again. A good cast in a silly sci-fi disaster movie. One use of strong language and frequent moderate threat.
FIRE DOWN BELOW (PG)
6.40pm Sony Movie Classic
Starring: Rita Hayworth, Robert Mitchum, Jack Lemmon
Adventure, Drama
The friendship between two tramp boat owners is threatened by the arrival of a beautiful and seductive passenger. Three stars in a cracking adventure. Mild violence and threat.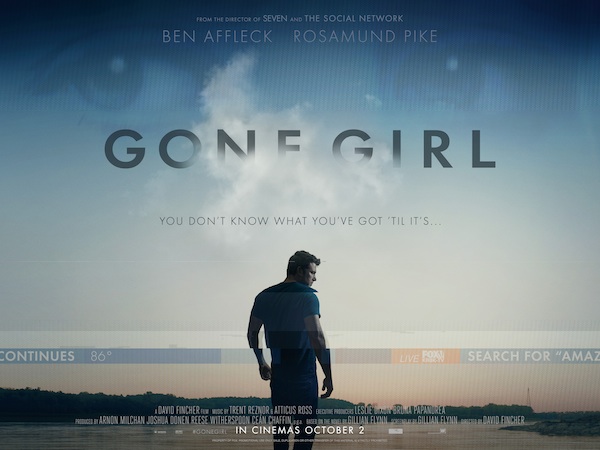 GONE GIRL (18)
9pm 4Seven
Starring: Ben Affleck, Rosamund Pike, Neil Patrick Harris, Tyler Perry
Thriller, Drama
With his wife's disappearance having become the focus of an intense media circus, a man sees the spotlight turned on him when it's suspected that he may not be innocent. Outstanding thriller from the director of Seven. Bloody violence, some strong sexual content/nudity, and language.
STAR TREK BEYOND (12)
9pm Film 4
Starring: Chris Pine, Zachary Quinto, Zoe Saldana, Anton Yelchin, Karl Urban, Simon Pegg
Science Fiction, Drama, Adventure
The crew of the USS Enterprise explores the furthest reaches of uncharted space, where they encounter a new ruthless enemy, who puts them, and everything the Federation stands for, to the test. Overlook entry in the new reboot series. Moderate violence, threat.
HANNA (12)
9pm Sony Movies
Starring: Saoirse Ronan, Cate Blanchett, Eric Bana
Action, Drama, Thriller
A sixteen-year-old girl who was raised by her father to be the perfect assassin is dispatched on a mission across Europe, tracked by a ruthless intelligence agent and her operatives. Terrific action thriller with three great leads. Moderate violence and one use of strong language.
WHAT WE DID ON OUR HOLIDAY (12)
10pm BBC Four
Starring: Rosamund Pike, David Tennant, Billy Connolly
Drama, Comedy
A family of five is off to granddad's big 75th birthday party at an uncle's estate in rural Scotland. The parents fight and are separated, and hope their three kids won't mention it. The kids love, can talk with, and will do anything for, granddad. Heart-warming movie from the makers of Outnumbered. Moderate bad language, discriminatory language, moderate sex references.
BLADE II (18)
9pm 5*
Starring: Wesley Snipes, Kris Kristofferson, Ron Perlman, Luke Goss
Horror, Action, Fantasy
Blade forms an uneasy alliance with the vampire council in order to combat the Reapers, who are feeding on vampires. The best of the Blade series directed by Guillermo del Toro. Very strong language, strong bloody violence & horror & drug use.
ASSASSINS (15)
10pm ITV4
Starring: Sylvester Stallone, Antonio Banderas, Julianne Moore
Action, Thriller
Professional hit-man Robert Rath wants to fulfil a few more contracts before retiring but unscrupulous ambitious newcomer hit-man Miguel Bain keeps killing Rath's targets. Exciting action thriller from the director of Lethal Weapon. Strong bloody violence and language.
RACHEL AND THE STRANGER (PG)
11.15pm Sony Movies Action
Starring: Loretta Young, William Holden, Robert Mitchum
Western, Adventure
A widowed farmer takes an indentured servant as his new wife, but the arrival of his old friend threatens their burgeoning relationship. Routine western adventure. Mild violence. Black and white.
ME AND EARL AND THE DYING GIRL (12)
11.25pm Film4
Starring: Thomas Mann, Olivia Cooke, Ronald Cyler II
Comedy, Drama
High schooler Greg, who spends most of his time making parodies of classic movies with his co-worker Earl, finds his outlook forever altered after befriending a classmate who has just been diagnosed with cancer. Charming and heartfelt comedy-drama. Moderate sex references, drug references, infrequent strong language.
FEAR IS THE KEY (15)
12.25am Talking Pictures TV
Starring: Barry Newman, Suzy Kendall
Action, crime, drama
A man is in radio contact with his family when their aeroplane is shot down. He wants those responsible and becomes a criminal to get a job as deep-sea diver with those salvaging the plane's cargo. Tough Alistair MacLean adaptation. Violence and language.
THE PURGE: ANARCHY (15)
12.40am ITV4
Starring: Frank Grillo, Kiele Sanchez
Thriller, Horror
Three groups of people intertwine and are left stranded in the streets on Purge Night, trying to survive the chaos and violence that occurs. Gripping entry in The Purge franchise. Strong bloody violence, strong language.
THE DAUGHTER (15)
1.30am Film4
Starring: Geoffrey Rush, Anna Torv, Sam Neill, Miranda Otto
Drama
The story follows a man who returns home to discover a long-buried family secret, and whose attempts to put things right threaten the lives of those he left home years before. Australian drama based on an Ibsen play. Strong language, sex.