With just over a week before we can finally return to cinemas, the excitement as they start to announce their content for the first weeks are coming thick and fast. If you want to watch some of the films that have been shown on streaming services or rental, then you can on the big screen. Godzilla vs Kong, Nomadland, Minari and Sound of Metal are all getting big screen outings, as well as some older films and new releases Spiral and Those Who Wish Me Dead.
As we wait with baited breath for May 17th, here are this week's TV and streaming gems for you to check out.
Stay safe, look after yourself and have a great week.
PREMIERE
MORTAL KOMBAT (15)
Starring: Josh Lawson, Jessica McNamee, Lewis Tan
Action, Adventure, Fantasy
MMA fighter Cole Young seeks out Earth's greatest champions in order to stand against the enemies of Outworld in a high stakes battle for the universe. Ultra-violent reboot of the successful computer game. Strong bloody violence, language. (Available now to rent for £15.99)
AMAZON PRIME
ERIN BROCKOVICH (15)
Starring: Julia Roberts, Aaron Eckhart, Albert Finney
Drama, biopic
An unemployed single mother becomes a legal assistant and almost single-handedly brings down a California power company accused of polluting a city's water supply. Oscar-winning performance from Julia Roberts. Strong language.
Starring: Keanu Reeves, Bridget Moynahan, Ian McShane, Ruby Rose
Action, Thriller
After returning to the criminal underworld to repay a debt, John Wick discovers that a large bounty has been put on his life. Adrenaline-rushed action thriller with Keanu Reeves doing all his own stunts. Strong violence, gory images, language.
NETFLIX
THE DIG (12)
Starring: Carey Mulligan, Ralph Fiennes, Lily James, Johnny Flynn
Biopic, Drama
An archaeologist embarks on the historically important excavation of Sutton Hoo in 1938. Beautifully filmed with terrific performances. Brief moderate sex, sex references.
BABY DRIVER (15)
Starring: Ansel Elgort, Lily James, Eiza González, Jon Bernthal, Kevin Spacey, Jon Hamm, Jamie Foxx
Comedy, Action, Crime
After being coerced into working for a crime boss, a young getaway driver finds himself taking part in a heist doomed to fail. Brilliant crime movie from Edgar Wright, the director of Hot Fuzz. Strong language, violence.
NOW TV
HEAT (15)
Starring: Al Pacino, Robert De Niro, Val Kilmer, Ashley Judd
Action, Thriller
A group of professional bank robbers start to feel the heat from police when they unknowingly leave a clue at their latest heist. Stylish thriller with two heavy-weights finally on screen together. Strong language, violence and gore.
DORA AND THE LOST CITY OF GOLD (PG)
Starring: Isabela Moner, Eva Longoria
Adventure, comedy
Dora, a teenage explorer, leads her friends on an adventure to save her parents and solve the mystery behind a lost city of gold. Enormous fun family adventure based on the hit cartoon show. Mild threat, rude humour.
DISNEY+
(500) DAYS OF SUMMER (12)
Starring: Zooey Deschanel, Joseph Gordon-Levitt, Matthew Gray Gubler, Geoffrey Arend, Clark Gregg
Comedy, Romance
An offbeat romantic comedy about a woman who doesn't believe true love exists, and the young man who falls for her. Extremely cool rom-com. One use of strong language and moderate sex references.
UNBREAKABLE (15)
Starring: Bruce Willis, Samuel L. Jackson
Sci-fi, drama, mystery
A man learns something extraordinary about himself after a devastating accident. Terrific mystery from the director of The Sixth Sense. Mature thematic elements including some disturbing violent content, and for a crude sexual reference.
MOVIES ON TERRESTRIAL TV
SUNDAY 9TH MAY
INSIDE OUT (U)
3.10pm BBC1
Starring: Amy Poehler, Phyllis Smith
Animation, comedy, drama
After young Riley is uprooted from her Midwest life and moved to San Francisco, her emotions – Joy, Fear, Anger, Disgust and Sadness – conflict on how best to navigate a new city, house, and school. One of Pixar's best movies. Very mild threat.
CATCH ME IF YOU CAN (12)
4.45pm BBC2
Starring: Tom Hanks, Leonardo DiCaprio, Martin Sheen, Amy Adams, Jennifer Garner, Christopher Walken
Biopic, Comedy, Drama
Barely 21 yet, Frank is a skilled forger who has passed as a doctor, lawyer and pilot. FBI agent Carl becomes obsessed with tracking down the con man, who only revels in the pursuit. Entertaining Steven Spielberg drama based on a true story. Some sexual content and brief language.
MONDAY 10TH MAY
A FEW GOOD MEN (15)
9pm Sony Movies
Starring: Tom Cruise, Jack Nicholson, Demi Moore, Kevin Bacon, Kiefer Sutherland
Drama, Thriller
Military lawyer Lieutenant Daniel Kaffee defends Marines accused of murder. They contend they were acting under orders. Powerful courtroom drama. Strong language.
MISSION: IMPOSSIBLE – ROGUE NATION (12)
9pm Film4
Starring: Tom Cruise, Jeremy Renner, Simon Pegg, Rebecca Ferguson
Action, thriller
Members of the now-disbanded Impossible Missions Force must confirm the existence of a rogue organisation known as the Syndicate and destroy it. Exciting action sequel. Moderate violence and language.
TUESDAY 11TH MAY
MISSION: IMPOSSIBLE – FALLOUT (12)
9pm Film4
Starring: Tom Cruise, Rebecca Ferguson, Henry Cavill, Michelle Monaghan, Simon Pegg, Angela Bassett
Action, adventure, thriller
Ethan Hunt and his IMF team, along with some familiar allies, race against time after a mission gone wrong. The sixth outing of the popular franchise and the best. A big, amazing blockbuster that will have you gasping for breath. Moderate violence, injury detail, infrequent strong language.
WILD (15)
1.40am Film4
Starring: Reece Witherspoon, Laura Dern, Michiel Huisman, Charles Baker
Biopic, Drama, Adventure
A chronicle of one woman's one thousand one hundred mile solo hike undertaken as a way to recover from a recent personal tragedy. Reece Witherspoon excels in this fascinating adventure. Strong language, sex, drug use.
WEDNESDAY 12TH MAY
PRICK UP YOUR EARS (15)
9.05pm Talking Pictures TV
Starring: Gary Oldman, Alfred Molina, Vanessa Redgrave
Biopic, Drama
Biographer John Lahr is writing a book about playwright Joe Orton. Joe and Kenneth meet at drama school and live together for ten years as lovers and collaborators. Both want to be writers, but only one of them is successful. Wonderful biopic with great performances from all. Strong language, sex, sexual references and strong violence.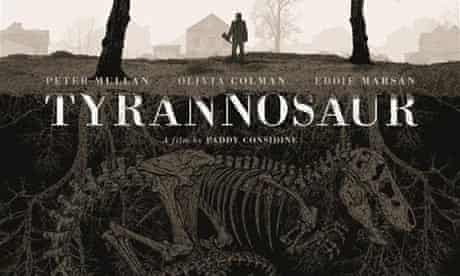 TYRANNOSAUR (18)
1.25am Film4
Starring: Peter Mullan, Eddie Marsan, Olivia Colman, Sally Carman, Paul Popplewell
Drama
Joseph, a man plagued by violence and a rage that is driving him to self-destruction, earns a chance of redemption that appears in the form of Hannah, a Christian charity shop worker. Impressive directorial debut from Paddy Considine. Very strong language and a scene of sexual violence.
THURSDAY 13TH MAY
THE IMITATION GAME (12)
6.45pm Film4
Starring: Benedict Cumberbatch, Keira Knightley, Matthew Goode
Biopic, drama
During World War II, the English mathematical genius Alan Turing tries to crack the German Enigma code with help from fellow mathematicians. A fascinating drama about a real war hero. Moderate sex references and language.
HARRY AND TONTO (PG)
9pm Talking Pictures Tv
Starring: Art Carney, Ellen Burstyn, Rene Enriquez
Adventure, Comedy, Drama
When his apartment building is torn down, a retired lifelong New Yorker goes on a cross-country odyssey with his beloved cat Tonto. Forgotten Oscar-winning comedy/drama. Mild language and sexual references.
FRIDAY 14TH MAY
DEATH LINE (18)
9pm Talking Pictures TV
Starring: Donald Pleasance, Norman Rossington, Christopher Lee
Horror
When a government official disappears in the London tunnels, after several reports of missing people in the same location, Scotland Yard start to take the matter seriously, along with a couple who stumble into a victim by accident. Gory British cult horror. Strong violence and gore.
LONG SHOT (15)
10.45pm BBC1
Starring: Charlize Theron, Seth Rogen
Romance, Drama, Comedy
Journalist Fred Flarsky reunites with his childhood crush, Charlotte Field, now one of the most influential women in the world. As she prepares to make a run for the Presidency, Charlotte hires Fred as her speechwriter and sparks fly. Surprisingly funny comedy with a great double act. Strong language, sex references, sex, drug misuse.
SATURDAY 15TH MAY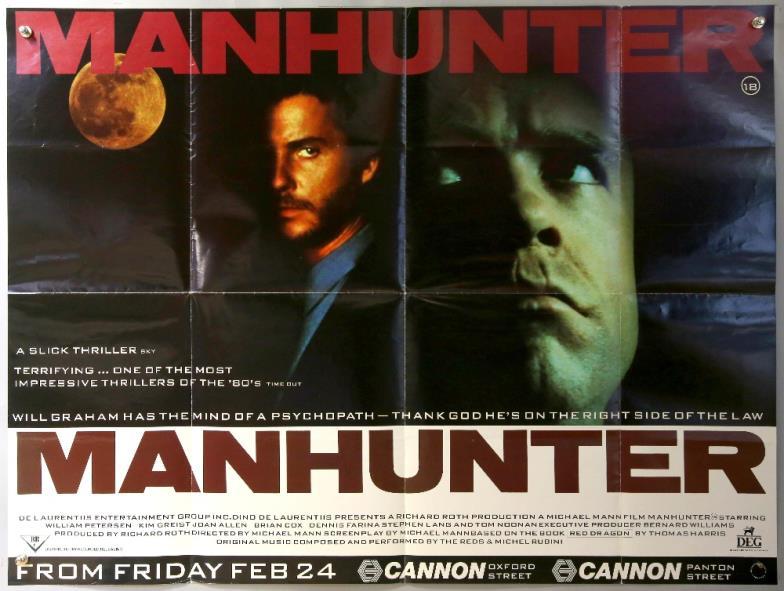 MANHUNTER (18)
9pm ITV4
Starring: William Petersen, Kim Greist, Joan Allen, Brian Cox
Thriller, Horror, Crime
Former F.B.I. profiler Will Graham returns to service to pursue a deranged serial killer named "the Tooth Fairy" by the media. The first appearance from Hannibal Lector in Michael Mann's stylish thriller. Strong violence and language.
SICARIO (15)
11.10pm Film4
Starring: Emily Blunt, Josh Brolin, Benicio Del Toro
Action, thriller
Cracking thriller with Emily Blunt as an FBI agent who joins a secret task force to fight the drug cartels of Mexico. Contains the best stationary car chase. Strong violence, images of dead bodies, strong language.