With the weather being all unpredictable again and the news that holidays to far off countries are getting harder to achieve, how about just staying at home and watching a good movie or three. Here are this week's collection for you to enjoy.
Stay safe, look after yourself and have a great week!
STREAMING
AMAZON PRIME
Starring: Morfydd Clark, Jennifer Ehle, Lily Knight, Rosie Sansom, Lily Frazer, Turlough Convery
Horror, Drama
A pious nurse becomes dangerously obsessed with saving the soul of her dying patient. Incredibly creepy horror from first time feature director Rose Glass. Strong violence, sex, disturbing images, very strong language.
PRIDE (15)
Starring: Imelda Staunton, George MacKay, Ben Schnetzer, Dominic West, Andrew Scott, Bill Nighy, Freddie Fox
Comedy, Drama, Biopic
Gay activists work to help miners during their lengthy strike of the National Union of Mineworkers in the summer of 1984. Terrific feel-good comedy drama. Strong language, sex references.
NETFLIX
THE BLAIR WITCH PROJECT (15)
Starring: Michael Williams, Bob Griffin, Heather Donahue, Joshua Leonard
Horror
Three film students vanish after traveling into a Maryland forest to film a documentary on the local Blair Witch legend, leaving only their footage behind. Infamous horror film that became a huge hit in 1999. Language and intense scenes.
MORVERN CALLAR (15)
Starring: Samantha Morton, Kathleen McDermott, Linda McGuire
Drama
After her beloved boyfriend's suicide, a mourning supermarket worker and her best friend hit the road in Scotland, but find that grief is something that you can't run away from forever. Amazing drama from a master film maker. Sexuality, nudity, language and some disturbing images.
NOW TV
THE MAN WHO SHOT LIBERTY VALANCE (U)
Starring: John Wayne, James Stewart, Vera Miles, Lee Marvin, Edmund O'Brien
Western, Drama
A senator returns to a western town for the funeral of an old friend and tells the story of his origins. Classic western from John Ford with two outstanding leads. Infrequent mild violence. Black and white.
ORDINARY LOVE (12)
Starring: Lesley Manville, Liam Neeson, Maggie Cronin, Lalor Roddy, Amit Shah, David Wilmot
Drama, Romance
An extraordinary look at the lives of a middle-aged couple in the midst of the wife's breast cancer diagnosis. Beautiful and heart-breaking drama with two exceptional leads. Brief moderate sex, illness theme.
DISNEY+
RAYA AND THE LAST DRAGON (PG)
Starring: Gemma Chan, Awkwafina, Kelly Marie Tran
Animation, Action, Adventure
In a realm known as Kumandra, a re-imagined Earth inhabited by an ancient civilization, a warrior named Raya is determined to find the last dragon. Beautifully animated adventure from Disney. Mild violence, threat.
THE FULL MONTY (15)
Starring: Robert Carlyle, Tom Wilkinson, Mark Addy
Comedy, drama
Six unemployed steelworkers form a male striptease act. The women cheer them on to go for "the full monty" – total nudity. Hugely popular comedy-drama. Strong language, sexual references and nudity.
MOVIES ON TERRESTRIAL TV
SUNDAY 6TH JUNE
FINDING DORY (U)
3.05pm BBC1
Starring: Ellen DeGeneres, Albert Brooks, Idris Elba
Animation, Adventure, Comedy
Friendly but forgetful blue tang Dory begins a search for her long-lost parents, and everyone learns a few things about the real meaning of family along the way. Winning sequel to Pixar's Finding Nemo. Infrequent mild threat.
RE-ANIMATOR (18)
10.55pm Horror Channel
Starring: Jeffrey Combs, David Gale, Barbara Crampton, Gerry Black, Robert Sampson
Comedy, Horror, Sci-Fi
After an odd new medical student arrives on campus, a dedicated local and his girlfriend become involved in bizarre experiments centring around the re-animation of dead tissue. Cult comedy horror based on H.P. Lovecraft's classic story. Strong bloody violence and gore.
MONDAY 7TH JUNE
EYE IN THE SKY (15)
6.55pm Film4
Starring: Helen Mirren, Aaron Paul, Alan Rickman
Drama, thriller, war
Col. Katherine Powell, a military officer in command of an operation to capture terrorists in Kenya, sees her mission escalate when a girl enters the kill zone triggering an international dispute over the implications of modern warfare. Gripping thriller and Alan Rickman's final film. Infrequent bloody moments, infrequent strong language.
BRASSED OFF (15)
11.05pm Film4
Starring: Pete Poslethwaite, Tara Fitzgerald, Ewan McGregor, Stephen Tompkinson
Comedy, drama, romance
The coal mine in a northern English village may be closing, which would also mean the end of the miners' brass band. Emotionally charged British comedy-drama. Innuendo, strong language and suicide attempt.
TUESDAY 8TH JUNE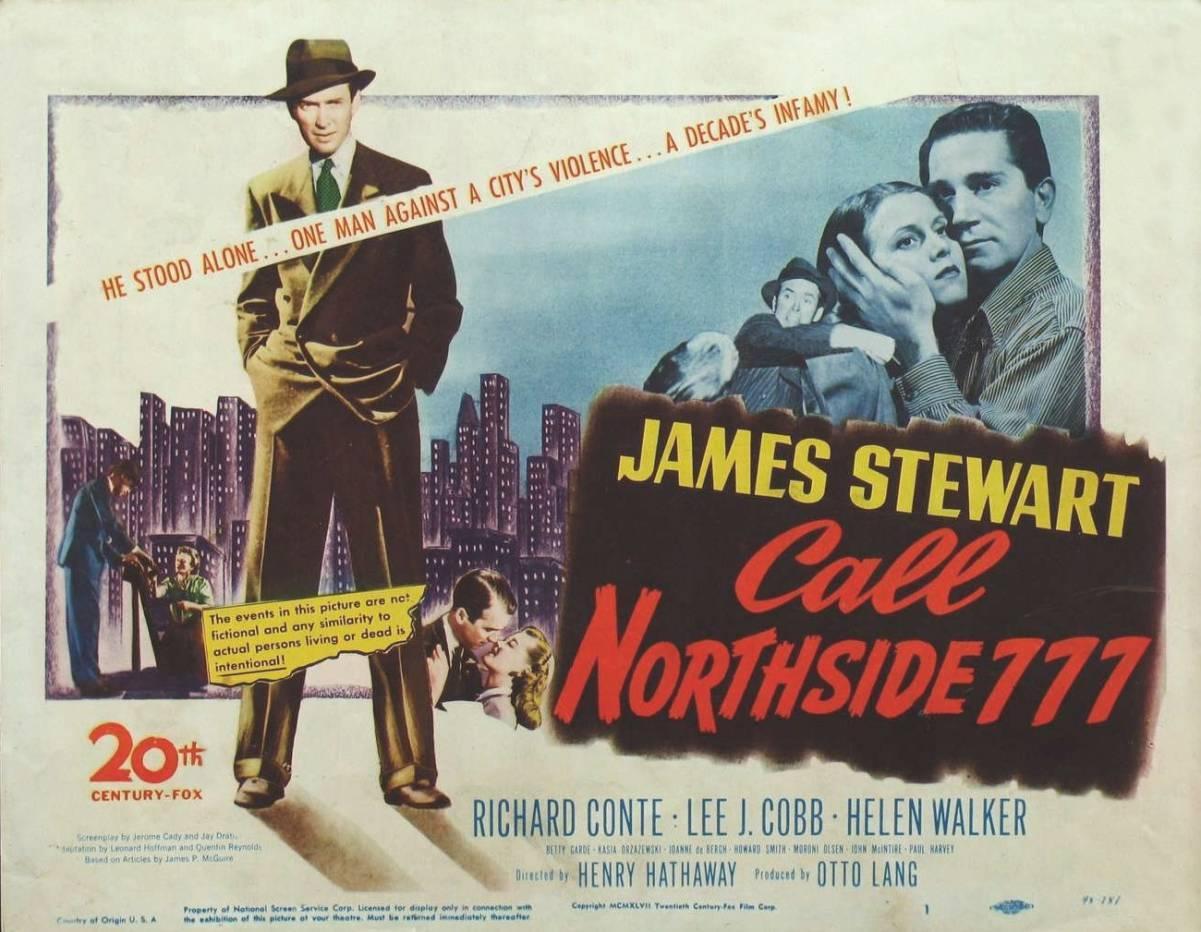 CALL NORTHSIDE 777 (U)
9pm Talking Pictures TV
Starring: James Stewart, Richard Conte, Lee J. Cobb, Helen Walker
Film-Noir, Drama
A cop is killed and Frank Wiecek sentenced to life. Eleven years later, a newspaper ad by Frank's mother leads Chicago reporter P.J. McNeal to look into the case. Cracking film-noir with an on-form James Stewart. Mild violence. Black and white.
T2: TRAINSPOTTING (18)
11.45pm Film4
Starring: Ewan McGregor, Robert Carlyle, Jonny Lee Miller, Kelly Macdonald
Drama
After 20 years abroad, Mark Renton returns to Scotland and reunites with his old friends Sick Boy, Spud, and Begbie. Long-awaited sequel to the 90s classic. Very strong language, strong sex, drug misuse.
WEDNESDAY 9TH JUNE
EL DORADO (PG)
1.35pm Film4
Starring: John Wayne, Robert Mitchum, James Caan
Western, Adventure, Comedy
Cole Thornton, a gunfighter for hire, joins forces with an old friend, Sheriff J.P. Hara. Together with an old Indian fighter and a gambler, they help a rancher and his family fight a rival rancher that is trying to steal their water. One of my favourite John Wayne movies. Mild violence, language.
FAREWELL, MY LOVELY (15)
1.25am Talking Pictures TV
Starring: Robert Mitchum, Charlotte Rampling, John Ireland, Sylvia Miles
Thriller
Los Angeles private eye Philip Marlowe is hired by paroled convict Moose Malloy to find his girlfriend Velma, former seedy nightclub dancer. Gripping thriller based on Raymond Chandler's crime novel. Nudity, violence, mild language and drug misuse.
THURSDAY 10TH JUNE
A TOWN LIKE ALICE (PG)
9pm BBC Four
Starring: Virginia McKenna, Peter Finch, Marie Lohr, Renee Houstopn
War, Drama, Romance
A newly wealthy English woman returns to Malaya to build a well for the villagers who helped her during war. Thinking back, she recalls the Australian man who made a great sacrifice to aid her and her fellow prisoners of war. Superb wartime drama. Mild violence. Black and white.
DAYS OF THE BAGNOLD SUMMER (12)
9pm Film4
Starring: Monica Dolan, Earl Cave, Tamsin Greig, Rob Brydon
Comedy, Drama
A teenager spends his summer listening to heavy metal music and trying to get along with his librarian mum. Underrated comedy drama from The Inbetweeners star, Simon Bird. Infrequent strong language.
FRIDAY 11TH JUNE
THE FURY (18)
10pm Talking Pictures TV
Starring: John Cassavetes, Kirk Douglas, Charles Durning, Carrie Snodgress, Fiona Lewis, Amy Irving, Andrew Stevens
Horror, Sci-Fi, Thriller
A former CIA agent uses the talents of a young psychic to help retrieve his telekinetic son from terrorists, who want to use his mental powers for evil. Gripping sci-fi horror from the director of Carrie. Strong, gory violence, sexual references and language.
PEEPING TOM (15)
12.20am Talking Pictures TV
Starring: Carl Boehm, Moira Shearer, Anna Massey
Horror, Thriller
A young man murders women, using a movie camera to film their dying expressions of terror. Creepy horror from master director Michael Powell. Moderate violence and strong psychological threat.
SATURDAY 12TH JUNE
KINKY BOOTS (12)
11.40pm BBC2
Starring: Nick Frost, Chiwetel Ejiofor, Linda Bassett, Joel Edgerton
Comedy, drama
A drag queen comes to the rescue of a man who, after inheriting his father's shoe factory, needs to diversify his product if he wants to keep the business afloat. Feel-good British comedy. Language and sexual references.
RAW (18)
1.10am Film4
Starring: Garance Marillier, Rabah Nait Oufella, Ella Rumpf
Drama, Fantasy, Horror
A young woman, studying to be a vet, develops a craving for human flesh. Hugely original and unsetting French horror film. Strong gory images, injury detail, language, strong sexuality, nudity and drug use.