The Euro 2020 have become the focal point for the next month. Along with the very warm weather, movie watching may be on the back burner. However, I will still be here with some recommendations, just for those who have little or no interest in football or sun.
Stay safe, look after yourself and have a great week.
STREAMING
AMAZON PRIME
RUNAWAY (12)
Starring: Tom Selleck, Cynthia Rhodes, Joey Cramer, Stan Shaw, Kirstie Alley, Gene Simmons
Sci-Fi, Action
In the near future, a police officer specializes in malfunctioning robots. When a robot turns out to have been programmed to kill, he begins to uncover a homicidal plot to create killer robots… and his son becomes a target. 80s Sci-Fi action film from the creator of Jurassic Park. Violence, language and nudity.
CHEF (15)
Starring: Jon Favreau, Robert Downey Jr., Bobby Cannavale, Dustin Hoffman, Scarlett Johansson, Oliver Platt, Sofia Vergara, John Leguizamo
Comedy, Drama
A head chef quits his restaurant job and buys a food truck in an effort to reclaim his creative promise, while piecing back together his estranged family. Wonderful feel-good movie from Iron Man director Jon Favreau. Strong language, moderate sex references.
NETFLIX
CAPTAIN PHILLIPS (12)
Starring: Tom Hanks, Barkhad Abdi, Barkhad Abdirahman, Catherine Keener
Biopic, Adventure, Thriller
The true story of Captain Richard Phillips and the 2009 hijacking by Somali pirates of the U.S.-flagged MV Maersk Alabama, the first American cargo ship to be hijacked in two hundred years. Gripping thriller from the director of The Bourne Supremacy. Moderate violence and threat.
THE UNTOUCHABLES (15)
Starring: Kevin Costner, Sean Connery, Charles Martin Smith, Andy Garcia, Robert De Niro
Drama, Crime, Thriller
During the era of Prohibition in the United States, Federal Agent Eliot Ness sets out to stop ruthless Chicago gangster Al Capone and, because of rampant corruption, assembles a small, hand-picked team to help him. Excellent gangster thriller from Brian DePalma and an Oscar win for Sean Connery. Strong violence and strong language.
NOW TV
JASON AND THE ARGONAUTS (U)
Starring: Todd Armstrong, Nancy Kovak
Action, adventure, fantasy
The legendary Greek hero leads a team of intrepid adventurers in a perilous quest for the legendary Golden Fleece. Fun family adventure with excellent effects from Ray Harryhausen. Mild fantasy violence and scary scenes.
THE ENGLISH PATIENT (15)
Starring: Ralph Fiennes, Juliette Binoche, Willem Dafoe, Kristin Scott Thomas, Colin Firth
Drama, Romance, War
At the close of World War II, a young nurse tends to a badly-burned plane crash victim. His past is shown in flashbacks, revealing an involvement in a fateful love affair. Oscar-winning drama. Strong language, violence and moderate sex.
DISNEY+
CALENDAR GIRLS (12)
Starring: Helen Mirren, Julie Walters, Linda Bassett, Penelope Wilton, Jean-Paul Macleod, Celia Imrie
Comedy, Drama, Biopic
A Women's Institute chapter's fundraising effort for a local hospital by posing nude for a calendar becomes a media sensation. Wonderful British comedy drama with a stunning cast. Nudity, some language and drug-related material.
AIR FORCE ONE (15)
Starring: Harrison Ford, Gary Oldman
Action, drama, thriller
Communist Radicals hijack Air Force One with The U.S. President and his family on board. The Vice President negotiates from Washington D.C., while the President, a Veteran, fights to rescue the hostages on board. Cracking Die Hard-style action movie. Strong language and violence.
MOVIES ON TERRESTRIAL TV
SUNDAY 13TH JUNE
PADDINGTON 2 (PG)
5pm BBC1
Starring: Jim Broadbent, Brendan Gleeson, Sally Hawkins, Ben Whishaw, Hugh Grant, Julie Walters
Comedy, family, adventure
Paddington (Ben Whishaw), now happily settled with the Brown family and a popular member of the local community, picks up a series of odd jobs to buy the perfect present for his Aunt Lucy's (Imelda Staunton's) 100th birthday, only for the gift to be stolen. The nicest, sweetest, funniest film around. Unmissable. Mild threat.
THE BIG SICK (15)
11pm BBC2
Starring: Kumail Nanjiani, Ray Romano, Holly Hunter, Zoe Kazan
Comedy, Drama, Romance
Pakistan-born comedian Kumail Nanjiani and grad student Emily Gardner fall in love but struggle as their cultures clash. When Emily contracts a mysterious illness, Kumail finds himself forced to face her feisty parents, his family's expectations, and his true feelings. Delightful rom-com based on a true story. Strong language, moderate sex references.
MONDAY 14TH JUNE
KINGSMAN: THE SECRET SERVICE (15)
9pm Film4
Starring: Colin Firth, Samuel L. Jackson, Michael Caine, Mark Hamill, Sofia Boutella, Mark Strong, Taron Egerton.
Drama, Comedy, Action
A spy organisation recruits a promising street kid into the agency's training program, while a global threat emerges from a twisted tech genius. Superb action-comedy with some brutally violent set-pieces. Strong bloody violence, strong language.
WOMAN AT WAR (12)
11.40pm FILM4
Starring: Halldora Geirharðsdottir, Gunnar Bersi Bjornsson, Solveig Arnarsdottir, Jorundur Ragnarsson, Juan Camillo Roman Estrada, Johann Sigurðarson
Adventure, Comedy, Drama
Halla becomes a determined environmental activist, but this threatens a long-held hope of hers. Delightfully bonkers comedy drama from Iceland. Infrequent moderate injury detail. Subtitled.
TUESDAY 15TH JUNE
12 ANGRY MEN (U)
5.05pm Film4
Starring: Henry Fonda, Lee J. Cobb, E. G. Marshall, Jack Warden, Ed Begley, Martin Balsam
Drama
A jury holdout attempts to prevent a miscarriage of justice by forcing his colleagues to reconsider the evidence. Fantastic class drama. Descriptions of violence. Black and white.
BRICK LANE (12)
1.20am Film4
Starring: Christopher Simpson, Sahsh Kaushik, Tannishtha Chatterjee
Drama
In 1980s London, Nazneem, a young Bangladeshi woman, feels her soul is quietly dying in her arranged marriage, until the day hot-headed Karim comes knocking at her door. Overlooked British drama based on the best-selling novel. Some sexuality and brief strong language.
WEDNESDAY 16TH JUNE
MY MAN GODFREY (U)
11am Film4
Starring: William Powell, Carole Lombard
Comedy, romance
A scatterbrained socialite hires a vagrant as a family butler – but there's more to Godfrey than meets the eye. Wonderfully witty classic comedy. Black and white.
HUNT FOR THE WILDERPEOPLE (12)
10.50pm Film4
Starring: Sam Neill, Julian Dennison
Comedy, Drama
From Taiki Waititi (Jojo Rabbit, Thor: Ragnarok) comes a comedy about an orphaned boy used to city life who is left in the care of a foster family in rural New Zealand. Language, innuendo, infrequent bloody moments.
THURSDAY 17TH JUNE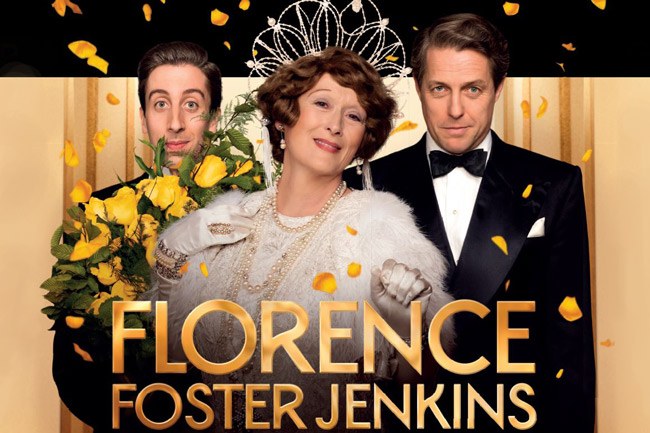 FLORENCE FOSTER JENKINS (PG)
8pm BBC Four
Starring: Meryl Streep, Hugh Grant, Simon Helberg, Rebecca Ferguson
Comedy, drama
The story of Florence Foster Jenkins, a New York heiress who dreamed of becoming an opera singer, despite having a terrible singing voice. Hilarious comedy with plenty of heart. Mild bad language, mild sex references.
JOHN WICK: CHAPTER 2 (18)
10pm Channel 5
Starring: Keanu Reeves, Bridget Moynahan, Ian McShane, Ruby Rose
Action, Thriller
After returning to the criminal underworld to repay a debt, John Wick discovers that a large bounty has been put on his life. Mind-blowing action in this full-on thriller. Strong violence, gory images and language.
FRIDAY 18TH JUNE
THE DUCHESS AND THE DIRTWATER FOX (PG)
8.10pm Talking Pictures TV
Starring: George Segal, Goldie Hawn, Conrad Janis, Thayer David, Roy Jenson, Bob Hoy
Comedy, Western
A female hustler is chasing after rich men, but becomes repeatedly mixed up with a suave con man and card shark through a series of misadventures before falling in love with him. Fun western with two very appealing leads. Mild language and sex references.
SPOTLIGHT (15)
11.20pm BBC2
Starring: Mark Ruffalo, Michael Keaton, John Slattery, Stanley Tucci, Rachel McAdams, Liev Schreiber
Drama, Biopic
The true story of how the Boston Globe uncovered the massive scandal of child molestation and cover-up within the local Catholic Archdiocese, shaking the entire Catholic Church to its core. Compelling Oscar-winning drama. Child sexual abuse references and language.
SATURDAY 19TH JUNE
HIDDEN FIGURES (PG)
7.30pm Channel 4
Starring: Taraji P. Henson, Octavia Spencer, Janelle Monáe, Kevin Costner, Kirsten Dunst, Jim Parsons
Drama, Biopic
The story of a team of female African-American mathematicians who served a vital role in NASA during the early years of the U.S. space program. Fascinating tale of the forgotten women behind the space race. Discrimination theme, mild bad language.
WONDER WOMAN (12)
Starring: Gal Gadot, Chris Pine, Robin Wright, David Thewlis, Ewen Bremner, Connie Nielsen
7.45pm ITV1
Action, adventure, fantasy
When a pilot crashes and tells of conflict in the outside world, Diana, an Amazonian warrior in training, leaves home to fight a war, discovering her full powers and true destiny. Entertaining comic book adventure. Moderate violence.