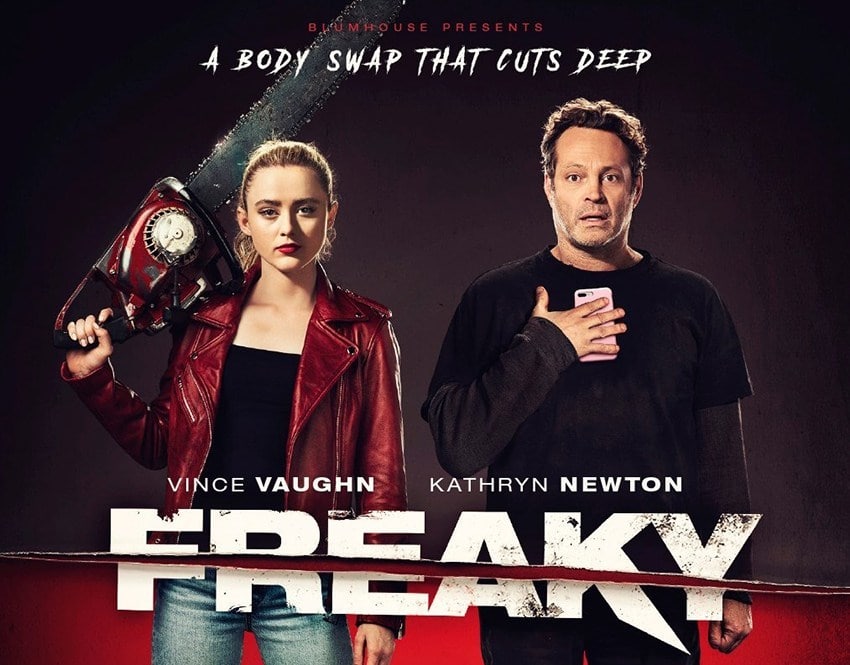 Director: Christopher Landon
Starring: Vince Vaughn, Kathryn Newton, Celeste O'Connor, Misha Osherovich, Emily Holder, Alan Ruck
Written by: Christopher Landon and Michael Kennedy
Running Time: 102 mins
Cert: 15
Release date: 2nd July 2021
It is so hard to be original these days in the world of movie-making. Most people say that all stories have their origins in Shakespeare, while others say that every film is a tweak of a movie that has come before. Writer and director Christopher Landon have done something very clever. He has taken a popular format from a former film and given it more than just a tweak. He was responsible for the underrated Happy Death Day and Happy Death Day 2U, which took their stories from the premise of Groundhog Day. Now comes Freaky, in which Landon has taken the body swap idea from Freaky Friday and given us a gory yet enormously fun comedy horror.
The small town of Blissfield has a serial killer who comes to murder the students of the local high school during Homecoming. Millie is a quiet young girl who has to cope with school bullies and her mother's grief over her father's death. Waiting for a lift after the school's big football match from her mother, she becomes the next victim to the Blissfield Butcher. However, the killer uses an old Aztec knife that swaps their bodies, so now the killer is in Millie's body and vice versa. Millie only has 24 hours to stab the killer with the knife again; otherwise, they will stay in their respective bodies forever.
Those familiar with the original, the story of a mother and daughter who magically swap bodies and starring a young Jodie Foster, will know you have to forget reality altogether to enjoy the fun of a youngster playing adult and mother playing daughter. Landon has taken that premise and decided to use a pretty blonde girl, petit and meek, to become a killer, while the body swap is a hulking 6 foot plus male. Already the comedy values are heightened.
We have the male Millie desperately trying to convince her friends, Nyla and Josh, that they aren't the serial killer but the girl who shared friendship handshakes and can dance the school's mascot routine. In the meantime, the quiet girl who is the easy victim of mean girls and bullies is now a violent killing machine with a new image that turns heads while she lures new victims to gruesome and bloody deaths. However, she lacks the strength she had as a man, which could be her downfall.
Landon is playful with the scenario, which also uses the formulas of modern slasher movies to up the humour. A scene in which the Butcher/Millie is chasing Nyla and Josh has Josh exclaiming: " You're black! I'm gay! We are so dead!" Landon also doesn't ease up on the horror factor. The deaths are gruesome, from someone having a broken bottle forced down a victim's mouth to someone being cut in half by a circular saw. I am surprised that this managed to receive a 15 classification from the BBFC.
The look of the film isn't like most horrors, thanks to the excellent cinematography from Laurie Rose, who uses colour and impressive lighting to move away from the usual dark corridors you'd expect from horror movies. It has an almost festival feel about the colour palette.
While it could have been easy for Landon to rely on cheap jokes and horror traits, he includes simple themes within the story that makes these characters more believable. The family grieving over the death of their father is often touching, as Millie's mother finds it hard to move on instead of finding comfort in a bottle of wine. There's also the problems of modern High School life, with Millie, Nyla and Josh the outcasts of an otherwise jocks and mean queens school, yet even a woodwork teacher has a particular dislike from Millie that verges on bullying.
Then there are the superb performances. Kathryn Newton is terrific as Millie, going from sweet-natured girl to killing machine. She never overplays the serial killer role but quietly moves around, using the body she has the perfect disguise and switching from temptress to damsel-in-distress with ease. Celeste O'Connor and Misha Osherovich are good fun as Millie's friends, Nyla and Josh.
Yet it is Vince Vaughn who steals the show. Taking on the role of a man who is a teenage girl is hilarious. His whole demeanour changed as he runs around with a girl-ish gait, speaks like a teenager, and dances like a school mascot in some of the funniest scenes. His star has been fading for a while. This will hopefully put him back on the comedic map as this is his best performance in years.
Freaky is a blast. Plenty for horror fans to enjoy, while those looking for a laugh could look no further. It may not be high art or massively original, but it has plenty of energy and a real rollercoaster ride. A decent horror comedy that delivers both the shocks and the laughs.
4 out of 5