The Olympics are here so for two weeks we will be getting wall-to-wall sports across the BBC, which means if you are looking for film entertainment, then the other channels should do the job. Here are my picks for this week.
Stay safe, look after yourself and have a great week,
STREAMING
AMAZON PRIME
AMELIE (15)
Starring: Audrey Tautou, Mathieu Kassovitz, Rufus
Comedy, Romance
Amélie is an innocent and naïve girl in Paris with her own sense of justice. She decides to help those around her and, along the way, discovers love. Wonderful heart-warming comedy from France. Sexual content, scene of child birth and suicide themes. Subtitled.
LITTLE BIG MAN (15)
Starring: Dustin Hoffman, Faye Dunaway, Martin Balsam, Jeff Corey, Chief Dan George
Western, Adventure, Comedy, Drama
Jack Crabb, looking back from extreme old age, tells of his life being raised by Native Americans and fighting with General Custer. An unusual western with a terrific central performance. Strong bloody violence and moderate sexual suggestion.
NETFLIX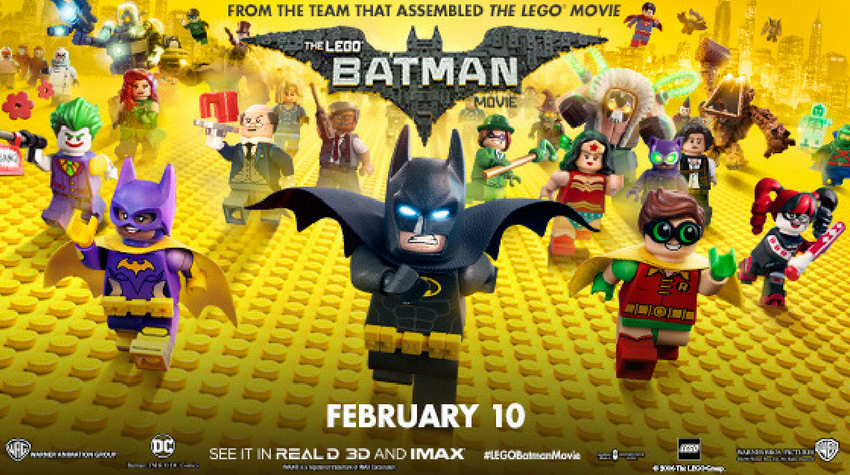 THE LEGO BATMAN MOVIE (U)
Starring: Will Arnett, Michael Cera, Rosario Dawson, Zach Galifianakis, Jenny Slate, Ralph Fiennes
Animation, Action, Comedy
A cooler-than-ever Bruce Wayne must deal with the usual suspects as they plan to rule Gotham City, while discovering that he has accidentally adopted a teenage orphan who wishes to become his sidekick. Inventive and hilarious comedy for all the family. Mild comic violence, rude humour, very mild bad language.
KONG: SKULL ISLAND (12)
Starring: Tom Hiddleston, Samuel L. Jackson, John Goodman, Brie Larson, John C, Reilly
Acton, Adventure, Fantasy
After the Vietnam war, a team of scientists explores an uncharted island in the Pacific, venturing into the domain of the mighty Kong, and must fight to escape a primal Eden. First-rate update on the King Kong story. Moderate threat, violence, infrequent strong language.
NOW TV
SPEED (15)
Starring: Kenau Reeves, Dennis Hopper, Sandra Bullock, Jeff Daniels
Action, Adventure, Thriller
A young police officer must prevent a bomb exploding aboard a city bus by keeping its speed above 50 mph. Nail-biting Die Hard style action thriller. Strong language and violence.
AMERICAN PSYCHO (18)
Starring: Christian Bale, Willem Dafoe, Samantha Mathis, Jared Leto, Reese Witherspoon
Comedy, Drama, Horror
A wealthy New York City investment banking executive, Patrick Bateman, hides his alternate psychopathic ego from his co-workers and friends as he delves deeper into his violent, hedonistic fantasies. Superb satire with a breakthrough performance from Christian Bale. Strong violence, sex, language.
DISNEY+
CHARIOTS OF FIRE (PG)
Starring: Ian Charleson, Ben Cross, Nigel Havers, Cheryl Campbell, Ian Holm, Alice Kring
Biopic, Drama
Two British track athletes, one a determined Jew, and the other a devout Christian, compete in the 1924 Olympics. Wonderful British Oscar winner. Mild language.
PLANET OF THE APES (PG)
Starring: Charlton Heston, Roddy McDowell, James Whitmore, Kim Hunter, Maurice Evans
Action, Adventure, Sci-Fi
An astronaut crew crash-lands on a planet in the distant future where intelligent talking apes are the dominant species, and humans are the oppressed and enslaved. Superb original sci-fi adventure that spawned dozen of sequels and reboots. Violence and intense scenes.
MOVIES ON TERRESTRIAL TV
SUNDAY 25TH JULY
THE HAPPIEST DAYS OF YOUR LIFE (U)
7.20pm Talking Pictures TV
Starring: Alastair Sim, Margaret Rutherford, Edward Rigby, Guy Middleton, Joyce Grenfell, Richard Wattis
Comedy
Chaos ensues for staff and students alike when an all-boys and an all-girls school are amalgamated into one. Delightful British comedy from the 50s. Black and white.
THIS IS ENGLAND (18)
12midnight Channel 4
Starring: Thomas Turgoose, Joseph Gilgun, Stephen Graham, Keiran Hardcastle, Jo Hartley, Vicky McLure, Jack O'Connell, Frank Harper, George Newton
Drama
A young boy becomes friends with a gang of skinheads. Friends soon become like family, and relationships will be pushed to the very limit. Outstanding British drama from Shane Meadows. Very strong racist violence and language.
MONDAY 26TH JULY
PADDINGTON (PG)
5.15pm Film4
Starring: Ben Whishaw, Julie Walters, Sally Hawkins, Hugh Bonneville, Peter Capaldi, Jim Broadbent, Nicole Kidman
Adventure, Drama, comedy
Family adventure about a talking bear from Peru who travels to London looking for a new home. One of the most joyful movies of the decade. We could all do with a bit of Paddington in our lives. Dangerous behaviour, mild threat, innuendo, infrequent mild bad language.
UNSANE (15)
9pm Film4
Starring: Claire Foy, Juno Temple, Aimee Mullins, Joshua Leonard, Amy Irving, Jay Pharoah
Drama, Horror
A young woman is involuntarily committed to a mental institution, where she is confronted by her greatest fear – but is it real or a product of her delusion? Steven Soderbergh's paranoia horror filmed on an iPhone. Strong violence, threat, language.
TUESDAY 27TH JULY
JUMANJI: WELCOME TO THE JUNGLE (12)
9pm Film4
Starring: Dwayne Johnson, Karen Gillan, Kevin Hart, Jack Black
Fantasy, Comedy, Adventure
Four teenagers are sucked into a magical video game, and the only way they can escape is to work together to finish the game. Hugely entertaining sequel to the 1995 original. Moderate violence, infrequent moderate sex references, language.
A FAREWELL TO ARMS (PG)
10.40pm BBC Four
Starring: Gary Cooper, Adolpe Menjou, Blanche Frederici, Helen Hayes
Drama, Romance, War
An American ambulance driver and an English nurse fall in love in Italy during World War I. Classic Hollywood adaptation of Ernest Hemmingway's novel. Mild battle violence, scenes of emotional distress. Black and white.
WEDNESDAY 28TH JULY
MISERY (15)
11.05pm Film4
Starring: James Caan, Kathy Bates, Lauren Bacall, Graham Jarvis, Richard Farnsworth, Frances Sternhagen
Drama, Thriller
After a famous author is rescued from a car crash by a fan of his novels, he comes to realize that the care he is receiving is only the beginning of a nightmare of captivity and abuse. Superb Stephen King adaptation with an Oscar-winning Kathy Bates. Strong violence and threat and infrequent strong language.
CARRIE (18)
1.20am Film4
Starring: Sissy Spacek, John Travolta, Piper Laurie, Nancy Allen, Amy Irwin
Horror
Carrie White, a shy, friendless teenage girl who is sheltered by her domineering, religious mother, unleashes her telekinetic powers after being humiliated by her classmates at her senior prom. Brian DePalma's classic adaptation of Stephen King's novel. Strong language, nudity, gore, upsetting and intense scenes and scenes of a sexual nature.
THURSDAY 29TH JULY
I CAPTURE THE CASTLE (PG)
10.35pm BBC Four
Starring: Romola Garai, Rose Byrne, Bill Nighy, Henry Thomas
Drama, Romance
A love story set in 1930s England that follows 17-year-old Cassandra Mortmain, and the fortunes of her eccentric family, struggling to survive in a decaying English castle. Intelligent dramatization of Dodie Smith's novel. Infrequent mild language and sex references.
BAIT (15)
12.35am Film4
Starring: Ed Rowe, Simon Shepherd, Mary Woodvine, Giles Smith
Drama
Martin is a fisherman without a boat, his brother Steven having re-purposed it as a tourist tripper. With their childhood home now a get-away for London money, Martin is displaced to the estate above the harbour. Inventive and unique British drama. Very strong language, strong bloody images, sex references. Black and white.
FRIDAY 30TH JULY
GOLDENEYE (15)
9pm ITV4
Starring: Pierce Brosnan, Sean Bean, Izabella Scorupco, Famke Janssen, Judi Dench
Action, Adventure, Thriller
Years after a friend and fellow 00 agent is killed on a joint mission, a secret space based weapons program known as "GoldenEye" is stolen. James Bond sets out to stop a Russian crime syndicate from using the weapon. Pierce Brosnan's first and best outing as 007. Strong violence, sexual references and innuendo.
THAT'LL BE THE DAY (15)
9pm Talking Pictures TV
Starring: David Essex, Ringo Starr, Rosemary Leach, Billy Fury, James Booth, Keith Moon
Drama, Music
Set in the 1950s, a gifted but wayward young man finally discovers a sense of purpose when he decides to turn his love of music into a career. Well-made British drama with a charismatic lead in David Essex. Moderate sex, mild violence and language.
SATURDAY 31ST JULY
KUBO AND THE TWO STRINGS (PG)
12.35pm Film4
Starring: Matthew McConaughey, Cary-Hiroyuki Tagawa, Charlize Theron, Ralph Fiennes, Rooney Mara
Animation, Action, Adventure
A young boy named Kubo must locate a magical suit of armour worn by his late father in order to defeat a vengeful spirit from the past. Wonderful animation from the Laika studios. Mild fantasy violence, scary scenes.
DIRTY ROTTEN SCOUNDRELS (PG)
2.35pm ITV4
Starring: Steve Martin, Michael Caine, Glenne Headley, Anton Rodgers, Barbara Harris.
Comedy
Two con men try to settle their rivalry by betting on who can swindle a young American heiress out of fifty thousand dollars first. Hilarious comedy caper from director Frank Oz. Mild language and sex references.