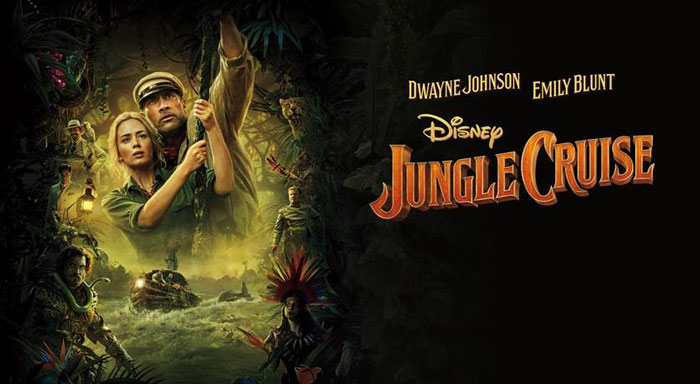 Director: Jaume Collet-Serra
Starring: Dwayne Johnson, Emily Blunt, Edgar Ramírez, Jack Whitehall, Jesse Plemons, Paul Giamatti
Written by: Michael Green (also story) Glenn Ficarra, John Requa, (story only) John Norville and Josh Goldstein
Running Time: 127 mins
Cert: 12A
Release date: 30th July 2021
Disney loves their theme park attractions. Not content with just allowing the visitors to ride them, they will often make them into movies so that you can continue the holiday vibe. Pirates of the Caribbean was a huge success (even if the countless sequels were terrible), The Haunted Mansion was a mild success, and The Country Bears was a total disaster. Now comes the latest ride to transfer to a movie, Jungle Cruise, an all-action adventure that, while not the most original of movies, borrowing from countless other films, turns out to be just as much fun as the Disneyland ride.
Doctor Lily Houghton is a woman out of time. Refused entry to the Royal Society, she decides to prove them wrong and go on an adventure to find Tears of the Moon, a mystical tree that produces petals that can cure anything. Along with her brother, MacGregor, she hires a boat belonging to Frank Wolff, a skipper on the Mexican rivers, and the group head to the land no one has ever been to before. They are not alone, as a German general, Prince Joachim, wants to petals, as do four conquistadors who have been prisoners of the jungle for over 400 years.
Directed by Jaume Collet-Serra, whose previous work includes the Liam Neeson films The Commuter and Unknown, directs at such a pace, you wonder if he allowed anyone to take a breath. During the pre-credit sequence set in the Royal Society, Lily is flying around the library after a sacred arrowhead that will help in her mission. This set piece alone is exhausting to watch, with swords, ladders, and spears fly around the room as the males working there try to stop her from leaving with the artefact. Imagine Indiana Jones on speed, and you will have a good idea what I mean. Once the film starts to settle down, there is very little time for the cast to relax as they fight, swing and escape from several sticky situations.
Along with the multitudes of set pieces, each one as spectacular as the next, the film is heavy with plots and subplots. We have the bare bones of Lily searching for the mysterious tree of life, but then on top of this, you have Frank's own life story, which is never what you think it will be. Then we have the group being followed down the river by the German Prince and the conquistadors who have been languishing as prisoners in the jungle, brought to life by river water, who need the petals to escape their hideous curses. While these are all going on, you can also enjoy which films they have borrowed from. It's all here, from Romancing The Stone and Indiana Jones to The African Queen to Jason and the Argonauts and not forgetting Pirates of the Caribbean.
You would think that cramming this film with so much will make it either a mess or just plain annoying. Thankfully it has a giant master card on its side. A cast of actors you don't mind spending time with and who you can rely on to guide you through this nonsense with ease. Paul Giamatti, as the owner of a fleet of cruisers to whom Frank owes money. Jesse Plemons, as the German Prince, chew up the scenery every chance they get. Plemons especially has a blast as the film's main villain, with an accent bound to offend someone along the way. Jack Whitehall, in his first Hollywood movie, steals the film from everyone as MacKenzie, Lily's less adventurous brother. In a role that has already caused controversy even before it was released, he is hilarious with his throw away lines and reactions to the situations. You can tell he is having a blast and we are with him all the way.
Leading the way, however, are Dwayne Johnson and Emily Blunt. These stars have so much screen charisma singularly; putting them together is a masterstroke. Johnson, as the Jungle Cruise skipper Frank, with his terrible puns and Dad jokes, is so likeable he cannot put a step wrong. Never afraid to be self-referential, his character is far from perfect, which is refreshing to watch. Emily Blunt manages to be more Emily Blunt than she has ever been. Imagine Mary Poppins turned up to 11. You think it is far too much, and yet you conclude that it's never too much. Putting these two leads together, and you have a modern-day Bogart and Hepburn.
Jungle Cruise is perfect summer popcorn fodder. A rollercoaster ride of an adventure with plenty of laughs, excitement, and silliness keeps the young and young at heart happy. Not perfect by a long shot, as there are moments when the action sequences are a little messy and confusing, but these can be forgiven thanks to Johnson, Blunt and Whitehall, who should make every movie together from now on.
4 out of 5
Available in cinemas and on Disney+ on Premier Access for £19.99