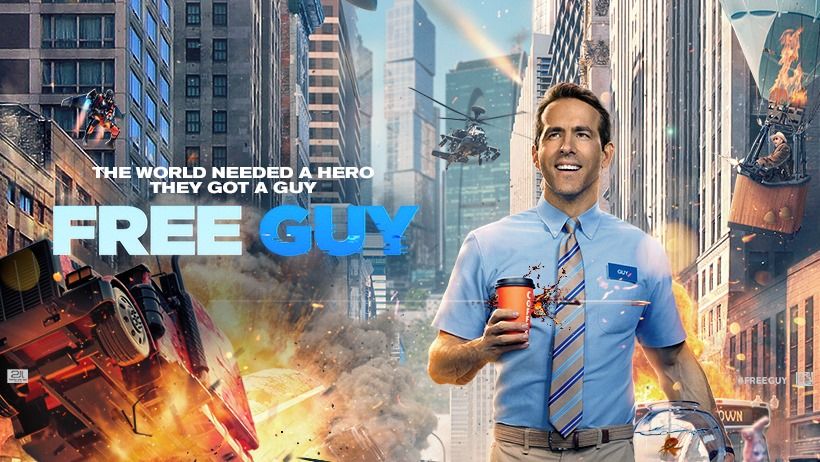 Director: Shawn Levy
Starring: Ryan Reynolds, Jodie Comer, Joe Keery, Lil Rel Howery, Taiki Waititi
Written by: Zak Penn and (also story) Matt Lieberman
Running Time: 115 mins
Cert: 12A
Release date: 13th August 2021
Free Guy is unique in the world of blockbusters. It's an original movie that's not part of a franchise, a superhero movie or a reboot. When familiarity is the way to get bums on seats nowadays, it's refreshing to see something different. Yet what it does well is bring gamers to the cinema, as this is a movie that those who play RP games can geek out to. Hang on. It doesn't forget those who aren't Fortnite fans, for Free Guy is a bundle of fun that anyone can enjoy.
Free City is a role-playing game where violence rules, and players can be whoever they want to be. However, Guy, an NPC (non-playing character), is just a foil for the real players to punch, kick, and do nasty things to. He leads a simple life as a bank teller with his best friend, Buddy, a security guard at the bank; they go through the motions precisely the same every day. That is until Guy meets Molotovgirl, the girl of Guy's dreams. Guy's routine changes as he realises there is more than just coffee and being robbed. His actions start to throw the game into disrepute, as no one knows who is operating Guy and how is he managing to change the whole set-up.
The first thing about the movie is how striking it looks. Director Shawn Levy has placed us in a video game, with an ordinary town filled with explosions, gunfire and an array of tanks, helicopters and fast cars. Using the same trick as in John Carpenter's They Live, a pair of sunglasses allows the characters to see a lot more, from first aid kits, free money, and guides to various missions. You could remove the main characters and explore this magical, colourful world alone.
The film is brimming with plot and storylines that leave your head spinning a little like the settings. We are not just enjoying Guy's new sense of freedom in a world that is so much more than he could ever imagine. We see events play out in the real world with creator Antoine not coping with the growing popularity of Guy that could mess with his plans for Free City 2. We also have a plot about corporate corruption, as Millie, a programmer, had her idea stolen by Antoine, and she needs hidden evidence within the game. To find this, she has become Molotovgirl, the same character that Guy has fallen in love with.
It all sounds like a confusing mess, and along with some geeky technobabble, it could get bogged down. Levy and his cast never allow that. Instead, what you get is visual treat after visual treat that will make the geekiest of gamers almost combust with excitement as Easter eggs are thrown at them throughout, from recognition of gaming reviewers and players pop up in cameos. In contrast, those who want a good night out get precisely that. A comedy adventure that is both funny and exciting. There's also nods to other pop culture moments that will have everyone laughing. This is a 20th Century Studios production, so references to Marvel and Star Wars do pop up.
This film has the charm and innocence of The Truman Show and more than a passing similarity to The Lego Movie (even down to the blue shirt). Yet, it does manage to keep its originality. Throw in some delicious cameos that are joyful to behold (keep your ears open for plenty of vocal treats as well). This is a film that never gets boring or makes you look at your watch. There's far too much to behold for that.
The cast is a dream as well. Joe Keery, as Keys, a friend of Millie, does an excellent job of moving away from his Stranger Things role to a mature part. Lil Rel Howery, as Buddy, is a blast, full of energetic, high-pitch joy. Director Taiki Waititi is allowed to go full over the top as Antoine, with his terrible dress sense and an ego that could fill the universe.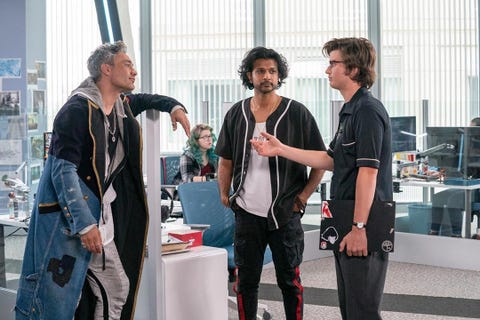 In her first Hollywood role, Jodie Comer shines. The star of Killing Eve glows as both Molotovgirl, a leather-clad, butt-kicking avatar who is both alluring and deadly and who can handle herself in any situation. While her real-life persona, the determined Millie, Comer shows her ease with accents and creates two very different characters. If Killing Eve didn't put her on the map, this certainly will.
Leading the pack is Ryan Reynolds as Guy. Reynolds is one of those actors who you can't help but warm to, with his ease with a wise-crack and the kind of screen presence that makes him just likeable, regardless of what he does. This is a perfect character for Reynolds, a simple Joe who can handle being friendly and kind and still throw some moves in the action department. If you are not a fan of Reynolds, then move on; this may not be for you but if you are, then lap it up.
Free Guy is a blast that somehow manages to get better the longer it goes on. Yes, it does move into schmaltz near the end, but you can forgive it as it's a fun, colourful, action-packed, laugh-fest for the whole of its running time. And a perfect popcorn movie for this summer.
4 out of 5