Director: Jon Watts
Starring: Tom Holland, Zendaya, Benedict Cumberbatch, Jacob Batalon, Marisa Tomei, Jon Favreau, Jamie Foxx, Alfred Molina, Willem Dafoe, Benedict Wong
Written by: Chris McKenna, Erik Sommers, (based on the Marvel comic book) Stan Lee and Steve Ditko
Running Time: 148 mins
Cert: 12A
Release date: 15th December 2021
Along with No Time To Die, Spider-Man: No Way Home is the most hyped movie of the year. What made this film in particular so exciting was the prospect of seeing previous Spider-Man cast members coming together with the new cast. Rumours flooded the internet and social media about who may or may not appear. To keep spoilers away, I will only mention those who appear in the trailers. However, I can tell you that this new Spidey movie is possibly the best. If not the best, it's undoubtedly the most fun.
Peter Parker's identity has been revealed, which means that his life has completely changed. Some regard him as a hero, while others think of him as a villain; the revelation starts to affect not only him but those closest to him. Girlfriend MJ and best friend, Ned, are refused entry to their chosen college, while Aunt May is constantly being hounded by the press. Peter decides to take drastic action and visits Doctor Strange to see if he can cast a spell, so people will forget he is Spider-Man. However, during the episode, Peter keeps tampering with it and causes a crack in the multiverse, where supervillains from other dimensions appear.
Continuing directly after the post-credit sequence from Spider-Man: Far From Home, the film literally swings into action as Spidey and MJ escape the eyes of the New York crowds. It then does something that could have been considered dangerous, considering how much hype was around the film. It gives the characters motivation to head down a road that, as Doctor Strange says, you don't want to go. Act one then is more about the consequences of being revealed. Peter, still only a teenager and making his most difficult decision in life so far: where to go to college, soon finds that being Spider-Man isn't an instant ticket. Far from it. With half the world for him and the other half against, Peter soon discovers that his friends are affected by the events just because they know him.
Wanting to do the right thing, he goes to Doctor Strange to get help. Advised by Wong not to do it, Strange ignores him, and a spell to erase the memory of everyone that Parker is Spider-Man begins. Yet Peter still wants MJ, Ned, Aunt May and Happy to know. As he changes his mind through the spellcasting, something goes badly wrong.
Act two is when the action kicks in, and it becomes almost relentless from that point on. As the villains appear, director Jon Watt keeps the whole thing moving with some inventive fight sequences and even more impressive effects. The film's fun is seeing these classic villains returning from the original Spider-Man movies and The Amazing Spider-Man films, facing confusion with a new Peter Parker. A scene in which Spidey and his friends come face-to-face with these baddies is so wittily written and played pitch-perfect by all.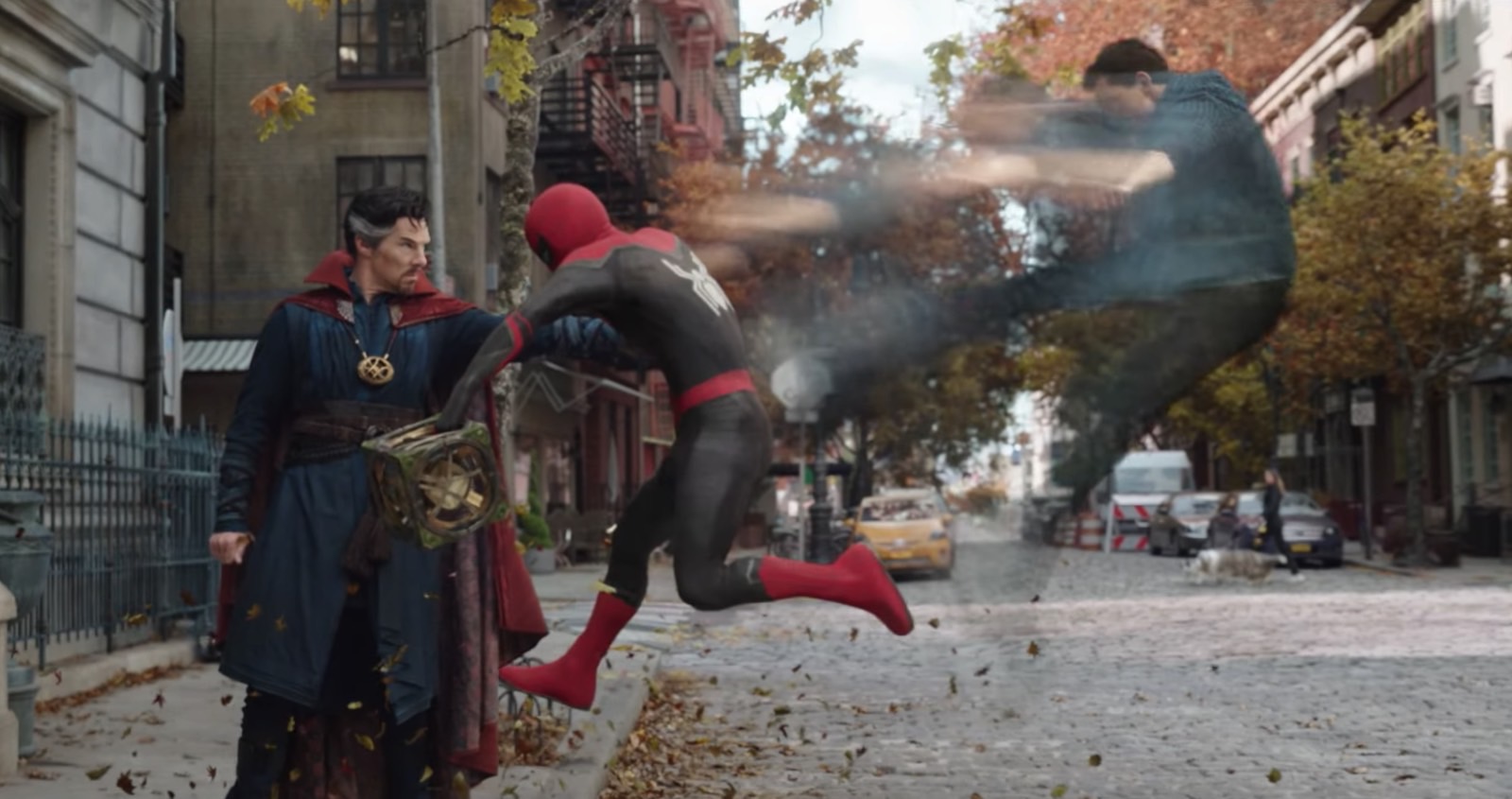 The final act is, of course, the spectacle part with a showdown on a scaffolded Statue of Liberty, and that's when I will stop. The film is crammed with tricks and treats for all who have invested a great deal of time in not only the Spider-Man universe since 2000 but also the Marvel Cinematic Universe and beyond. Not only is the excitement level lifted, but the comedy adds to the experience and some surprisingly touching and emotional moments. It also finally sees Peter growing up and discovering that great power comes with great responsibility.
The cast is terrific, with everyone throwing themselves into the fun. Tom Holland has really grown into the role of Peter, and here he is allowed much more room to show his strength as an actor. Zandaya cherishes the chance to be a happier MJ, while Jacob Batalon is still a joy as Ned. The real fun is seeing the supporting cast do their thing. Willam Dafoe is going full crazy as Norman Osbourn, while Alfred Molina returns with a touch of class as Doc Ock.
Spider-Man: No Way Home is perfect holiday entertainment. In these trying times, going to see a movie like this, forget your troubles and woes, is the tonic. This is bright, funny, exciting, and a blast from start to finish, and I loved every single moment of it. So don't forget to stick around till the end for an exclusive trailer to a new Marvel film, and please, don't spoil the surprises.
5 out of 5