Director: Sam Mendes
Starring: Daniel Craig, Christoph Waltz, Monica Bellucci, Lea Seydoux, Ralph Fiennes, Dave Bautisa, Andrew Scott, Naomie Harris, Ben Whishaw
Written by: Jez Butterworth, (also story) John Logan, Neal Purvis, Robert Wade and (based on the characters created) Ian Fleming
Running Time: 148 mins
Cert: 12A
Release date: 26th October 2015
From the second that infamous music begins and the return of an old friend to its rightful place, you know that we are back in the world of Bond. A spectacular opening post credit sequence set in Mexico that starts with a terrific tracking single shot and ends with a breath-taking stunt set piece, you are already building up the goosebumps, only then helped along by Sam Smith's haunting theme. Yes, the 24th outing of Ian Fleming's secret agent sets its stall out immediately and you believe that this is an equivalent to the last Bond, the excellent Skyfall. Yet Spectre is a much more playful Bond than of late and sadly doesn't quite hit the highs of the 2012 predecessor but it does come close.
James Bond, after causing havoc in Mexico disposing a known assassin, returns to London to find that MI6 is merging with MI5 and that new boss, Denbigh, wants the double-O's revoked. Yet Bond has his own personal mission, triggered by a cryptic message from his past, that leads him to discover a secret organisation that deals in international terrorism and digs deeper into Bond's past.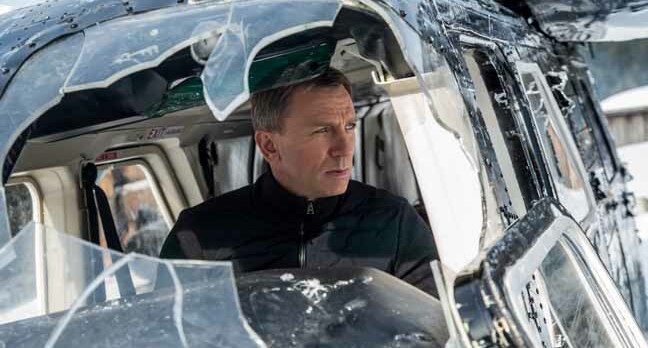 Skyfall was always going to be a hard act to follow. It was, in the eyes of some, the best Bond ever and having given it a second viewing recently, I would certainly put it up there with the best of the best. So returning director Sam Mendes instantly gave himself an uphill battle. How can you top what is virtually untoppable. Simple answer: you can't. Instead, Mendes does something very clever. He's given us a glimpse at a Bond of old. Sure, we have the brutality and darkness that runs through all the recent Bonds, yet here he has also given us a playful Bond, full of the things we loved from the past, as well as a few well placed nods to the classics.
The downside is the plot. Anyone unfamiliar with the past three Bond films may need to catch up before entering. There's plenty of references about past characters that might leave some viewers befuddled. It also does get dragged down in expositions. The "talkie" bits are quite long and essentially do slow things down. However, when these scenes do happen, Mendes throws in another amazing set piece or fight sequence that allows you to forgive the long explanations.
Where Spectre succeeds is taking Bond back to his roots, movie wise not character wise. In the past, we have had a sullen Bond who would rather beat seven bells out of a person without a hint of humour. Here the quips have sneaked back in, mainly from Q, who is given a bigger slice of the pie this time. The globe-trotting is in place, with Bond going from Mexico to Rome to Austria to Tangiers and back to London. We even have Bond back in the snow, although without the skiing. The gadgets are back too, with a cheeky wink to the past as Bond drives a not-quite perfect Austin Martin.
Daniel Craig has become so comfortable as Bond, it's like he's slipping back into one of his well-tailored suits. He is still physical yet there is always an air of vulnerability about him. Given him a sense of humour almost makes him more human and there are moments when he makes decisions you would never have expected from the same Bond of Casino Royale days. He has become the near perfect Bond that puts him almost on par with Connery.
Christoph Waltz is such a watchable actor that even the slightest nuance makes his character that more interesting. As head of Spectre, Franz Oberhauser, he might not come across as the most evil of villains, yet there is always something sinister about him. Something we cannot trust. Lea Seydoux, most known for her role in the erotically charged, Blue Is The Warmest Colour, makes for an attractive Bond girl but isn't given enough to do. Dave Burista is a brutal henchman as the silent yet deadly, Mr Hinx, a part that can be placed along side the likes of Jaws and Oddjob.
The support group for Bond has grown into a nicely formed collection of actors. Ralph Fiennes steps into the role of M as if he's been playing it all his life, with assured confidence, while Naomie Harris gives Moneypenny as real contemporary feel. Ben Whishaw adds some well needed humour to the film as Q.
Spectre is a well made, exciting addition to the Bond series that opens so many more doors to future films. Should Craig return as 007? It would be nice to see it but the film has left enough room for someone new to take over. As it is, this is another entry that delivers exactly what you want from a Bond film. Pure, unadulterated entertainment.
5/5