Directors: Charlie Kaufman and Duke Johnson
Starring: David Thewlis, Jennifer Jason Leigh, Tom Noonan
Written by: Charlie Kaufman
Running Time: 90 mins
Cert: 15
Release date: 11th March 2016
Charlies Kaufman has to be regarded as one of the geniuses of cinema. His films are never straight forward. Always unique and special and allows his audience to think instead of being force-fed information. After films like Being John Malkovich, Eternal Sunshine of the Spotless Mind and Adaptation, you would have thought financiers would be queuing up to be part of his next project. Yet Anomalisa, a stop-motion animation with all the magical touches of Kaufman, had to rely on Kickstarter to get money.
Michael Stone is a motivational speaker on Customer Service. Yet he has no motivation. His  life has become a  mundane bore filled with ordinary people who all seem the same. On one of his endless tours across the country, he finds himself in Cincinnati where he meets a woman who could change his life.
Co-directed by Kaufman with Duke Johnson, Anomalisa is one of those rare treats that comes out of nowhere and surprises you long after it has ended. Nominated for Best Animated Feature at this year's Oscars, it takes the subject of an ordinary man and delivers something never seen before on-screen.
Based on a play written by Kaufman, the animators have created characters that look identical except for the hair and clothing, while they all possess the same voice, to represent that no matter who they are, to Stone, they are all the same. The attention to detail in the movements of these characters is superb. We see everyday occurrences being played out by puppets, looking more real than any human. Added to that,  Stone's sad and lonely life is shattered when meeting Lisa, a woman staying in the same hotel but whose voice is different to everyone around her.
Here is where the film's heart lies. The relationship between Michael and Lisa has more emotion, more truth than anything any actor could produce. For the brief moments when the two are on-screen together, you can feel a passionate partnership building, including a very graphic and detailed sexual sequence. Yet it is Michael reliance of the mundane who has to destroy something so beautiful.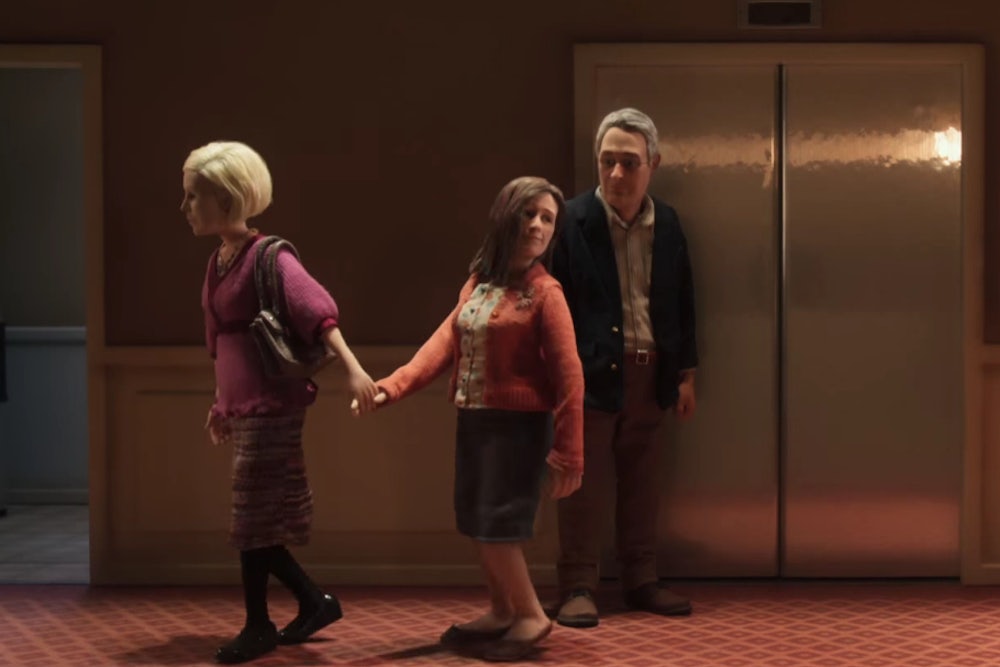 Kaufman used the same cast as he used when the script was performed as a "radio" play in London. David Thewlis is perfectly droll as Michael, the uncharismatic customer service expert whose life has become a series of endless meeting of the dull and uninteresting. Jennifer Jason Leigh, making a revival with this and The Hateful Eight, is a delight as Lisa, the woman who lights up Michael's world, while Tom Noonan supplies the voices of everyone else, with a gentle cadence that is both dull and interesting at the same time.
Anomalisa isn't a film for everyone. If you like your films to tell you everything then this might be hard work. However, if you like a challenge, then you will be richly rewarded, for this is a witty, clever, fascinating look at the human condition while at the same time being a film full of heart. Far more heart than any film recently. It's also a feast for the eyes and ears, as Kaufman's dialogue is matched by the dying art of stop motion. An intelligent and unique movie experience.
5/5