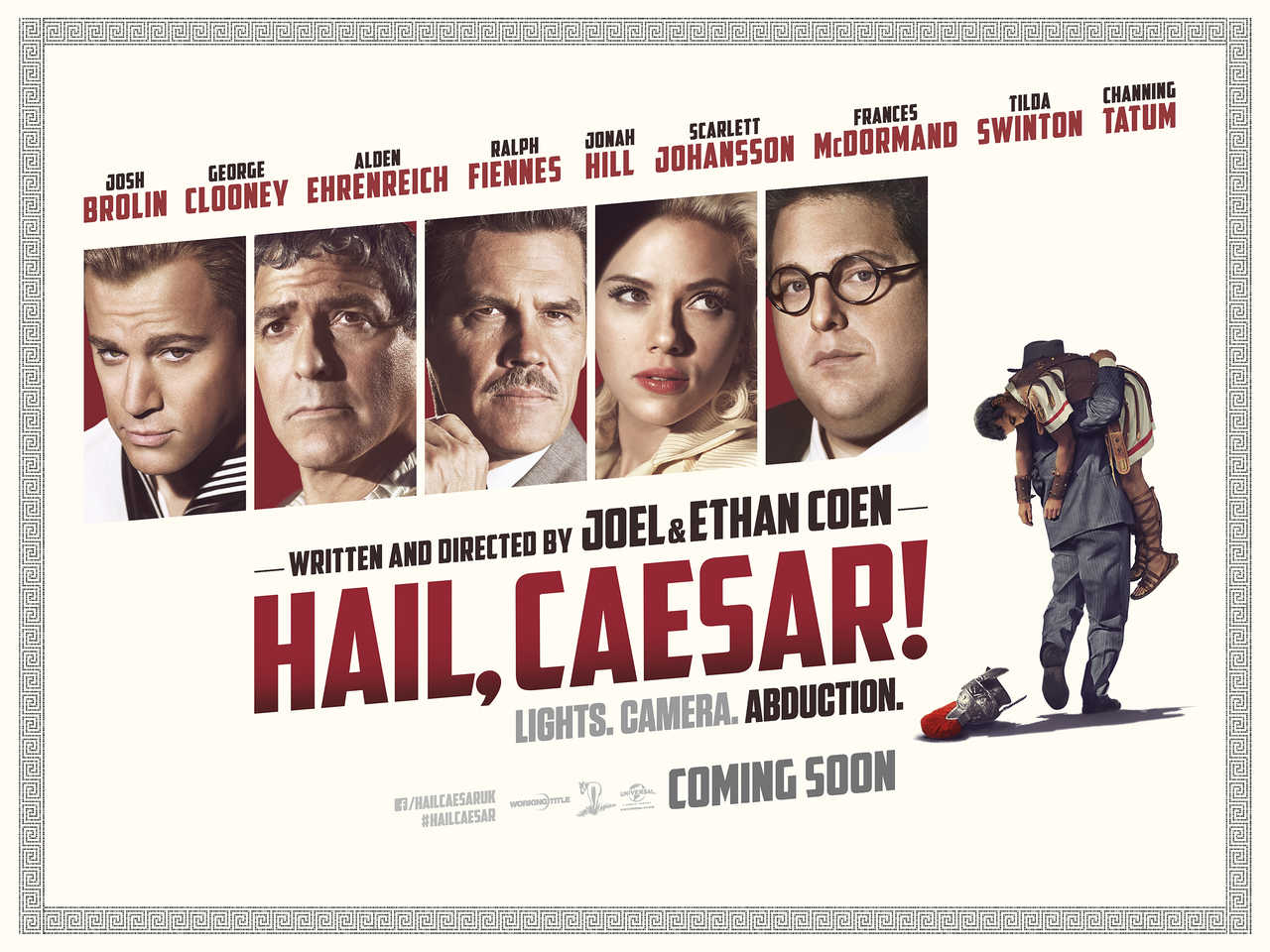 Directors: Joel and Ethan Coen
Starring: Josh Brolin, George Clooney, Aiden Ehrenreich, Ralph Fiennes, Scarlett Johansson, Tilda Swinton, Channing Tatum, Frances McDormand, Jonah Hill
Written by Joel and Ethan Coen
Running Time: 106 mins
Cert: 12A
Release date: 4th March 2016
Hail, The Coen Brothers. All hail to thee. After months of frankly unfunny and puerile comedies, we have the reliable Coens to deliver a film packed with big belly laughs. A film that doesn't rely on jokes about bodily fluids but one that is sharp, witty, intelligent and downright bonkers. A film that had me leaving the cinema grinning from ear to ear.
Eddie Mannix works for Capital Film Studios during the 1950's. His job: fixer. A man who covers up the indiscretions of the stars, creates stories where there are none and covers up those that are. In one day, Eddie has a huge problem. The studios' biggest name, Baird Whitlock, has been kidnapped while he was in the middle of making the Biblical epic, Hail, Caesar. Mannix, while having to cover up a pregnancy, form a relationship between two new rising stars and keep the productions rolling, even without its huge name, must find the kidnapped star before anyone notices he is missing.
This affectionate examination of a time in Hollywood where they struggled with religion while having starlets dress up like mermaids and where a cowboy could become sophisticated, is played out with the Coen's usual flair for dialogue. The script is like listening to someone reading a classic novel, wordy, yes, but a pleasure to the ear. At the same time, they haven't forgotten that golden rule of comedy: make it funny.
Funny it certainly is. Mixing the bizarre with the satirical, the insane with the sensible, the film, a huge contrivance, bounces around from set to set, going from classy dramas to "On The Town" style musicals/ Yet for all it's weird jumping about and often incoherent plotting, the film is never dull and is filled with seriously memorable moments. The scene where Laurence Laurentz, director of a sophisticated comedy, is desperately teaching his forced-upon leading man, cowboy actor, Hobie Doyle, to say the line "Were it was that simple!" will go down as one of the great scenes in comedy.
Littered with top names, all giving it their all, starting with Josh Brolin as Mannix, a tough, no-nonsense man who lives for his job, is excellent. Full of quiet aggression while containing his stress levels, it feels like Brolin has just stepped off the set of a Bogart movie. George Clooney, as Whitlock, sporting a Roman soldier's  haircut and a Buzz Lightyear grin, is hilarious. Channing Tatum is allowed to hoof in an impressive pastiche of On The Town, yet the real star is newcomer Aiden Ehrenreich, with a neat line of lasso tricks, he shines brighter than any of the big names surrounding him.
Hail, Caesar is not the best work from the Coens. Yet in a time where genuinely funny comedies are few and far between, it's refreshing to watch a period piece that is so adoring of the time and the setting, that allows its actors to shine with dialogue that crackles and with a film that entertains and delights in equal measures. It's not going to excite those looking for the next Dirty Grandpa but if that's your bag, then you should stay clear of this gem. It's far too smart for you.
4/5