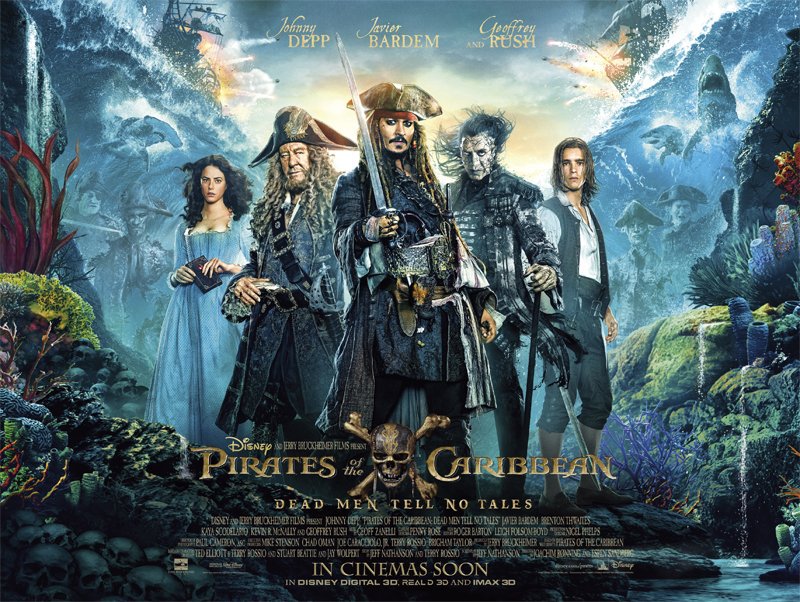 Directors: Joachim Rønning and Espen Sandberg
Starring: Johnny Depp, Javier Bardem, Geoffrey Rush, Brenton Thwaite, Kaya Scodelario. Kevin McNally, Stephen Graham, David Wenham
Written by: (also story) Jeff Nathanson, (story and based on the characters created) Terry Rossio, (based on the characters created) Ted Elliott, Stuart Beattie and Jay Walpert.
Running Time: 129 mins
Cert: 12A
Release date: 25th May 2017
There is a saying in TV that when a hit show is on its last legs, it's "jumped the shark!"  This is based on an episode of the hit comedy, Happy Days, when The Fonz, while waterskiing, jumped a shark. After that, the show tanked and never really recovered. Half way through this fifth installment of the never-ending Pirates of the Caribbean franchise, a giant dead shark jumps over a boat containing Captain Jack Sparrow. The strange thing is, this series was dead in the water a long time ago that it didn't need that scene to remind us this was a movie that was tanking. Really tanking!
Will Turner's son, Henry, has a dream of bringing his dead father back to life by finding the legendary trident belonging to Poseidon. Carina Smith, a young woman constantly accused of being a witch, has a book given by the father she never knew, containing a map to the whereabouts of Poseidon's trident. A ghost pirate ship, belonging to Spaniard Salazar, has escaped its cave and is out to destroy every pirate ship around, looking for the man who imprisoned them, Captain Jack Sparrow. The only way to stop them? Poseidon's trident.
I loved the first Pirates movie. When it arrived on our screens back in 2003, it was exciting, entertaining and had its tongue rammed in its cheek. In those days, Jack Sparrow was different, quirky and unique. 14 years on, with those three sequels behind it, the series had become confused, labored and, in some cases, rather dull. So the hope that new directors at the helm, Norwegians Joachim Rønning and Espen Sandberg, could bring something different to the table and a fresh-faced cast of new characters, the expectations for a change in direction for the series was great. How wrong could we be?
The whole film is a mess from start to finish, The plot doesn't make sense, the effects, while full of artistry, are frankly too much, and the character of Jack Sparrow has become pitiful and annoying. This is a film that wants you to like it because it's big and loud and visceral, yet it lumbers along like some heavyweight whale in a sea of slush. To be honest, it's boring! On several occasions I was checking my watch, thinking that it didn't have long to go only to be disappointed.
Which is a pity because every so often there are moments when you can see elements of the first Pirates coming in. A scene involving a guillotine and Jack Sparrow is exactly what we want, yet in seconds it is gone. When it isn't running around and shouting (this is not a subtle, quiet film) it does have moments when you find yourself reminded that this was like that original. Yet it far too frantic and in your face and ears to be remotely enjoyable.
The cast tries to give their best. Javier Bardem, new to the series, is always worth watching but even he struggles to keep this afloat. Geoffrey Rush, another stalwart and regular of the franchise, also tries hard. Even the two new youngsters, Brenton Thwaite and Kaya Scodelario are fine. Yet it is Johnny Depp that is the problem. He doesn't have the comic timing anymore. He flits around like some annoying person trying to please but failing miserably and when it's not working, he falls over, hoping that slapstick will make you forgive him. Not anymore, Johnny. Even a brief appearance from Sir Paul McCartney seems, well, pointless.
Salazar's Revenge is a ship half sunk before it even starts. After trudging through two hours of shouty, noisy antics, I cared less for the characters and cared even less for the story, which will probably merge into the others in a few days and I will question, which one had the trident? This ship has sailed into the sunset a long time ago. Time to let it sink now. The shark has jumped!
1/5