Director: Andy Muschietti
Starring: Bill Skarsgård, Jaeden Lieberher, Finn Wolfhard, Sophia Lillis, Jeremy Ray Taylor, Chosen Jacobs, Jack Dylan Grazer, Wyatt Oleff
Written by: Chase Palmer, Cary Fukunaga, Gary Dauberman and (based on the novel) Stephen King
Running Time: 135 mins
Cert: 15
Release date: 8th September 2017
Horror films are incredibly difficult things to get right. Most modern horrors are nothing more than going "boo!" or just throwing gallons of blood at the screen. True horror films work because you care about the characters enough that you don't want any harm to befall them. The majority relies on thinly written, one-dimensional creations that we really care if they live or die. So it was a real pleasure to watch It…a new adaptation of Stephen King's huge novel. Not only is it the best King film in years but it is one of the best big budget horrors for ages, mainly because we care about the characters.
Denny in the late 1980's. A small town with a mysterious curse. Children are disappearing, including Bill's younger brother, Georgie. Bill, a small boy with a stutter, along with a small band of friends who call themselves The Losers Club, are being haunted by an evil clown named Pennywise. He could be the key to the disappearances, as could the vast sewers that run under the town. The Losers Club, named after the fact that they are all singled out for bullies and their various neurosis, decide to take on their nightmares and remove the curse once and for all.
If you remember back in the late 80's, It…was a hugely successful, if slightly hit and miss, TV mini series, that was made all the better for having Tim Curry's extremely creepy Pennywise at the centre of the piece. Clowns, at the best of time, are genuinely creepy but he pushed it to new extremes. Here, director Andy Mushietti is less interested in Pennywise and more interested in the children he haunts, which makes the events even more terrifying.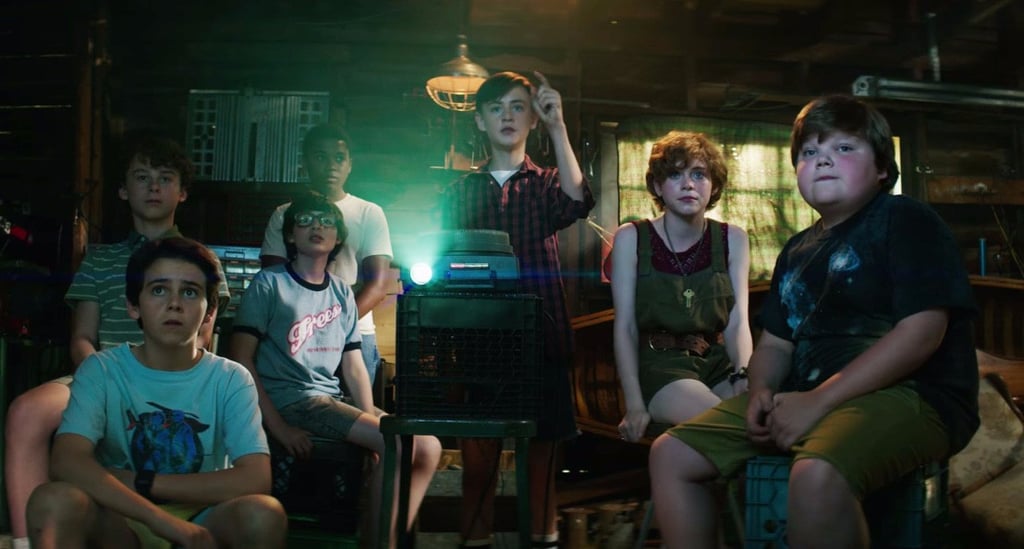 This is more a coming-of-age tale than an out-and-out horror. These children, during their summer break, do things that children use to do before technology interrupted youngsters lives: ride bikes, go swimming and insult each other with affection. What also binds them is being in a town where evil lurks and like an adventure beyond even The Goonies imagination, they take the challenge of facing their fears head-on.
As you watch these youngsters, all brilliantly believable and not an air of pretentiousness among them, you are instantly reminded of those now classic adventures of the 80's like The Goonies, ET and another Stephen King adaptation, Stand By Me. You can also see the influences of Poltergeist and A Nightmare On Elm Street. In fact, scattered throughout the film there are plenty of cinematic references.
Yet at the heart of the film is this believability of the characters, which makes the horror greater. When these kids are in real peril, you are drawn into fearing for their lives, which makes you even more scared. Several times I found myself jumping, something I haven't done in a horror movie for a long time. Some of the effects are truly terrifying, especially when Pennywise transforms into the various creatures and characters that affect each child.
As the clown, Bill Skarsgard has very big shoes to fill after Tim Curry's creation. Thankfully he has not given a carbon copy, instead, gives us quietly sinister. The opening sequence in which we first meet the monster, you see nothing more than yellow eyes and a mouth with two buck teeth, yet his voice sends shivers down your spine.
It…is a very skilled, well-made tale that will grab you by the throat and never let you go, while at the same time having plenty of heart. It also, in places, is very funny, with some nice moments of comic relief to ease the tension. It's a film that will remind you of friendships long gone and he nightmares of what may lurk in those dark shadows when you were a child. This is, of course, only the first part and I cannot wait for the second chapter. It…floats magnificently!
5/5