Director: Christopher McQuarrie
Starring: Tom Cruise, Henry Cavill, Ving Rhames, Simon Pegg, Rebecca Ferguson, Sean Harris, Angela Bassett, Vanessa Kirby, Alec Baldwin, Michelle Monaghan, Wes Bentley
Written by: Christopher McQuarrie and (based on the television series created) Bruce Geller
Running Time: 147 mins
Cert: 12A
Release date: 27th July 2018
Hard to believe that it was 1996 when we were first introduced to the big screen antics of the IM team and Ethan Hunt, as directed by Brian De Palma. In a franchise that has seen very little changes, you would have thought it would have run out of steam, that it would be getting tiresome and, with some franchises, given up the cinematic releases and headed into the land of direct-to-DVD. Not Mission: Impossible. After a shaky second film, it picked itself up, dusted itself down and knew exactly what it wanted to be: a no-holds-bar action series where stunts and set pieces are king and audiences can leave the cinema exhausted but satisfied. Episode 6 does exactly that and then some.
Plutonium has been stolen and it's up to Ethan Hunt and his IM team have to get it back. After a failed attempted, the CIA no longer trusts Hunt and so bring in August Walker, a hired assassin, to watch over the team as they prepare to get the Plutonium back. Hunt has to infiltrate the world of a dealer named The White Widow, who wants an exchange in the form of terrorist Solomon Lane, the man Hunt put away. Lane, however, still has powers in the outside world and is planning to use the Plutonium to create three nuclear bombs.
The plot is as wild and as woolly as they have always been but if you are going to see a Mission: Impossible film for a decent storyline, then you are going to the wrong movies. Plots are there to hang the most outrageous and extraordinary set pieces around and where other films try desperately to incorporate both, the Mission: Impossible films blatantly don't care. What they want people to do is hang onto their armrests while they watch stunt work that is both breath-taking and utterly bonkers.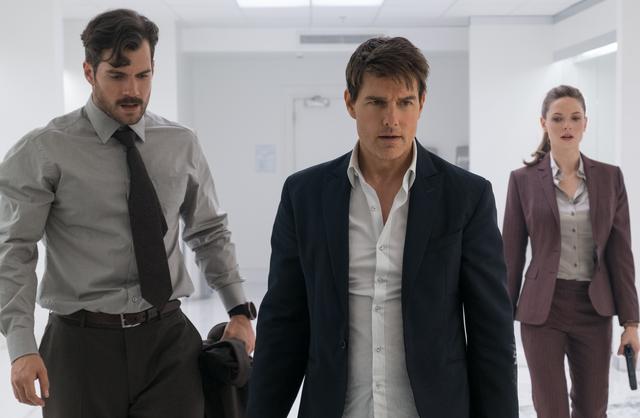 Fallout delivers in that field in a huge way. We get plenty of globetrotting where Hunt and the team can use a variety of vehicles to race around in. We bounce from Belfast to Berlin to Paris to London and end up in Kashmir. Along the way, we have chases on motorbikes, in cars, on foot and a final act with the wildest chase of all, in helicopters that ends up with a vertigo-inducing fight sequence on a mountain that left the audience at the screening I attended, applauding, quite possibly out of relief and utter joy. There's also the usual japes of mask-wearing to trick both the enemies as well as the viewers and a fight scene in a French toilet that will leave you feeling you've been beaten to a pulp.
What is so winning about this series is how much these characters have grown and while there isn't much in character development, writer and director Christopher McQuarrie, helming his second M:I movie, does give the characters some depth. The natural-sounding banter between Hunt, Benji, the computer geek now turned all-out action man and Luther, returning after being absent from a few movies, comes across more like the conversations between workmates than super spies. The inclusion of a few old favourites returning to the fold also brings the series to life.
Tom Cruise, now in his late 50's, still doesn't look like slowing down, once again doing his own stunts to the point that he broke his ankle jumping from one building to another (and yes, it's in the film). Joining him this time is Superman, Henry Cavill, as Walker in a role that he seems well suited for. Ving Rhames and Simon Pegg also return as Luther and Benji, while Rebecca Ferguson, after making a huge impact in Rogue Nation, is back as British Spy Ilsa Faust. Sadly no Jeremy Renner this time due to Marvel commitments.
Mission: Impossible – Fallout is loud, implausible and sometimes totally incoherent. Yet it is also exciting, fast-paced (at almost 2 and a half hours it zips along at a break-neck pace) and exhilarating. It is also possible one of the best in the series and any film that can have a packed cinema filled with film critics applauding has to be the biggest compliment any film could have. If there is a better blockbuster this Summer I will be very surprised. I loved it.
5/5