Director: Mimi Leder
Starring: Felicity Jones, Armie Hammer, Justin Theroux, Sam Waterston, Kathy Bates, Cailee Spaeny, Jack Reynor, Stephen Root, Chris Mulkey
Written by Daniel Stiepleman
Running Time: 120 mins
Cert: 12A
Release date: 22nd February 2019
Last week saw the release of A Private War, the story of the powerful and influential war correspondent Marie Colvin. This week we get a biopic of Ruth Baden Ginsburg, a woman who is little known in the UK but she is seen as a tour-de-force when it comes to the US legal system and sits proudly on the Supreme Court. Like the previous film, this is a woman who demands a larger scale to tell her story and sadly, like the Rosamund Pike film, the performances are great, but the film lacks the punch.
Ruth Bader Ginsburg has decided to join her husband in the high-powered world of Havard Law, an institute renowned for being a male-dominated world. Faced with prejudice and blatant sexism, Ginsburg refuses to give up. Unable to secure a job after graduation, Ginsburg finds herself teaching law to radical students in the Women's Lib time of the 1970s. When her husband, now a tax lawyer, gets a case of discrimination due to sex, Ginsburg seizes the opportunity to rise in the ranks of civil law.
From a script by Ginsburg's nephew, this is a very safe and somewhat cliched ridden movie which starts off strong with an impressive opening in which a sea of grey suits is broken up by Ruth's colourful dress, a symbol of a single woman defining the odds and trying to crack a society of males. What follows is a by-the-book biopic, which we get to see Ginsburg fighting against a dean who refuses to accept that women can become lawyers, jumping to the '70s where Ginsburg teaches a room of hippies, all desperate to fight against discrimination for being women.
The film then centres on the case of a male carer being discriminated against by the state. Ruth and her husband, Martin, are desperate to get the law changed as well as make a name for themselves as lawyers. While the events seem fascinating, it is clear that this will be littered with technical legal banter which, unless you are entirely familiar with, will either confuse or frustrate the viewer.
All the while, director Mimi Leder fills the film with cliches, none more so that the final sequence in the courtroom, where Ruth has to face three male judges to defend her client for sexual discrimination. A five-minute speech from Ginsburg, complete with stirring, emotional orchestration, would have gone down well with voters of the Academy, had the film actually been nominated.
This is the main problem for the film. You can see that even though it has been made for all the right reasons, to bring the name of Ruth Bader Ginsburg to a broader audience, it does whiff of longing for awards, which seem to have backfired. Not that it's all bad. The gender-swapping of Ruth and Martin makes the film exciting and refreshing. We get a husband being supportive of his wife, staying home while she goes out to change the world.
Felicity Jones as RBG is terrific. Capturing a woman's determination to make a difference, Jones manages to balance a strong-willed and sometimes stubborn individual and still keeping her human. Armie Hammer is perfect as her husband, and the pair make a delightful couple. Among the solid supporting cast, Justin Theroux scores high as Mel Wulf, an associate who feels Ruth isn't the right person for the job.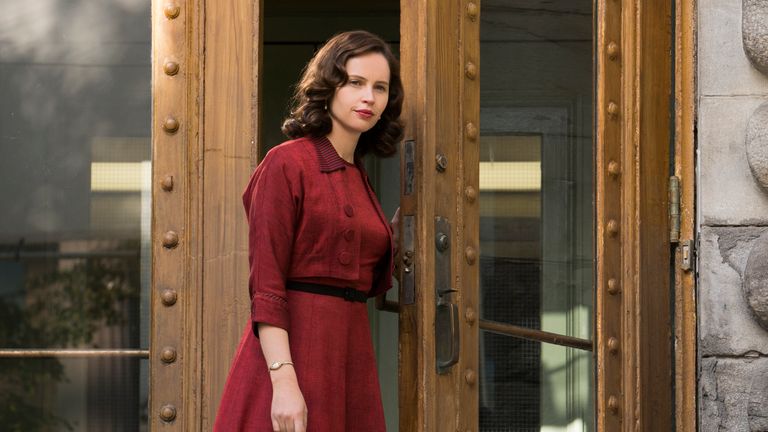 On The Basis Of Sex is a passable, workmanlike biopic but it is nothing more than that, and you feel she deserves something more stunning. If you want to know more about this remarkable woman, then get to see the recent documentary RBG. You get more of an insight into this incredible woman.
3/5