Director: David Yarovesky
Starring: Elizabeth Banks, David Denman, Jackson A. Dunn, Emmie Hunter, Matt Jones, Meredith Hagner, Gregory Alan Williams
Written by: Brian Gunn and Mark Gunn
Running Time: 90 mins
Cert: 15
Release date: 19th June 2019
It's hard making a superhero film original nowadays. With Marvel and DC battling it out for supremacy in the cinema, all other newcomers have to find a way of grabbing the attention of audiences in an already crowded market. Brightburn tries its best, giving us a superhero horror instead. What we get is a borrowing of the Superman mythology with a mix of The Omen thrown in for good measure. Does it work?
Tori and Kyle Breyer live on a farm outside a small town and dream of being parents. One night, they find a meteor crashing on their land and inside is a small child. Immediately, they adopt him, and Brandon becomes their son. Reaching 12-years-old, Brandon starts behaving strangely. This once polite young boy is rude and aggressive, He discovers he has powers beyond his control, and he is being led by the meteor hidden in the family barn. Yet this newfound power could be used for good, except Brandon is turning bad.
The plot for this is identical to that of Superman. Child from the stars lands on a farm and is adopted by farmers only to find this mysterious boy has superpowers. Exactly the same. The question raised by director David Yarovesky is, what would have happened if Superman was evil? This is the answer. A pretty gruesome horror in which the child of the devil has been born and if he doesn't like you or what you could do to him, he will regret it.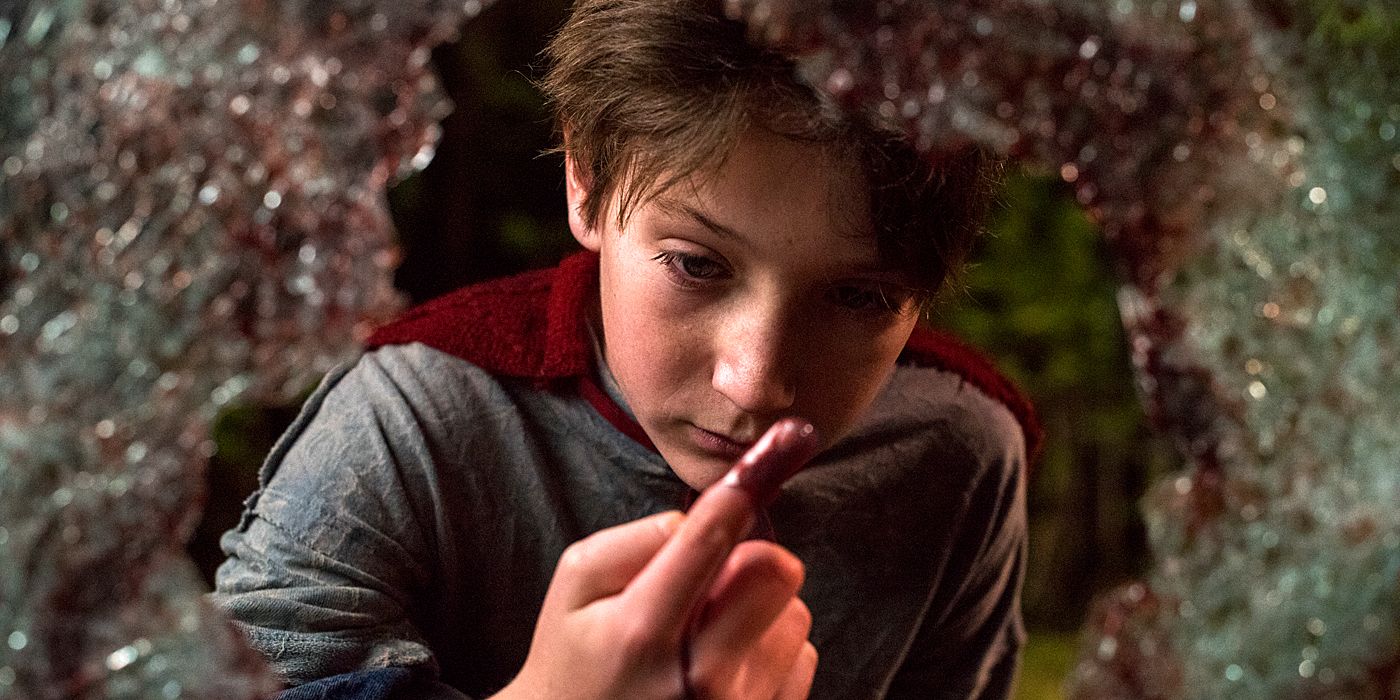 Starting off slowly, this builds the tension nicely, with nothing much happening for a good half of the film as Brandon begins to act ever more strangely, from throwing an almighty strop when he is not allowed the rifle given to him as a present, to the odd doodles that he sketches out. His behaviour turns for the worse when accused of being a pervert by the schoolgirl he thought liked him. From this point on, Brandon acts more like Damien from The Omen, only he can fly.
The film thankfully doesn't rely on the jump scares usually associated with modern horrors. This is more grisly, as Brandon begins a violent rampage on anyone who tries to stop him. Some of the set pieces are quite graphic, and those of a nervous disposition should look away. The effects for a film of this modest budget are decent enough, and it keeps the attention throughout, never outstaying its 90-minute running time.
Elizabeth Banks, as Brandon's mother, Tori, is terrific. A woman refusing to accept that her son is evil and who will defend him even when she knows it's not true. Jackson A. Dunn is decided wicked as Brandon, with a look that could kill, while the rest of the cast do a decent job.
This is groundbreaking or original, and it's not going to trouble the giants of Marvel or DC, but for a horror film, it's perfectly fine. It did take itself way too seriously and needed some lightness of touch throughout this very dark tale, but it was miles better than I expected it to be.
3/5