Director: Asif Kapadia
Starring: Diego Armando Maradona, Claudia Villafane, Diego Maradona Jr, Cristiana Sinagra, Corrado Ferlaino, Maria Rosa Maradona
Running Time: 130 mins
Cert: 12A
Release date: 14th June 2019
Back in 2015, director Asif Kapadia, gave us the brilliant documentary about the tragic life of Amy Winehouse, Amy, one of the best films this century. His previous film, Senna, about the Formula 1 driver Ayton Senna, dealt, in the same way, the tragedy of the racing star. Now, his third film in the trilogy focuses on Diego Maradona, one of the greatest football players ever. Like his previous films, this isn't solely about football but how a man can go from being revered as a God to being destroyed by the same people.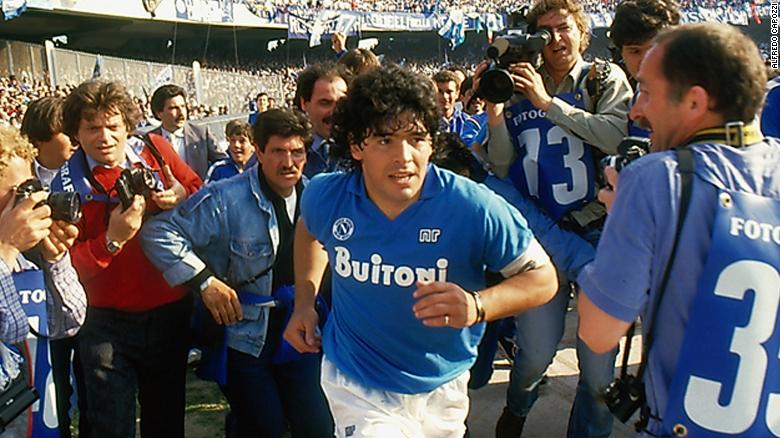 Diego Maradona was at the top of his game when he made the surprising move from top team Barcelona to the failing S.S.C. Napoli. People questioned why he would do this when he had the choice of playing for any team in the world, that he would choose a team at the bottom of the Italian league and who was regarded by others in the country as a sewer in Italy. Determined to turn the success of the team around, Maradona did just that, but he had connections with the mafia, stardom brought women and drugs, and the worst thing could happen: World Cup match of Argentina vs Italy, in Naples.
Created from hundreds of hours of unseen footage, Kapadia skips through the early career of the football star to concentrate on the events at the time of Napoli. At the first press conference, he is confronted with questions about the local gang influences on the town, yet he is there to play his beloved game. Once he starts bringing success on the team, Maradona is continuously mobbed, and suddenly his relationships with different women and his connection with the mafia start appearing in the papers.
His winning streak takes the team from the bottom to the top of the league, and his success couldn't get bigger. The decision to play an essential game in the 1990s World Cup, the semi-final between Maradona's Argentina and Italy, in the same town he plays his league games, is the downfall of a superstar.
Kapadia's film manages to mix the football tale with that of the personal battle how he had two personas to survive the constant attention. There was Diego, a quiet, insecure man and Maradona, the beloved player and egomaniac. Like his previous films, Kapadia doesn't sugar-coat anything. Instead shows the flaws, the wrong decisions and finally, his destruction that is more about patriotic passion than loyalty.
Diego Maradona is a fascinating tale of the bumpy road of stardom and the effects it has on a man. While it's not as good as Senna or Amy, mainly because it doesn't carry the emotional punch those film had, this is still a terrific documentary and another notch in Kapadia's career that puts him at the top of this genre. Whether you are a fan of football or not, this is well worth checking out.
4/5