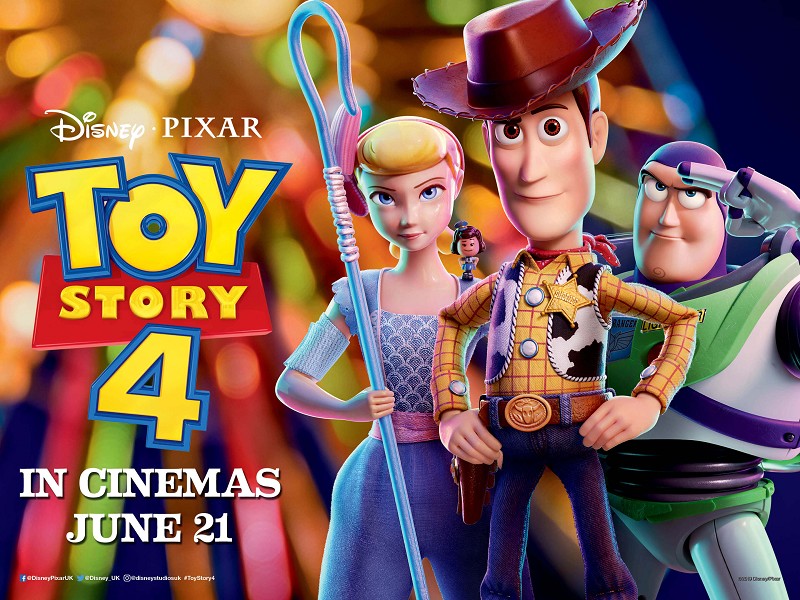 Director: Josh Cooley
Starring: Tom Hanks, Tim Allen, Annie Potts, Tony Hale, Keegan-Michael Key, Jordan Peele, Christina Hendricks, Keanu Reeves, Joan Cusack, Bonnie Hunt
Written by: (also original story) Andrew Stanton, Stephen Folsom, (original story) John Lassiter, Josh Cooley, Valerie LaPointe, Rashida Jones, Will McCormack and Martin Hynes.
Running Time: 100 mins
Cert: U
Release date: 21st June 2019
Let's go back nine years. The summer cinema was full of sobbing audience members watching the final part in the trilogy that was Toy Story, hailed, by many, including me, as one of the great cinematic trilogies of all time. So remember how shocked we all were when it was announced that a fourth entry was coming and most people, including me, were sceptical that it would work. Did we really need another Toy Story? After watching Toy Story 4, we certainly did.
Woody and the gang now belong to Bonnie, the little girl Andy gave his precious toys to. When she goes to Kindergarten, she makes a new friend, Forky, a spork who considers himself as trash and so wants to throw himself away. Woody understands just how vital Forky is and so has to protect him. While on a road trip, Forky jumps out the moving vehicle, with Woody not far behind. They have to find their way back to Bonnie but not without being involved in a new adventure, meeting old friends and new.
The first thing that is noticeable about this new film is how technology has moved on since the first film. It looks magnificent. The attention to detail, how light hits the faces of the toys and even the humans have all be developed dramatically since 1995. The world which these beloved characters live is still as vibrant and colourful, but the animation is beyond amazing. From the gravel on the road, the rain splashing down in puddles, the fluff and dust gathering above cupboards are breathtaking.
The plot is the usual mix of adventure and comedy, with an emotional punch as well. This time around, the characters we have grown to love are placed on the sidelines, making room for a batch of new characters who are perfect replacements. Forky is a delightful mash-up of spork, pipe cleaner and bobbly eyes who just don't understand his importance in the world. We have the return of Bo-Peep, now a lost toy, who has had to defend herself in the big wide world. New to the team is Duke Caboom, a Canadian stuntman who is reminiscent of the old Evel Knievel. Finally, Ducky and Bunnie, a pair of soft toys with dark intentions and they produce some of the biggest laughs. Yet this is Woody's adventure. While Buzz is still there as back-up, the focus is clearly on the cowboy with a heart of gold. This is his understanding of what there being more than a bedroom cupboard. It's his self-discovery that we follow, and it is the emotional centre of the film.
The voice talents are as perfect as ever. Keegan-Michael Key and horror wunderkind Jordan Peele are hilarious as Ducky and Bunnie, while Keanu Reeves seems to be having fun as Duke and Tony Hale is ideally suited as Forky. Yet it's the old favourites, Tom Hanks as Woody and Tim Allen as Buzz, who still win us over. A delightful sub-plot has Buzz discovering his inner voice, something he needs to listen to save his friend. Their relationship is always the crutch of the film.
Toy Story 4 may not be as good as the previous films, but it's still a terrific journey, brimming with more intention, laughter and tears than many live action films. It also has a dark side and could be quite scary for the very young. The real shock is that there is no short film before the main feature, so we go straight into the action. It doesn't affect the enjoyment of this absolutely delightful film.
4/5