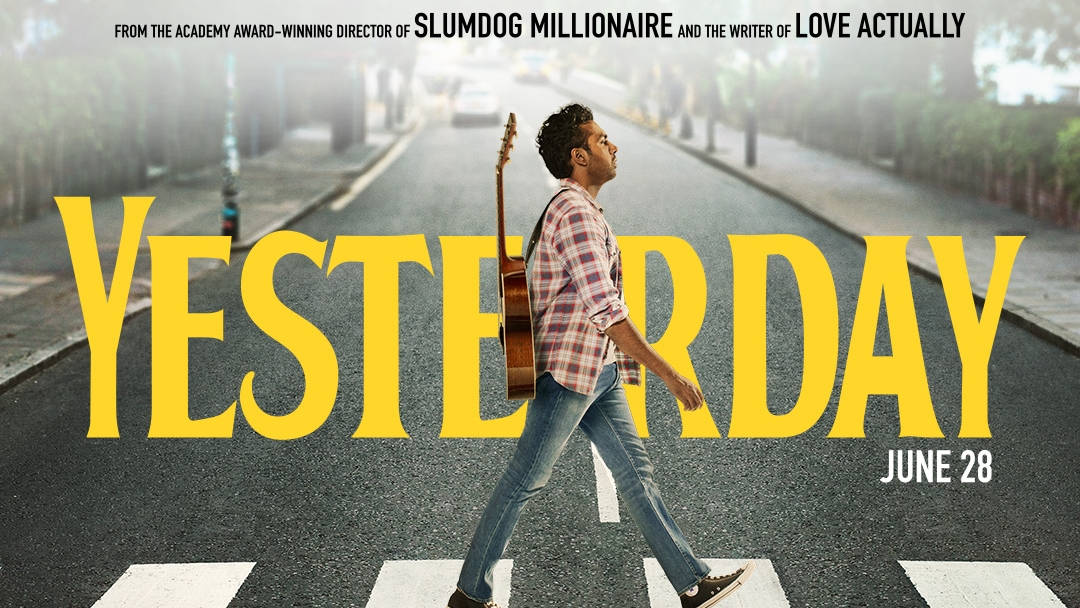 Director: Danny Boyle
Starring: Himesh Patel, Lily James, Joel Fry, Ed Sheeran, Kate McKinnon, Sanjeev Bhaskar, Meera Syal, Alexander Arnold, Sarah Lancaster, Justin Edwards
Written by: (also story) Richard Curtis and (story) Jack Barth
Running Time: 116 mins
Cert: 12A
Release date: 28th June 2019
Richard Curtis loves a 'What if?' story. His previous film, About Time, asked the question, what if you could control time? His latest venture, Yesterday, has the bizarre concept of 'What if The Beatles didn't exist and only one man knew of their back catalogue?' Curtis has teamed up with British wunderkind Danny Boyle and has delivered a crowd-pleasing musical fantasy love story that will have you grinning from ear to ear while tapping your feet.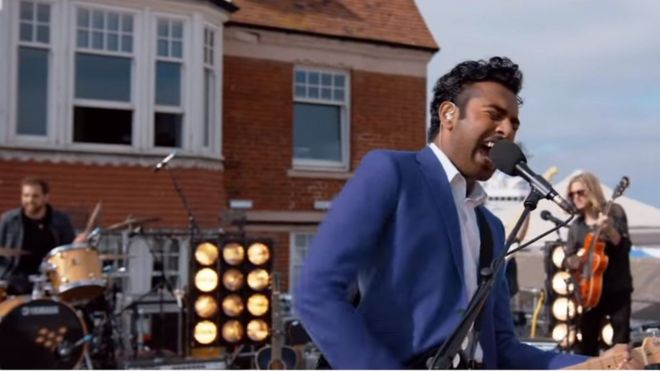 Jack Malik is a struggling musician who performs his own songs to small audiences, supported by his manager and best friend, Ellie. One night, during a worldwide freak blackout, Jack is knocked off his bike. When playing Yesterday to his friends on a recovery gift, he soon discovers that he is the only person to remember who the Beatles were. In this world, they never existed. Jack uses this to his advantage and starts claiming that the songs of Lennon and McCartney are his and that fame is now knocking at his door.
It's a strange idea that could be hard to swallow. Yet in the hands of two masters of their crafts, we, the audience, goes along with it and allow ourselves to follow Jack's journey from obscurity to overnight sensation with a gleeful grin on our faces. Curtis's script is full of the traits and beats we know and love. A loveable outsider finds himself in a world he doesn't understand and yet stumbles through it with the usual British bumblings. Throw into the mix a love interest who the main character doesn't realise is infatuated, along with a sidekick who cannot open his mouth without putting his foot in it and you have the perfect Curtis film.
The film is full of comic possibilities, and the laughs come at a solid pace, from Jack's inability to impress his parents with Let It Be (which they call Leave It Be), to Jack being invited to support Ed Sheeran and having to take the inept Rocky as his roadie. At the heart of the film is the relationship between Jack and love-lorn Ellie. She dotes on the singer yet, as he puts it, he has placed her in the friendship column. This brings on Curtis's other ability as a writer, that of bringing on the heartbreak. It's a touching relationship that longs for you to grab Jack and shake him.
While watching you can see this is a Richard Curtis film, but every so often, Danny Boyle adds his stamp, with the quirky angles, the use of text to indicate location change and a colour palette that is both pleasing to the eye and captures the mood of the piece. The choice of songs is perfection, with each one suited to the time and moment.
If there are criticisms, the film is slightly too long, the American manager, Debra Hammer, is more of a stereotype than a fully rounded character, although comedian Kate McKinnon does her best with what is, predominately, the villainess and there is one scene near the end that is a bit of a misstep.
However, the performances are terrific, with former Eastender actor Himesh Patel carrying the film with aplomb. A gentle, likeable lead who manages to cope with the comedy and dramatic moments with a perfect balance and sings the familiar songs as if they are his own. This is a star-making performance. As his love interest, the always fantastic Lily James scores another winner. She makes Ellie both a joy to spend time with and brimming with sympathy. It's a delight to watch. Sanjeev Bhaskar and Meera Syal almost steal the film as Jack's parents, along with Joel Fry as Rocky, while Ed Sheeran does a good job playing himself.
Yesterday is a charming, delightful comedy that, while the premise is entirely implausible and it never really answers the question, why were the Beatles so great? It is a happy 2 hours in the cinema and will leave you humming your favourite Lennon/McCartney hit all the way home.
4/5