Director: Gurinder Chadha
Starring: Viveik Kalra, Kulvinder Ghir, Meera Ganatra, Aaron Phagura, Dean-Charles Chapman, Nell Williams, Nikita Mehta, Hayley Atwell, Rob Brydon
Written by: Paul Mayeda Berges, Gurinder Chadha, Sarfraz Manzoor and (inspired by the words and music) Bruce Springsteen
Running Time: 117 mins
Cert: 12A
Release date: 9th August 2019
Gurinder Chadha is one of this country's most underrated directors. It's not often you hear her name up with the likes of Ridley Scott, Lynn Ramsey or Christopher Nolan. Yet she has always been faithful to her herself, in that she tries to bring stories that can be relatable to everyone while keeping her Pakistani roots in tack. Movies like Bhaji on the Beach and Bend It Like Beckham, her films show that strict upbringings can make the leads stronger. Her latest, Blinded by the Light, does precisely that and then some. Inspired by the words of Bruce Springsteen, this mix of social comment and feel good attitudes is a better bet than the recent Yesterday.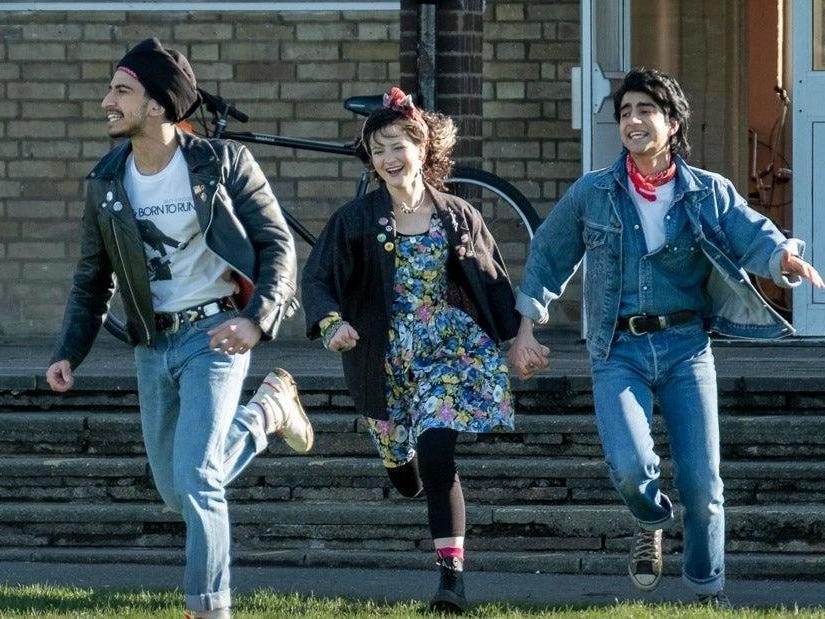 1987 Luton and teenager Javed dreams of leaving his hometown and become a writer. His overpowering father has other ideas. With the family holding it together through the rough times of unemployment and the racism coming from the National Front, Javed feels his dreams will never happen. Then he is introduced to Bruce Springsteen, and suddenly he finds a voice that could change his life. He finds a girlfriend, his work is being noticed by his English teacher and he feels he can achieve anything, Javed finds a newfound confidence.
Chadha's film is a breath of fresh air. It captures the mood of the time, never seeing things through rose-tinted glasses. It is harsh in places. This is a time where kids urinate through the letterboxes of Pakistani households, where unemployment is reaching 3 million and at a time when the now-legendary hurricane hit the British Isles. While these events are played out in the background, this is a story of a young man trapped in a world where he cannot escape until music shows him the way.
It's also a story about a father/son relationship. The father, consistently with the view that he is the figurehead of the father and his word is gold. Faced with a rebellious son, the relationship is strained and at breaking point. The father doesn't see writing as a career and refuses anything apart from the Pakistani way. Yet with the help of Javed newfound love for The Boss, he hears a man who had his own struggles and has achieved a way of escaping.
The songs are used in a much more effective way that Richard Curtis did in Yesterday. While that film treated the Beatles like gods, it never really told you why, whereas the lyrics to Springsteen are often shown on screen as Javed is listening to them, making them more poignant to the story. You can visually see the connections between the words and what Javed is looking for.
The film isn't perfect by a long shot. Plenty of contrivances and some of the dialogue is a little patchy in places. It also has elements of pure cheese and cringing dance sequences that sit uncomfortably among the social comments. What this film does have is heart, charm and warmth among the darker edges, and you find it incredibly relevant to where this country is heading now.
The performances are winning. Newcomer Viveik Kalra is a star in the making as Javed. He has plenty of screen charisma to carry the film and makes you emote with Javed. Kulvinder Ghir, who was one of the stars of TV's Goodness Gracious Me, is magnificent as Javed's father, a man of high moral values who cannot allow his family to lead their own lives and make their own decisions. The chemistry between him and Kalra is electric, and their scenes rise above all else.
This is a film with so much to offer and so much to say. All wrapped up in a soundtrack by a man whose songs weren't always happy-clappy. If you are a fan of The Boss, the music is served and respected just right. If you are not, don't fear because this is a film that will have you smiling, laughing and crying. Who knows, you might like Springsteen by the end as well. Definitely Gurinder Chadha's best film since Bend It Like Beckham. Maybe now her name will go along with the good and the great.
4/5