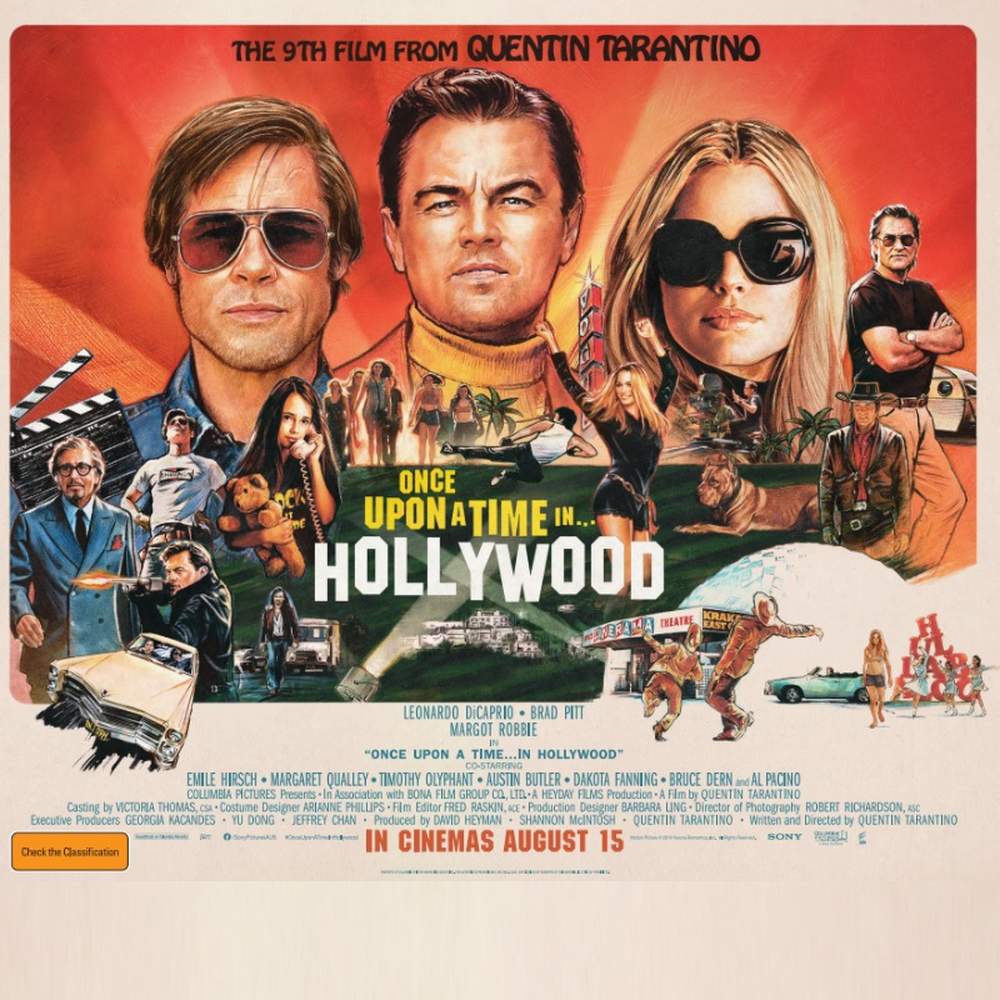 Director: Quentin Tarantino
Starring: Leonardo DiCaprio, Brad Pitt, Margot Robbie, Al Pacino, Emile Hirsch, Margaret Qualley, Timothy Olyphant, Bruce Dern, Mike Moh, Luke Perry
Written by: Quentin Tarantino
Running Time: 161 mins
Cert: 18
Release date: 14th August 2019
I have had a love/hate relationship with Quentin Tarantino over the years. I loved the early films up to Jackie Brown, I thought Kill Bill was slightly overrated, and I found The Hateful Eight, his last movie, a bore. Going into his Ninth film, Once Upon A Time In Hollywood, I was both excited and worried. Taking the horrific events of August 1969 in Los Angeles had me concerned this would be an exploitation film, the kind Tarantino loves. I need not worry. This is, without doubt, his finest film, his most assured and his most understated.
Rick Dalton is a former TV star who left his show to become a movie star, a decision that cost him his career. Now drinking regularly, he gets to play villains on other people's shows. His stunt double and confidant, Cliff Booth, has stuck with him all the way. He has demons in his past that has stopped him from working in the industry, happily driving Dalton around and doing odd jobs for him. Hollywood is changing. Youth coming up, hippies roam the streets and shining new stars are making a big noise, like Sharon Tate, a young actress married to director Roman Polanski and living next door to Dalton. Something darker is bubbling underneath.
The first thing that surprises about this film is that for two hours, it is about character, about friendship and ultimately a love letter to cinema and TV of the 60s. References occur throughout, whether it be the billboards advertising movies long forgotten, or TV shows that started and ended careers, topped off by Tarantino's love for music with a 69 infused soundtrack that outdoes his past movies.
Cinephiles will absolutely love the endless array of titles and clips from movies as well as those films created for this film. The spaghetti western was on the rise at this period and helped rebuild careers. It's these moments that one question comes to mind. Is this real or fantasy. Everything about this film up tho the last half hour is hard to comprehend, in that you know some of the movies and shows are real but Dalton is not. Yet there is Sharon Tate, a woman who was on the up as far as stardom was concerned. However, the events of her life were tragic.
In this first section of the film, we also get to know about Rick and Cliff. Two men who had far better days but those days are now gone. Rick is especially horrified about this. He thought his days on the TV show that made him a star would stay, but bad decisions have taken him down a different route. He's not struggling as far as work is concerned, but as agent Marvin Schwarz points out, other people are taking the shows that could have been his.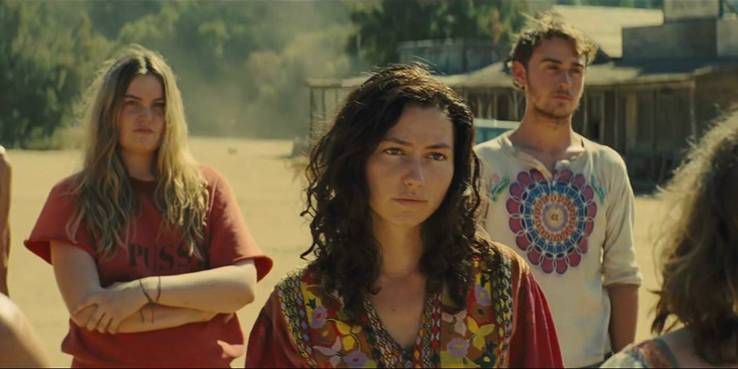 Tarantino allows us to show the backside of film making, the boredom of people sitting around waiting for the next shot, the humiliation of Rick forgetting his lines, the pointless fight between Bruce Lee and Cliff. A lovely scene between Rick and his young co-star is beautifully written as well as showing that film making isn't all glamour and glitz.
Meanwhile, we see the dark side of Hollywood in the form of Charles Manson and his followers, hold out on an old cowboy film set, holding prisoner the owner while they live a life of drugs and free love. Cliff, the dinosaur in their eyes, enters their world accidentally after meeting and picking up Pussycat, a follower who takes him to her home. This sequence manages to bring back the unease, wondering when the violence will finally erupt.
When I say this his most understated, Tarantino usually means graphic and brutal violence. You have to wait till the final half-hour for it to arrive and when it does, it hits home really hard but not in the way you expect. Suddenly you realise this is a fairy tale; hence the title and the exploitation of such a horrific event doesn't occur, while makes the film unbelievably poignant. I found myself crying by the end.
The performances are fantastic, from the various cameos from stars of the past, Tarantino's "gang" (loving the credit to Tim Roth although his scene was cut) but it is the three leads that excel. As Sharon Tate, Margot Robbie shines, a radiant beam of light. She is bubbly, brimming with joy and every time she appears on the screen, she fills it with life. As Rick and Cliff, Leonardo DiCaprio and Brad Pitt are magnificent. Pitt is quiet, understated and yet he's the kind of guy you'd want at your side. It's Pitt at his finest.
DiCaprio may have won the Oscar for The Revenant, but this is his best performance to date. Rick is a man who balances uncertainties with insecurities. As an actor, he is intense, as a human being, he is a stuttering mess. Combined with Pitt's quiet assurance, this should go down as one of the screen's best double act.
I loved Once Upon A Time In Hollywood so much, as you might gather. I loved the film reference, I loved the character development, the sense of time and period. Tarantino could have made a horrendous film. Instead, he has made a mature, intelligent, funny, charming film that does shock but not in the way you think. I could have comfortably sat through it straight after watching it. Movie of the year? Quite possibly.