Director: Tom Harper
Starring: Felicity Jones, Eddie Redmayne, Himesh Patel, Phoebe Fox, Tim McInnery, Anne Reid, Tom Courtenay, Rebecca Front, Vincent Perez, Robert Glenister
Written by: (also story) Jack Thorne and (story) Tom Harper
Running Time: 100 mins
Cert: PG
Release date: 4th November 2019
If you were to say, how about watching a movie in which people travel in an air balloon in the 1800s, you would hardly think that was action-packed and exciting. You would be so wrong. Director Tom Harper and writer John Thorne have produced a well made, often nail-biting adventure with the stars of The Theory of Everything on board and swapping attention.
Scientist James Glaisher dreams of being able to predict the weather, even though his fellow scholars find the idea ridiculous. Undeterred with his vision, he hires balloonist Amelia Rennes and her balloon to fly the highest that no human has ever been before. This excites Amelia and although these two people are so different; he's serious while she's a showgirl, the pair begin a perilous adventure which could help with James's vision but could be disastrous too.
Harper and Thorne have taken stories about balloon flights during the period this film is set, and throws it all into this one movie. While the film states at the beginning, inspired by actual events, people have taken to complaining that this is historically inaccurate. Forget about being accurate, this is a joyous adventure that never once is offensive or too terrifying to shock audiences. This is a gentle tale which manages to be nail-biting, thanks to the film making process and the leads.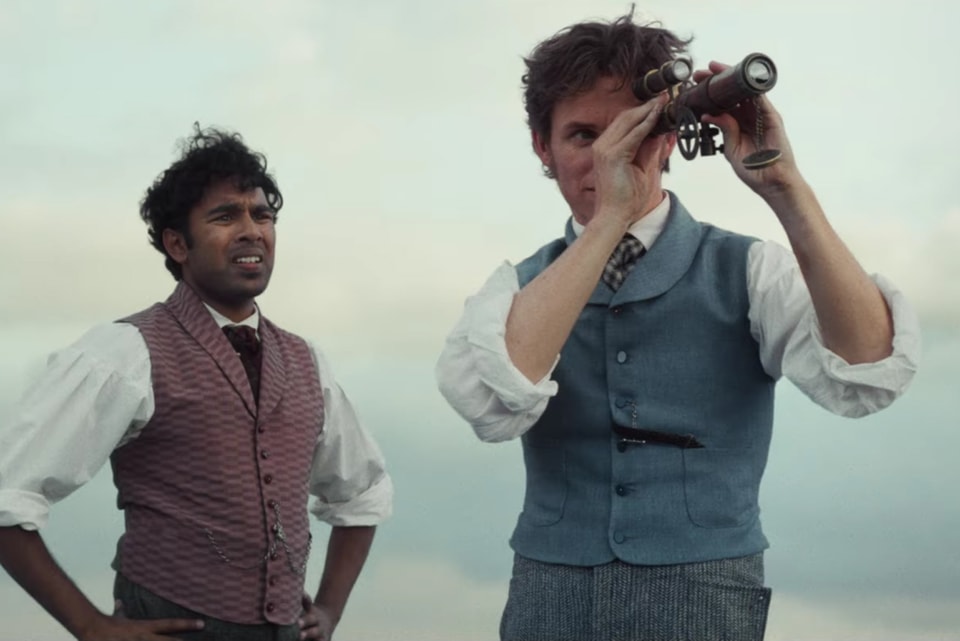 Harper puts us right in the balloon. The camera swoops in and out of the wicker, often hanging over the edge, looking down at the drop. If you feel remotely afraid of heights, then this might not be for you. We follow these two mismatched characters as they travel higher than anyone before, finding a hidden world of butterflies, the cold, the dangers of material that is splitting. All of this is eased in with a terrific score by Steven Price.
The film jumps timelines with James and Amelia's lives leading up to the challenge. James being laughed at by the meteorologist community who refuse to accept that weather prediction will ever be a thing while coping with his father, who is suffering from dementia. Amelia, on the other hand, is a strong-willed woman frowned upon by her sister and society, determined to carry on her husband's legacy as a grandstander of the ballooning world.
The film is lifted by the return on screen together of Felicity Jones and Eddie Redmayne. After the enormous success of The Theory of Everything, the roles have been reversed. Redmayne is the less showy character in James, a quietly spoken, serious young man determined to prove his theory will work and having to cope with Jones's energetic Amelia. She shines in this role, a far more physical performance in which she finds herself climbing around the ropes of the balloon, even to the point of ending up on top of the transportation. Her best role to date.
The Aeronauts is an old-fashioned adventure that is reminiscent of the likes of The African Queen. Don't expect expensive stunt work or colossal set pieces. Instead, two young stars enjoying themselves while taking us up in a world that looks lovely.
3/5