Director: Sam Mendes
Starring: George MacKay, Dean-Charles Chapman, Colin Firth, Andrew Scott, Mark Strong, Benedict Cumberbatch, Richard Madden, Daniel Mays, Adrian Scarborough
Written by: Sam Mendes and Krysty Wilson-Cairns
Running Time: 119 mins
Cert: 15
Release date: 10th January 2020
There are some films that you admire, maybe because of the acting, the costumes, how it looks. You may even get caught up with the emotions of the story. It is those scarce movies which will captivate you totally. Where every element comes together and you become completely immersed in it. 1917 is that movie. An emotional rollercoaster that will shock, upset and surprising in equal measures. Seriously, once this film ends, you will be dragged through the wringer, and you be amazed at how technical it is.
Schofield and Blake, two young British soldiers during the First World War, are sent on an important, yet almost impossible mission. They have to deliver a message to soldiers deep in enemy territory, that will stop an almost certain massacre and save the lives of hundreds of men.
Director and co-writer Sam Mendes have taken a war mission story and done something extraordinary with it. Using special editing techniques and tricks, he shows the journey of these two scared soldiers in real-time and giving the impression of one single take. We follow them through trenches, water, deserted bombed-out towns, and like the two characters, never knowing what is around the next corner. With cinematographer Roger Deakins working with Mendes once more, this film is breathtaking to behold. A sequence in a town during the night which is lit up by flares is beautiful and scary in equal measures.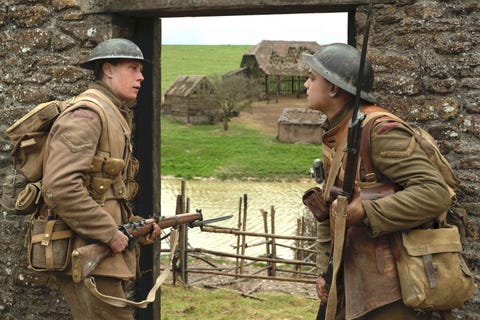 The continuous journey of these soldiers, walking down trenches filled with fellow officers waiting for their orders, or diving into pits of dead bodies and limbs hidden in the mud, is a triumph of the art direction and set designs. The trenches were purpose-built for the film as were the sets, yet the attention to detail is both alarming and incredible.
As the story starts, we know very little about these two men, yet you get completed drawn into their world, experiencing everything they experience. Unexpected gun-fire flies around your head, making you jump in a way that most horror films can only dream of. A scene involving a dog-fight that ends with a plane crashing near the two men will have you holding your breath and certainly will make the eyes just a little bit moist.
Technically this is a masterclass of how you can make a film without having to over-edit. Allow the characters, the situation and the emotions do the job. For a movie that runs at nearly two hours without once cutting from one shot to another to another just proves that the attention can still be held without being flashy or playing around with visual tricks.
It also helps that the performances are superb. The film is brimming with cameos from the likes of Colin Firth, Andrew Scott, Benedict Cumberbatch and Mark Strong. All have nearly next to nothing in screen time. In the case of some, blink, and you would have missed them. However, it is the two leads who hold the film together. Dean-Charles Chapman, a regular in Game of Thrones, in his first significant screen role, does a terrific job capturing the fear and terror of a young man going into the unknown, while George MacKay is one of those actors who gets better with time. After roles in Sunshine on Leith and Pride, this film he has to carry a huge emotional load on his shoulders, and he does this with aplomb, especially in the final moments of the movie.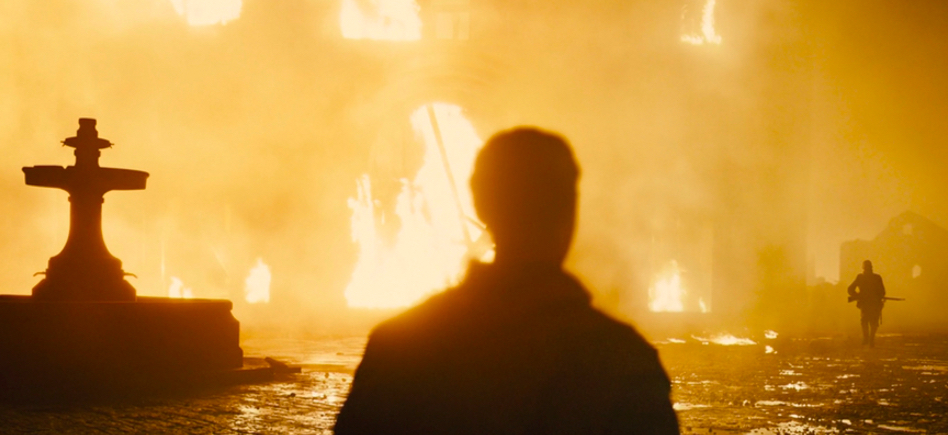 1917 is a triumph. A war film that puts us in the heart of that time. It grips from the moment it starts and refuses to let go. Technically it is fantastic and will stay with me long after the credits ended. I hope it walks away with an armful of awards, after scooping best picture and best director at the Golden Globes, because it deserves it. An incredible achievement.
5/5