Director: Bong Joon-Ho
Starring: Song Kang Ho, Lee Sun Kyun, Cho Yeo Jeong, Choi Woo Shik, Park So Dam, Lee Jung Eun, Chang Hyae Jin, Ji-So Jung
Written by: Jin Won Han and (also story) Bong Joon Ho
Running Time: 132 mins
Cert: 15
Release date: 7th February 2020
Ever since it won the Palm D'Or at Cannes last year, I have been waiting patiently for Bong Joon-Ho's Parasite to finally hit our shores. As the year past, it started picking up other awards and nominations until it was becoming almost overhyped. Yet every chance I had of seeing this film prevailed me. Finally released, I was giddy with excitement to see what all the fuss was about, considering I had avoided reviews and spoilers. My expectations were incredibly high, usually a sign of crashing disappointment. I shouldn't have worried. Parasite is, in all sense of the words, a masterpiece.
Unemployed and living in a basement, Ki-taek and his family try to find any means to make money. When a friend arrives at their home, he tells Ki-taek of a job opportunity while he studies abroad. Tutoring English to a young rich girl from an incredibly wealthy family. Not wanting to miss this opportunity, he goes for the job. It soon becomes apparent that his whole family could become involved in this family who live in a designer house high up in the social classes.
Now have no fear. As Director Bong requests, this review will reveal nothing about what happens during the film as it would spoil the shocks and surprises that occur. What I can say is part of the fun of this movie is going in knowing little or almost nothing about it. What Director Bong has done is taken a story of poverty and class divide and created a darkly funny, often shocking movie that will stay with you a long time after it has finished.
Director Bong is a master of creating great pieces of cinema, as his previous films have proven (Snowpiercer, The Host, to name a few). Each scene is perfectly formed with moments that you wonder, make you winch, make you absorb so much that you are totally immersed in this world. This family are not pleasant, but you find yourself caring about them. You shouldn't root for the wealthy family either, but there is a sense of innocence about them that makes you care for them. When the shocks do arrive, they are amplified to the point of unbearable.
Yet this isn't horror but its far more shocking than any horror movie around. It's hilarious, almost farcical and yet it turns on a knife-edge and becomes a psychological thriller. Let's face it, it covers virtually every genre around and yet never gets bogged down in trying to create so many turning points. This is just the way the story goes.
The design is perfect, from the squaller of the slums and that pokey little basement apartment, where the windows face street level, and drunks urinate up against their home. To the beauty and splendour of the comfortable house, high on a hill, with its vast windows and spacious rooms. This world does, however, hold some secrets that he never see coming.
The performances from the cast are spectacular, with each person perfect in their roles. Not once do you any of them feel out of place or takes their performances too far. With all these elements in place and a terrific script co-written by Director Bong, this 2 hour plus movie zips along as tremendous pace, making you feel that each moment of the film is there for a reason.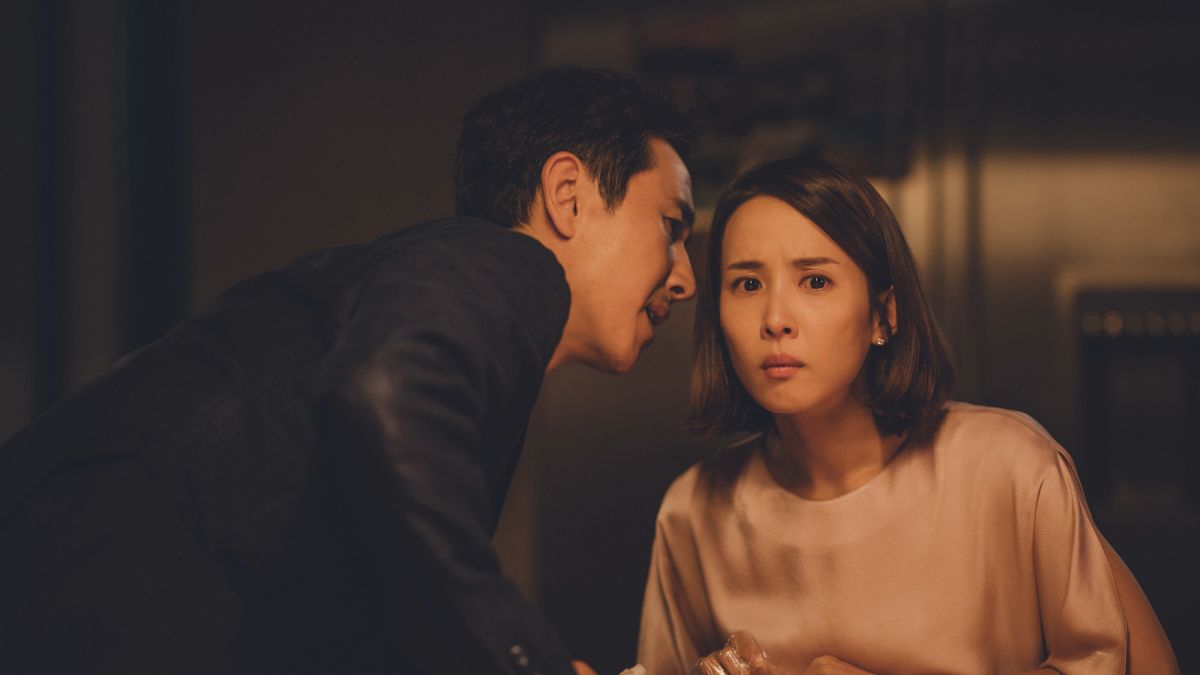 Parasite is the leading contender against 1917 for the best picture Oscar, and while I think 1917 should win, I would still be delighted if Parasite did. It is funny, scary, sharp and biting and hugely rewarding experience. Forget that this Korean movie has subtitles, go and see it and witness a genius at work, who knows what he is doing, can create a modern classic. One of the best films of the year so far.
5/5