Morning
It's Sunday! A day of rest. A day to have a roast, a kip in the chair or just taking it easy. Is there anything else we can do at the moment? Well, there are plenty of movie choices for you to choose from today, so I am sure you'll find something you'll like.
Also, Happy Birthday, Dad! 80 today!
Please spread the love, stay safe, stay inside and Happy Sunday!
AMAZON PRIME
THE WANDERERS (15)
Starring: Ken Wahl, John Friedrich, Karen Allen
Comedy, drama
Set in the 60s, The Wanderers are a gang of Italian boys who are facing adulthood but still have to deal with local gangs and women. Strong language, violence and sexual content.
CAROL (15)
Starring: Cate Blanchett, Rooney Mara
Drama, romance, LGBT+
Drama set in the 1950s about the relationship between a shop girl and a glamorous older woman. Todd Haynes (Dark Waters) beautiful looking romance with excellent performances from Cate Blanchett and Rooney Mara. Infrequent strong sex.
NETFLIX
MONTY PYTHON AND THE HOLY GRAIL (12)
Starring: Graham Chapman, John Cleese, Terry Gilliam, Eric Idle, Terry Jones, Michael Palin
Comedy
The Monty Python team take on the tale of King Arthur and his quest to find the Holy Grail. Hugely quotable and absolutely hilarious. Language and comic violence.
UNCUT GEMS (15)
Starring: Adam Sandler, Lakeith Stanfield, Julia Fox
Drama, crime
Brutal drama in which a New York City jeweller makes several high-stakes bets to try to land the win of his life. A career-best performance from Adam Sandler. Strong language, sex, sex references, injury detail, violence.
NOW TV/SKY MOVIES
THE GODFATHER TRILOGY (15)
Starring: Al Pacino, Marlon Brando, Robert Duval
Thriller, crime, drama
The classic tale of the Corleone family and their rise from Italian immigrants to Highly respected mob leaders. THE GODFATHER, THE GODFATHER PART II and THE GODFATHER PART III are all available. Strong language, graphic violence and sexual content.
ANCHORMAN: THE LEGEND OF RON BURGUNDY (15)
Starring: Will Ferrell, Christina Applegate, Paul Rudd, Steve Carell
Comedy
Hilarious comedy set in a small TV newsroom where it's ruled by anchorman Ron Burgundy until a woman enters into his male-dominated world. Strong language and sexual content.
DISNEY +
SPLASH (PG)
Starring: Tom Hanks, Daryl Hannah, John Candy
Comedy, romance
A delightful comedy love story with a difference as Tom Hanks (in his first starring role) falls in love with mermaid Daryl Hannah. Mild language, nudity and sexual content.
MOANA (PG)
Starring: Dwayne Johnson, Auli'i Cravalho
Comedy, Family, Animation
Young girl ventures out to sea on a mission to save the future of her people. Wonderful Disney animation with Dwayne Johnson.
MOVIES ON TERRESTRIAL TV
SNOOPY AND CHARLIE BROWN: THE PEANUT MOVIE (U)
11am Film4
Starring: Noah Schnapp, Bill Melendez
Animated, comedy, adventure
The affectionate CGI version of the adventures of Charlie Brown and his faithful dog, Snoopy. Charlie Brown begins an epic quest back home to win the love of his life.
THE GLENN MILLER STORY (U)
11.50am Sony Movies Classic
Starring: James Stewart, June Allyson
Biopic, drama, music
Biography about the famous bandleader from his beginnings, his love to his tragic death. James Stewart is perfect as Glenn Miller and the music is perfect.
ARABIAN ADVENTURE (U)
2.15pm Talking Pictures TV
Starring: Christopher Lee, Oliver Tobias
Adventure, fantasy, family
An evil magician seeks to gain power by obtaining a magic rose. A peasant boy and a Prince join forces to stop him. A 70s adventure from the UK with Christopher Lee going full villain.
GROUNDHOG DAY (PG)
2.40pm Sony Movies
Starring: Bill Murray, Andie MacDowell
Comedy, romance
Hilarious and clever comedy with Bill Murray stuck in one day and desperately trying to find a way out. Regarded now as a classic, and rightly so. Mild language.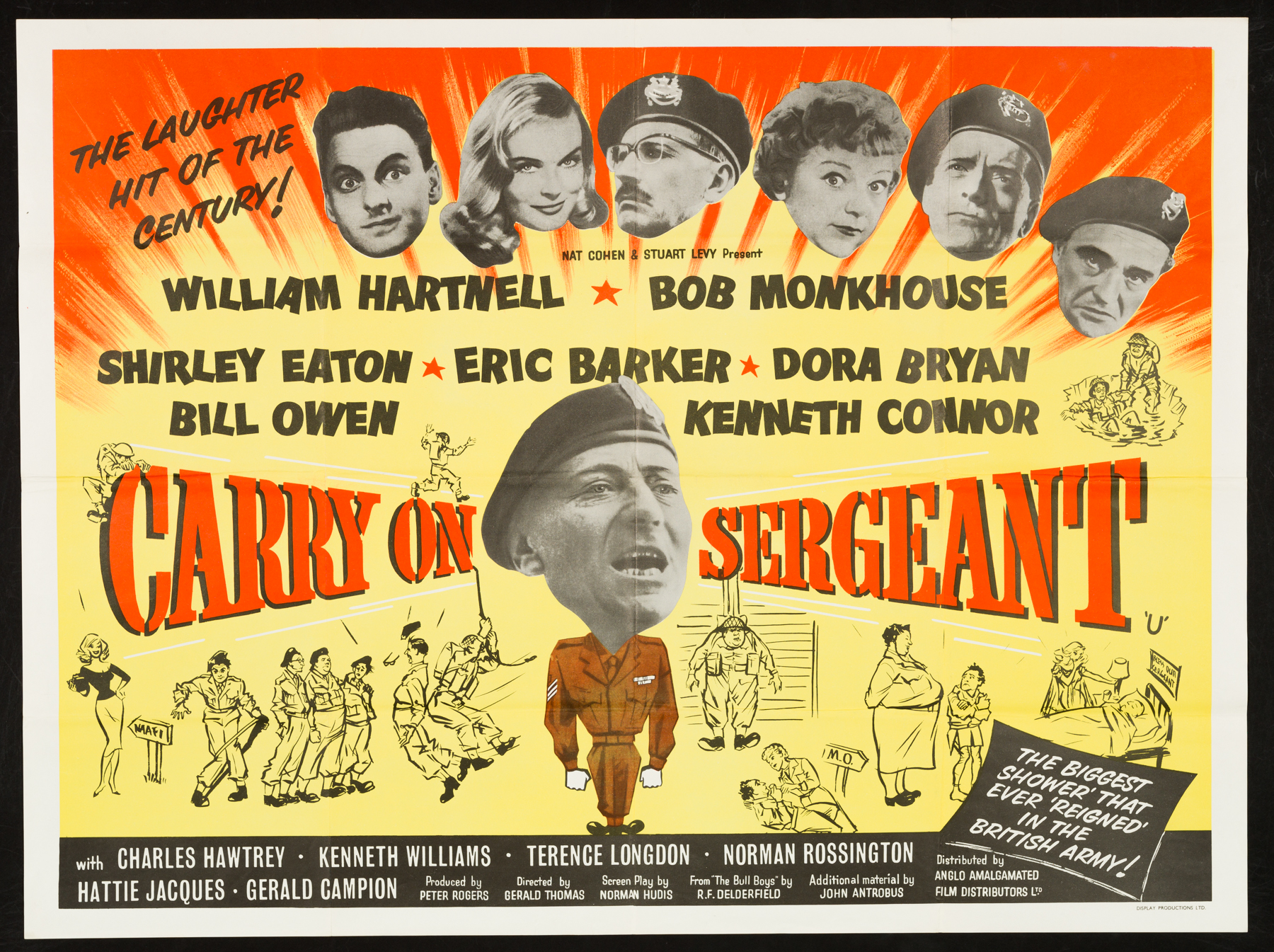 CARRY ON SERGEANT (U)
2.40pm Film4
Starring: William Hartnell, Bob Monkhouse
Comedy
The very first Carry On movie is a different creature to what they became. An award-winning sergeant has one last platoon to train before retirement but they turn out to be a motley crew. Black and white.
EVIL UNDER THE SUN (PG)
2.55pm BBC2
Starring: Peter Ustinov, Maggie Smith
Crime, drama, thriller
Peter Ustinov returns as Hercule Poirot, this time on an exclusive island resort where a murder is committed and everyone is a suspect. Mild language, sexual content and violence.
INDEPENDENCE DAY (12)
6.10pm E4
Starring: Will Smith, Jeff Goldblum, Bill Pullman
Sci-fi, action, adventure
Big  budget blockbuster as the earth comes under attack from an alien invasion. The special effects are spectacular even if the script is creaky and massively jingoistic. Language and violence.
SICARIO (15)
9pm Film4
Starring: Emily Blunt, Josh Brolin, Benicio Del Toro
Action, thriller
Cracking thriller with Emily Blunt as an FBI agent who joins a secret task force to fight the drug cartels of Mexico. Contains the best stationary car chase. Strong violence, images of dead bodies, strong language.
STIR CRAZY (15)
9pm Sony Movies Classic
Starring: Gene Wilder, Richard Pryor
Comedy
Two best friends find themselves in prison for a crime they never committed. The return of Gene Wilder and Richard Pryor in a hugely successful and very funny comedy. Language and drug misuse.
RAIN MAN (15)
10.30pm BBC1
Starring: Dustin Hoffman, Tom Cruise
Drama
Tom Cruise stars as a selfish yuppie who is left nothing in his father's will but his autistic brother has a fortune. The pair go on a road trip to build on their relationship. Dustin Hoffman won an Oscar for his performance. Language and sexual content.
DAWN OF THE PLANET OF THE APES (12)
11.05pm Channel 4
Action, adventure, sci-fi, drama
Starring: Andy Serkis, Jason Clarke, Gary Oldman
The second of the rebooted series sees Ceasar (Andy Serkis) and the apes living in woodlands until the humans arrive looking for power. Brilliant addition to the successful series. Moderate violence, threat, infrequent strong language.
DARKMAN (18)
1.25am Film4
Starring: Liam Neeson, Frances McDormand
Fantasy, action, thriller
A scientist is left deformed and left for dead by a mob boss, so seeks revenge by becoming Darkman. Comic book style action film from the director of Spider-Man and The Evil Dead. Strong violence and language.