Morning!
It's the weekend and the weather is going to be glorious. Please don't take it as an opportunity to venture to beauty spots. Please observe social distancing and stay at home. There are loads of movies to distract you today on terrestrial TV. Settle back with snacks and drinks and enjoy a blockbuster or two.
Stay safe, stay inside and Happy Saturday!
AMAZON PRIME
THE PLAYER (15)
Starring: Tim Robbins, Greta Scacchi, Fred Ward, Whoopi Goldberg
Comedy, crime, drama
A Hollywood studio executive is being sent death threats by a writer whose script he rejected, but which one? Robert Altman's magnificent all-star satire of the Hollywood film industry. Strong language, violence and sexual content.
BALLOON (12)
Starring:  Friedrich Mücke, Karoline Schuch
Drama, biopic, thriller
BALLOON is a drama, set in 1979 and based in a true story, and which concerns two families who attempt to escape from East Germany during the Cold War. Language, Subtitled.
NETFLIX
ME AND EARL AND THE DYING GIRL (12)
Starring: Thomas Mann, Olivia Cooke, Ronald Cyler II
Drama, comedy
Drama about an aspiring filmmaker who befriends a girl from his school who is battling cancer. Charming tale based on the best seller which is funny and sad in equal measures. Moderate sex references, drug references, infrequent strong language.
THE TOWN (15)
Starring: Ben Affleck, Rebecca Hall, Jon Hamm, Jeremy Renner
Drama, Crime, Thriller
A longtime thief, planning his next job, tries to balance his feelings for a bank manager connected to an earlier heist, and a hell-bent F.B.I Agent looking to bring him and his crew down. Cracking thriller directed by Ben Affleck. Very strong language, strong violence, sex and hard drug use.
NOW TV/SKY CINEMA
CHINATOWN (15)
Starring: Jack Nicholson, Faye Dunaway, John Huston
Thriller, Drama
A private detective hired to expose an adulterer finds himself caught up in a web of deceit, corruption, and murder. Classic detective thriller. Strong violence and sexual content.
DO THE RIGHT THING (15)
Starring: Danny Aiello, Ossie Davis, Ruby Dee
Drama, Comedy
Spike Lee's drama about the simmering tensions in a multi-racial community in New York that spill over into violence on a hot summer's day. Regarded as Lee's best.  Strong language, racist language, violence, nudity.
PETE'S DRAGON (PG)
Starring: Bryce Dallas Howard, Karl Urban, Robert Redford
Fantasy, Family, Adventure
Fantasy adventure about a young orphaned boy who grows up in the woods alongside a giant friendly dragon. Remake of the 1977 Disney musical. Delightful. The original is available on Disney+. Mild peril and language.
WHO FRAMED ROGER RABBIT (PG)
Starring: Bob Hoskins, Christopher Lloyd, Joanna Cassidy, Charles Fleischer
Crime, Animation, Adventure, Comedy
A toon hating detective is a cartoon rabbit's only hope to prove his innocence when he is accused of murder. Inventive mix of live-action and animation. Moderate violence, mild language, sex references and innuendo.
MOVIES ON TERRESTRIAL TV
CASPER (PG)
12.55pm ITV1
Starring: Christina Ricci, Bill Pullman, Cathy Moriarty, Eric Idle
Comedy, drama, fantasy family
An afterlife therapist and his daughter meet a friendly young ghost when they move into a crumbling mansion in order to rid the premises of wicked spirits. A delightful family fare that will touch as much as it makes you smile. Mild language, violence and ghost horror.
POWER RANGERS (12)
2.15pm 5*
Starring: Bryan Cranston, Elizabeth Banks, Naomi Scot
Science Fiction, Fantasy, Adventure
A group of high-school students, who are infused with unique superpowers, harness their abilities in order to save the world. Far more entertaining than it has any right to be, reboot of the TV show. Moderate violence, threat. May be edited for content.
FLUSHED AWAY (U)
2.35pm Film4
Starring: Kate Winslet, Hugh Jackman, Ian McKellen, Andy Serkis
Comedy, Animation
The story of an uptown rat that gets flushed down the toilet from his penthouse apartment, ending in the sewers of London, where he has to learn a whole new and different way of life. Aardman animations first venture into CGI. Very mild language and sex references.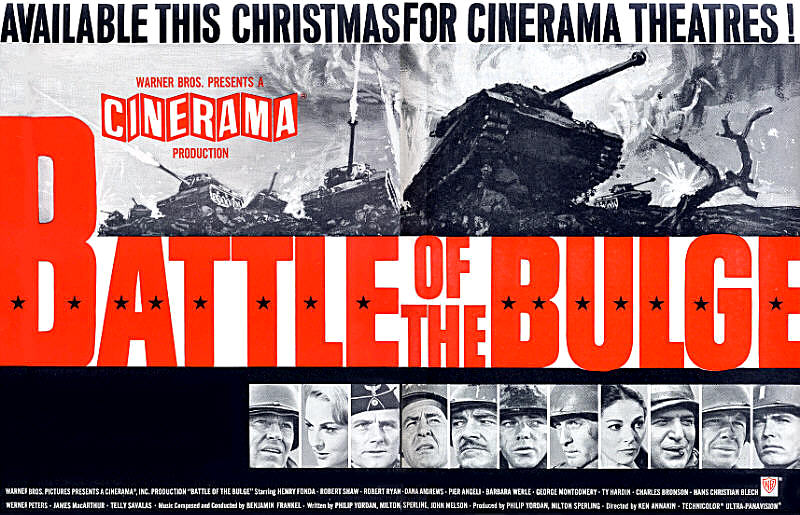 BATTLE OF THE BULGE (PG)
3.55pm ITV4
Starring: Henry Fonda, Robert Shaw, Robert Ryan
Drama, war
A dramatization of Nazi Germany's final Western Front counterattack of World War II with an all-star cast. Terrific action sequences. Frequent mild violence.
THE MUPPETS (U)
4pm BBC2
Starring: Amy Adams, Jason Segal, Chris Cooper, Bill Cobbs
Comedy, Family, Musical
A Muppet fanatic with some help from his 2 human compatriots must regroup the Muppet gang to stop an avaricious oil mogul from taking down one of their precious life-longing treasures. A terrific return to form for the famous puppets. Mild comic violence, brief rude humour & one use of mild language.
HAIL, CAESAR! (12)
4.15pm Film4
Starring: Josh Brolin, George Clooney, Alden Ehrenreich, Ralph Fiennes
Comedy
The Coen Brothers all-star comedy about a Hollywood fixer who must investigate the kidnapping of a movie star. Moderate sex references. May be edited for content.
NANNY MCPHEE. (U)
4.50pm ITV2
Starring: Emma Thompson, Colin Firth, Kelly Macdonald, Celia Imrie
Comedy, fantasy, family
A governess uses magic to rein in the behaviour of seven ne'er-do-well children in her charge. Emma Thompson stars and writes this charming family tale. Mild language and mild sex references.
SMOKEY AND THE BANDIT (PG)
7.10pm ITV4
Starring: Burt Reynolds, Jackie Gleason, Sally Field, Jerry Reed
Action, comedy
The Bandit is hired on to run a tractor-trailer full of beer over state lines, in hot pursuit by a pesky sheriff. Burt Reynolds stars in the fun, action-packed comedy. Language and violence.
V FOR VENDETTA (15)
9pm Sony Movies
Starring: Natalie Portman, Hugo Weaving, Stephen Rea, John Hurt
Action, drama, sci-fi
In a future British tyranny, a shadowy freedom fighter, known only by the alias of "V", plots to overthrow it with the help of a young woman. Cult favourite futuristic drama. Strong violence and language.
MAD MAX: FURY ROAD (15)
9pm ITV2
Starring: Tom Hardy, Charlize Theron, Nicholas Hoult
Action, drama, sci-fi
Post-apocalyptic action drama in which a man teams up with a woman to rescue a group of women from an evil warlord who controls what remains of life's necessities. Spectacular, edge-of-your-seat action. Strong violence, threat.
WAR FOR THE PLANET OF THE APES (12)
9pm Channel 4
Starring: Andy Serkis, Judy Greer, Woody Harrelson
Action, Science Fiction
Action sci-fi sequel in which the leader of the ape rebellion attempts to rescue his son from a labour camp. Superb conclusion to the rebooted trilogy. Moderate violence, injury detail.
INCEPTION (12)
10pm ITV1
Starring: Leonardo DiCaprio, Ken Watanabe, Marion Cotillard, Michael Caine
Thriller, Science Fiction, Action
A thief who steals corporate secrets through the use of dream-sharing technology is given the inverse task of planting an idea into the mind of a C.E.O. Visually impressive thriller from Christopher Nolan. Moderate violence.
GHOST STORIES (15)
10.45pm BBC2
Starring: Martin Freeman, Alex Lawther
Horror
British horror anthology in which a TV personality who debunks supernatural occurrences is challenged with disproving three unexplained events. Based on the successful stage play. Strong horror, language.
SOURCE CODE (12)
11.45pm BBC1
Starring: Jake Gyllenhaal, Vera Farmiga, Michaelle Monaghan
Thriller, Science Fiction, Action
A soldier wakes up in someone else's body and discovers he's part of an experimental government program to find the bomber of a commuter train within 8 minutes. Excellent thriller from Duncan Jones, director of Moon. One use of strong language and moderate threat.