Morning!
As we enter a heatwave for today, not many people will be wanting movies on TV today but for those still in need of film entertainment, a few recommendations for you to enjoy.
Stay safe, stay inside and Happy Sunday!
AMAZON PRIME
ANGEL HAS FALLEN (15)
Starring: Gerard Butler, Morgan Freeman, Piper Perabo, Nick Nolte
Action, thriller
The third in the Has Fallen series is, surprisingly the best. Gerald Butler returns as bodyguard to the President, who is framed for an assassination attempt. The scenes between Butler and Nick Nolte lifts the film. Strong language, violence.
FISHERMAN'S FRIENDS (12)
Starring: Tuppence Middleton, James Purefoy, Christopher Villiers, Daniel Mays
Music, Drama, Comedy
Perfect Sunday viewing. A gentle comedy-drama in which a group of fishermen with a talent for singing Sea Shanties are offered the chance to sign a record deal. Infrequent strong language, moderate sex references.
NETFLIX
FLIGHT (15)
Starring: Denzel Washington, Melissa Leo, John Goodman, Don Cheadle
Drama
An airline pilot saves almost all his passengers on his malfunctioning airliner which eventually crashed, but an investigation into the accident reveals something troubling. Robert Zemeckis directs this drama with another great performance from Denzel Washington. Strong language, sex references, nudity & drug & alcohol misuse.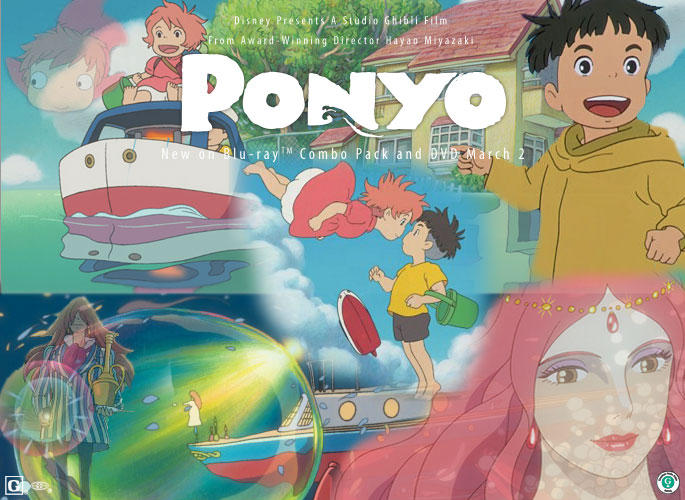 PONYO (U)
Starring: Tomoko Yamaguchi, Kazushige Nagashima
Animation, adventure, family
A 5-year-old boy named Sosuke forges a friendship with a goldfish princess named Ponyo, who desperately wants to become human. Delightful Studio Ghibli animation.
NOW TV/SKY CINEMA
VERTIGO (PG)
Starring: James Stewart, Kim Novak, Barbara Bel Geddes
Thriller, Drama
A former police detective juggles wrestling with his personal demons and becoming obsessed with a hauntingly beautiful woman. One of Alfred Hitchcock's finest films and a tremendous performance from James Stewart, Mild threat and references to suicide.
CARLITO'S WAY (18)
Starring: Al Pacino, Sean Penn, Penelope Ann Miller
Crime, drama, thriller
A Puerto Rican former convict, just released from prison, pledges to stay away from drugs and violence despite the pressure around him and lead on to a better life outside of N.Y.C. Al Pacino and Brian De Palma reteam for a film that, I think, is better than their previous Scarface. Strong violence, language, sexual content and hard drug use.
DISNEY+
BEDKNOBS AND BROOMSTICKS (PG)
Starring: Angela Lansbury, David Tomlinson, Roddy McDowall
Musical, Comedy, Family
An apprentice witch and three evacuees go in search of a missing spell book that might defeat the Nazis. Charming musical comedy which mixes animation with live-action.  Mild peril.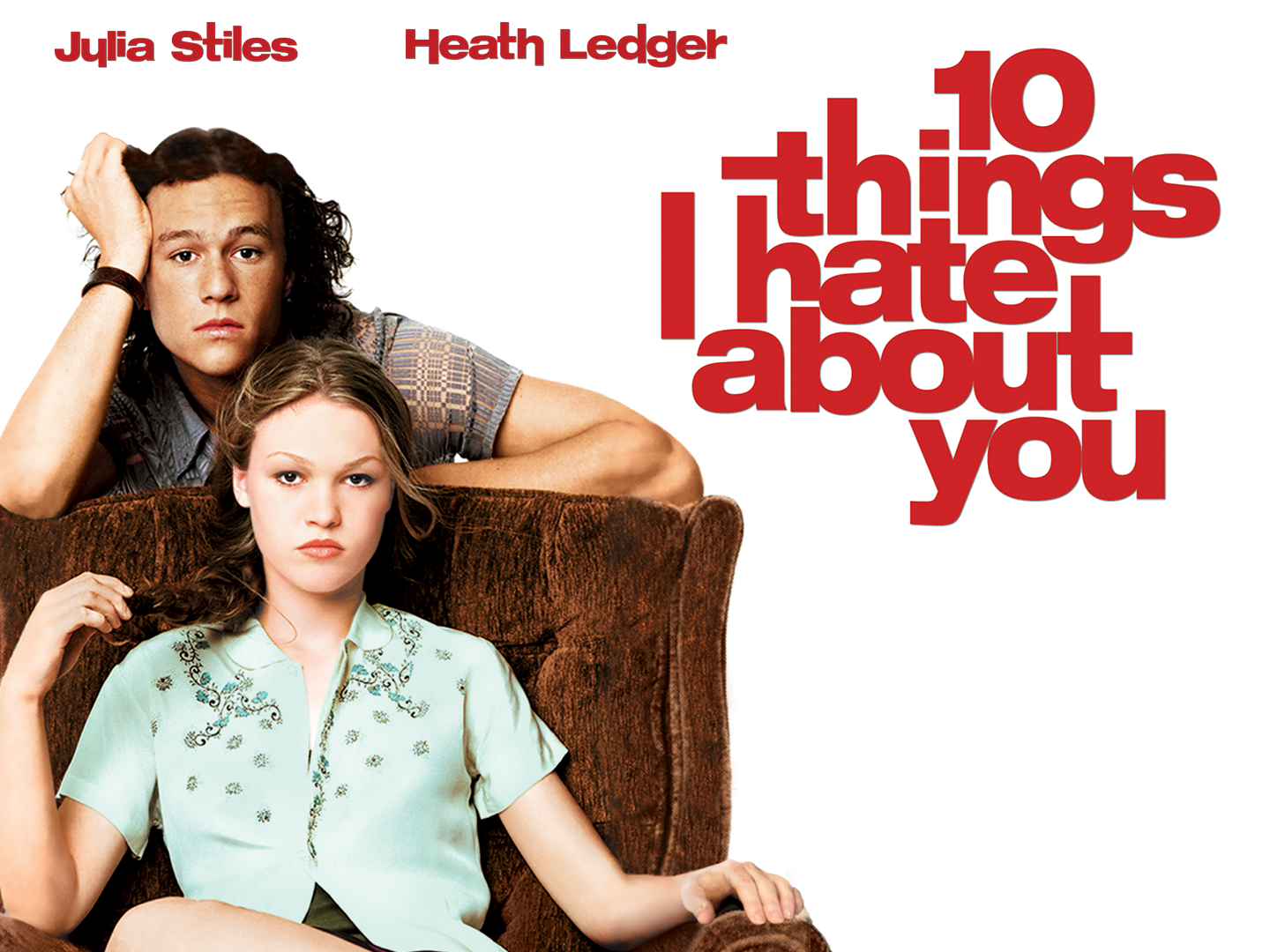 10 THINGS I HATE ABOUT YOU (12)
Starring: Heath Ledger, Julia Stiles, Joseph Gordon-Levitt
Romance, Comedy
A pretty, popular teenager can't go out on a date until her ill-tempered older sister does. Modern update of Shakespeare's The Taming of the Shrew with a teen twist. Moderate language and sex references.
MOVIES ON TERRESTRIAL TV
TOPKAPI (U)
2pm BBC2
Starring: Melina Mercouri, Maximilian Schell, Peter Ustinov
Adventure, comedy, crime
A conman gets mixed up with a group of thieves who plan to rob an Istanbul museum to steal a jewelled dagger. 60s crime caper. Mild sex and drugs references and violence.
COCOON (PG)
4.25pm Film4
Starring: Steve Guttenberg, Don Ameche, Wilford Brimley, Hume Cronyn
Comedy, drama, sci-fi
When a group of trespassing seniors swim in a pool containing alien cocoons, they find themselves energized with youthful vigour. Delightfully sweet Ron Howard directed sci-fi. Mild language, violence and sex references.
RUNAWAY BRIDE (PG)
4.30pm Sony Movies
Starring: Julia Roberts, Richard Gere, Joan Cusack, Hector Elizondo
Comedy, romance
A reporter is assigned to write a story about a woman who has left a string of fiancés at the altar. Julia Roberts and Richard Gere reteam with Pretty Woman director Garry Marshall for this gentle romantic comedy. Language and sexual content.
RIO BRAVO (PG)
6.10pm ITV4
Starring: John Wayne, Dean Martin, Ricky Nelson
Western, adventure, comedy, drama
A small-town sheriff in the American West enlists the help of a cripple, a drunk, and a young gunfighter in his efforts to hold in jail the brother of the local bad guy. Excellent western from Howard Hawks with John Wayne. Mild violence, threat, sex references.
SKYFALL (12)
8pm ITV2
Starring: Daniel Craig, Judi Dench, Javier Bardem
Action, thriller
James Bond's loyalty to M is tested when her past comes back to haunt her. When MI6 comes under attack, 007 must track down and destroy the threat, no matter how personal the cost. Daniel Craig returns for the third time as Bond in the best of his reign (so far). Moderate action violence and one use of strong language.
AUSTIN POWERS: INTERNATIONAL MAN OF MYSTERY (15)
9pm Sony Movies Classic
Starring: Mike Myers, Elizabeth Hurley, Michael York
Comedy, adventure
A 1960s secret agent is brought out of cryofreeze to oppose his greatest enemy in the 1990s, where his social attitudes are glaringly out of place. The first and funniest of Mike Myers' Austin Powers movies. Strong sex references and violence.
A MONSTER CALLS (12)
10.35pm BBC1
Starring: Toby Kebbell, Liam Neeson, Felicity Jones, Sigourney Weaver
Drama, fantasy
Fantasy drama in which a boy encounters a monster in the form of a tree which helps him through a difficult period. Extremely touching drama. Moderate threat, scenes of emotional distress.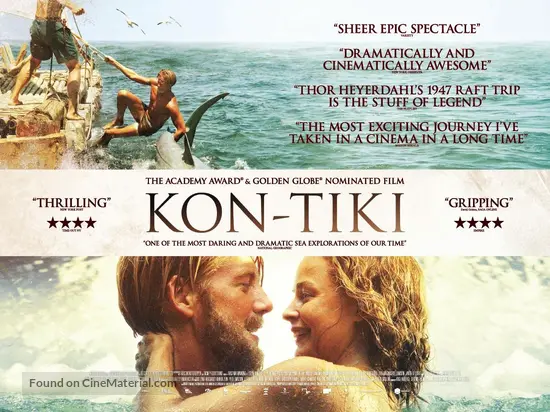 KON-TIKI (15)
11.30pm BBC2
Starring:  Pål Sverre Hagen, Anders Baasmo Christiansen
Drama, Adventure, biopic.
Legendary explorer Thor Heyerdal's epic 4,300-mile crossing of the Pacific on a balsawood raft in 1947, in an effort to prove that it was possible for South Americans to settle in Polynesia in pre-Columbian times. Nail-biting adventure. Strong threat, bloody images, injury detail. Subtitled.