Morning!
The weather doesn't look great this Easter Monday. Thank goodness there's plenty of movies to keep you occupied. I have tried to spread the types of movies available for viewing and I hope it is helping you get through the day.
Stay safe, stay inside and Happy Monday!
AMAZON PRIME
WHAT WE DID ON OUR HOLIDAY (12)
Starring: Rosamund Pike, David Tennant, Billy Connolly
Drama, Comedy
A family of five is off to granddad's big 75th birthday party at an uncle's estate in rural Scotland. The parents fight and are separated, and hope their three kids won't mention it. The kids love, can talk with, and will do anything for, granddad. Heart-warming movie from the makers of Outnumbered. Moderate bad language, discriminatory language, moderate sex references.
MAGIC MIKE (15)
Starring: Channing Tatum, Alex Pettyfer, Matt Bomer, Matthew McConaughey
Drama, Comedy
A male stripper teaches a younger performer how to party, pick up women, and make easy money. Entertaining comedy-drama that may shock some viewers. Matthew McConaughey is brilliantly funny. Strong language, sex references, nudity and drug use.
NETFLIX
THE REVENANT (15)
Starring: Leonardo DiCaprio, Tom Hardy
Drama, Adventure
A frontiersman on a fur trading expedition in the 1820s fights for survival after being mauled by a bear and left for dead by members of his own hunting team. Tough adventure with an Oscar-winning performance from Leonardo DiCaprio. Strong violence, bloody injury detail, strong language.
SPOTLIGHT (15)
Starring: Mark Ruffalo, Michael Keaton, Rachel McAdams
Drama, biopic
The true story of how the Boston Globe uncovered the massive scandal of child molestation and cover-up within the local Catholic Archdiocese, shaking the entire Catholic Church to its core. Gripping Oscar-winning drama. Strong language and child sexual abuse references.
NOW TV/SKY CINEMA
THE ROCK (15)
Starring: Sean Connery, Nicolas Cage, Ed Harris
Action, adventure, thriller
A mild-mannered chemist and an ex-con must lead the counterstrike when a rogue group of military men, led by a renegade general, threaten a nerve gas attack from Alcatraz against San Francisco. Michael Bay's loud, over-the-top action movie is still his best film. Strong language and violence.
CRAZY STUPID LOVE (12)
Starring: Emma Stone, Kevin Bacon, Ryan Gosling, Steve Carrell, Julianne Moore
Romance, Drama, Comedy
A middle-aged husband's life changes dramatically when his wife asks him for a divorce. He seeks to rediscover his manhood with the help of a newfound friend, Jacob, learning to pick up girls at bars. Delightful rom-com with a strong cast. Infrequent strong language and moderate sex references.
DISNEY+
CANDLESHOE (U)
Starring: David Niven, Helen Hayes, Jodie Foster
Adventure, comedy, drama
Small-time crook Harry Bundage discovers that the old manor house where Lady St. Edmund resides, with three orphans and her butler Priory is the resting place for a hoard of treasure. Classic Disney family comedy.
THE LITTLE MERMAID (U)
Starring: Jodi Benson, Buddy Hackett
Animation, Adventure, Musical
A mermaid princess makes a Faustian bargain in an attempt to become human and win a prince's love. Magical Disney animation. Very mild threat.
MOVIES ON TERRESTRIAL TV
MARY AND THE WITCH'S FLOWER (U)
11am Film4
Starring: Kate Winslet, Jim Broadbent
Animation, Fantasy, Adventure
Based on "The Little Broomstick" by Mary Stewart, a strange flower grants a girl magic powers. Lovely animation from Studio Ghibli. Very mild threat.
MATILDA (PG)
11.20pm Channel 5
Starring: Mara Wilson, Danny De Vito, Rhea Perlman
Fantasy, comedy, family
Story of a wonderful little girl, who happens to be a genius, and her wonderful teacher vs. the worst parents ever and the worst school principal imaginable. Terrific adaptation of Roald Dahl's book. Violence, peril and threat.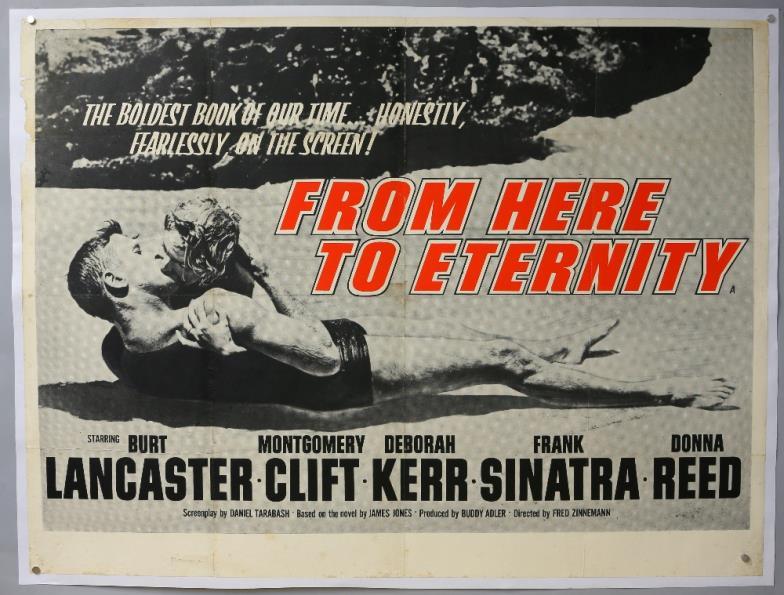 FROM HERE TO ETERNITY (PG)
1.25pm Sony Movie Classic
Starring: Burt Lancaster, Montgomery Clift, Deborah Kerr, Donna Reed, Frank Sinatra
War, Drama, Romance
In Hawaii in 1941, a private is cruelly punished for not boxing on his unit's team, while his captain's wife and second-in-command are falling in love. Oscar-winning wartime drama. Mild violence, sex references and language.
INDIANA JONES AND THE LAST CRUSADE (PG)
1.40pm BBC1
Starring: Harrison Ford, Sean Connery, Denholm Elliott
Drama, Adventure, War
In 1938, after his father Professor Henry Jones, Sr. goes missing while pursuing the Holy Grail, Professor Henry "Indiana" Jones, Jr. finds himself up against the Nazis again to stop them from obtaining its powers. The third and, many regard, the best of the Indiana Jones films. Moderate violence and infrequent mild horror. May be edited for content.
CARRY ON CLEO (PG)
2pm ITV3
Starring: Sidney James, Kenneth Williams, Kenneth Connor
Comedy
Two Britons, Hengist and Horsa, are captured and enslaved by invading Romans and taken to Rome. One of their first encounters in Rome leaves Hengist being mistaken for a fighter, and gets drafted into the Royal Guard to protect Caesar. Another cracking Carry On film. Mild innuendo and language.
THE BRIDGE ON THE RIVER KWAI (PG)
2.15pm Channel 5
Starring: William Holden, Alec Guinness, Jack Hawkins
War, action, adventure
British POWs build a railway bridge across the river Kwai for their Japanese captors, oblivious of the Allies' plans to destroy it. Epic war drama with n Oscar-winning performance from Alec Guinness. Mild violence.
THE ROBE (U)
3pm BBC2
Starring: Richard Burton, Jean Simmons, Victor Mature
In the Roman province of Judea during the 1st century, Roman tribune Marcellus Gallio is ordered to crucify Jesus of Nazareth but is tormented by his guilty conscience afterwards. Epic biblical drama. Mild violence.
RED RIVER (U)
3.10pm ITV4
Starring: John Wayne, Montgomery Clift
Western, adventure
Dunson leads a cattle drive, the culmination of over 14 years of work, to its destination in Missouri. But his tyrannical behaviour along the way causes a mutiny, led by his adopted son. Howard Hawks' classic western. Violence. Black and White.
INTERSTELLAR (12)
3.30pm Sony Movies
Starring: Matthew McConaughey, Anne Hathaway, Jessica Chastain
Science Fiction, Drama
A team of explorers travel through a wormhole in space in an attempt to ensure humanity's survival. Christopher Nolan's impressive sci-fi adventure that does lose its way by the end. Infrequent strong language, moderate threat, violence. May be edited for content.
CARRY ON SCREAMING! (PG)
3.45pm ITV3
Starring: Harry H. Corbett, Kenneth Williams, Jim Dale
Comedy, horror
The sinister Dr Watt has an evil scheme going. He's kidnapping beautiful young women and turning them into mannequins to sell to local stores. One of the best Carry On movies. Innuendo, comic horror, scary scenes.
RING OF BRIGHT WATER (U)
3.55pm Talking Pictures TV
Starring: Bill Travers, Virginia McKenna
Comedy, drama
Whoever said dog is man's best friend never met Mij! Mij is a cute, cuddly pet shop otter who captures the heart of Graham Merill (Bill Travers). It doesn't take Graham long to realize that London is no place to raise a slippery otter. Lovely family drama.
CASPER (PG)
4.40pm ITV2
Starring: Christina Ricci, Bill Pullman, Cathy Moriarty, Eric Idle
Comedy, drama, fantasy family
An afterlife therapist and his daughter meet a friendly young ghost when they move into a crumbling mansion in order to rid the premises of wicked spirits. A delightful family fare that will touch as much as it makes you smile. Mild language, violence and ghost horror.
WHERE EAGLES DARE (PG)
5.50pm ITV4
Starring: Richard Burton, Clint Eastwood, Mary Ure
Action, adventure, war
Allied Agents stage a daring raid on a castle where the Nazis are holding American Brigadier General George Carnaby (Robert Beatty) prisoner, but that's not all that's really going on. Terrific boys own adventure. Violence.
THE AMAZING MR BLUNDEN (U)
6pm Talking Pictures TV
Starring: Laurence Naismith, James Villiers, Diana Dors
Fantasy, mystery, family
Two children move with their mother into an old mansion only to find the place is haunted and holds an ancient mystery. Delightfully charming British family film from the director of The Railway Children. Highly recommended. Mild horror and peril.
JURASSIC WORLD (12)
6.35pm ITV2
Starring: Chris Pratt, Judy Greer, Vincent D'Onofrio, Bryce Dallas Howard
Science Fiction, Drama, Adventure
A new theme park, built on the original site of Jurassic Park, creates a genetically modified hybrid dinosaur, the Indominus Rex, which escapes containment and goes on a killing spree. Exciting adventure reboot. Moderate threat, occasional bloody moments, action violence. May be edited for content.
INDIANA JONES AND THE KINGDOM OF THE CRYSTAL SKULL (12)
6.40pm BBC1
Starring: Harrison Ford, Karen Allen, Cate Blanchett, Shia Labeouf, John Hurt, Ray Winstone, Jim Broadbent
Action, adventure
In 1957, archaeologist and adventurer Dr. Henry "Indiana" Jones, Jr. is called back into action and becomes entangled in a Soviet plot to uncover the secret behind mysterious artifacts known as the Crystal Skulls. Not the best of the series but still entertaining. Moderate action violence and scary scenes. May be edited for content.
HOME ALONE (PG)
6.50pm Film4
Starring: Macaulay Culkin, Joe Pesci, Daniel Stern
Comedy, adventure
An eight-year-old troublemaker must protect his house from a pair of burglars when he is accidentally left home alone by his family during Christmas vacation. Christmas favourite from John Hughes. moderate slapstick violence and infrequent moderate language.
BABY DRIVER (15)
9pm Sony Movies
Starring: Ansel Elgort, Lily James, Eiza González, Jon Bernthal, Kevin Spacey, Jon Hamm, Jamie Foxx
Comedy, Action, Crime
After being coerced into working for a crime boss, a young getaway driver finds himself taking part in a heist doomed to fail. Brilliant crime movie from Edgar Wright, the director of Hot Fuzz. Strong language, violence.
KINGSMAN: THE SECRET SERVICE (15)
9pm Film4
Starring: Colin Firth, Samuel L. Jackson, Michael Caine, Mark Hamill, Sofia Boutella, Mark Strong, Taron Egerton.
Drama, Comedy, Action
A spy organisation recruits a promising street kid into the agency's training program, while a global threat emerges from a twisted tech genius. Superb action-comedy with some brutally violent set-pieces. Strong bloody violence, strong language.
THE WOLF OF WALL STREET (18)
10pm ITV4
Leonardo DiCaprio, Jonah Hill, Matthew McConaughey, Jean Dujardin, Margot Robbie
Drama, Crime, Comedy
Based on the true story of Jordan Belford, from his rise to a wealthy stock-broker living the high life to his fall involving crime, corruption and the federal government. Martin Scorsese's epic satire. Very strong language, strong sex, hard drug use.
THE HUNTER (15)
10pm Talking Pictures TV
Starring: Steve McQueen, Eli Wallach, Kathryn Harrold
Action, comedy, drama
The story of professional bounty hunter Ralph "Papa" Thorson. Steve McQueen's final film is a fun romp. Violence and language.
HAPPY-GO-LUCKY (15)
10.45pm Film4
Starring: Sally Hawkins, Alexis Zegerman, Andrea Riseborough
Comedy, drama
A look at a few chapters in the life of Poppy, a cheery, colourful, North London schoolteacher whose optimism tends to exasperate those around her. Mike Leigh's charming comedy with a terrific performance from Sally Hawkins. Stong language.