Morning!
It's the weekend again! I hope the weather is as glorious as it has been.
If you want to keep up with this blog, you could always subscribe, meaning you get a notification every time I publish it, so you can look at it immediately and plan out your day.
Stay safe, stay inside and Happy Friday!
NEW TO RENTAL
BIRDS OF PREY: AND THE FANTABULOUS EMANCIPATION OF ONE HARLEY QUINN (15)
Starring: Margot Robbie, Mary Elizabeth Winstead, Ewan McGregor
Thriller, Fantasy, Comedy
After splitting with the Joker, Harley Quinn joins superheroes Black Canary, Huntress and Renee Montoya to save a young girl from an evil crime lord. Wild and crazy comic book adaptation with Margot Robbie on top form. Strong violence, injury detail, language, sexual threat.
AMAZON PRIME
PHILOMENA (12)
Starring:  Judi Dench, Steve Coogan
Biopic, comedy, drama
A world-weary political journalist picks up the story of a woman's search for her son, who was taken away from her decades ago after she became pregnant and was forced to live in a convent. Terrific comedy-drama with a great screen double act. Infrequent strong language and moderate sex references.
'71 (15)
Starring: Jack O'Connell, Sean Harris, Sam Reid
War, Drama, Action
In 1971, a young and disorientated British soldier is accidentally abandoned by his unit following a riot on the deadly streets of Belfast. incredibly tense drama set in the backdrops of the Troubles in Northern Ireland. Very strong language, strong bloody violence, injury detail.
NETFLIX
CITY SLICKERS (12)
Starring: Billy Crystal, Daniel Stern, Bruno Kirby, Patricia Wettig, Helen Slater, Jack Palance
Comedy
On the verge of turning 40, an unhappy Manhattan yuppie is roped into joining his two friends on a cattle drive in the southwest. Hilarious comedy with an Oscar-winning performance from Jack Palance. Moderate sex references and language.
ON CHESIL BEACH (15)
Starring: Saoirse Ronan, Billy Howle, Emily Watson
Drama
Based on Ian McEwan's novel. In 1962 England, a young couple find their idyllic romance colliding with issues of sexual freedom and societal pressure, leading to an awkward and fateful wedding night. Powerful drama with another great performance from Saoirse Ronan. Strong sex, sex references and language.
NOW TV/SKY CINEMA
MEN IN BLACK: INTERNATIONAL (12)
Starring: Chris Hemsworth, Tessa Thompson
Science Fiction, Comedy, Action
The Men in Black have always protected the Earth from the scum of the universe. In this new adventure, they tackle their biggest threat to date: a mole in the Men in Black organization. Undemanding new entry to the Men in Black series. Moderate violence, threat, sex references, language.
EVENT HORIZON (18)
Starring: Laurence Fishburne, Sam Neill, Kathleen Quinlan
Sci-fi, horror, action, thriller
A rescue crew investigates a spaceship that disappeared into a black hole and has now returned…with someone or something new on-board. Underrated grisly horror sci-fi in the tradition of Alien. Strong violence and gore, language and some nudity.
DISNEY+
POCAHONTAS (U)
Starring: Irene Bedard, Judy Kuhn, Mel Gibson, Billy Connolly
Animation, Musical, Adventure, Drama
An English soldier and the daughter of an Algonquin chief share a romance when English colonists invade seventeenth century Virginia. Beautiful looking Disney animation. Mild violence.
SAVING MR BANKS (PG)
Starring: Emma Thompson, Tom Hanks
Biopic, comedy, drama
Author P.L. Travers reflects on her childhood after reluctantly meeting with Walt Disney, who seeks to adapt her Mary Poppins books for the big screen. Wonderful tale of how Mary Poppins got to the screen. Scenes of emotional upset and mild language.
MOVIES ON TERRESTRIAL TV
COVER GIRL (U)
10.50am Sony Movies Classic
Starring: Rita Hayworth, Gene Kelly, Phil Silvers
Musical, comedy, romance
Rusty Parker wins a contest and becomes a celebrated cover girl; this endangers her romance with dancing mentor Danny. Bright and breezy musical comedy from the 40s.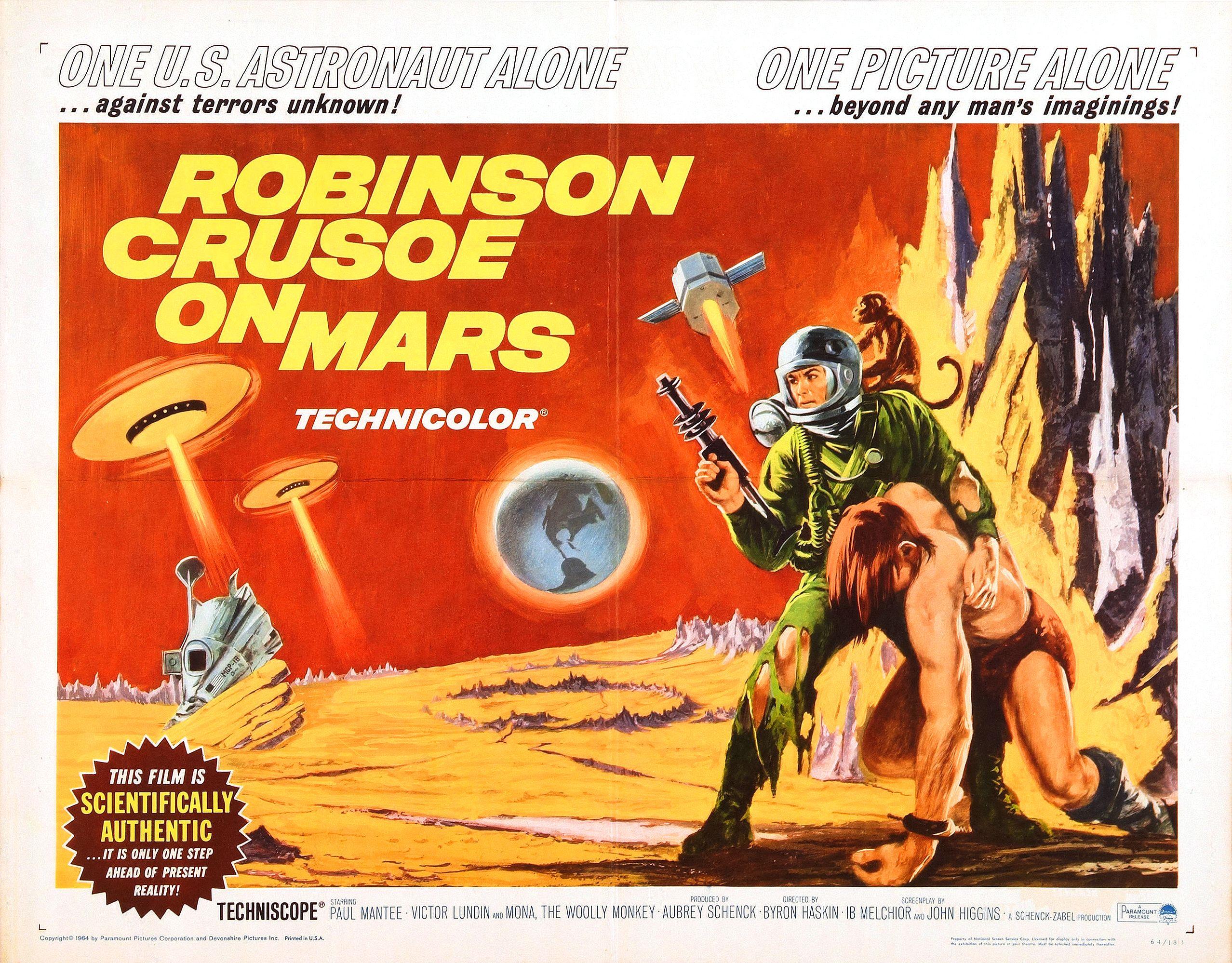 ROBINSON CRUSOE ON MARS (PG)
11am Film4
Starring: Paul Mantee, Vic Lundin, Adam West
Sci-fi, adventure
Stranded on Mars with only a monkey as a companion, an astronaut must figure out how to find oxygen, water, and food on the lifeless planet. Sci-fi adventure from the 60s. Mild threat.
THE BEST YEARS OF OUR LIVES (U)
1.05pm Sony Movies Classic
Starring: Myrna Loy, Fredric March, Dana Andrews
War, drama, romance
Three World War II veterans return home to small-town America to discover that they and their families have been irreparably changed. Epic drama that won seven Oscars. Mild violence and threat. Black and White.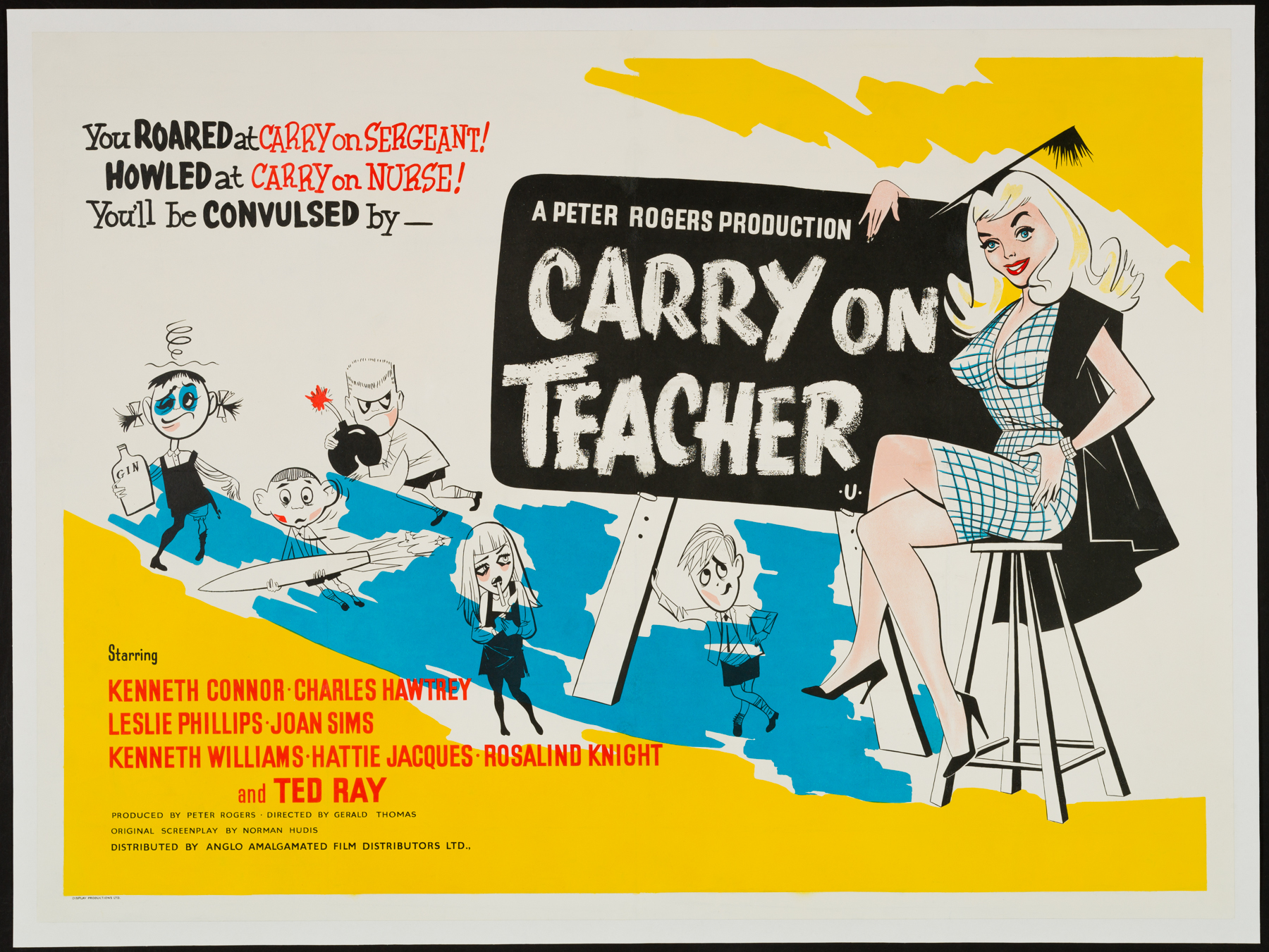 CARRY ON TEACHER (U)
1.15pm Film4
Starring: Ted Ray, Kenneth Connor, Leslie Phillips, Charles Hawtrey
Comedy
Pupils run amok at Maudlin Street School in an attempt to hang on to their headmaster. He has applied for a new job, but the students like him and don't want to lose him. Fun early entry to the Carry On series. Mild sex references and comic violence. Black and White.
GENTLEMEN PREFER BLONDES (U)
3pm Film4
Starring: Jane Russell, Marilyn Monroe
Musical, Comedy, Romance
Showgirls Lorelei Lee and Dorothy Shaw travel to Paris, pursued by a private detective hired by the suspicious father of Lorelei's fiancé, as well as a rich, enamoured old man and many other doting admirers. Colourful comedy musical.
SECRET WINDOW (12)
5pm Sony Movies
Starring: Johnny Depp, Kyle Allatt, Maria Bello
Thriller, mystery, drama
A successful writer in the midst of a painful divorce is stalked at his remote lake house by a would-be scribe who accuses him of plagiarism. Chiller based on the Stephen King novel. Strong language and moderate violence. May be edited for content.
SHAUN OF THE DEAD (15)
9pm ITV2
Starring: Simon Pegg, Nick Frost
Horror, comedy
A man's uneventful life is disrupted by the zombie apocalypse. Hugely popular British comedy-horror. Very strong language and strong bloody horror.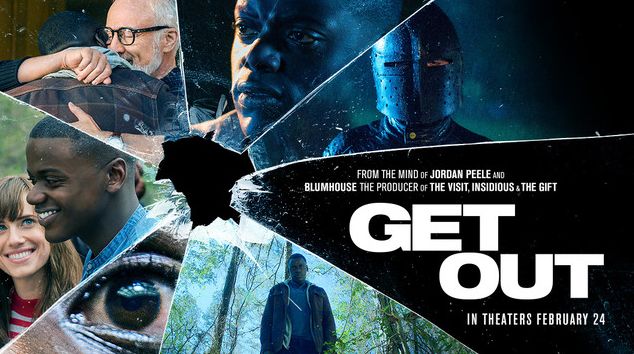 GET OUT (15)
9pm Film4
Starring: Daniel Kaluuya, Allison Williams, Bradley Whitford
Horror, thriller
A young African-American visits his white girlfriend's parents for the weekend, where his simmering uneasiness about their reception of him eventually reaches a boiling point. Terrific creepy horror. Strong violence, gore, sex references, language.
WOMEN IN LOVE (15)
9pm Sony Movies Classic
Starring: Alan Bates, Oliver Reed, Glenda Jackson, Jennie Linden
Drama, romance
Two best friends fall in love with a pair of women, but the relationships soon go in very different directions. Classic adaptation of D.H. Lawrence's novel. Strong sex and nudity.
UNBREAKABLE (15)
9pm Sony Movies
Starring: Bruce Willis, Samuel L.Jackson
Sci-fi, drama, mystery
A man learns something extraordinary about himself after a devastating accident. Terrific mystery from the director of The Sixth Sense. Mature thematic elements including some disturbing violent content, and for a crude sexual reference.
THE HEAT (15)
9pm E4
Starring: Sandra Bullock, Melissa McCarthy
Action, comedy, thriller
An uptight FBI Special Agent is paired with a foul-mouthed Boston cop to take down a ruthless drug lord. Funny cop comedy with two perfectly matched leads. Strong language, violence and sexual references.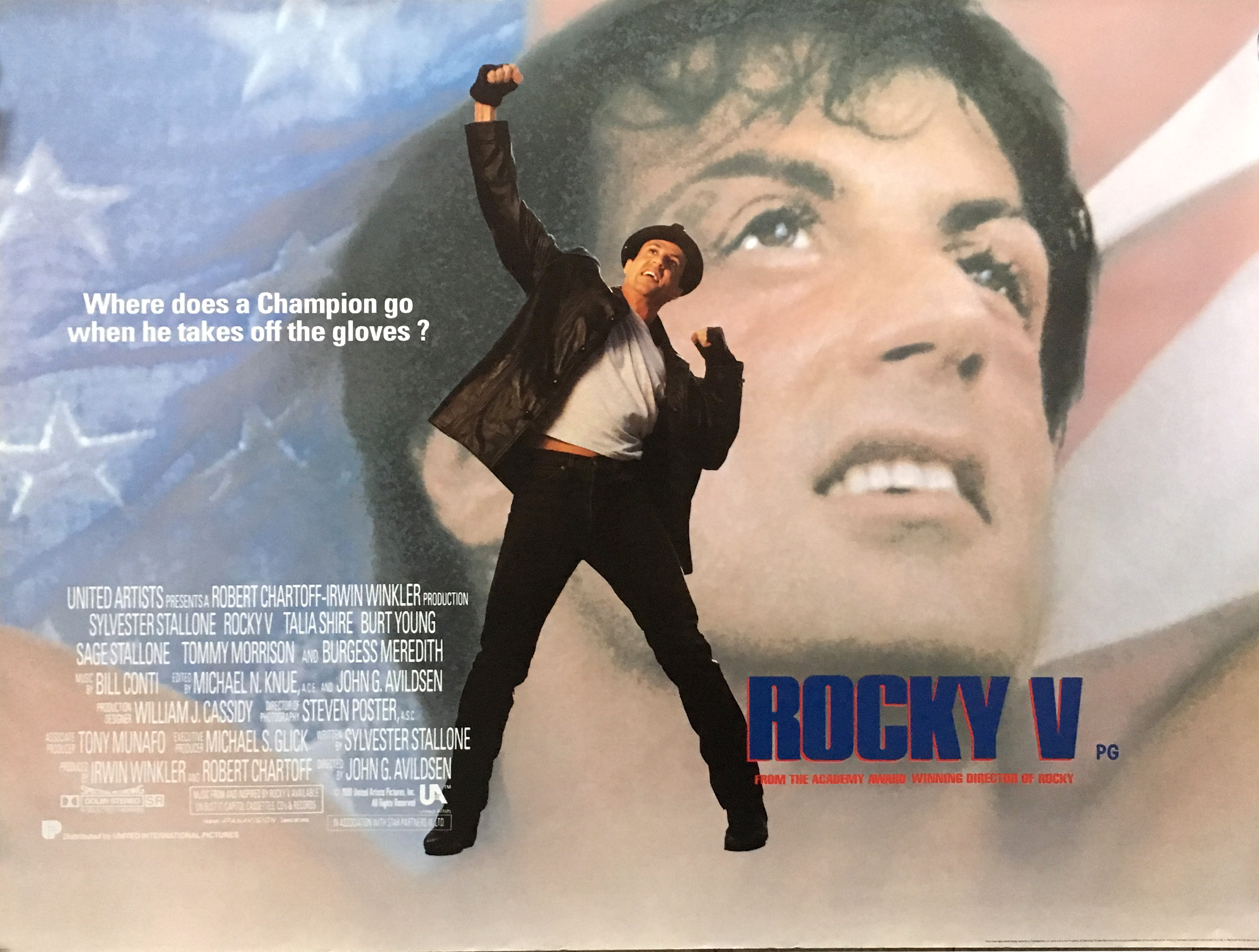 ROCKY V (PG)
9pm ITV4
Starring: Sylvester Stallone, Talia Shire, Burt Young, Sage Stallone, Burgess Meredith
Drama, sport
Reluctantly retired from boxing, and back from riches to rags, Rocky takes on a new protege who betrays him, as the champ's son must adjust to his family's new life after bankruptcy. Continuing the saga of the screen's most famous boxer. Moderate violence and mild language.
LITTLE FAUSS AND BIG HALSY (15)
10pm Talking Pictures TV
Starring: Robert Redford, Michael J. Pollard
Drama
A story of two motorcycle racers, the inept, unsuspecting Little Fauss (Michael J. Pollard) and the opportunistic, womanizing Halsey Knox (Redford). Rarely screened drama from the 70s. Language, sexual content and violence.
THE BUTTERFLY EFFECT (15)
11.20pm Sony Movies
Starring: Ashton Kutcher, Amy Smart
Drama, sci-fi, thriller
Evan Treborn suffers blackouts during significant events of his life. As he grows up, he finds a way to remember these lost memories and a supernatural way to alter his life by reading his journal. Interesting sci-fi thriller. Strong language, violence, sex references and child abuse theme.
LIFE OF CRIME (15)
11.20pm BBC2
Starring: Jennifer Aniston, Tim Robbins, John Hawkes
Drama, Crime, Comedy
Two common criminals get more than they bargained for after kidnapping the wife of a corrupt real-estate developer who shows no interest in paying the $1 million dollar ransom for her safe return. Underrated comedy caper. Strong language, sex, violence.
I'LL NEVER FORGET WHAT'S 'IS NAME (15)
11.40pm Sony Picture
Starring: Oliver Reed, Orson Welles, Wendy Craig
Comedy, drama
The professional and romantic misadventures of an advertising executive in 1960s swinging London. Michael Winner directs this slice of 60s nostalgia. Strong sex references, bloody images and language.
ALAN PARTRIDGE: ALPHA PAPA (15)
11.40pm BBC1
Starring: Steve Coogan, Tim Key, Sean Pertwee
Comedy, action, crime
When famous DJ Alan Partridge's radio station is taken over by a new media conglomerate, it sets in motion a chain of events which see Alan having to work with the police to defuse a potentially violent siege. Hilarious big-screen outing for the popular TV character. Strong language and violence.
STRAW DOGS (18)
12.05am Talking Pictures TV
Starring: Dustin Hoffman, Susan George
Crime, drama, thriller
A young American and his English wife come to rural England and face increasingly vicious local harassment. Controversial thriller from the 70s. Not for the faint-hearted. Strong brutal violence including a sexual attack, language, menace, some sexual content, and pervasive language.
DRACULA (12)
2.55am Horror Channel
Starring: Peter Cushing, Christopher Lee, Michael Gough
Horror
Jonathan Harker begets the ire of Count Dracula after he accepts a job at the vampire's castle under false pretences, forcing his colleague Dr. Van Helsing to destroy the predatory villain when he targets Harker's loved ones. Classic Hammer horror. Moderate gory horror and sexual references.