Morning!
It's the weekend and it is glorious out. The sun has returned and it's reasonably warm out. If that's not your thing, then why not stay in as there is the usual mass of movies on terrestrial TV. Since doing this, I have noticed just how many times certain films are on hard rotation. Even the wonderful Talking Pictures TV seem to repeat quite heavily. Not moaning, just commenting.
Stay safe, stay inside and Happy Saturday!
AMAZON PRIME
TONI ERDMANN (15)
Starring: Peter Simonischek, Sandra Hüller
Drama, comedy
A practical joking father tries to reconnect with his hard-working daughter by creating an outrageous alter ego and posing as her CEO's life coach. A surprisingly funny German comedy. Strong language, nudity, scene of sexual activity, drug misuse.
CUBAN FURY (15)
Starring: Chris O'Dowd, Ian McShane, Nick Frost, Rashida Jones, Olivia Colman
Comedy, romance
Beneath Bruce Garrett's under-confident, overweight exterior, the passionate heart of a salsa king lies dormant. Now, one woman is about to reignite his Latin fire. Hugely entertaining rom-com. Strong language, sex references.
NETFLIX
THE PERFECT STORM (12)
Starring: George Clooney, Mark Wahlberg, Diane Lane, Karen Allen
Action, adventure, drama
An unusually intense storm pattern catches some commercial fishermen unaware and puts them in mortal danger. Exciting disaster movie based on a true story. Strong language and moderate horror.
THE MAN FROM U.N.C.L.E (12)
Starring: Henry Cavill, Armie Hammer, Alicia Vikander, Hugh Grant
Thriller, Comedy, Action
In the early 1960s, CIA agent Napoleon Solo and KGB operative Illya Kuryakin participate in a joint mission against a mysterious criminal organization, which is working to proliferate nuclear weapons. Underrated, entertainingly stylish reboot of the 60s TV show. Violence, language, sexual references, and partial nudity.
NOW TV/SKY CINEMA
TWILIGHT (12)
Starring: Kristen Stewart, Robert Pattinson, Taylor Lautner
Drama, romance, fantasy
Bella Swan moves to Forks and encounters Edward Cullen, a gorgeous boy with a secret. The first of the teen drama series which is better than most people will remember. The rest of the series is available on Now TV. Moderate fantasy violence and horror.
RAISING ARIZONA (12)
Starring: Nicolas Cage, Holly Hunter, John Goodman
Comedy, crime
When a childless couple of an ex-con and an ex-cop decide to help themselves to one of another family's quintuplets, their lives become more complicated than they anticipated. Bizarre cult comedy from the Coen Brothers. One use of strong language and moderate violence.
DISNEY+
ANT-MAN AND THE WASP (12)
Starring: Paul Rudd, Evangeline Lilly, Michael Peña, Hannah John-Kamen, Walton Goggins, Michael Douglas
Science Fiction, Fantasy, Action
As Scott Lang balances being both a superhero and a father, Hope van Dyne and Dr. Hank Pym present an urgent new mission that finds the Ant-Man fighting alongside The Wasp to uncover secrets from their past. Enjoyable sequel to Ant-Man (also available on Disney+). Moderate violence.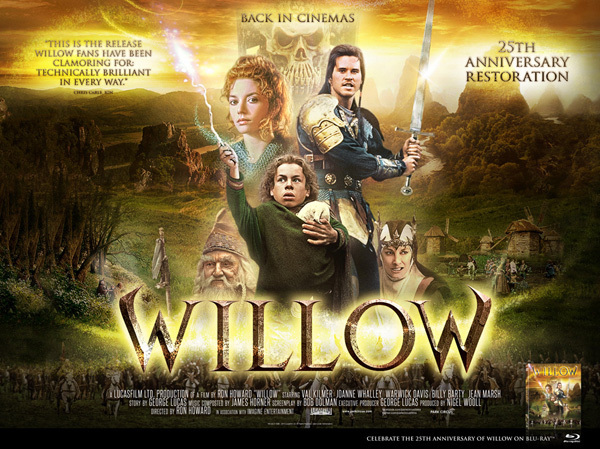 WILLOW (PG)
Starring: Val Kilmer, Joanne Whalley, Warwick Davies
Action, adventure, fantasy, drama
A young farmer is chosen to undertake a perilous journey in order to protect a special baby from an evil queen. Fun fantasy adventure from George Lucas and Ron Howard. Mild language, sex references and fantasy violence.
MOVIES ON TERRESTRIAL TV
YESTERDAY'S ENEMY (PG)
11.45pm Sony Movies Action
Starring: Stanley Baker, Guy Rolfe, Leo McKern
In World War II, during the Japanese invasion of Burma, the lost remnant of a British Army Brigade HQ, led by the ruthless Captain Alan Langford, escapes through the jungle toward the British lines. Wartime drama from the Hammer studio. Violence. Black and White.
THE MASK (PG)
12.05pm Channel 5
Starring: Jim Carrey, Cameron Diaz
Fantasy, Crime, Comedy
Bank clerk Stanley Ipkiss is transformed into a manic superhero when he wears a mysterious mask. Hilarious comic-book comedy and Cameron Diaz's first film. Moderate violence and threat and mild bad language.
CARRY ON SPYING (U)
12.50pm Film4
Starring: Kenneth Williams, Barbara Windsor, Bernard Cribbins, Charles Hawtrey
Comedy
A top-secret chemical formula has been stolen by STENCH (the Society for the Total Extinction of Non-Conforming Humans), and so Agent Simpkins and his three trainees are hot on the trail, chasing the villains across the world. The Carry On team take on the 60s spy films. Innuendo. Black and White.
THE QUEEN (12)
12.55pm ITV3
Starring: Helen Mirren, Michael Sheen
Biopic, drama
After the death of Princess Diana, Elizabeth II struggles with her reaction to a sequence of events nobody could have predicted. Good British drama with an Oscar-winning performance from Helen Mirren. Language.
IT SHOULD HAPPEN TO YOU! (U)
12.55pm Sony Movies Classic
Starring: Judy Holliday, Peter Lawford, Jack Lemmon
Comedy, romance
When a young woman with dreams of fame rents a billboard to advertise herself, her life changes overnight. Funny 1954 comedy. Mild sexual reference.
THE SEA WOLVES (PG)
1.25pm ITV4
Starring: Gregory Peck, Roger Moore, David Niven, Trevor Howard
Action, war
During World War II, the British must attack a German ship, but it's safe in neutral Goa. As a result, they send civilians: former soldiers who are about sixty years old. An old-fashioned boys' own's action movie. Mild language and violence.
YOU'VE GOT MAIL (PG)
2.10pm Channel 5
Starring: Tom Hanks, Meg Ryan
Comedy, drama, romance
Two business rivals who despise each other in real life unwittingly fall in love over the Internet. Charming rom-com from the team behind Sleepless In Seattle. Mild language.
MONSTERS VS ALIEN (PG)
2.15pm BBC1
Starring: Seth Rogen, Hugh Laurie, Reese Witherspoon
Animated, action, adventure, sci-fi
A woman transformed into a giant after she is struck by a meteorite on her wedding day becomes part of a team of monsters sent in by the U.S. government to defeat an alien mastermind trying to take over Earth. Funny animated spoof of the 50s B-movie. Mild threat and comic fight scenes.
CORPSE BRIDE (PG)
3.20pm ITV2
Starring: Johnny Depp, Helena Bonham Carter
Animation, drama, horror
When a shy groom practices his wedding vows in the inadvertent presence of a deceased young woman, she rises from the grave assuming he has married her. Impressive animation from Tim Burton. Mild scary scenes.
BATTLE OF BRITAIN (PG)
4pm ITV4
Starring: Laurence Olivier, Robert Shaw, Michael Caine, Christopher Plummer, Kenneth More, Susannah York
War, action, drama, biopic
In 1940, the British Royal Air Force fights a desperate battle to prevent the Luftwaffe from gaining air superiority over the English Channel as a prelude to a possible Axis invasion of the U.K. Impressive British war movie. War action and mild horror.
LIAR, LIAR (12)
5pm ITV2
Starring: Jim Carrey, Laura Linney
Comedy, drama
A fast-track lawyer can't lie for 24 hours due to his son's birthday wish after he disappoints his son for the last time. Very funny comedy with a sickly sweet ending. Language and sexual references.
YOU ONLY LIVE TWICE (PG)
6.40pm ITV4
Starring: Sean Connery, Akiko Wakabayashi, Mie Hama, Tetsuro Tamba, Teru Shimada, Karin Dor, Donald Pleasence
Action, adventure, thriller
Secret Agent James Bond and the Japanese Secret Service must find and stop the true culprit of a series of space hijackings before a war is provoked between Russia and the United States. Grand-scale Bond with a spectacular ending. mild violence, sexual references and threat.
SINBAD AND THE EYE OF THE TIGER (U)
6.40pm Horror Channel
Starring: Patrick Wayne, Taryn Power, Jane Seymour
Action, adventure, fantasy
Sinbad The Sailor sails to deliver a cursed prince to a dangerous island in the face of deadly opposition from a powerful witch. Fun family fantasy with great effects from Ray Harryhausen. Mild violence, language and peril.
SAN ANDREAS (12)
6.45pm ITV2
Starring: Dwayne Johnson, Alexandra Daddario, Carla Gugino
Drama, Action, Adventure
In the aftermath of a massive earthquake in California, a rescue-chopper pilot makes a dangerous journey with his ex-wife across the state in order to rescue his daughter. Modern disaster movie with several slices of cheese. Intense action scenes, brief bloody moments, infrequent strong language.
ONE FINE DAY (PG)
6.50pm Sony Movies
Starring: Michelle Pfeiffer, George Clooney
Comedy, drama, romance
The lives of two strangers and their young children unexpectedly intersect on one hectic, stressful day in New York City. Watchable rom-com thanks to two charming performances. Mild language and sex references.
HOUDINI (U)
7.40pm Talking Pictures TV
Starring: Tony Curtis, Janet Leigh
The spectacular but tragically short career of magician and illusionist Harry Houdini whose tricks defied explanation and safety. A forgotten gem from the 50s. Scenes of peril.
THE GUERNSEY LITERARY AND POTATO PEEL PIE SOCIETY (12)
8.30pm BBC2
Starring: Lily James, Jessica Brown Findlay, Michiel Huisman
Drama, romance
In the aftermath of World War II, a writer forms an unexpected bond with the residents of Guernsey Island when she decides to write a book about their experiences during the war. Enjoyably gentle British drama. Moderate bloody images, sex references.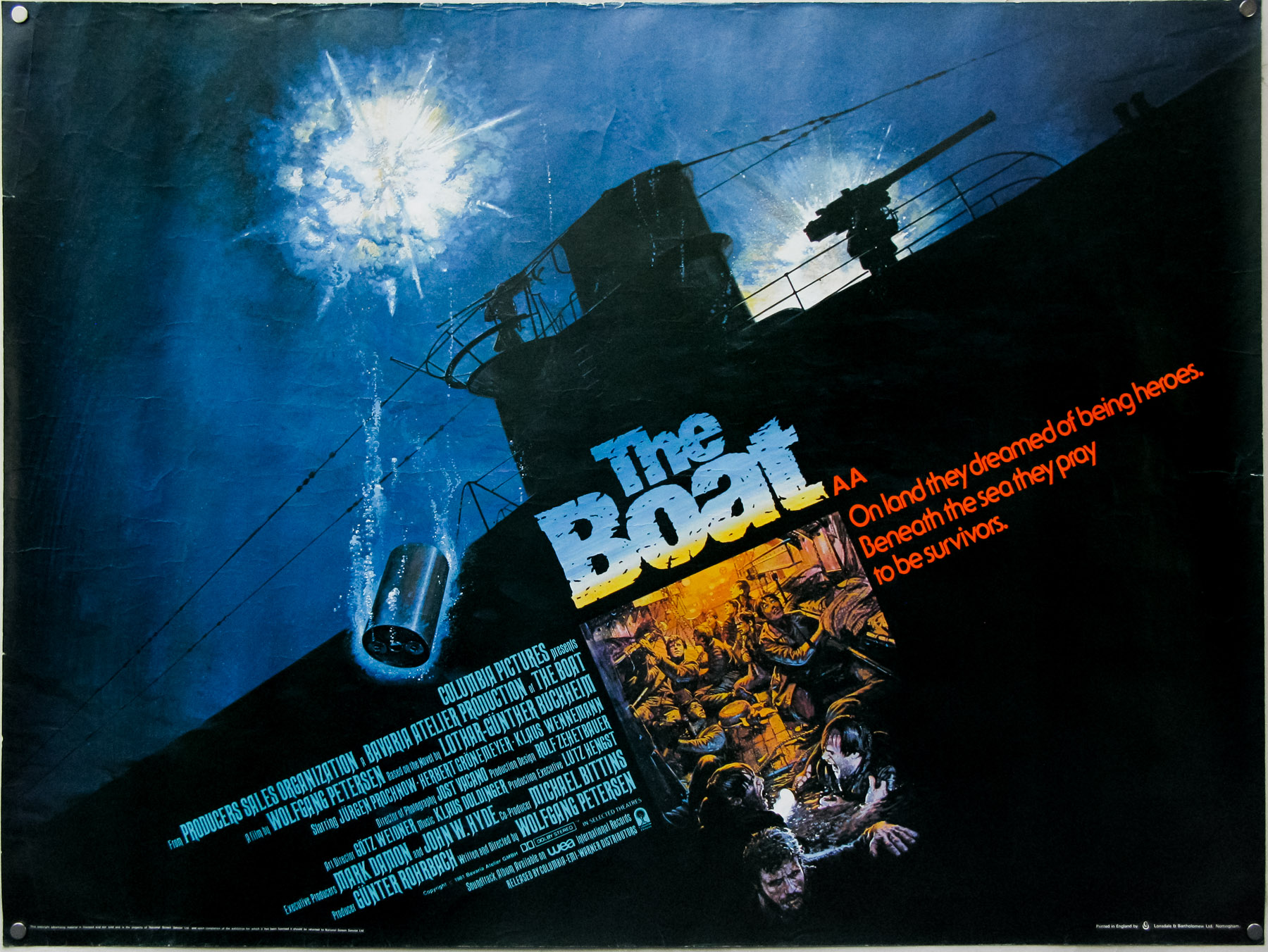 DAS BOOT (THE BOAT) (15)
9pm Sony Movies Action
Starring: Jurgen Prochnow, Herbert Gronemeyer
Adventure, drama, war
The claustrophobic world of a WWII German U-boat; boredom, filth and sheer terror. A brilliant German film that will built up the tension brilliantly. Sex references and violence. Subtitled.
THE UNTOUCHABLES (15)
9pm ITV4
Starring: Kevin Costner, Sean Connery, Charles Martin Smith, Andy Garcia, Robert De Niro
Drama, Crime, Thriller
During the era of Prohibition in the United States, Federal Agent Eliot Ness sets out to stop ruthless Chicago gangster Al Capone and, because of rampant corruption, assembles a small, hand-picked team to help him. Excellent gangster thriller from Brian DePalma and an Oscar win for Sean Connery. Strong violence and strong language.
THE AFRICAN QUEEN (U)
9pm Sony Movie Classics
Starring: Humphrey Bogart, Katharine Hepburn
Adventure, drama
In WWI Africa, a gin-swilling riverboat captain is persuaded by a strait-laced missionary to use his boat to attack an enemy warship.. Bogart won an Oscar for his role in this classic adventure. Violence and mild peril.
3:10 TO YUMA (15)
9pm Sony Movies
Starring: Christian Bale, Russell Crowe
Western, adventure
A small-time rancher agrees to hold a captured outlaw who's awaiting a train to go to court in Yuma. A battle of wills ensues as the outlaw tries to psych out the rancher. Terrific western remake of the 1950s classic. Violence and language.
THE HUNGER GAMES (15)
9pm 5*
Starring: Jennifer Lawrence, Josh Hutcherson, Liam Hemsworth
Action, adventure, sci-fi
Katniss Everdeen voluntarily takes her younger sister's place in the Hunger Games: a televised competition in which two teenagers from each of the twelve Districts of Panem are chosen at random to fight to the death. First of the popular YA dystopian drama. Strong violence, language and threat.
HIGHLANDER (15)
9pm Horror Channel
Starring: Christopher Lambert, Sean Connery
Action, adventure, fantasy
An immortal Scottish swordsman must confront the last of his immortal opponent, a murderously brutal barbarian who lusts for the fabled "Prize". Flashy 80s action film. Strong violence, language and moderate sex.
FAST AND FURIOUS 8 (12)
9pm ITV2
Starring: Vin Diesel, Dwayne Johnson, Jason Statham, Michelle Rodriguez, Tyrese Gibson, Chris Bridges, Nathalie Emmanuel, Kurt Russell, Scott Eastwood, Charlize Theron, Helen Mirren
Action, adventure, crime
When a mysterious woman seduces Dominic Toretto into the world of terrorism and a betrayal of those closest to him, the crew face trials that will test them as never before. Tremendous fun action caper. Moderate violence, infrequent strong language.
JASON BOURNE (12)
9pm Film4
Starring: Matt Damon, Julia Stiles, Tommy Lee Jones, Alicia Vikander
Action, adventure, thriller
The CIA's most dangerous former operative is drawn out of hiding to uncover more explosive truths about his past. Fourth edition of the Jason Bourne story. Moderate violence and language.
VALERIAN AND THE CITY OF A THOUSAND PLANETS (12)
9pm Channel 4
Starring: Dane DeHaan, Cara Delevingne, Clive Owen, Rihanna
Science Fiction, Adventure, Action
A dark force threatens Alpha, a vast metropolis and home to species from a thousand planets. Special operatives Valerian and Laureline must race to identify the marauding menace and safeguard not just Alpha, but the future of the universe. bonkers sci-fi from the director of The Fifth Element. Moderate violence, sex references, language.
LITTLE FAUSS AND BIG HALSY (15)
9.55pm Talking Pictures TV
Starring: Robert Redford, Michael J. Pollard
Drama
A story of two motorcycle racers, the inept, unsuspecting Little Fauss (Michael J. Pollard) and the opportunistic, womanizing Halsey Knox (Redford). Rarely screened drama from the 70s. Language, sexual content, nudity and violence.
THE OWL AND THE PUSSYCAT (15)
11.10pm Sony Movies Classic
Starring: Barbra Streisand, George Segal
Comedy, drama, romance
A stuffy author enters into an explosive relationship with his neighbour, a foul-mouthed, freewheeling prostitute. Comedy lifted by the charm of the two leads. Strong language and sexual content.
THE LAST BOY SCOUT (18)
11.20pm ITV4
Starring: Bruce Willis, Damon Wayans
Action, comedy, crime
A private detective's protected female witness is murdered, prompting him and the victim's boyfriend to investigate the crime that leads to a corrupt politician and a crooked football team owner. Exciting blockbuster from Tony Scott. Strong language, sexual content and violence.
BONE TOMAHAWK (18)
11.25pm Film4
Starring: Kurt Russell, Richard Jenkins, Patrick Wilson, Sean Young
Western, Horror
In the dying days of the old west, an elderly sheriff and his posse set out to rescue their town's doctor from cannibalistic cave dwellers. Shockingly brutal yet well-made western horror. Strong violence, graphic gore and horror, language.
THE ROCKY HORROR PICTURE SHOW (15)
1am Talking Pictures TV
Starring: Tim Curry, Susan Sarandon, Barry Bostwick, Richard O'Brien
Musical, Comedy
A newly-engaged couple have a breakdown in an isolated area and must seek shelter at the bizarre residence of Dr. Frank-n-Furter. The ultimate cult musical. Strong language, violence and sex references