Morning!
Happy May Day! Get the maypoles out and dance around it making sure you are social distancing.
Weather-wise today, it's going to be a bit mmm! So stay indoors and watch a movie. Don't forget to share the love and let people know about the blog.
Stay safe, stay inside and Happy Friday!
AMAZON PRIME
THE LORD OF THE RINGS: THE FELLOWSHIP OF THE RING (PG)
Starring: Elijah Wood, Ian McKellen, Viggo Mortensen
Action, adventure, drama, fantasy
A meek Hobbit from the Shire and eight companions set out on a journey to destroy the powerful One Ring and save Middle-earth from the Dark Lord Sauron. Peter Jackson's epic retelling of J.R.R. Tolkien's novel. The Two Towers and The Return of the King are also available. Moderate battle violence and some scary scenes.
READY PLAYER ONE (12)
Starring: Tye Sheridan, Hannah John-Kamen, Ben Mendelsohn, Mark Rylance, Olivia Cooke, Simon Pegg
Science Fiction, Fantasy, Drama
When the creator of a virtual reality called the OASIS dies, he makes a posthumous challenge to all OASIS users to find his Easter Egg, which will give the finder his fortune and control of his world. Steven Spielberg's spectacular sci-fi fantasy. Moderate violence, horror, infrequent strong language.
NETFLIX
ADULT LIFE SKILLS (15)
Starring: Jodie Whittaker, Lorraine Ashbourne, Brett Goldstein
Drama, Comedy
Anna is deeply grieving the death of her twin brother, and retreating into herself. It takes her mother's nagging, her grandmother's wisdom, Brendan's infatuation with her, and a troubled little boy going through the same life-altering experience she did to get her out of the rut. A charming and funny drama with a great performance from Jodie Whittaker. Strong language and sexual references.
A PRIVATE WAR (15)
Starring: Rosamund Pike, Tom Hollander, Jamie Dornan, Stanley Tucci
Biopic, war, drama
One of the most celebrated war correspondents of our time, Marie Colvin is an utterly fearless and rebellious spirit, driven to the frontline of conflicts across the globe to give voice to the voiceless. Powerful true story with a stunning performance from Rosamund Pike. Disturbing violent images, language throughout, and brief sexuality/nudity.
NOW TV/SKY CINEMA
ONCE UPON A TIME…IN HOLLYWOOD (18)
Starring: Leonardo DiCaprio, Brad Pitt, Margot Robbie
Drama, Comedy
A faded television actor and his stunt double strive to achieve fame and success in the film industry during the final years of Hollywood's Golden Age in 1969 Los Angeles. Quentin Tarantino's epic fairy tale with an Oscar-winning performance from Brad Pitt. Strong language, strong graphic violence, drug use, and sexual references.
THE TRUMAN SHOW (PG)
Starring: Jim Carrey, Laura Linney, Ed Harris
Comedy, drama
An insurance salesman discovers his whole life is actually a reality TV show. Wonderful satire on the world of TV. Mild threat and language.
DISNEY+
ALICE IN WONDERLAND (U)
Starring: Kathryn Beaumont, Ed Wynn
Animated, adventure
Alice stumbles into the world of Wonderland. Will she get home? Not if the Queen of Hearts has her way. Disney's colourful version of Lewis Carroll's book.
REMEMBER THE TITANS (PG)
Starring: Denzel Washington, Gerry Bertier
Biopic, sport, drama
The true story of a newly appointed African-American coach and his high school team on their first season as a racially integrated unit. Feel-good sports drama. Mild language.
MOVIES ON TERRESTRIAL TV
RUN WILD, RUN FREE (U)
12.45pm Film4
Starring: John Mills, Sylvia Syms, Mark Lester
Drama
Philip Ransome, a northern English boy about ten-years-old, has been mute since age three and spends his days roaming the moors alone. His parents despair of a cure. One day, he sees a singular wild albino pony with blue eyes and befriends it avidly. Touching British family drama.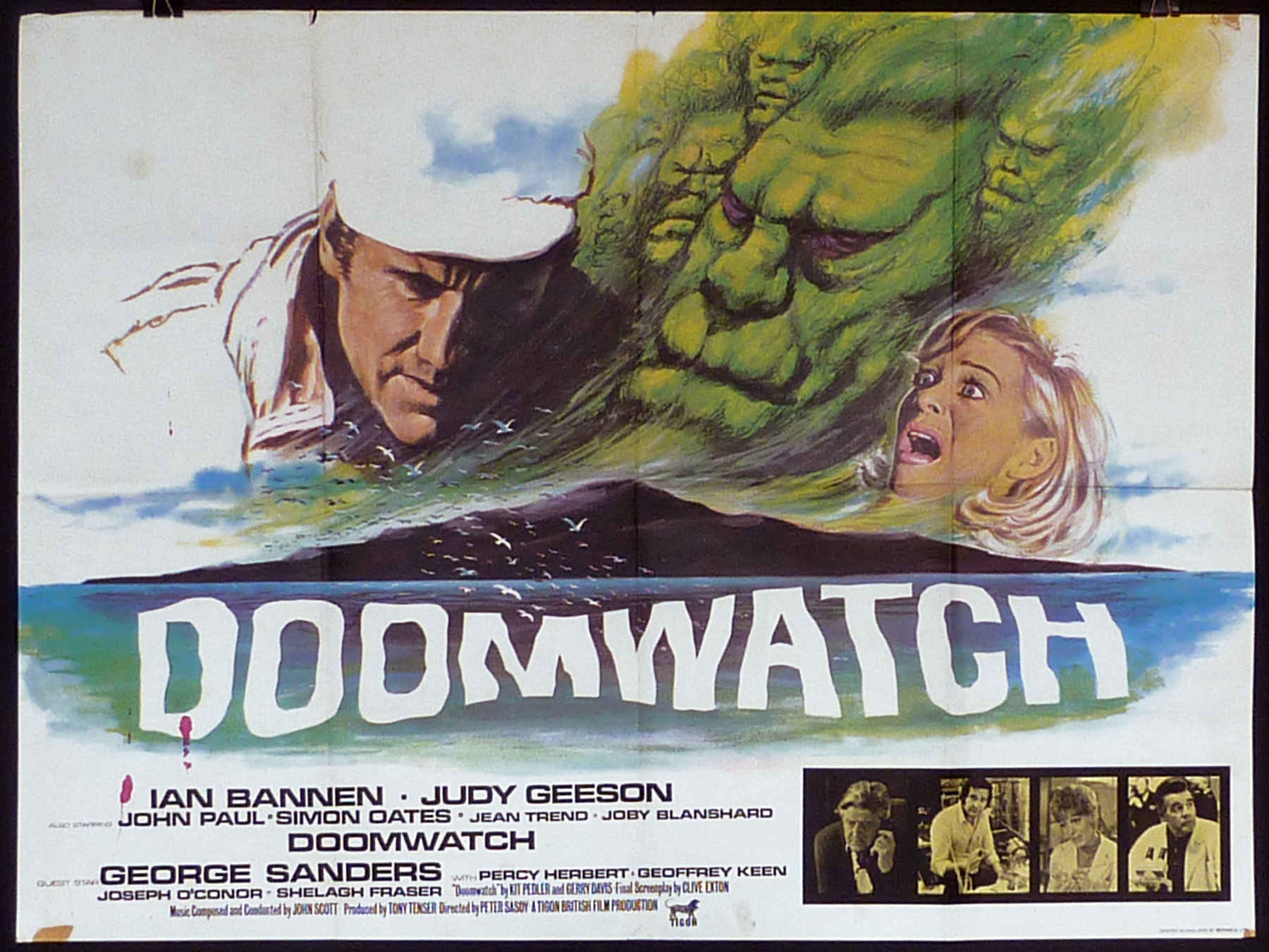 DOOMWATCH (12)
1pm Horror Channel
Starring: Ian Bannen, Judy Geeson
Sci-fi, thriller
The waters surrounding an island become contaminated by chemical dumping, and people who eat fish caught in those waters become deformed and violent. British sci-fi based on a hit TV series. Violence, language and scenes of dead animals. May be edited for content.
THE TAMING OF THE SHREW (U)
1.05pm Sony Movies Classic
Starring: Elizabeth Taylor, Richard Burton
Comedy, drama, romance
Brutish, fortune-hunting scoundrel Petruchio (Richard Burton) tames his wealthy, shrewish wife, Katharina (Dame Elizabeth Taylor). Bright version of Shakespeare's play.
THE TALK OF THE TOWN (U)
2.30pm Talking Pictures TV
Starring: Cary Grant, Jean Arthur, Ronald Colman
Comedy, drama, romance
An escaped prisoner and a stuffy law professor vie for the hand of a spirited schoolteacher. Classic romantic comedy. Black and White.
SUPPORT YOUR LOCAL GUNFIGHTER (U)
2.55pm Film4
Starring: James Garner, Suzanne Pleshette, Jack Elam
Western, comedy
A con artist arrives in a mining town controlled by two competing companies. Both companies think he's a famous gunfighter and try to hire him to drive the other out of town. Funny western. Mild language.
WATERLOO (U)
4.30pm Sony Movies Action
Starring: Rod Steiger, Christopher Plummer, Orson Welles
Action, biopic, war, drama
Facing the decline of everything he has worked to obtain, conqueror Napoleon Bonaparte and his army confront the British at the Battle of Waterloo. Impressive epic war drama. Mild violence.
BACK TO THE FUTURE PART III (PG)
3.30pm Film4 (4.30pm Film4+1)
Starring: Michael J. Fox, Crispin Glover, Christopher Lloyd, Lea Thompson
Science Fiction, Adventure, Comedy, Western
Stranded in 1955, Marty McFly learns about the death of Doc Brown in 1885 and must travel back in time to save him. With no fuel readily available for the DeLorean, the two must figure how to escape the Old West before Emmett is murdered. Third and final part of the trilogy. Mild violence, mild bad language.
FUN WITH DICK AND JANE (12)
4.50pm Sony Movies
Starring: Jim Carrey, Tea Leoni, Alec Baldwin
Comedy, crime
When an affluent couple loses all their money following a series of blunders, they turn to a life of crime to make ends meet. Likeable remake of the 70s comedy. Brief language, some sexual humour and occasional humorous drug references. May be edited for content.
BORN FREE (PG)
7.05pm Sony Movie Classics
Starring: Virginia McKenna, Bill Travers
Adventure, family
Based on the life of George and Joy Adamson, this classic family adventure has the couple adopting a lioness called Elsa. Beautiful true story for fans of animal films. Some wild animal action and brief language.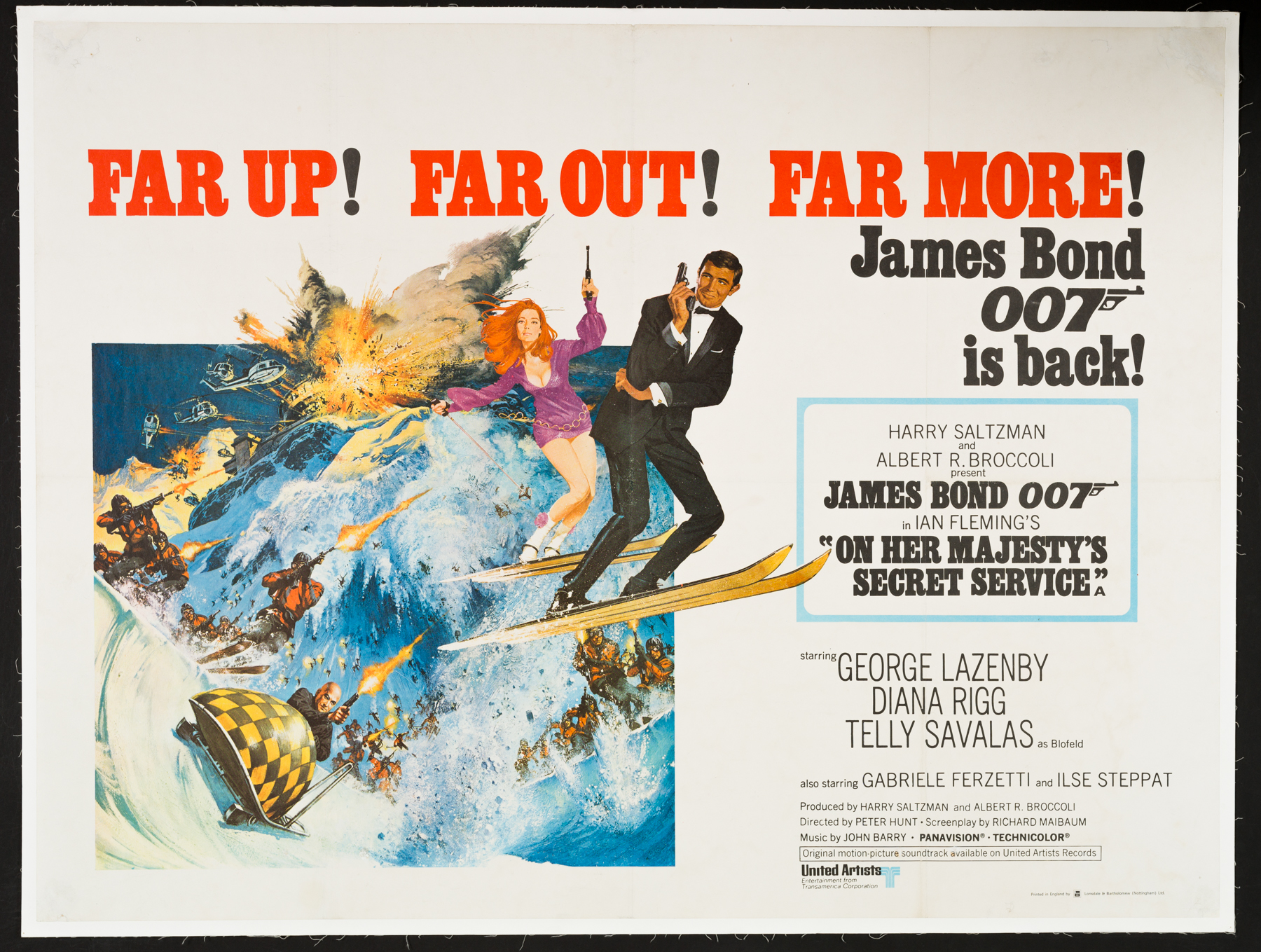 ON HER MAJESTY'S SECRET SERVICE (PG)
8pm ITV4
Starring: George Lazenby, Diana Rigg, Telly Savalas
Action, adventure, thriller
James Bond woos a mob boss' daughter and goes undercover to uncover the true reason for Ernst Stavro Blofeld's allergy research in the Swiss Alps involving beautiful women from around the world. George Lazenby's only outing as Bond. Moderate action violence and mild innuendo.
DESPERADO (18)
9pm Sony Movies Action
Starring: Antonio Banderas, Joaquim De Almeida, Salma Hayek, Steve Buscemi
Action, crime, thriller
Former musician and gunslinger El Mariach arrives at a small Mexican border town after being away for a long time. His past quickly catches up with him and he soon gets entangled with the local drug kingpin Bucho and his gang. Brutal action movie. Strong bloody violence, sex and language.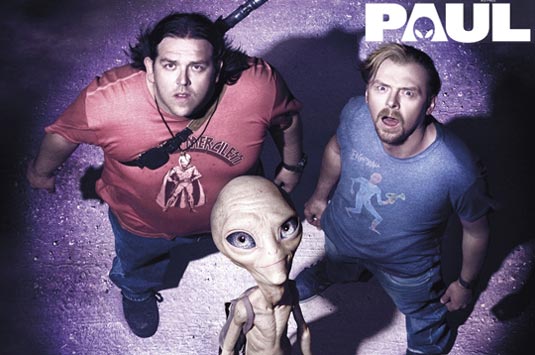 PAUL (15)
9pm ITV2
Starring: Simon Pegg, Nick Frost, Seth Rogen
Science Fiction, Comedy, Adventure
Two English comic book geeks travelling across the U.S. encounter an alien outside Area 51. Reasonably entertaining comedy from Pegg and Frost. Strong language and sex references.
SPY (15)
9pm E4
Starring: Melissa McCarthy, Rose Byrne, Jason Statham, Jude Law, Allison Janney, Miranda Hart
Comedy, Action
A desk-bound CIA analyst volunteers to go undercover to infiltrate the world of a deadly arms dealer, and prevent a diabolical global disaster. Enjoyable comedy action film. Jason Statham is hilarious. Strong violence, sex references, very strong language.
BUGSY (15)
9pm Sony Movies Classic
Starring: Warren Beatty, Annette Bening, Harvey Keitel, Ben Kingsley
Biopic, drama, crime
The story of how Benjamin "Bugsy" Siegel started Las Vegas. Underrated gangster film. Strong violence, sexual content and language.
THE FAN (18)
10pm Talking Pictures TV
Starring: Lauren Bacall, Michael Biehn, Maureen Stapleton, James Garner
Drama, horror, thriller
Douglas, a record salesman, is an obsessive fan of actress Sally Ross. When his letters are rejected, he strikes out at her and her loved ones. Creepy slasher horror. Strong language, violence and sexual references.
THE FULL MONTY (15)
10.45pm BBC1
Starring: Robert Carlyle, Tom Wilkinson, Mark Addy
Comedy, drama
Six unemployed steelworkers form a male striptease act. The women cheer them on to go for "the full monty" – total nudity. Hugely popular comedy-drama. Strong language, sexual references and nudity.
CLOSER (15)
10.55pm Sony Movies
Starring: Julia Roberts, Jude Law, Natalie Portman, Clive Owen
Drama, romance
The relationships of two couples become complicated and deceitful when the man from one couple meets the woman of the other. Powerful drama with great performances. Very strong language and sex references.
ORANGES AND SUNSHINE (15)
11.20pm BBC2
Starring: Hugo Weaving, Emily Watson
Drama
Set in 1980s Nottingham, social worker Margaret Humphreys holds the British government accountable for child migration schemes and reunites the children involved — now adults living mostly in Australia — with their parents in Britain. Powerful drama. Strong language and references to child sex abuse.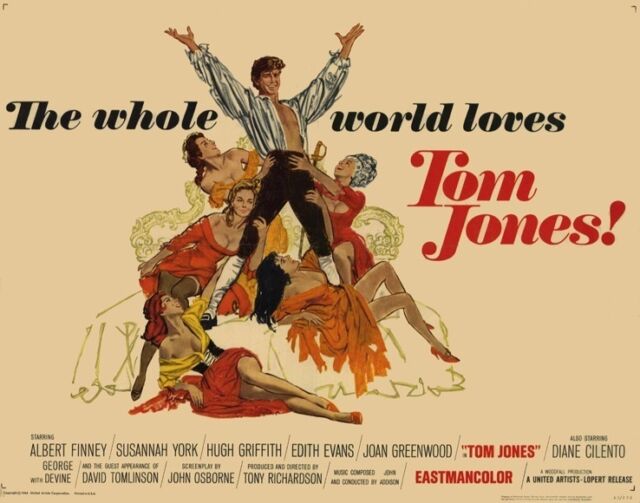 TOM JONES (12)
11.45pm Sony Movies Classic
Starring: Albert Finney, Susannah York
Comedy, drama, adventure
The romantic and chivalrous adventures of adopted bastard Tom Jones in 18th-century England. Breezy Oscar-winning romp.  Moderate sex references, violence, language.
NOSFERATU THE VAMPYRE (12)
12midnight Talking Pictures TV
Starring: Klaus Kinski, Isabelle Adjani, Bruno Ganz
Horror, drama
Count Dracula moves from Transylvania to Wismar, spreading the Black Plague across the land. Only a woman pure of heart can bring an end to his reign of horror. Terrific remake of the classic horror. Moderate horror and gore. Subtitled.
LOCKE (15)
1.25am Film4
Starring: Tom Hardy
Drama
Ivan Locke, a dedicated family man and successful construction manager, receives a phone call on the eve of the biggest challenge of his career that sets in motion a series of events that threaten his carefully cultivated existence. A brilliant performance from Tom Hardy. Strong language.