Morning!
It's Happy Clappy day! Once again the nation will be joined in union to thank those who have put their lives on the line to keep us safe. Don't forget to clap at 8.
Elsewhere, it's going to be a glorious day but the cold is a-coming. So maybe wait till tonight to watch a movie, although there may be something that tickles your fancy.
Stay safe, stay inside and Happy Thursday!
AMAZON PRIME
LITTLE BIG MAN (15)
Starring: Dustin Hoffman, Martin Balsam, Faye Dunaway
Western, comedy, drama, adventure
Jack Crabb, looking back from extreme old age, tells of his life being raised by Native Americans and fighting with General Custer. Entertaining and unusual western adventure. Strong violence, language, sex, sexual content.
MY SPY (12)
Starring: Dave Bautista, Kristen Schaal, Ken Jeong
Comedy, Action
A hardened CIA operative finds himself at the mercy of a precocious 9-year-old girl, having been sent undercover to surveil her family. Family adventure that was released just before lockdown. Moderate violence, language.
NETFLIX
HOWARDS END (PG)
Starring: Anthony Hopkins, Vanessa Redgrave, Helena Bonham Carter, Emma Thompson
Drama, romance
A businessman thwarts his wife's bequest of an estate to another woman. Beautifully acted and handsomely looking period drama. Mild sex references, infrequent mild violence.
THUNDER ROAD (15)
Starring: Jim Cummings, Kendal Farr
Drama, Comedy
A police officer faces a personal meltdown following a divorce and the death of his mother. Little seen indie movie which skillfully mixes black comedy with heartbreaking drama. Strong language.
NOW TV/SKY CINEMA
SORRY TO BOTHER YOU (15)
Starring: Lakeith Stanfield, Tessa Thompson
Science Fiction, Comedy
In an alternate present-day version of Oakland, telemarketer Cassius Green discovers a magical key to professional success, propelling him into a universe of greed. Clever fantasy comedy. Very strong language, strong sex, drug misuse.
CLUELESS (12)
Starring: Alicia Silverstone, Stacy Dash, Brittany Murphy, Paul Rudd
Comedy, romance
A rich high school student tries to boost a new pupil's popularity, but reckons without affairs of the heart getting in the way. Likeable teen comedy based loosely on Jane Austen's Emma. Sex references and drug use.
DISNEY+
CAPTAIN AMERICA: THE WINTER SOLDIER (12)
Starring: Chris Evans, Scarlett Johansson, Robert Redford, Samuel L. Jackson
Fantasy, Drama, Action
As Steve Rogers struggles to embrace his role in the modern world, he teams up with a fellow Avenger and S.H.I.E.L.D agent, Black Widow, to battle a new threat from history: an assassin known as the Winter Soldier. One of the best Marvel films, a mix of superhero and conspiracy thriller. Frequent moderate violence.
THE RESCUERS (U)
Starring: Bob Newhart, Eva Gabor, Geraldine Page
Animated, adventure, comedy
Two mice of the Rescue Aid Society search for a little girl kidnapped by unscrupulous treasure hunters. Enjoyable Disney animation.
MOVIES ON TERRESTRIAL TV
ROBIN AND MARIAN (PG)
12.40pm Film4
Starring: Sean Connery, Audrey Hepburn, Robert Shaw, Richard Harris
Adventure, drama, romance
Robin Hood, aging none too gracefully, returns exhausted from the Crusades to woo and win Maid Marian one last time. A nice twist on the Robin Hood story. Mild injury detail, violence, suicide references, language.
THE MAN WHO COULD WORK MIRACLES (U)
1pm Sony Movies Classic
Starring: Ralph Richardson, Roland Young
Comedy, fantasy
An ordinary man suddenly finds that anything he says comes true. Or at least, almost anything. A fun adaptation of an H.G. Welles story. Black and white.
THE VIOLENT MEN (PG)
2.50pm Film4
Starring: Glenn Ford, Barbara Stanwyck, Edward G. Robinson
Western
A bitter land dispute causes a Civil War veteran to take extreme action. A solid western adventure. Mild violence.
THE WOODEN HORSE (U)
2.50pm BBC2
Starring: Leo Genn, David Tomlinson, Anthony Steel
Drama, war
True story of three British POWs and their attempt to escape from Nazi Germany. Terrific war movie. Mild violence.
SINBAD AND THE EYE OF THE TIGER (U)
4.45pm Horror Channel
Starring: Patrick Wayne, Taryn Power, Jane Seymour
Action, adventure, fantasy
Sinbad The Sailor sails to deliver a cursed prince to a dangerous island in the face of deadly opposition from a powerful witch. Fun family fantasy with great effects from Ray Harryhausen. Mild violence, language and peril.
PARENTAL GUIDANCE (U)
4.45pm Film4
Starring: Billy Crystal, Bette Milder
Comedy
Artie and Diane agree to look after their three grandkids when their type-A helicopter parents need to leave town for work. Problems arise when the kids' 21st-century behaviour collides with Artie and Diane's old-school methods. Sickly sweet family comedy helped by two strong leads. Some rude humour.
THE FLYING DEUCES (U)
5.40pm Talking Pictures TV
Starring: Stan Laurel, Oliver Hardy
Comedy, war
Ollie has fallen in love with the innkeeper's daughter in Paris. The only problem – she's very much in love with her husband. To forget her he joins the Foreign Legion with Stan. Bad idea. Hilarious Laurel and Hardy feature. Black and white.
THE ADMIRABLE CRICHTON (U)
7.05pm Sony Movie Classic
Starring: Kenneth More, Cecil Parker
Comedy
In 1905, Lord Henry Loam, his family and his servants are shipwrecked on a deserted island where the survival of the fittest renders the rigid class system irrelevant. Classic comedy based on the play by J.M.M. Barrie.
HUNT FOR THE WILERPEOPLE (12)
9pm Film4
Starring: Sam Neill, Julian Dennison
Comedy, Drama, Adventure
A national manhunt is ordered for a rebellious kid and his foster uncle who go missing in the wild New Zealand bush. Brilliant comedy from the director of Jojo Rabbit. Language, innuendo, infrequent bloody moments.
DESPERADO (18)
9pm Sony Movies Action
Starring: Antonio Banderas, Joaquim De Almeida, Salma Hayek, Steve Buscemi
Action, crime, thriller
Former musician and gunslinger El Mariach arrives at a small Mexican border town after being away for a long time. His past quickly catches up with him and he soon gets entangled with the local drug kingpin Bucho and his gang. Brutal action movie. Strong bloody violence, sex and language.
THE HUNGER GAMES (15)
9pm 5*
Starring: Jennifer Lawrence, Josh Hutcherson, Liam Hemsworth
Action, adventure, sci-fi
Katniss Everdeen voluntarily takes her younger sister's place in the Hunger Games: a televised competition in which two teenagers from each of the twelve Districts of Panem are chosen at random to fight to the death. First of the popular YA dystopian drama. Strong violence, language and threat.
STIR CRAZY (15)
9pm Sony Movies Classic
Starring: Gene Wilder, Richard Pryor
Comedy
Set up and wrongfully accused, two best friends will be sent to prison for a crime they didn't commit. However, no prison cell could keep them locked in. The return of Gene Wilder and Richard Pryor in a hugely successful and very funny comedy. Language and drug misuse.
THE COTTON CLUB (15)
10pm Talking Pictures TV
Starring: Richard Gere, Gregory Hines, Diane Lane
Crime, drama, music
Meet the jazz musicians, dancers, owner and guests (e.g. gangster Dutch Schultz) of The Cotton Club in 1928-30s Harlem. Another gangster movie from The Godfather director, Francis Ford Coppola. Very strong language and violence.
MONEY MONSTER (15)
10.55pm Sony Movies
Starring: George Clooney, Julia Roberts, Jack O'Connell
Thriller, Drama
Financial TV host Lee Gates and his producer Patty are put in an extreme situation when an irate investor takes them and their crew as hostage. Powerful drama directed by Jodie Foster. Strong language, sex.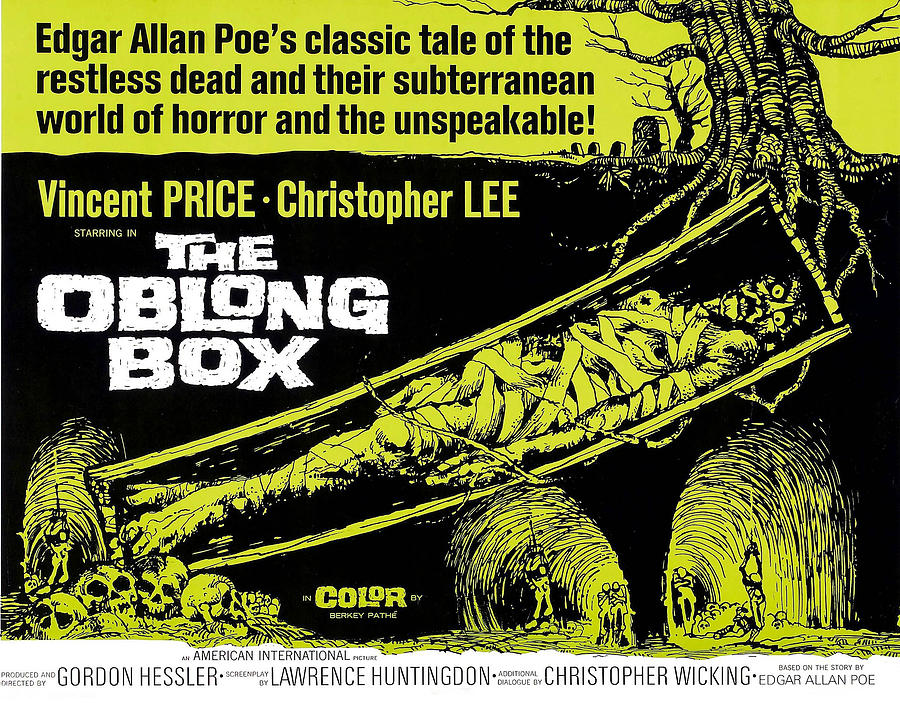 THE OBLONG BOX (15)
11.20pm Sony Movies Classic
Starring: Vincent Price, Christopher Lee
Horror
Aristocrat Julian Markham keeps his disfigured brother, Sir Edward, locked in a tower of his house. Sir Edward occasionally escapes and causes havoc around the town. 60s horror from Edgar Allan Poe. Strong violence, moderate sex and nudity.
SORCERER (15)
12.55am Film4
Starring: Roy Scheider, Bruno Cremer
Thriller, Adventure
Four unfortunate men from different parts of the globe agree to risk their lives transporting gallons of nitroglycerin across dangerous South American jungle. Underrated remake of The Wages of Fear. Strong violence, injury detail.
21 GRAMS (15)
1am Sony Movies
Starring: Sean Penn, Benicio Del Toro, Naomi Watts
Crime, drama, thriller
A freak accident brings together a critically ill mathematician, a grieving mother, and a born-again ex-con. Gripping and intelligent thriller. Strong language, moderate sex, violence and drug use.