Morning!
It's a Bank Holiday as we celebrate 75 years of VE Day. The weather is supposed to be glorious as well, so time to get out and enjoy it as it sounds like getting worse over the weekend.
If you are staying in, there's a host of war and wartime movies (as you would expect) on TV today.
Stay safe, stay inside and Happy Friday.
AMAZON PRIME
THE WRAITH (18)
Starring: Charlie Sheen, Nick Cassavetes, Randy Quaid
Action, horror, sci-fi
After a young man is murdered by a road-racing gang of motor-heads, a mysterious fast-driving spirit descends from the sky to take revenge. Low-budget cult favourite with a very young Charlie Sheen. Violence, language, sex and nudity.
MILLION DOLLAR BABY (12)
Starring: Clint Eastwood, Hilary Swank, Morgan Freeman
Drama, sport
A determined woman works with a hardened boxing trainer to become a professional. Heartbreaking boxing drama directed by Clint Eastwood. One use of strong language, moderate violence and adult theme.
NETFLIX
RICHARD PRYOR LIVE IN CONCERT (15)
Starring: Richard Pryor
Comedy
Richard Pryor's classic 1979 concert film has him discussing a wide range of topics, including race, the police and his favourite target — himself. One of the best concert movies with Pryor at his best. Strong language and sex references.
TUCKER: THE MAN AND HIS DREAMS (12)
Starring: Jeff Bridges, Joan Allen, Martin Landau
Biopic, drama
The story of Preston Tucker, the maverick car designer and his ill-fated challenge to the auto industry with his revolutionary car concept. Handsomely looking biopic from Francis Ford Coppola. Moderate injury detail.
NOW TV/SKY CINEMA
DORA AND THE LOST CITY OF GOLD (PG)
Starring: Isabela Moner, Eva Longoria
Adventure, comedy
Dora, a teenage explorer, leads her friends on an adventure to save her parents and solve the mystery behind a lost city of gold. Enormous fun family adventure based on the hit cartoon show. Mild threat, rude humour.
SAVING PRIVATE RYAN (15)
Starring: Tom Hanks, Tom Sizemore, Edward Burns
War, Drama, Action
Following the Normandy Landings, a group of U.S. soldiers go behind enemy lines to retrieve a paratrooper whose brothers have been killed in action. Powerful and graphic war drama from Steven Spielberg. Strong bloody violence, gory images, language.
DISNEY+
IRON MAN 2 (12)
Starring: Robert Downey Jr., Don Cheadle, Gwyneth Paltrow, Scarlett Johansson, Mickey Rourke
Science Fiction, Adventure, Action
With the world now aware of his identity as Iron Man, Tony Stark must contend with both his declining health and a vengeful mad man with ties to his father's legacy. Marvel Cinematic Universe adventure sequel. Moderate violence and bleeped strong language.
FINDING DORY (U)
Starring: Ellen DeGeneres, Albert Brooks, Idris Elba
Animation, Adventure, Comedy
Friendly but forgetful blue tang Dory begins a search for her long-lost parents, and everyone learns a few things about the real meaning of family along the way. Winning sequel to Pixar's Finding Nemo. Infrequent mild threat.
MOVIES ON TERRESTRIAL TV
THIS HAPPY BREED (U)
11am Film4
Starring: Robert Newton, Celia Johnson, John Mills
Comedy, drama, war
Just after World War I, the Gibbons family moves to a nice house in the suburbs. They lead an ordinary life throughout the years, but everything changes when World War II breaks out. Classic wartime drama.
LITTLE WOMEN (U)
11.15am Sony Movies
Starring: Winona Ryder, Gabriel Byrne, Susan Sarandon
Drama, romance
The March sisters live and grow in post-Civil War America. All-star cast in this 90s adaptation of the classic story.
GEORGY GIRL (12)
11.25am Sony Movies Classic
Starring: James Mason, Lynn Redgrave, Alan Bates, Charlotte Rampling
Comedy, drama, romance
A homely but vivacious young woman dodges the amorous attentions of her father's middle-aged employer while striving to capture some of the glamorous life of her swinging London roommate. 60s social comedy-drama. Moderate language and sex. Black and white. May be edited for content.
THE MAN WHO NEVER WAS (U)
1pm BBC2
Starring: Clifton Webb, Gloria Grahame
War, drama
True story of a British attempt to trick the enemy into weakening Sicily's defences before the 1943 attack, using a dead man with faked papers. Well-directed wartime story. Very mild violence. Black and white.
MILLIONS LIKE US (U)
1.15pm Film4
Starring: Patricia Roc, Eric Portman, Gordon Jackson
War, drama
When Celia Crowson is called up for war service, she hopes for a glamour job in one of the services, but as a single girl, she is directed into a factory making aircraft parts. Here she meets other girls for all different walks of life, and begins a relationship with a young airman. Decent wartime drama. Black and white.
THE HORSE WHISPERER (PG)
1.30pm Sony Movies
Starring: Robert Redford, Kristin Scott Thomas, Sam Neill
Drama, romance
The mother of a severely traumatized daughter enlists the aid of a unique horse trainer to help the girl's equally injured horse. Beautifully looking movie directed by Robert Redford. Mild language, violence and disturbing car accident.
A BRIDGE TOO FAR (15)
2.20pm Channel 5
Starring: Dirk Bogarde, James Caan, Michael Caine, Sean Connery
War, drama, action
Operation Market Garden, September 1944: The Allies attempt to capture several strategically important bridges in the Netherlands in the hope of breaking the German lines. Epic Richard Attenborough directed war drama with an all-star cast. Violence. May be edited for content.
THE SEA WOLVES (PG)
2.45pm ITV4
Starring: Gregory Peck, Roger Moore, David Niven, Trevor Howard
Action, war
During World War II, the British must attack a German ship, but it's safe in neutral Goa. As a result, they send civilians: former soldiers who are about sixty years old. An old-fashioned boys' own's action movie. Mild language and violence.
ANOTHER TIME, ANOTHER PLACE (U)
7pm Talking Pictures TV
Starring: Lana Turner, Barry Sullivan, Glynis Johns, Sean Connery
War, drama, romance
An American war correspondent falls in love with a BBC reporter, but their relationship seems doomed from the start. 50s melodrama with a young Sean Connery. Black and white.
DANCES WITH WOLVES (15)
4.55pm Sony Movies
Starring: Kevin Costner, Mary McDonnell, Graham Greene
Western, drama
Lieutenant John Dunbar, assigned to a remote western Civil War outpost, befriends wolves and Indians, making him an intolerable aberration in the military. Epic western directed by Kevin Costner. Strong violence, language, sex. May be edited for content.
DAD'S ARMY (U)
5.15pm Sony Movies Classic
Starring: Arthur Lowe, Clive Dunn, John Le Mesurier
Comedy, war
The misadventures of a ragtag group of elderly Home Guard local defence volunteers at the onset of WW2. Big-screening outing for the hugely popular TV comedy. Mild threat.
BATTLE OF BRITAIN (PG)
5.20pm ITV4
Starring: Laurence Olivier, Robert Shaw, Michael Caine, Christopher Plummer, Kenneth More, Susannah York
War, action, drama, biopic
In 1940, the British Royal Air Force fights a desperate battle to prevent the Luftwaffe from gaining air superiority over the English Channel as a prelude to a possible Axis invasion of the U.K. Impressive British war movie. War action and mild horror.
THE LAND GIRLS (12)
6.50pm Film4
Starring: Catherine McCormack, Rachel Weisz, Anna Friel
War, drama, romance
Three young women from very different walks of life join the women's land army during World War II and are sent to work together on a farm in Dorset and the experience changes their lives forever. Sweet-natured tale of the women who helped the war effort. Sexual content. May be edited for content)
DANGER WITHIN (U)
7pm Talking Pictures TV
Starring: Richard Todd, Richard Attenborough, Bernard Lee
War, drama
In 1943, an Italian-administered P.O.W. camp for captured Allies goes through a series of failed escapes only to culminate in a daring plan for a dramatic mass escape. Wartime daring-do adventure. Black and white.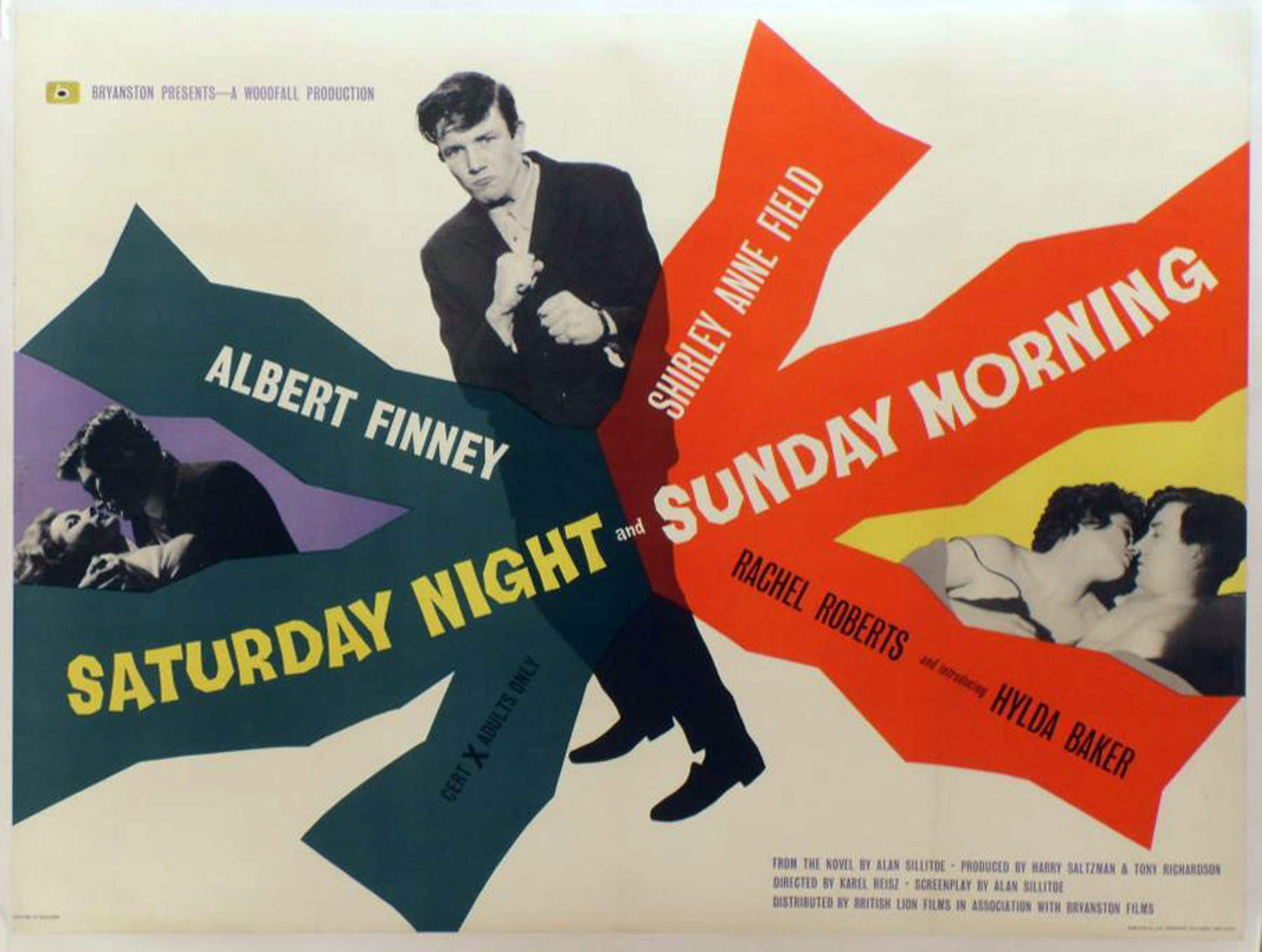 SATURDAY NIGHT & SUNDAY MORNING (PG)
7.10m Sony Movies Classic
Starring: Albert Finney, Shirley Anne Field, Rachel Roberts
Drama
British drama with Albert Finney as a rebellious young man who breezes through life doing what he wants but how long will that last? The first 'kitchen sink' dramas where realism is the key. Mild language and sex references. Black and White.
UNCLE BUCK (12)
7.10pm ITV2
Starring: John Candy, Amy Madigan
Comedy
Bachelor and all-round slob Buck babysits his brother's rebellious teenage daughter and her cute younger brother and sister. John Hughes' entertaining comedy. Mild language. May be edited for content.
A TASTE OF HONEY (12)
9pm Sony Movie Classics
Starring: Rita Tushingham, Dora Bryant
Drama
1960s drama based on the successful play about a pregnant girl having to fend for herself when her overbearing mother decides to remarry. Mature themes, some mild language and sex references. Black and white.
WALL STREET (15)
9pm Sony Movies
Starring: Michael Douglas, Charlie Sheen, Daryl Hannah
Drama, crime
A young and impatient stockbroker is willing to do anything to get to the top, including trading on illegal inside information taken through a ruthless and greedy corporate raider who takes the youth under his wing. Award-winning stock market drama. Strong language, hard drug use and moderate sex.
FAST AND FURIOUS 8 (12)
9pm ITV2
Starring: Vin Diesel, Dwayne Johnson, Jason Statham, Michelle Rodriguez, Tyrese Gibson, Chris Bridges, Nathalie Emmanuel, Kurt Russell, Scott Eastwood, Charlize Theron, Helen Mirren
Action, adventure, crime
When a mysterious woman seduces Dominic Toretto into the world of terrorism and a betrayal of those closest to him, the crew face trials that will test them as never before. Tremendous fun action caper. Moderate violence, infrequent strong language.
JASON BOURNE (12)
9pm Film4
Starring: Matt Damon, Julia Stiles, Tommy Lee Jones, Alicia Vikander
Action, adventure, thriller
The CIA's most dangerous former operative is drawn out of hiding to uncover more explosive truths about his past. Fourth edition of the Jason Bourne story. Moderate violence and language.
OCEAN'S TWELVE (12)
9pm 5*
Starring: Brad Pitt, Catherine Zeta-Jones, George Clooney, Julia Roberts
Crime, thriller, comedy
Daniel Ocean recruits one more team member so he can pull off three major European heists in this sequel to Ocean's 11. Not as good as the original but still fun. One audible and some bleeped uses of strong language.
8 MILE (15)
10pm ITV4
Starring: Eminem, Kim Basinger, Brittany Murphy
Drama, music
A young rapper, struggling with every aspect of his life, wants to make it big but his friends and foes make this odyssey of rap harder than it may seem. Powerful domestic drama with a strong debut from Eminem. strong language, violence, sex references and soft drug use.
AIR FORCE ONE (15)
10pm Channel 5
Starring: Harrison Ford, Gary Oldman
Action, drama, thriller
Communist Radicals hijack Air Force One with The U.S. President and his family on board. The Vice President negotiates from Washington D.C., while the President, a Veteran, fights to rescue the hostages on board. Cracking Die Hard-style action movie. Strong language and violence.
PERSONAL SERVICES (18)
10pm Talking Pictures TV
Starring: Julie Walters, Alec McCowen
Comedy, biopic
The story of the rise of a madame of a suburban brothel catering to older men, inspired by the real experiences of Cynthia Payne. Julie Walters shines in this Terry Jones directed comedy. Strong language, sex, sexual references and BDSM acts.
CITY OF TINY LIGHTS (15)
10.35pm BBC2
Starring: Riz Ahmed, Billie Piper
Crime, thriller, drama
In the teeming, multicultural metropolis of modern-day London, a seemingly straightforward missing-person case launches a down-at-heel private eye into a dangerous world of religious fanaticism and political intrigue. Gritty British drama. Strong language, drug misuse, violence.
HIGHLANDER (15)
10.55pm Horror Channel
Starring: Christopher Lambert, Sean Connery
Action, adventure, fantasy
An immortal Scottish swordsman must confront the last of his immortal opponent, a murderously brutal barbarian who lusts for the fabled "Prize". Flashy 80s action film. Strong violence, language and moderate sex.
THE KNACK AND HOW TO GET IT (15)
11.05pm Sony Movies Classic
Starring: Rita Tushingham, Ray Brooks, Michael Crawford
Comedy
Cool, sophisticated Tolen (Ray Brooks) has a monopoly on womanizing – with a long like of conquests to prove it – while the naïve, awkward Colin (Michael Crawford) desperately wants a piece of it. But when Colin falls for an innocent country girl (Rita Tushingham), it's not long before the self-assured Tolen moves in for the kill. Swinging 60s comedy. Moderate sex references. Black and white.
KINKY BOOTS (12)
11.10pm BBC1
Starring: Nick Frost, Chiwetel Ejiofor, Linda Bassett, Joel Edgerton
Comedy, drama
A drag queen comes to the rescue of a man who, after inheriting his father's shoe factory, needs to diversify his product if he wants to keep the business afloat. Feel-good British comedy. Language and sexual references.
THE NEXT THREE DAYS (12)
11.30pm Sony Movies
Starring: Russell Crowe, Elizabeth Banks, Brian Dennehy
Thriller, action
A married couple's life is turned upside down when the wife is accused of a murder. Gripping thriller from the director of Crash. One use of strong language and moderate violence.
HUMMINGBIRD (15)
11.30pm 5*
Starring: Jason Statham, Agata Buzek
Thriller, Drama
A damaged ex-special forces soldier navigating London's criminal underworld seizes an opportunity to assume another man's identity. Underrated tough drama. Strong brutal violence, graphic nudity and language.
DRACULA: PRINCE OF DARKNESS (15)
12.10am Talking Pictures TV
Starring: Christopher Lee, Barbara Shelley, Andrew Keir
Horror
Dracula is resurrected, preying on four unsuspecting visitors to his castle. Classic Hammer horror. Moderate bloody horror.