Morning!
Hard to believe we are halfway through May already. Where does the time go? Are you feeling each day is flying or dragging? Maybe watching all these movies that the TV companies are throwing out is helping. Another mammoth bunch again today.
Stay safe, be careful and Happy Sunday!
AMAZON PRIME
IN THE NAME OF THE FATHER (15)
Starring: Daniel Day-Lewis, Pete Postlethwaite, Emma Thompson
Biopic, drama
A man's coerced confession to an I.R.A. bombing he did not commit results in the imprisonment of his father as well. An English lawyer fights to free them. Powerful drama from the team behind My Left Foot. Strong language, violence and drug use.
X THE UNKNOWN (PG)
Starring: Dean Jagger, Edward Chapman, Leo McKern, Anthony Newley
Sci-fi, Horror
A radioactive, mud-like creature terrorizes a Scottish village. Early Hammer horror that follows American B-movie s. Mild horror violence. Black and white.
NETFLIX
MONOS (15)
Starring: Sofia Buenaventura, Julian Giraldo
Thriller, Drama
On a remote mountaintop, eight kids with guns watch over a hostage and a conscripted milk cow. Impressive Spanish drama. Strong language, drug misuse, violence, sex. Subtitled.
THE AMERICAN (15)
Starring: George Clooney, Irina Björklund, Lars Hjelm
Thriller, Drama, Crime
An assassin hides out in Italy for one last assignment. Tense, slow-burning thriller. Strong sex, language and one gory image.
NOW TV/SKY CINEMA
KRAMER VS KRAMER (PG)
Starring: Dustin Hoffman, Meryl Streep, Jane Alexander, Justin Henry
Drama
Ted Kramer's wife leaves him, allowing for a lost bond to be rediscovered between Ted and his son, Billy. But a heated custody battle ensues over the divorced couple's son, deepening the wounds left by the separation. Powerful Oscar-winning divorce drama. Mild language and sex references.
THE SHAWSHANK REDEMPTION (15)
Starring: Tim Robbins, Morgan Freeman
Drama
Two imprisoned men bond over a number of years, finding solace and eventual redemption through acts of common decency. Regarded by many as one of the greatest movies ever made. Strong violence, sexual threat, language, suicide.
DISNEY+
GUARDIANS OF THE GALAXY (12)
Starring: Chris Pratt, Zoe Saldana, Dave Bautista, Vin Diesel, Bradley Cooper
Science Fiction, Fantasy, Action
A group of intergalactic criminals must pull together to stop a fanatical warrior with plans to purge the universe. Massively entertaining sci-fi from Marvel. Moderate fantasy action violence, threat, moderate bad language.
TOY STORY 2 (U)
Starring: Tom Hanks, Tim Allen, Joan Cusack, Kelsey Grammer
Animation, Comedy, Adventure
When Woody is stolen by a toy collector, Buzz and his friends set out on a rescue mission to save Woody before he becomes a museum toy property with his roundup gang Jessie, Prospector, and Bullseye. The continuing adventures of Woody and the gang. Very mild violence, threat.
MOVIES ON TERRESTRIAL TV
KIDNAPPED (U)
11am Film4
Starring: Michael Caine, Trevor Howard, Jack Hawkins, Donald Pleasence
Adventure, drama
In eighteenth-century Scotland, during the Jacobite Rebellion, David Balfour claims his inheritance from his uncle who has him shanghaied on a ship where David meets fugitive Jacobite rebel Alan Breck. Swashbuckling adventure. Mild violence.
FATHER BROWN (aka THE DETECTIVE) (PG)
11.40am Sony Movies Classic
Starring: Alec Guinness, Joan Greenwood, Peter Finch
Comedy, Crime, Drama
Works of art are disappearing, stolen by a master thief, a master of disguise. Father Brown has two goals: to catch the thief and to save his soul. Charming gentle detective drama. Mild language. Black and white.
DRAGONHEART (PG)
1.55pm Channel 4
Starring: Dennis Quaid, David Thewlis, Pete Postlethwaite, Sean Connery
Action, Adventure, Fantasy
The last dragon and a disillusioned dragonslaying knight must cooperate to stop an evil King, who was given partial immortality. Fun fantasy film with Sean Connery as the voice of the dragon. Mild bad language and violence.
ROOSTER COGBURN (U)
2.05pm ITV4
Starring: John Wayne, Katharine Hepburn
Western, Adventure, Drama
Marshal Rooster Cogburn unwillingly teams up with Eula Goodnight to track down her father's murderers. Enjoyable follow-up to True Grit, helped by two strong stars. Mild violence.
PAINT YOUR WAGON (PG)
2.50pm BBC2
Starring: Lee Marvin, Clint Eastwood, Jean Seberg
Musical, western, comedy
Two unlikely prospector partners share the same wife in a California gold rush mining town. Often awkward but still entertaining musical with Marvin and Eastwood singing. Mild violence and sexual content.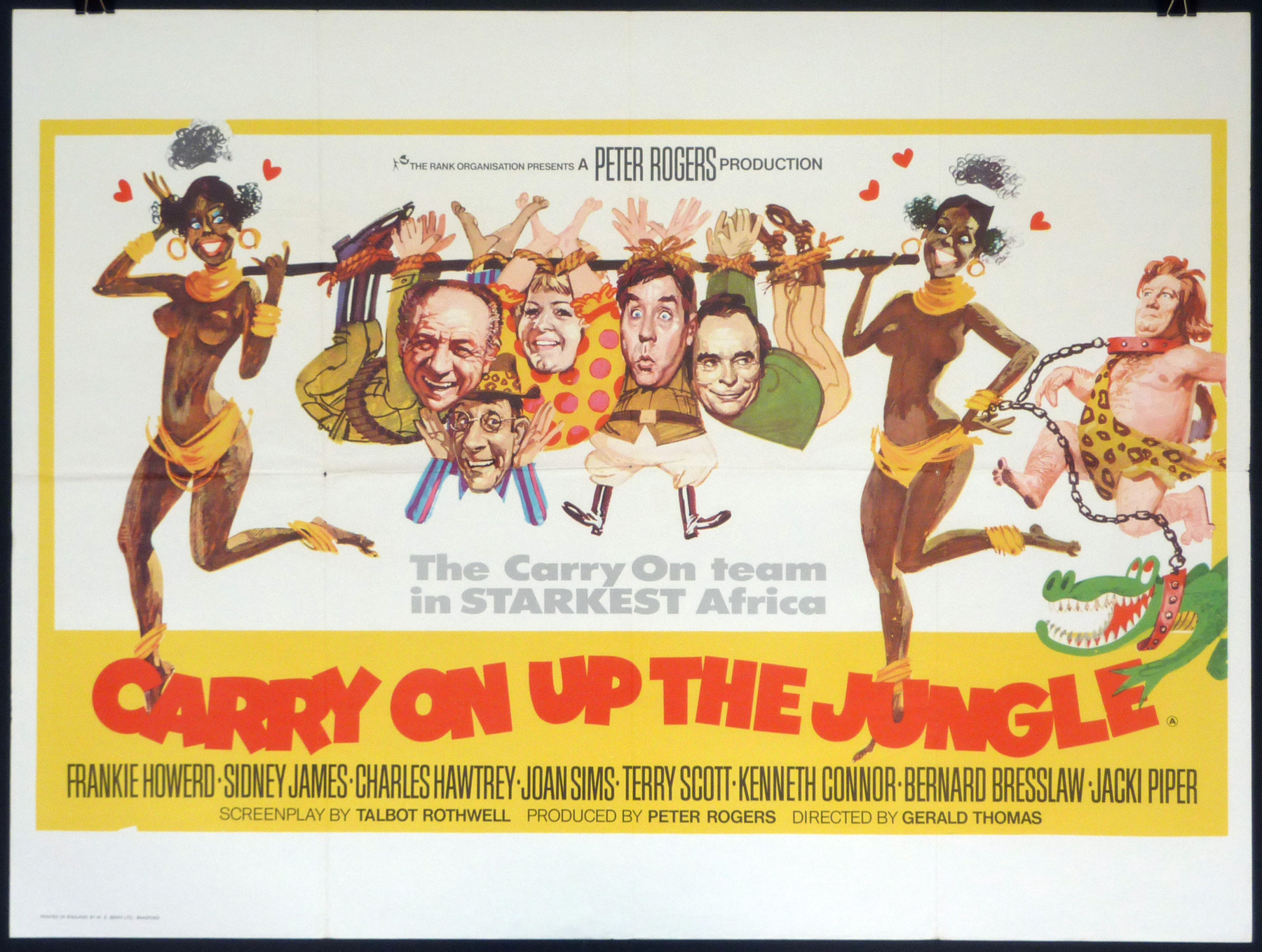 CARRY ON UP THE JUNGLE (PG)
3.10pm ITV3
Starring: Frankie Howerd, Sidney James, Joan Sims, Charles Hawtrey, Terry Scott
Comedy
Lady Evelyn Bagley mounts an expedition to find her long-lost baby. Bill Boosey is the fearless hunter and guide. Prof. Tinkle is searching for the rare Oozalum bird. Everything is going swimmingly until a gorilla enters the camp. The Carry On team spoof the Tarzan movies. Mild comic violence and innuendo.
THE WRONG BOX (U)
3.30pm Sony Movies Classic
Starring: John Mills, Ralph Richardson, Michael Caine
Comedy, crime
In Victorian England, a fortune now depends on which of two brothers outlives the other or can be made to have seemed to do so. Zany all-star cast comedy. Mild language and threat.
VIVA MAX (U)
4pm Talking Pictures TV
Starring: Peter Ustinov, Pamela Tiffin
Comedy
In the 1960s, a screwy Mexican General and his troops cross into Texas to re-capture the Alamo from the Gringos but they face opposition from the local police, the National Guard and the U.S. State Department. Little seen madcap comedy.
HAPPY FEET (U)
4.05pm ITV2
Starring: Robin Williams, Hugh Jackman, Elijah Wood
Animated, Comedy, Adventure
Into the world of the Emperor Penguins, who find their soul mates through song, a penguin is born who cannot sing. But he can tap dance something fierce! Lively animated fun from the creator of Mad Max! Scary moments.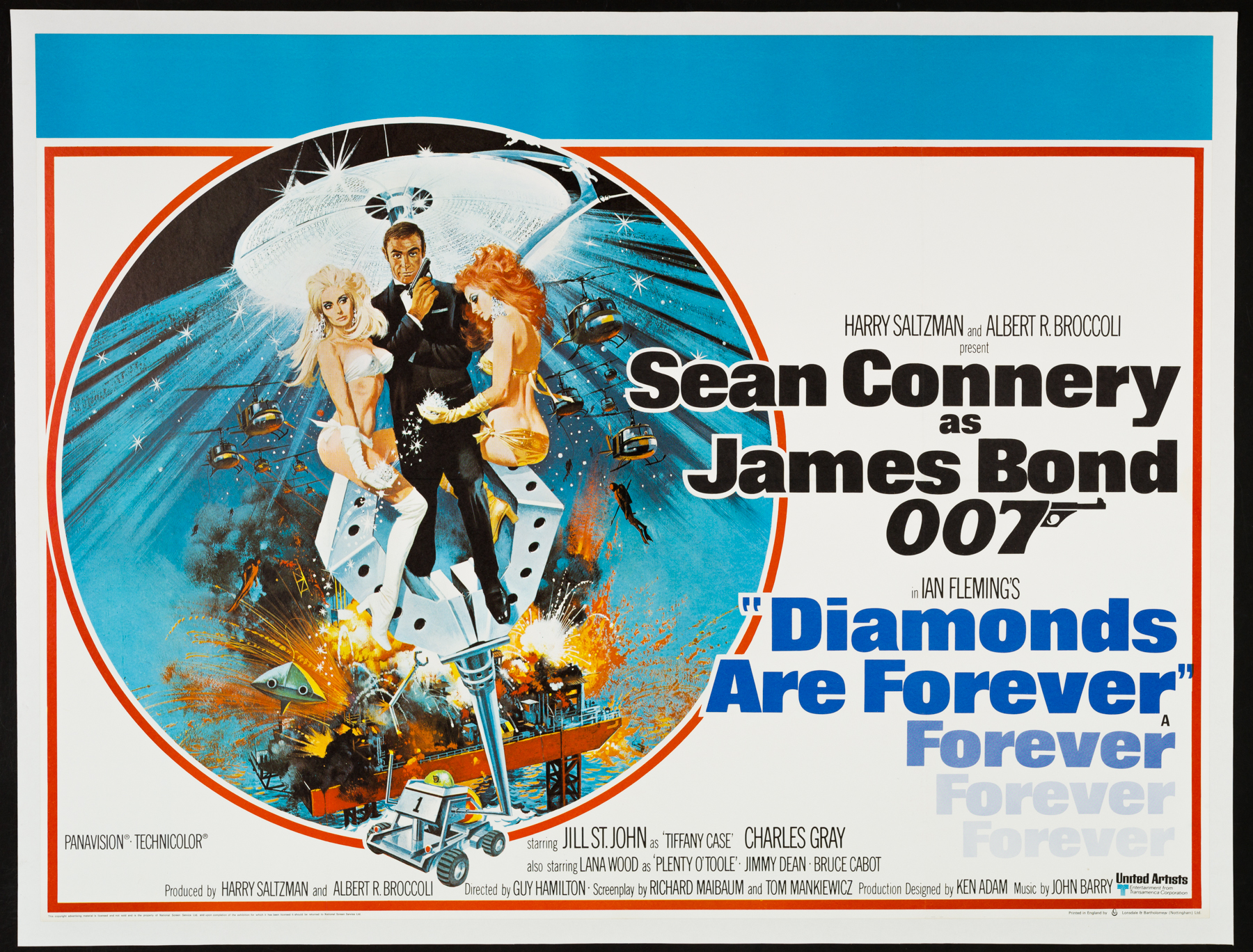 DIAMONDS ARE FOREVER (12)
4.15pm ITV4
Starring: Sean Connery, Jill St. John, Charles Gray
Thriller, Action
A diamond smuggling investigation leads James Bond to Las Vegas, where he uncovers an evil plot involving a rich business tycoon. Sean Connery's last outing in the official Bond series. Moderate language, violence, sexual reference and threat.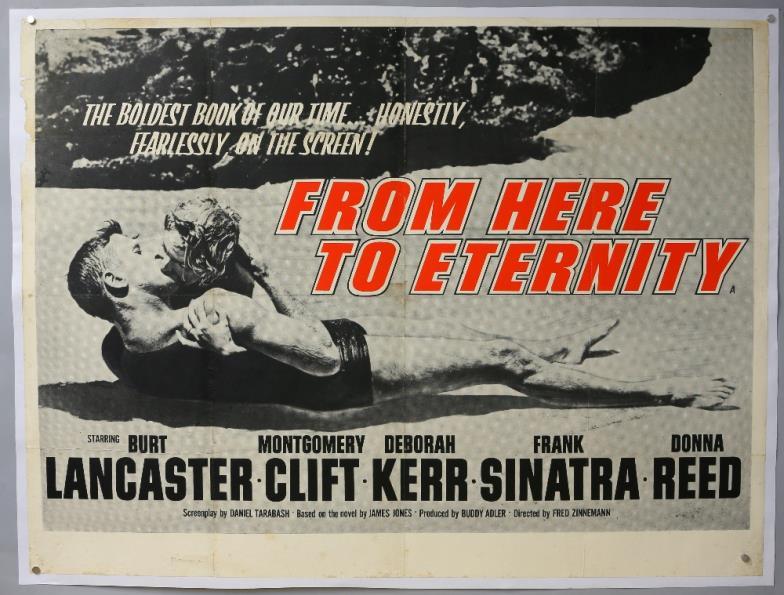 FROM HERE TO ETERNITY (PG)
4.45pm Sony Movie Classic
Starring: Burt Lancaster, Montgomery Clift, Deborah Kerr, Donna Reed, Frank Sinatra
War, Drama, Romance
In Hawaii in 1941, a private is cruelly punished for not boxing on his unit's team, while his captain's wife and second-in-command are falling in love. Oscar-winning wartime drama. Mild violence, sex references and language.
DIRTY DANCING (12)
6pm Channel 5
Starring: Patrick Swayze, Jennifer Grey
Drama, romance, music
Spending the summer at a Catskills resort with her family, Frances "Baby" Houseman falls in love with the camp's dance instructor, Johnny Castle. Hugely popular romance. Moderate sex references. May be edited for content.
DESPICABLE ME 3 (U)
6.10pm ITV2
Starring: Steve Carell, Kristen Wiig
Animation, comedy
Gru meets his long-lost, charming, cheerful, and more successful twin brother Dru, who wants to team up with him for one last criminal heist. Family fun with the third outing of Gru and his Minions. in a tale. Mild comic violence, rude humour, very mild bad language.
HOBSON'S CHOICE (U)
6.50pm Talking Pictures TV
Starring: Charles Laughton, Brenda De Banzie, John Mills
Comedy, drama, romance
Henry Hobson (Charles Laughton) is a successful bootmaker, a widower and a tyrannical father of three daughters. The girls each want to leave their father by getting married, but Henry refuses because marriage traditions require him to pay out settlements. Charming comedy with a larger-than-life performance from Charles Laughton. Black and white.
VOLCANO (12)
6.50pm Sony Movies
Starring: Tommy Lee Jones, Anne Heche
Action, drama
A volcano erupts in downtown Los Angeles, threatening to destroy the city. Bonkers disaster movie saved by the presence of Tommy Lee Jones. Moderate threat, injury detail, infrequent strong language.
DEATH BECOMES HER (12)
7pm 5*
Starring: Meryl Streep, Goldie Hawn, Bruce Willis, Isabella Rossellini
Fantasy, Crime, Comedy
When a woman learns of an immortality treatment, she sees it as a way to outdo her long-time rival. Crazy camp comedy from Robert Zemeckis. Moderate fantasy violence, language, nudity.
THE SWIMMER (PG)
7.05pm Sony Movies Classic
Starring: Burt Lancaster, Janet Landgard
Drama
A man spends a summer day swimming as many pools as he can all over a quiet suburban town. A strange drama with a solid performance from Burt Lancaster. Mild language and sex references.
KUNG FU PANDA 2 (PG)
7.10pm E4
Starring: Jack Black, Gary Oldman, Seth Rogen, Angelina Jolie, Jackie Chan, Jean-Claude Van Damme, Dustin Hoffman
Animation, Comedy, Adventure
Po and his friends fight to stop a peacock villain from conquering China with a deadly new weapon, but first the Dragon Warrior must come to terms with his past. Bright sequel to the popular animation. Mild martial arts action.
SHERLOCK HOLMES: A GAME OF SHADOWS (12)
8pm ITV2
Starring: Robert Downey Jr., Rachel McAdams, Jude Law, Noomi Rapace, Stephen Fry
Adventure, Action, Crime
Detective Sherlock Holmes is on the trail of criminal mastermind Professor Moriarty, who is carrying out a string of random crimes across Europe. Entertaining sequel to the Guy Ritchie film. Moderate violence.
A FISTFUL OF DOLLARS (15)
9pm ITV4
Starring: Clint Eastwood, Marianne Koch
Western, Action, Drama
A wandering gunfighter plays two rival families against each other in a town torn apart by greed, pride, and revenge. Superb western that made Clint Eastwood a star. Strong violence and sexual references.
TOMBSTONE (15)
9pm Sony Movies Action
Starring: Kurt Russell, Val Kilmer
Western, biopic, action
A successful lawman's plans to retire anonymously in Tombstone, Arizona are disrupted by the kind of outlaws he was famous for eliminating. Underrated western adventure. Strong violence.
GUESS WHO'S COMING TO DINNER (PG)
9pm Sony Movies Classic
Starring: Spencer Tracy, Sidney Poitier, Katharine Hepburn
Comedy, drama
A couple's attitudes are challenged when their daughter introduces them to her African-American fiancé. Terrific comedy-drama with a first-class cast. Language and racial language.
GONE IN 60 SECONDS (15)
9pm Sony Movies
Starring: Nicolas Cage, Angelina Jolie, Giovanni Ribisi, Robert Duvall
Action, crime, thriller
A retired master car thief must come back to the industry and steal fifty cars with his crew in one night to save his brother's life. Flashy blockbuster remake of the 1977 cult favourite. Violence, sexuality and language.
JACK RYAN: SHADOW RECRUIT (12)
9pm Film4
Starring: Chris Pine, Kevin Costner, Keira Knightley, Kenneth Branagh
Drama, Action
Jack Ryan, as a young covert C.I.A. analyst, uncovers a Russian plot to crash the U.S. economy with a terrorist attack. Exciting addition to the Jack Ryan franchise. Moderate violence, injury detail, strong language.
THE CRAFT (15)
9pm 5*
Starring: Robin Tunney, Fairuza Balk, Neve Campbell, Rachel True
Drama, Fantasy, Horror
A newcomer to a Catholic prep high school falls in with a trio of outcast teenage girls who practice witchcraft, and they all soon conjure up various spells and curses against those who anger them. Underrated teen horror. Violence, language, intense scenes and attempted rape.
THE MOLLY MAGUIRES (PG)
10pm Talking Pictures TV
Starring: Sean Connery, Richard Harris, Samantha Eggar
Drama
In the Pennsylvanian coal mines of 1876, a group of Irish immigrant workers begin to retaliate against the cruelty of their work environment. Powerful and tough drama. Violence and language.
MIKE BASSETT: ENGLAND MANAGER (15)
10.20pm ITV1
Starring: Ricky Tomlinson, Amanda Redman, Bradley Walsh
Comedy, sport
The manager of England's national football unexpectedly succumbs to a heart attack, and suddenly the search is on for a replacement. Most people who seem qualified for the position have the good sense to turn it down, and so the responsibility falls to Mike Bassett, a scruffy and loud-mouthed lout whose claim to football fame is leading a previously undistinguished team to a league championship. Fun British comedy. Strong language.
EDUCATING RITA (15)
10.30pm BBC1
Starring: Michael Caine, Julie Walters
Comedy, drama
An alcoholic professor has been hired by a working-class girl for higher education. Terrific adaptation of Willy Russell's play with a star-making debut from Julie Walters. Strong language, sexual reference and suicide attempt.
GET CARTER (18)
11.05pm ITV4
Starring: Michael Caine, Ian Hendry, Britt Ekland
Action, crime, thriller
When his brother dies under mysterious circumstances in a car accident, London gangster Jack Carter travels to Newcastle to investigate. Brutal British crime drama. Strong violence, language, sex, nudity.
RUSH (15)
11.05pm Film4
Starring: Chris Hemsworth, Daniel Brühl, Olivia Wilde
Biopic, drama, sport
The merciless 1970s rivalry between Formula One rivals James Hunt and Niki Lauda. Exciting biopic from Ron Howard. Strong language, sex and bloody injury detail.
THE WOMAN IN BLACK (15)
11.05pm 5*
Starring: Daniel Radcliffe, Ciarán Hinds, Janet McTeer
Thriller, Horror, Fantasy
A young solicitor travels to a remote village where he discovers the vengeful ghost of a scorned woman is terrorizing the locals. Very creepy horror from Hammer. Strong horror, psychological threat.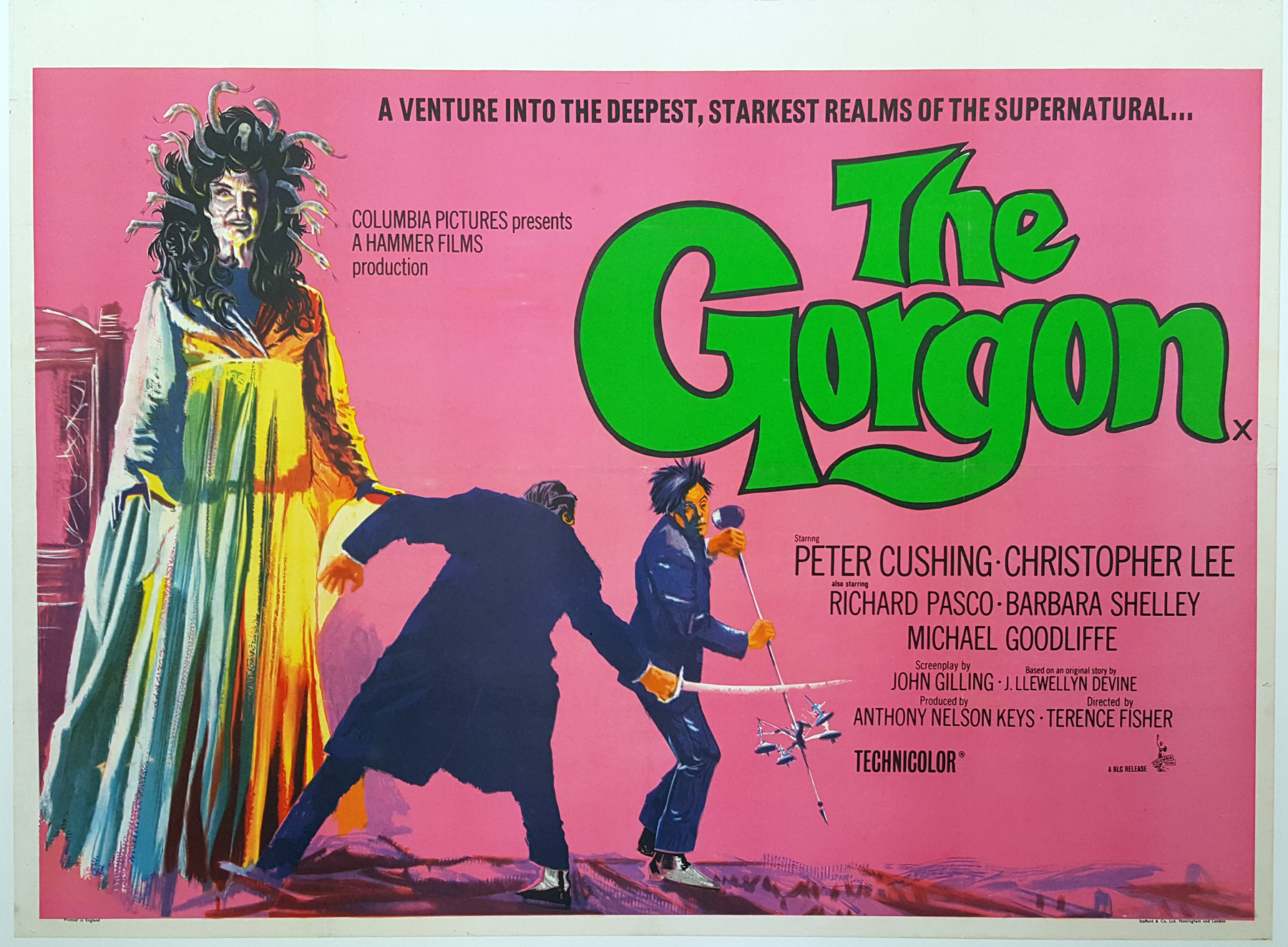 THE GORGON (12)
11.10pm Sony Movies Classic
Starring: Peter Cushing, Christopher Lee
Horror
In the early twentieth century, a Gorgon takes human form and terrorizes a small European village by turning its citizens to stone. Gloriously camp Hammer horror. Moderate violence, horror and gory moments.
BREAKER MORANT (PG)
12.55am Sony Movies Classic
Starring: Edward Woodward, Jack Thompson, John Waters, Bryan Brown
Drama, war
Three Australian lieutenants are court-martialed for executing prisoners as a way of deflecting attention from war crimes committed by their superior officers. Impressively acted Australian drama. Mild violence and sexual references.
GOOD KILL (15)
1.25am Film4
Starring: Ethan Hawke, January Jones, Zoë Kravitz
Drama, Thriller, War
A family man begins to question the ethics of his job as a drone pilot. Massively underrated modern war film. Strong language, sexual violence, sex.
L'AMANT DOUBLE (18)
1.55am Channel 4
Starring: Marine Vacth, Jérémie Renier
Thriller, Drama
Chloé, a fragile young woman, falls in love with her psychoanalyst, Paul. A few months later she moves in with him, but soon discovers that her lover is concealing a part of his identity. Steamy dark French thriller. Strong graphic sex and nudity. Subtitled.