Morning!
Boy! What a scorcher! It is beautiful out there today (well in the South East) but that doesn't mean you can go roaming to the beaches and beaut hotspot. Stay at home and watch a film instead. There's a fair old selection.
Stay safe, look after yourself and Happy Tuesday!
HOME PREMIERE
THE CALL OF THE WILD (PG)
Starring: Harrison Ford, Karen Gillan, Dan Stevens
Drama, Adventure
A sledge dog struggles for survival in the wilds of the Yukon. Entertaining version of Jack London's novel, if you can overlook the CGI dog. Mild violence, threat.
AMAZON PRIME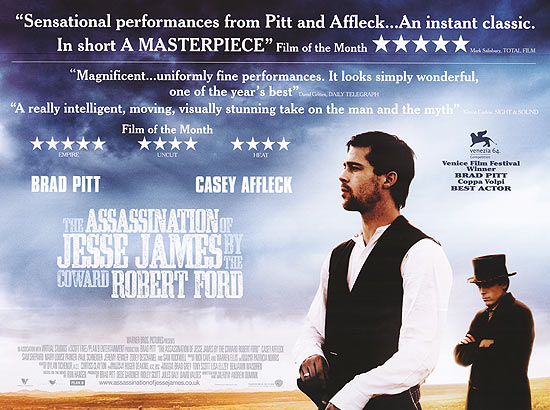 THE ASSASSINATION OF JESSE JAMES BY THE COWARD ROBERT FORD (15)
Starring: Brad Pitt, Casey Affleck
Western, drama
Robert Ford, who's idolized Jesse James since childhood, tries hard to join the reforming gang of the Missouri outlaw, but gradually becomes resentful of the bandit leader. Beautiful, slow-burning western. Strong violence and sex references.
THE TERMINAL (12)
Starring: Tom Hanks, Catherine Zeta-Jones, Stanley Tucci
Comedy, drama, romance
An Eastern European tourist unexpectedly finds himself stranded in JFK airport, and must take up temporary residence there. A heart-warming comedy from Steven Spielberg. Moderate language and sex references.
NETFLIX
WADJDA (PG)
Starring: Reem Abdullah, Waad Mohammed
Drama, comedy
An enterprising Saudi girl signs on for her school's Koran recitation competition as a way to raise the remaining funds she needs in order to buy the green bicycle that has captured her interest. Wonderful feel-good tale from Saudia Arabia. Mild sex references. Subtitled.
CHRISTINE (18)
Starring: Keith Gordon, John Stockwell, Alexandra Paul
Horror, thriller
A nerdish boy buys a strange car with an evil mind of its own and his nature starts to change to reflect it. John Carpenter's supernatural horror based on Stephen King's novel. Very strong language, strong sex references, violence and gore.
NOW TV/SKY CINEMA
ZOMBIELAND (15)
Starring: Emma Stone, Jesse Eisenberg, Bill Murray, Abigail Breslin, Woody Harrelson
Comedy, horror, adventure
A shy student trying to reach his family in Ohio, a gun-toting tough guy trying to find the last Twinkie, and a pair of sisters trying to get to an amusement park join forces to travel across a zombie-filled America. Hilarious mix of comedy and gore. Strong bloody comic violence and strong language.
ENEMY OF THE STATE (15)
Starring: Will Smith, Gene Hackman
Action, thriller
A lawyer becomes targeted by a corrupt politician and his N.S.A. goons when he accidentally receives key evidence to a politically motivated crime. Tense conspiracy thriller from Tony Scott. Strong language and violence.
DISNEY+
MONSTERS, INC. (U)
Starring: John Goodman, Billy Crystal
Animation, comedy, adventure
In order to power the city, monsters have to scare children so that they scream. However, the children are toxic to the monsters, and after a child gets through, 2 monsters realize things may not be what they think. Truly inventive Pixar animation. Mild comic violence.
POLLYANNA (U)
Starring: Hayley Mills, Jane Wyman, Richard Egan, Karl Malden
Comedy, drama
A young girl comes to an embittered town and confronts its attitude with her determination to see the best in life. Feel-good Disney comedy.
MOVIES ON TERRESTRIAL TV
LORD JIM (PG)
11.05am Sony Movies Classic
Starring: Peter O'Toole, James Mason, Eli Wallach
Adventure, drama, romance
After being discredited as a coward, a 19th-century seaman (Peter O'Toole) lives for only one purpose: to redeem himself. Based on Joseph Conrad's novel written in 1900, this has another solid performance from Peter O'Toole. Mild violence and sex references.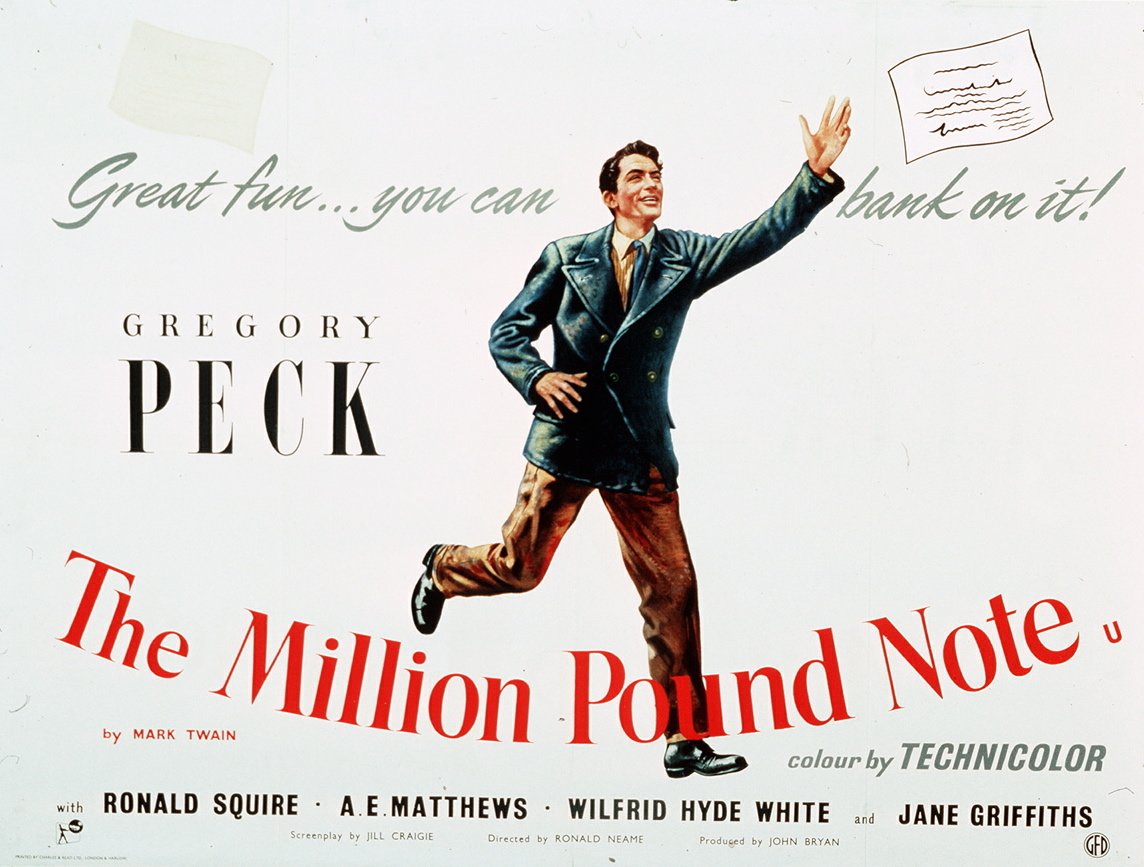 THE MILLION POUND NOTE (U)
12.40pm Film4
Starring: Gregory Peck, Jane Griffith, Joyce Grenfell
Comedy, romance
As part of a bet, two aristocrats offer a penniless American a loan, without telling him that the amount is £1,000,000 in the form of a single banknote. A bright, colourful comedy.
ROAD TO MOROCCO (U)
1.10pm Sony Movies Classic
Starring: Bing Crosby, Bob Hope, Dorothy Lamour
Comedy, adventure, musical
Two carefree castaways on a desert shore find an Arabian Nights city, where they compete for the luscious Princess Shalmar. Madcap comedy from the popular Road series. Mild sexual references. Black and white.
THE DUKE WORE JEANS (U)
1.35pm Talking Pictures TV
Starring: Tommy Steele, June Laverick
Comedy, musical
A Cockney lad who pretends to be a Lord in order to woo a South American princess. 50s rock musical saved by Tommy Steele's infectious energy. One use of very mild bad language. Black and white.
TIGER BAY (PG)
2.25pm Film4
Starring: John Mills, Hayley Mills, Horst Buchholz
Crime, drama, thriller
A twelve-year-old tomboy witnesses the murder of a woman by her Polish merchant marine boyfriend, but bonds with him and thwarts the police in their investigation. Tense thriller with a terrific performance from Hayley Mills. Violence and mild language. Black and white.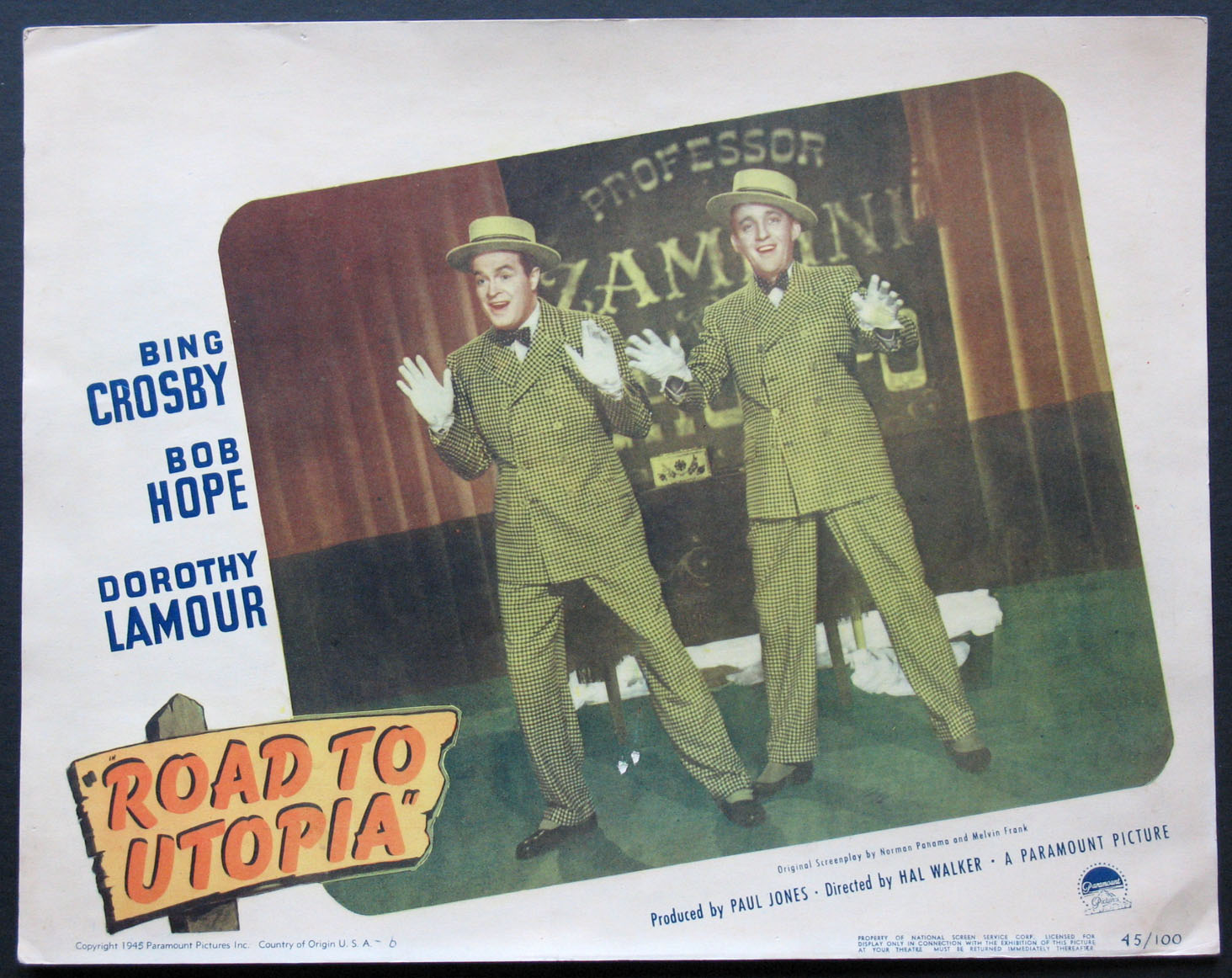 ROAD TO UTOPIA (PG)
2.50pm Sony Movies Classic
Starring: Bing Crosby, Bob Hope, Dorothy Lamour
Adventure, comedy, musical
At the turn of the century, Duke and Chester, two vaudeville performers, go to Alaska to make their fortune. On the ship to Skagway, they find a map to a secret gold mine. More fun and games with Crosby, Hope and Lamour. Mild sexual references. Black and white.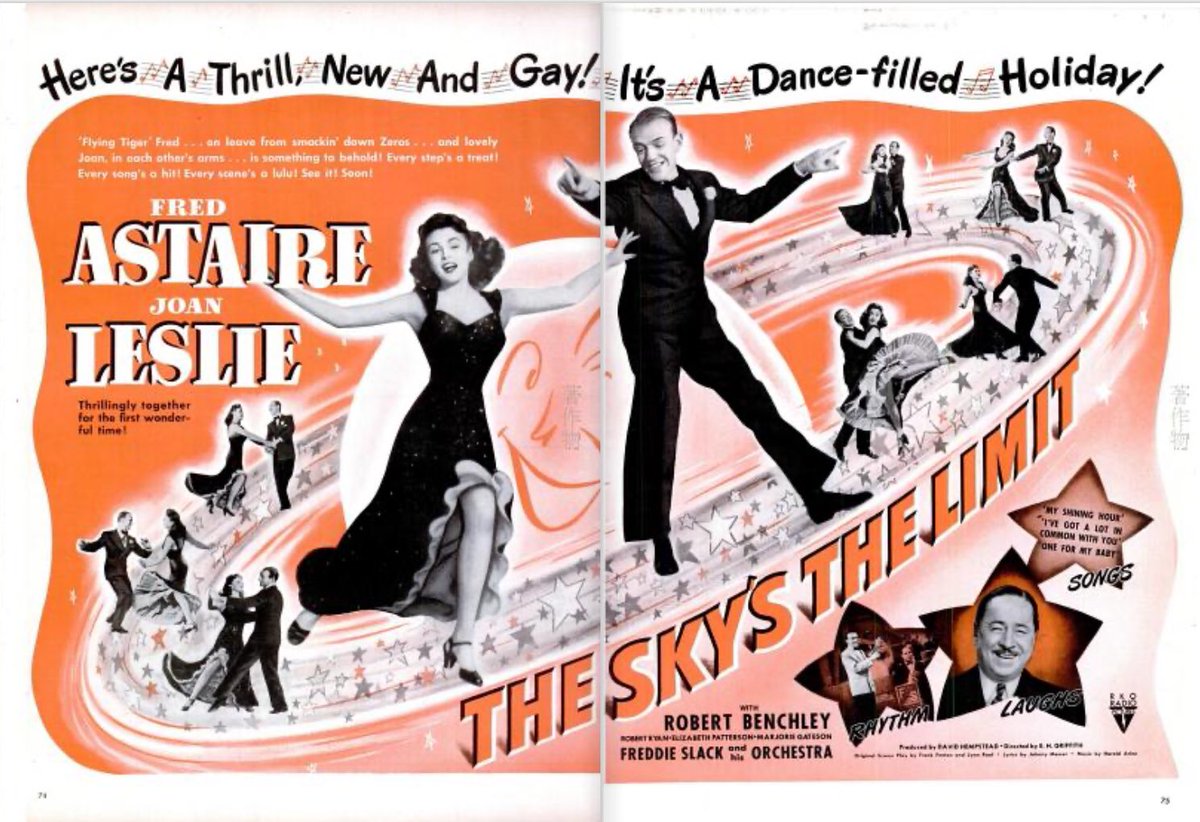 THE SKY'S THE LIMIT (U)
3pm BBC2
Starring: Fred Astaire, Joan Leslie
Romance, Musical, Comedy
Flying Tiger Fred Atwell sneaks away from his famous squadron's personal appearance tour and goes incognito for several days of leave. He quickly falls for photographer Joan Manion, pursuing her in the guise of a carefree drifter. Delightful musical comedy. Black and white.
THE LADY VANISHES (PG)
4.35pm Film4
Starring: Cybil Shepherd, Elliott Gould, Angela Lansbury
Adventure, comedy, thriller
While travelling in pre-war Nazi Germany, a young couple realizes a passenger seems to have been kidnapped off of their train, but, no other passenger aside from themselves, recalls her. Remake of the Hitchcock classic. Violence, mild language and sexual references.
IT COULD HAPPEN TO YOU (PG)
4.50pm Sony Movies
Starring: Nicolas Cage, Bridget Fonda
Comedy, Drama, Romance
A police officer promises to share his lottery ticket with a waitress in lieu of a tip. Delightful romantic comedy. Mild language.
BREAKER MORANT (PG)
6.05pm Sony Movies Action
Starring: Edward Woodward, Jack Thompson, John Waters, Bryan Brown
Drama, war
Three Australian lieutenants are court-martialed for executing prisoners as a way of deflecting attention from war crimes committed by their superior officers. Impressively acted Australian drama. Mild violence and sexual references.
MURDERERS' ROW (PG)
6.50pm Sony Movies Classic
Starring: Dean Martin, Ann-Margret, Karl Malden
Action, adventure, comedy
Handsome top-secret American agent Matt Helm must recover a laser-weapons inventor who has been kidnapped by arch-villain Julian Wall. more spy-spoof adventures of Matt Helm. Mild violence and sexual references.
THE GRAND BUDAPEST HOTEL (15)
9pm Film4
Starring: Ralph Fiennes, F. Murray Abraham, Mathieu Amalric, Adrien Brody, Willem Dafoe, Jeff Goldblum, Harvey Keitel, Jude Law, Bill Murray, Edward Norton, Saoirse Ronan, Jason Schwartzman, Léa Seydoux, Tilda Swinton, Tom Wilkinson, Owen Wilson, Tony Revolori
Comedy, adventure, crime
A writer encounters the owner of an aging high-class hotel, who tells him of his early years serving as a lobby boy in the hotel's glorious years under an exceptional concierge. A wild and crazy farce from Wes Anderson. strong language, sex references, brief gory images.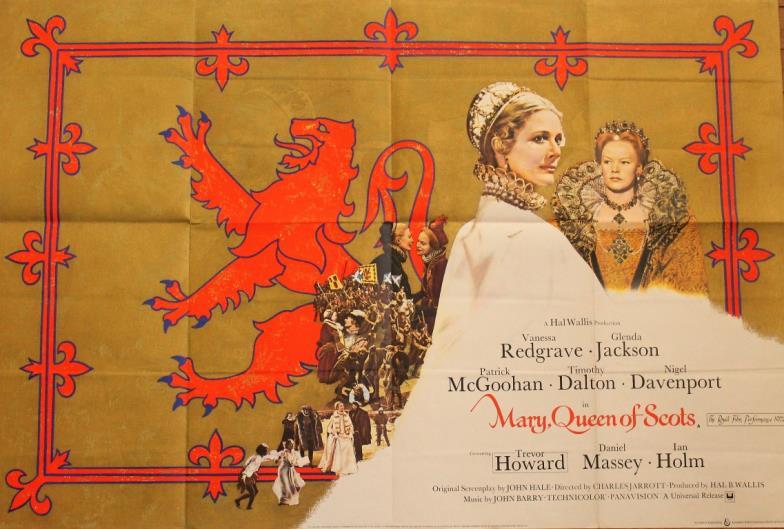 MARY, QUEEN OF SCOTS (12)
9pm Sony Movies Classic
Starring: Vanessa Redgrave, Glenda Jackson
Drama, biopic
During the sixteenth century, the Catholic Mary, Queen of Scots engages in over two decades of religious and political conflict with her cousin, the Protestant Queen Elizabeth I of England, amidst political intrigue in her native land. Historical drama with two big hitters of the British acting world. Moderate violence.
THE GAUNTLET (18)
9pm ITV4
Starring: Clint Eastwood, Sondra Locke
Action, crime, thriller
A hard but mediocre cop is assigned to escort a prostitute into custody from Las Vegas to Phoenix, so that she can testify in a mob trial. But a lot of people are literally betting that they won't make it into town alive. Tough, violent Clint Eastwood cop thriller. Strong language and violence and a scene of attempted rape.
LADY CAROLINE LAMB (15)
10pm Talking Pictures TV
Starring: Sarah Miles, Jon Finch, Richard Chamberlain
Drama, romance
A noblewoman doomed to a loveless marriage falls into a scandalous affair with the dashing Lord Byron. Impressive costume drama. Sex, sexual references and violence.
HELLRAISER (18)
10.50pm Horror Channell
Starring: Andrew Robinson, Clare Higgins, Ashley Laurence
Horror, fantasy
An unfaithful wife encounters the zombie of her dead lover; the demonic cenobites are pursuing him after he escaped their sadomasochistic underworld. A deeply disturbing cult horror from Clive Barker. Very strong gory violence, language, sex, sexual references and nudity.
MY FRIEND DAHMER (15)
11pm Film4
Starring: Ross Lynch, Anne Heche, Dallas Roberts
Biopic, drama
A young Jeffrey Dahmer struggles to belong in high school. A fascinating drama looking at the early days of a serial killer. Strong language, sex, sex references, nudity, drug misuse, disturbing images.
BLADE II (18)
11pm 5*
Starring: Wesley Snipes, Kris Kristofferson, Ron Perlman, Luke Goss
Horror, Action, Fantasy
Blade forms an uneasy alliance with the vampire council in order to combat the Reapers, who are feeding on vampires. The best of the Blade series directed by Guillermo del Toro. Very strong language, strong bloody violence & horror & drug use.
SENNA (12)
11.10pm ITV4
Starring:  Ayrton Senna, Alain Prost, Frank Williams, Jackie Stewart, Nelson Piquet, Nigel Mansell
Documentary, sport
A documentary on Brazilian Formula One racing driver Ayrton Senna, who won the F1 world championship three times before his death at age 34. A superb documentary in which you don't have to like Formula 1 to enjoy. Infrequent strong language and footage of motor racing crashes.
HELLBOUND: HELLRAISER II (18)
12.40am Horror Channel
Starring: Clare Higgins, Ashley Laurence, Kenneth Cranham
Horror, thriller, fantasy
Kirsty is brought to an institution after the death of her family, where the occult-obsessive head resurrects Julia and unleashes the Cenobites once again. More disturbing horror continuing the Hellraiser story. Very strong gory violence, language, sex, sexual references and nudity.
MONA LISA (15)
1.10am Film4
Starring: Bob Hoskins, Cathy Tyson, Michael Caine, Robbie Coltrane
Crime, drama, romance
A man recently released from prison manages to get a job driving a call girl from customer to customer. Surprisingly touching gangster movie with another brilliant turn from Bob Hoskins. strong language, sex and violence.