Morning!
Welcome to another clapping Thursday. Will we continue this after the lockdown is over? Who knows.
Weather-wise, it is warm out there but you're going to need a break from sunning yourself, so plenty of movie loveliness to enjoy.
Stay safe, look after yourself and Happy Thursday!
AMAZON PRIME
THE BATTLE OF ALGIERS (15)
Starring: Brahim Haggiag, Jean Martin
War, drama
In the 1950s, fear and violence escalate as the people of Algiers fight for independence from the French government. Powerful classic French war drama. Strong torture scenes and moderate violence. Subtitled. Black and white.
DARK PLACES (15)
Starring: Charlize Theron, Sterling Jerins, Nicholas Hoult, Christina Hendricks
Action, drama
Libby Day was only eight years old when her family was brutally murdered in their rural Kansas farmhouse. Almost thirty years later, she reluctantly agrees to revisit the crime and uncovers the wrenching truths that led up to that tragic night. Tough drama with some excellent performances. Very strong language, strong violence, drug use, references to child abuse.
NETFLIX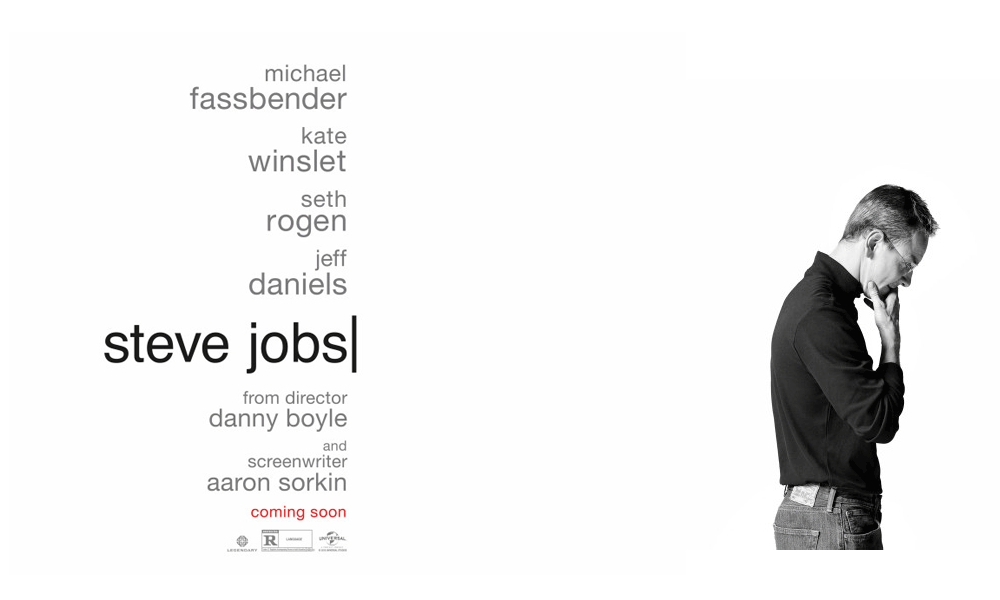 STEVE JOBS (15)
Starring; Michael Fassbender, Kate Winslet, Seth Rogen
Drama, biopic
Steve Jobs takes us behind the scenes of the digital revolution, to paint a portrait of the man at its epicentre. The story unfolds backstage at three iconic product launches, ending in 1998 with the unveiling of the iMac. Underrated biopic directed by Danny Boyle. Strong language.
EIGHT MEN OUT (12)
Starring: John Cusack, Clifton James, Michael Lerner, Christopher Lloyd, Charlie Sheen
Drama, biopic, sport
A dramatization of the Black Sox scandal when the underpaid Chicago White Sox accepted bribes to deliberately lose the 1919 World Series. Strong cast in John Sayles' baseball drama. Language.
NOW TV/SKY CINEMA
HUDSON HAWK (15)
Starring: Bruce Willis, Danny Aiello, Andie MacDowell
Action, adventure, comedy
A cat burglar is forced to steal Da Vinci works of art for a world domination plot. A flop on its release, this has become a cult favourite. Language and violence.
PREDATOR (15)
Starring: Arnold Schwarzenegger, Carl Weathers
Action, adventure, sci-fi
A team of commandos on a mission in a Central American jungle find themselves hunted by an extraterrestrial warrior. Explosive action from the director of Die Hard. Strong bloody violence, sex references, language.
DISNEY+
A BUG'S LIFE (U)
Starring:  Dave Foley, Julia Louis-Dreyfus
Animation, Adventure, comedy
A misfit ant, looking for "warriors" to save his colony from greedy grasshoppers, recruits a group of bugs that turn out to be an inept circus troupe. Animated fun from the Pixar Studio. Mild threat and peril.
IRON MAN 3 (12)
Starring: Robert Downey Jr.; Rebecca Hall; Guy Pearce; Gwyneth Paltrow; Ben Kingsley; Paul Bettany; Don Cheadle; Jon Favreau
Action, adventure, fantasy
When Tony Stark's world is torn apart by a formidable terrorist called the Mandarin, he starts an odyssey of rebuilding and retribution.
MOVIES ON TERRESTRIAL TV
THE NAKED TRUTH (U)
11am Film4
Starring: Terry-Thomas, Peter Sellers, Peggy Mount
Comedy
Nigel Dennis publishes a scandal magazine. But for each story he writes, he first approaches the person whose scandalous behaviour is described and says he will suppress the story in return for money. Several of his victims first decide individually to kill him instead of paying. Fun British comedy from the 50s. Black and white.
VIVA MAX (U)
12pm Talking Pictures TV
Starring: Peter Ustinov, Pamela Tiffin
Comedy
In the 1960s, a screwy Mexican General and his troops cross into Texas to re-capture the Alamo from the Gringos but they face opposition from the local police, the National Guard and the U.S. State Department. Little seen madcap comedy.
THE SPY IN BLACK (U)
12.50pm Film4
Starring: Conrad Veidt, Valerie Hobson
War, thriller
A German submarine is sent to the Orkney Isles in 1917 to sink the British fleet. Gripping war thriller from Michael Powell. Mild threat. Black and white.
THE LADY FROM SHANGHAI (PG)
1pm Sony Movies Classic
Starring: Rita Hayworth, Orson Welles
Crime, drama, film-noir
Fascinated by gorgeous Mrs. Bannister, seaman Michael O'Hara joins a bizarre yachting cruise, and ends up mired in a complex murder plot. Classic film-noir from Orson Welles. Violence, Black and white.
BEAUTIFUL BUT DANGEROUS (U)
3pm BBC2
Starring: Robert Mitchum, Jean Simmons
Comedy, drama
A wealthy heiress returns to a small Arkansas town to furtively reward the townsfolk who helped to save her life when she was a young girl. Light-weight comedy-drama from the 50s.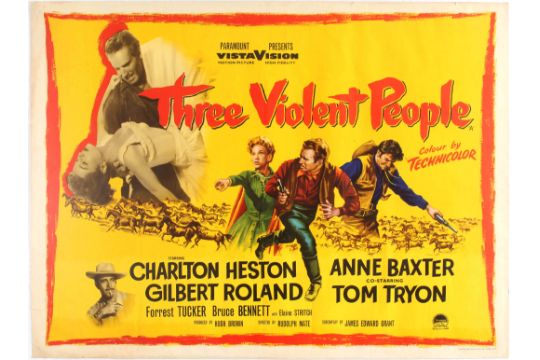 THREE VIOLENT PEOPLE (PG)
4.40pm Film4
Starring: Charlton Heston, Anne Baxter
Western
When Confederate officer Colt Saunders returns to his Texas ranch after the war he finds his lands wanted by carpetbaggers and by corrupt provisional government commissioners Harrison and Cable. Western adventure with a twist. Violence and sex references.
COWBOYS & ALIENS (12)
6.45pm Film4
Starring: Olivia Wilde, Harrison Ford, Daniel Craig, Sam Rockwell
Western, Science Fiction, Action
A spaceship arrives in Arizona, 1873, to take over the Earth, starting with the Wild West region. A posse of cowboys and natives are all that stand in their way. An interesting failure with a good cast. Frequent moderate action violence and scenes of intense threat.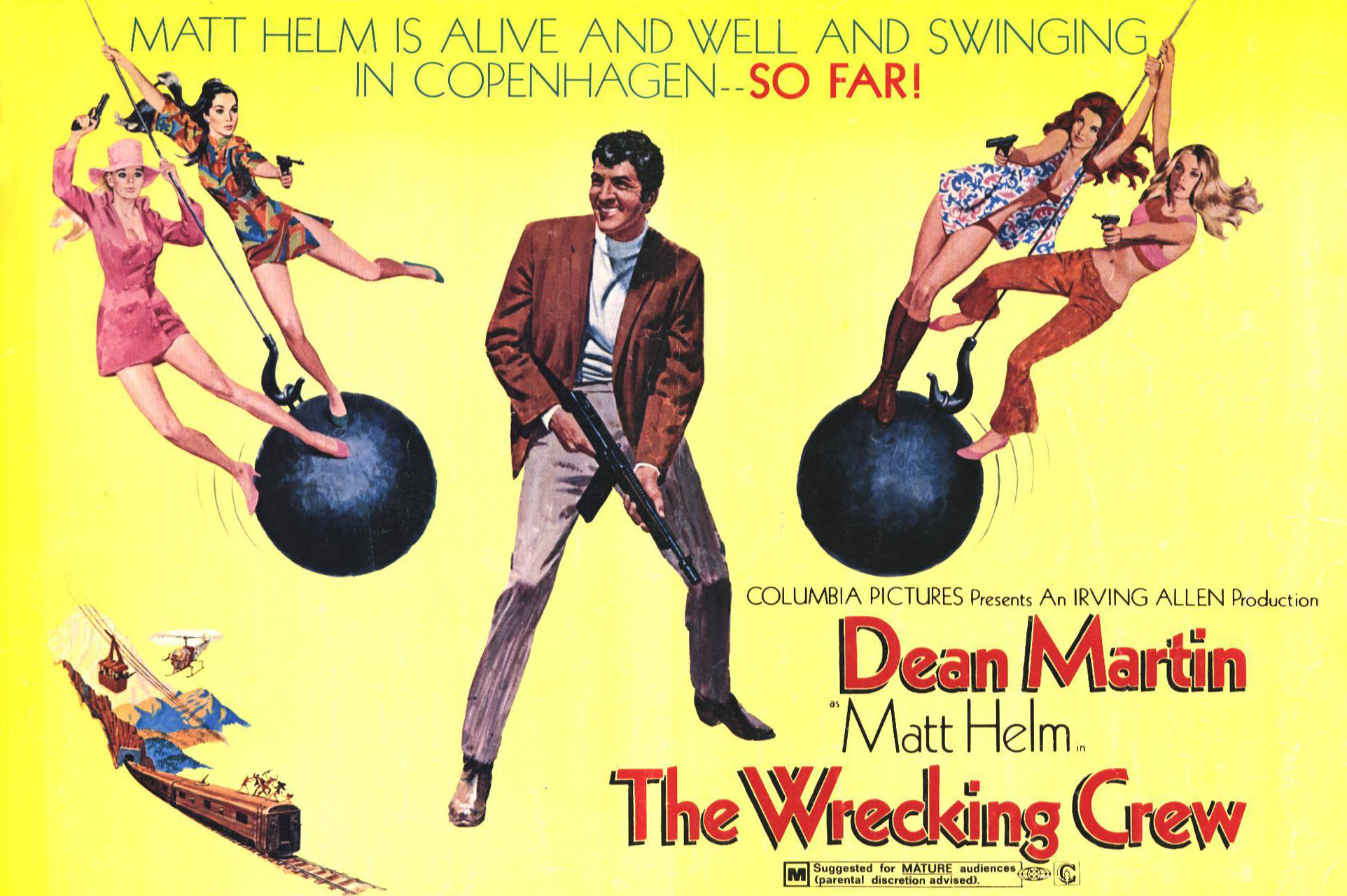 THE WRECKING CREW (PG)
6.50pm Sony Movies Classic
Starring: Dean Martin, Elke Sommer, Nancy Kwan, Sharon Tate
Action, adventure, comedy
Gold bullion worth USD 1 billion has been stolen from a hijacked train in Denmark. The main suspect is Count Massimo Contini. The US government sends Matt Helm, one of its top agents, to investigate and recover the gold. The last of the Matt Helm movies. Violence, mild language and sexual references.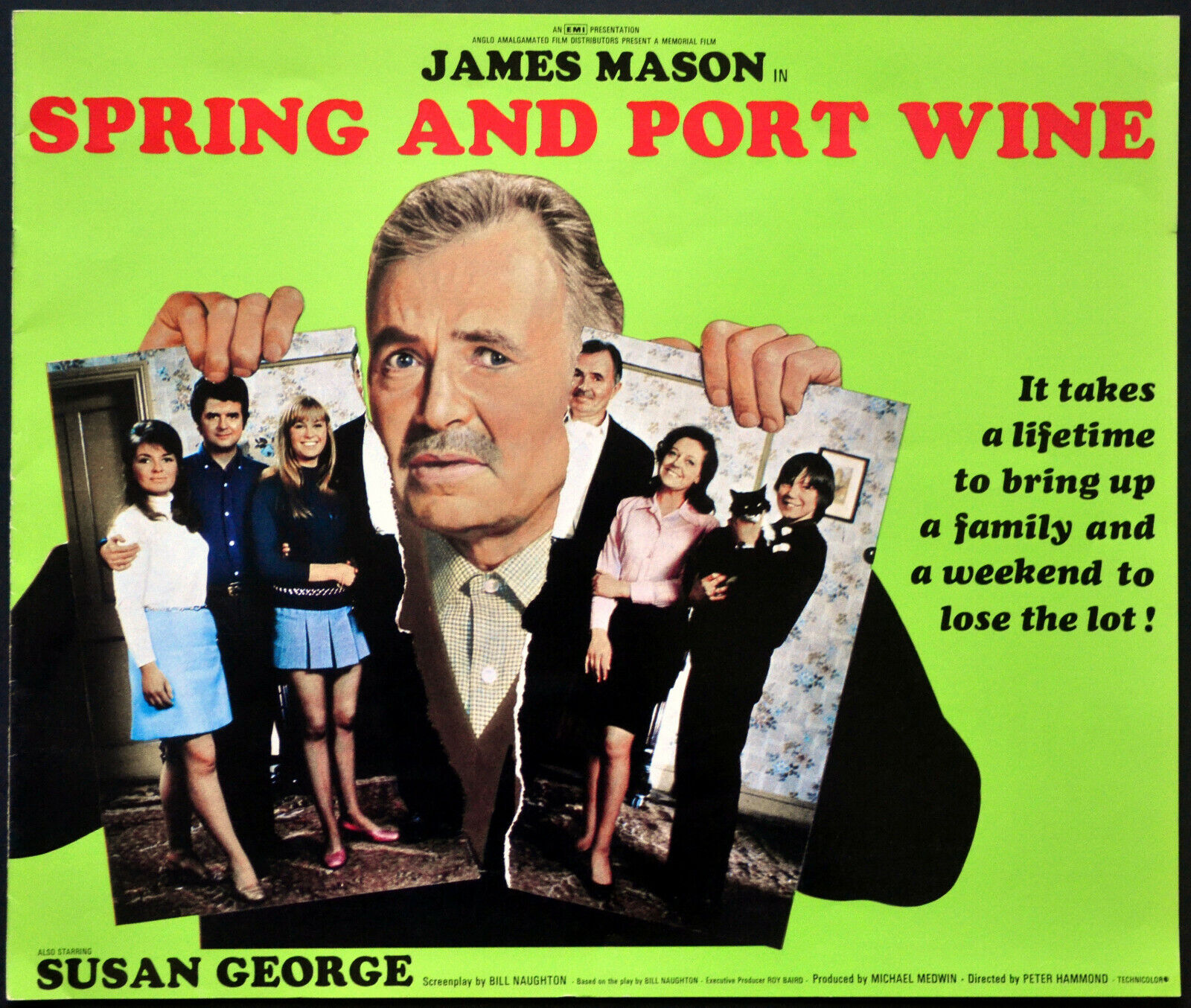 SPRING AND PORT WINE (PG)
6.55pm Talking Pictures TV
Starring: James Mason, Susan George
Drama
A stern father and lenient mother try to deal with the ups and downs of their four children's lives in working-class Bolton. Classic slice of British life in the 70s. Mild language, sex references, nudity.
CASINO ROYALE (PG)
8pm ITV4
Starring: Peter Sellers, Ursula Andress, David Niven, Orson Welles
Comedy
In an early spy spoof, aging Sir James Bond comes out of retirement to take on SMERSH. Messy yet curious 60s spoof of the James Bond series. Mild language, sex references and violence.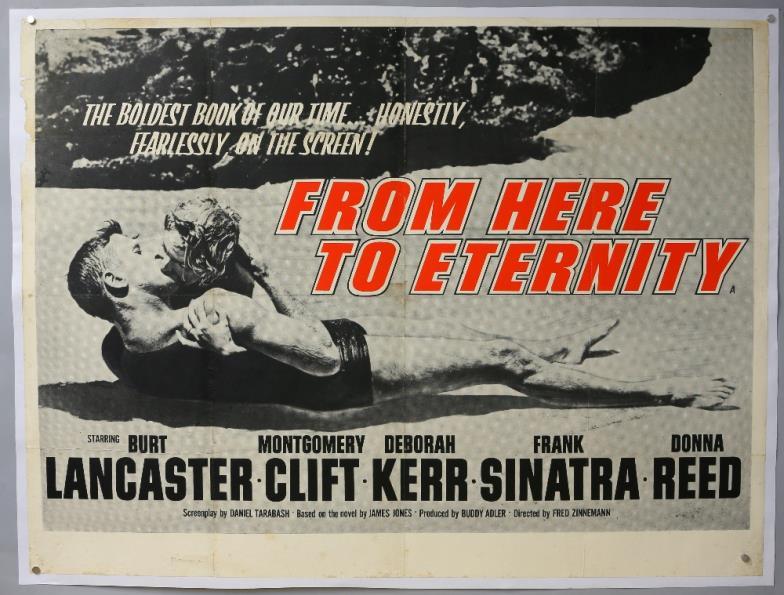 FROM HERE TO ETERNITY (PG)
9pm Sony Movie Classic
Starring: Burt Lancaster, Montgomery Clift, Deborah Kerr, Donna Reed, Frank Sinatra
War, Drama, Romance
In Hawaii in 1941, a private is cruelly punished for not boxing on his unit's team, while his captain's wife and second-in-command are falling in love. Oscar-winning wartime drama. Mild violence, sex references and language.
THE EXORCISM OF EMILY ROSE (15)
9pm Horror Channel
Starring: Laura Linney, Tom Wilkinson
Horror, Drama, thriller
A lawyer takes on a negligent homicide case involving a priest who performed an exorcism on a young girl. A better-than-most horror film from the director of Doctor Strange. Strong supernatural horror, disturbing images, language and violence.
A WALK IN THE WOODS (15)
9pm Film4
Starring: Robert Redford, Emma Thompson, Nick Nolte, Mary Steenburgen
Comedy, drama, biopic, adventure
After spending two decades in England, Bill Bryson (Robert Redford) returns to the U.S., where he decides the best way to connect with his homeland is to hike the Appalachian Trail with one of his oldest friends, Stephen Katz (Nick Nolte). Gentle comedy with two great leads. Strong language, sex references.
THE GAUNTLET (18)
10.45pm ITV4
Starring: Clint Eastwood, Sondra Locke
Action, crime, thriller
A hard but mediocre cop is assigned to escort a prostitute into custody from Las Vegas to Phoenix, so that she can testify in a mob trial. But a lot of people are literally betting that they won't make it into town alive. Tough, violent Clint Eastwood cop thriller. Strong language and violence and a scene of attempted rape.
PULP FICTION (18)
10.50pm Sony Pictures
Starring: John Travolta, Samuel L. Jackson, Uma Thurman, Harvey Keitel, Tim Roth, Amanda Plummer, Ving Rhames, Maria De Medeiros, Eric Stoltz, Rosanna Arquette, Christopher Walken, Bruce Willis
Thriller, Drama, Crime
The lives of two mob hitmen, a boxer, a gangster and his wife, and a pair of diner bandits intertwine in four tales of violence and redemption. Quentin Tarantino's legendary crime thriller is still a marvel to behold. Strong graphic violence and drug use, strong language and some sexuality.
THE FAMILY (15)
11.05pm Film4
Starring: Robert De Niro, Michelle Pfeiffer, Tommy Lee Jones
Comedy, crime, thriller
The Manzoni family, a notorious mafia clan, is relocated to Normandy, France under the Witness Protection Program, where fitting in soon becomes challenging, as their old habits die hard. A strong cast saves this routine thriller. Violence, language and brief sexuality.
THE CAT AND THE CANARY (15)
12midnight Talking Pictures TV
Starring: Edward Fox, Honor Blackman
Comedy, mystery, horror
A group of potential heirs gather in a forbidding old house to learn which of them will inherit a fortune. Later, they learn that a flesh-rending maniac is loose. Entertaining whodunnit. Strong torture threat.
THE BEST YEARS OF OUR LIVES (U)
1.05pm Sony Movies Classic
Starring: Myrna Loy, Fredric March, Dana Andrews
War, drama, romance
Three World War II veterans return home to small-town America to discover that they and their families have been irreparably changed. Epic drama that won seven Oscars. Mild violence and threat. Black and White.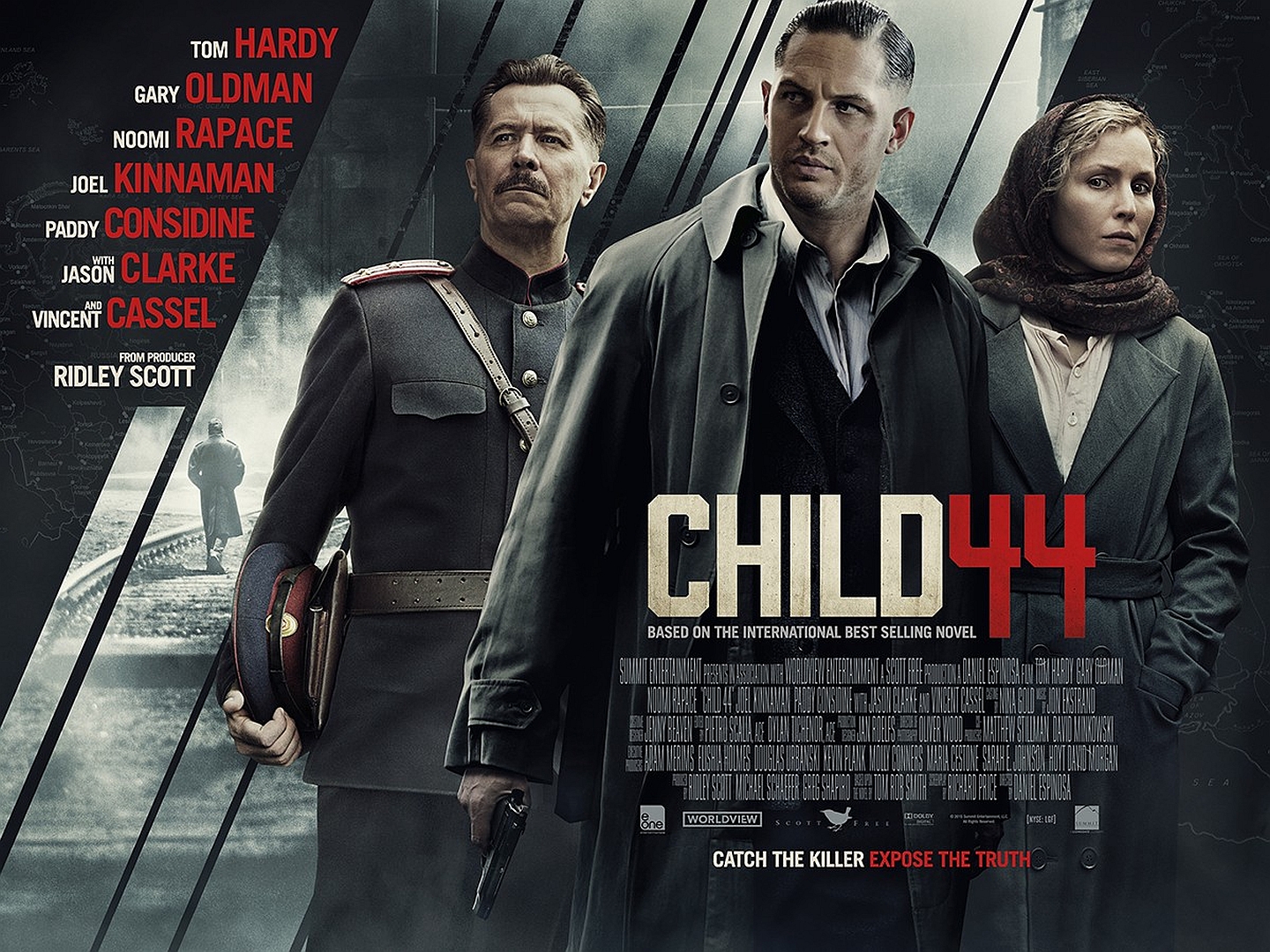 CHILD 44 (15)
1.20am Film4
Starring: Tom Hardy, Gary Oldman, Joel Kinnaman, Noomi Rapace
War, crime, drama
A disgraced member of the Russian military police investigates a series of child murders during the Stalin-era Soviet Union. Tense murder mystery with a stong cast. Strong violence, strong language, child murder theme.