Morning!
It's Bank Holiday Monday! So have a day off doing whatever you are doing and enjoy the good weather, or, even better, sit in front of your TV and enjoy the plentiful goods that the companies have to offer.
Stay safe, look after yourself and Happy Monday!
AMAZON PRIME
THE CHILDREN ACT (12)
Starring: Emma Thompson, Stanley Tucci
Drama
As her marriage crumbles, a judge must decide a case involving a teenage boy who is refusing a blood transfusion on religious principle. Cracking drama with two outstanding performances from Emma Thompson and Stanley Tucci.
SCUM (18)
Starring: Ray Winstone, Mick Ford, Martin Philips
Crime, Drama
An uncompromising story of life in a British juvenile offender institution in the 70's. Hugely controversial and shocking British drama. Very strong violence, strong language, racist and homophobic language and a rape scene.
NETFLIX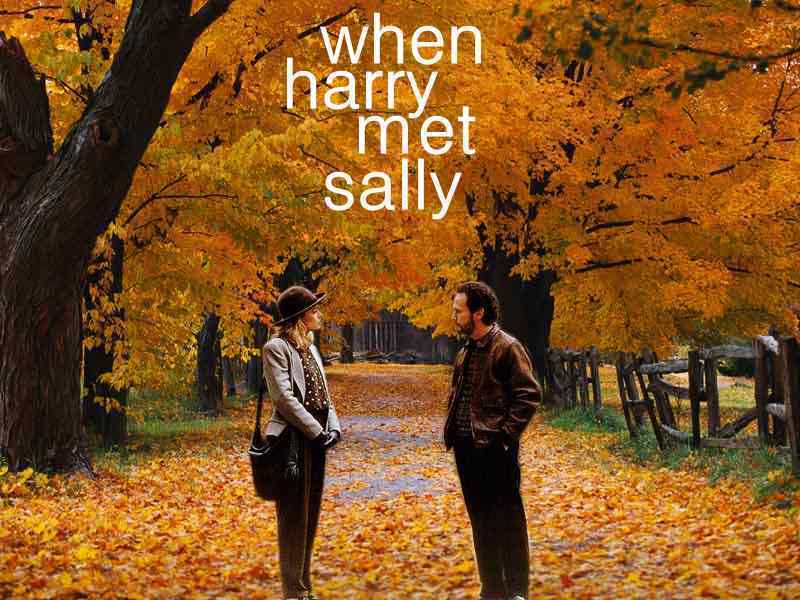 WHEN HARRY MET SALLY…(15)
Starring: Billy Crystal, Meg Ryan, Carrie Fisher, Bruno Kirby
Comedy, romance
Harry and Sally have known each other for years, and are very good friends, but they fear sex would ruin the friendship. One of the best romantic comedies ever. Strong language, sexual references.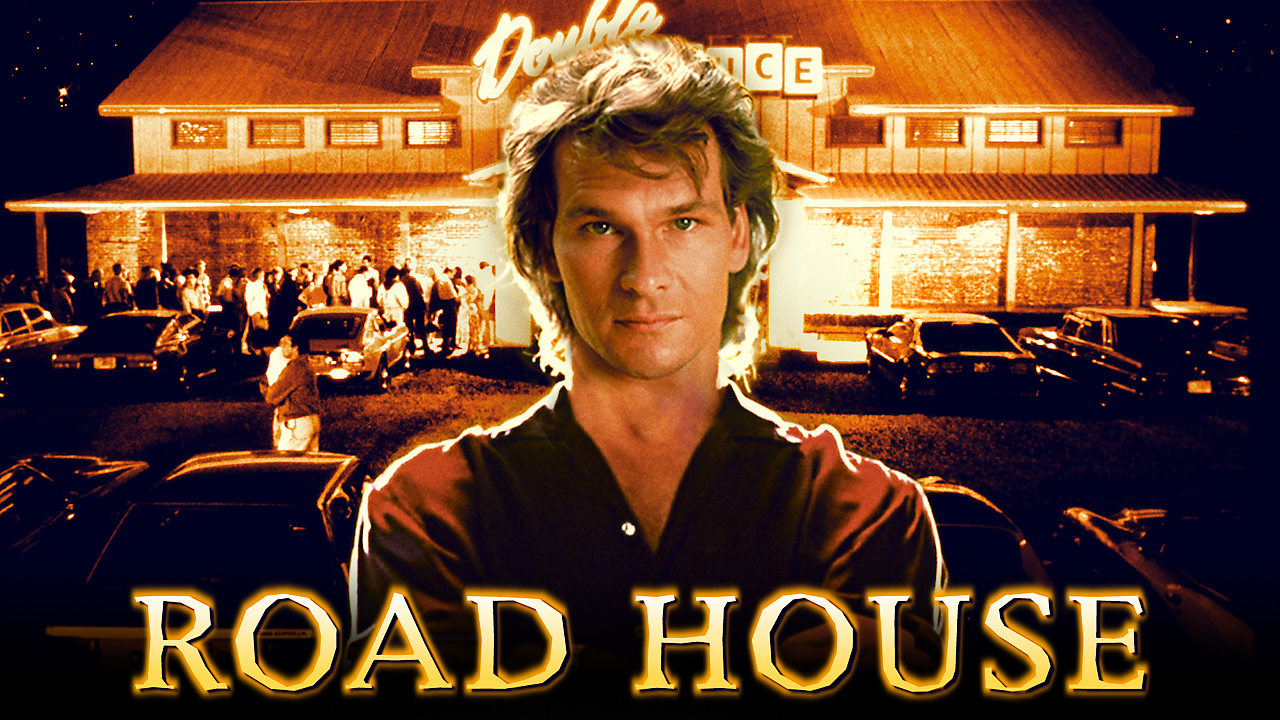 ROAD HOUSE (18)
Starring: Patrick Swayze, Kelly Lynch, Sam Elliott
Action, thriller
A tough bouncer is hired to tame a dirty bar. Guilty pleasure action movie held together by Patrick Swayze. Strong brutal bloody violence, language, drug and use, and sexual content/nudity.
NOW TV/SKY CINEMA
AS GOOD AS IT GETS (15)
Starring: Jack Nicholson, Helen Hunt
Comedy, drama, romance
A single mother and waitress, a misanthropic author, and a gay artist form an unlikely friendship after the artist is assaulted in a robbery. Oscar-winning comedy-drama. Strong language, sexual references and violence.
CLOUDY WITH A CHANCE OF MEATBALLS (U)
Starring: Bill Hader, Anna Faris, James Caan, Bruce Campbell
Animation, comedy, adventure
A local scientist is often regarded as a failure until he invents a machine that can make food fall from the sky. But little does he know, that things are about to take a turn for the worst. Hilarious animation from the creators of The Lego Movie. one use of mild language and scenes of mild comic threat.
DISNEY+
MUPPETS MOST WANTED (U)
Starring: Ricky Gervais, Ty Burrell, Tina Fey, Tom Hiddleston
Comedy, musical
While on a grand world tour, The Muppets find themselves wrapped into a European jewel-heist caper headed by a Kermit The Frog look-alike and his dastardly sidekick.Crazy comedy capers. mild comic violence, very mild bad language.
THE LION KING (U)
Starring: Rowan Atkinson, Matthew Broderick, Nathan Lane, Jeremy Irons, James Earl Jones, Whoopi Goldberg
Animation, adventure, drama, comedy, musical
A lion cub prince is tricked by a treacherous uncle into thinking he caused his father's death and flees into exile in despair, only to later accept in adulthood his identity and his responsibilities. The animated version of the classic adventure. Mild peril.
MOVIES ON TERRESTRIAL TV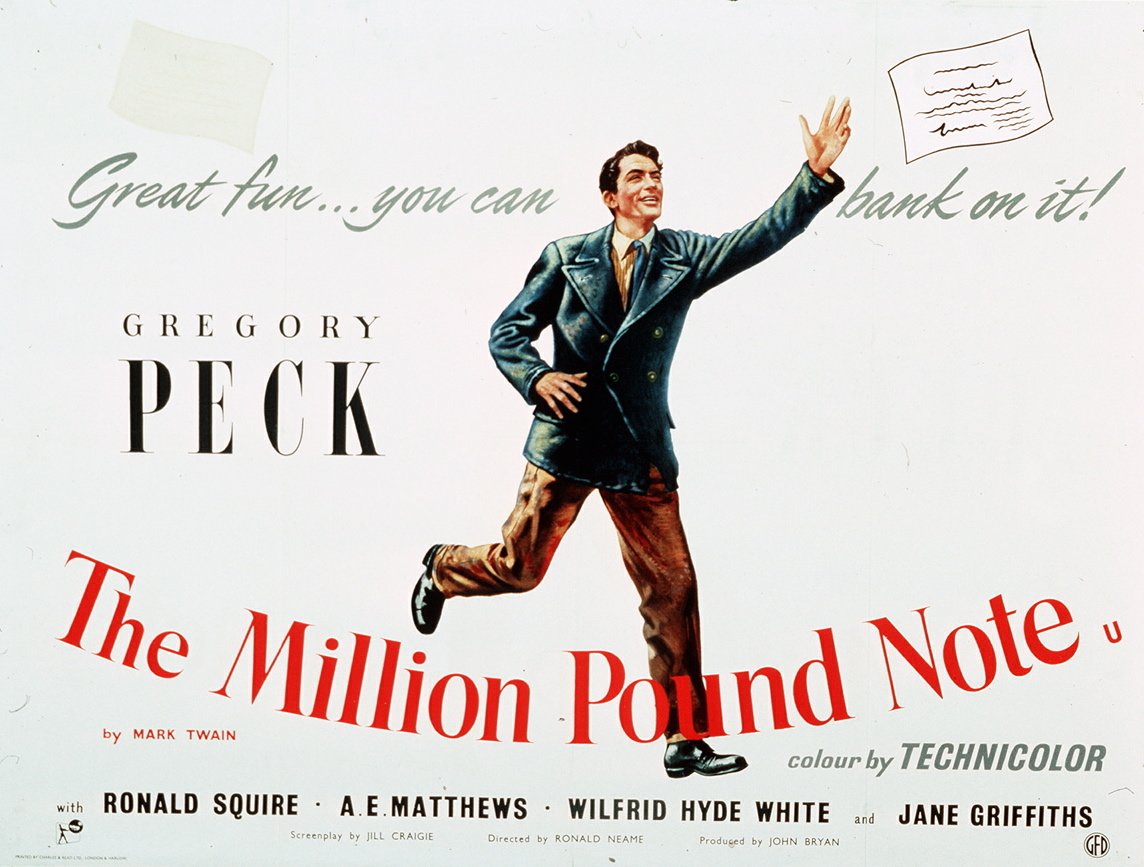 THE MILLION POUND NOTE (U)
11am Film4
Starring: Gregory Peck, Jane Griffith, Joyce Grenfell
Comedy, romance
As part of a bet, two aristocrats offer a penniless American a loan, without telling him that the amount is £1,000,000 in the form of a single banknote. A bright, colourful comedy.
THE GIANT CLAW (U)
11am Horror Channel
Starring: Jeff Morrow, Mara Corday
Fantasy, horror, sci-fi
Global panic ensues when it is revealed that a mysterious UFO is actually a giant bird that flies at supersonic speed and has no regard for life or architecture. Enjoyable B-movie horror from the 50s. Violence and mild horror.
ROAD TO MOROCCO (U)
12.25pm Sony Movies Classic
Starring: Bing Crosby, Bob Hope, Dorothy Lamour
Comedy, adventure, musical
Two carefree castaways on a desert shore find an Arabian Nights city, where they compete for the luscious Princess Shalmar. Madcap comedy from the popular Road series. Mild sexual references. Black and white.
SWORD OF SHERWOOD FOREST (U)
12.55pm Film4
Starring: Richard Greene, Peter Cushing
Adventure, Drama
While King Richard is away at the Crusades, some Nottingham nobles and their Sheriff plot to confiscate estates of fallen Crusaders but Robin Hood and Maid Marian foil their plan. Hammer studios version of Robin Hood. Mild violence.
THE FIVE PENNIES (U)
2pm Talking Pictures TV
Starring: Danny Kaye, Barbara Bel Geddes, Louis Armstrong
Drama, biopic, music
Loring "Red" Nichols is a cornet-playing country boy who goes to New York in the 1920s full of musical ambition and principles. He gets a job playing in Wil Paradise's band, but quits to pursue his dream of playing Dixieland jazz. He forms the "Five Pennies" which features his wife, Bobbie, as a vocalist. At the peak of his fame, tragedy strikes. Fascinating jazz biopic.
SON OF PALEFACE (U)
2.10pm Sony Movies Classic
Starring: Bob Hope, Roy Rogers, Jane Russell
Comedy, Wester
Junior Potter returns to claim his father's gold, which is nowhere to be found. "Mike" is the luscious head of a gang of thieves, and Roy Barton is the federal marshal hot on her trail. Hilarious comedy sequel. Sexual references and mild violence.
BRIDGE TO TERABITHIA (PG)
2.25pm Sony Movies
Starring: Tyler Atfield, Josh Hutcherson, Erin Annis
Fantasy, drama, family
A preteen's life turns upside down when he befriends the new girl in school, and they imagine a whole new fantasy world to escape reality. Incredibly moving family drama. Scary scenes and emotional distress.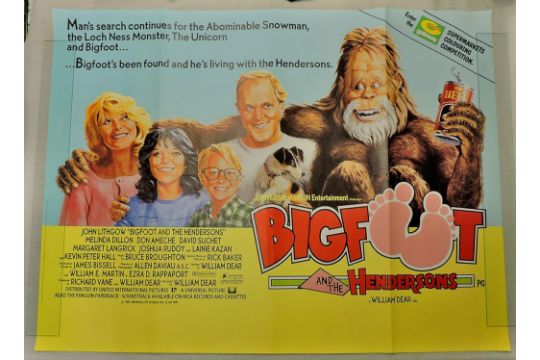 HARRY AND THE HENDERSONS (PG)
2.35pm Film4
Starring: John Lithgow, Melinda Dillon
Fantasy, comedy, family
The Henderson family adopt a friendly Sasquatch but have a hard time trying to keep the legend of 'Bigfoot' a secret. Delightful 80s family comedy. Mild language, horror and comic violence.
TOP HAT (U)
2.50pm BBC2
Starring: Fred Astaire, Ginger Rogers
Musical, romance, comedy
An American dancer comes to Britain and falls for a model whom he initially annoyed, but she mistakes him for his goofy producer. Fred and Ginger on sparkling form. Black and white.
ANTZ (PG)
3.10pm ITV2
Starring: Woody Allen, Sharon Stone, Gene Hackman, Sylvester Stallone
Animation, adventure, comedy
A somewhat neurotic ant tries to break from his totalitarian society while trying to win the affection of the princess he loves. CGI animated fun from Dreamworks. Mild violence, language and peril.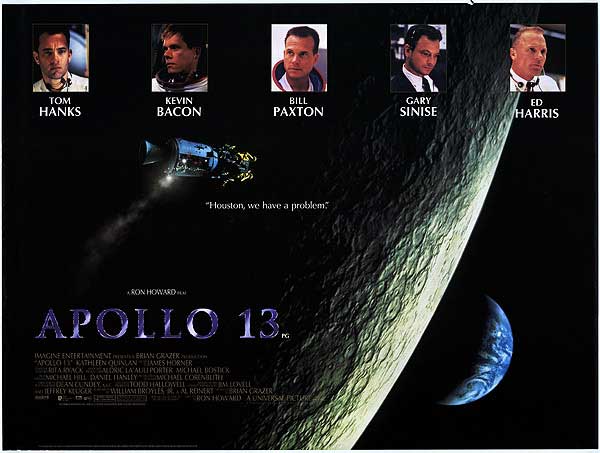 APOLLO 13 (PG)
3.45pm ITV4
Starring: Tom Hanks, Bill Paxton, Kevin Bacon, Gary Sinise, Ed Harris
Drama, biopic, adventure
NASA must devise a strategy to return Apollo 13 to Earth safely after the spacecraft undergoes massive internal damage putting the lives of the three astronauts on board in jeopardy. First-class dramatisation of a tense historical event. mild threat, language
A MAN FOR ALL SEASONS (U)
4.05pm Sony Movies Classic
Starring: Paul Scofield, Wendy Hiller, Robert Shaw
Biopic, drama
The story of Sir Thomas More, who stood up to King Henry VIII when the King rejected the Roman Catholic Church to obtain a divorce and remarry. Oscar-winning historical drama.
REAL STEEL (12)
4.20pm Sony Movies
Starring: Hugh Jackman, Evangeline Lilly, Kevin Durand
Drama, Action, sci-fi
In the near future, robot boxing is a top sport. A struggling ex-boxer feels he's found a champion in a discarded robot. Underrated sci-fi adventure with heart. Moderate language and violence.
CRACK IN THE WORLD (U)
4.50pm Film4
Action, drama, sci-fi
Starring: Dana Andrews, Janette Scott
A dying scientist pushes forward his project to tap through to the Earth's magma layer, with results that threaten to destroy the Earth as we know it. Disaster movie from the 1960s. Mild violence.
GREAT EXPECTATIONS (U)
5.30pm Talking Pictures TV
Starring: Michael York, Sarah Miles, James Mason
Drama
A humble orphan suddenly becomes a gentleman with the help of an unknown benefactor. An all-star cast version of the Dickens story.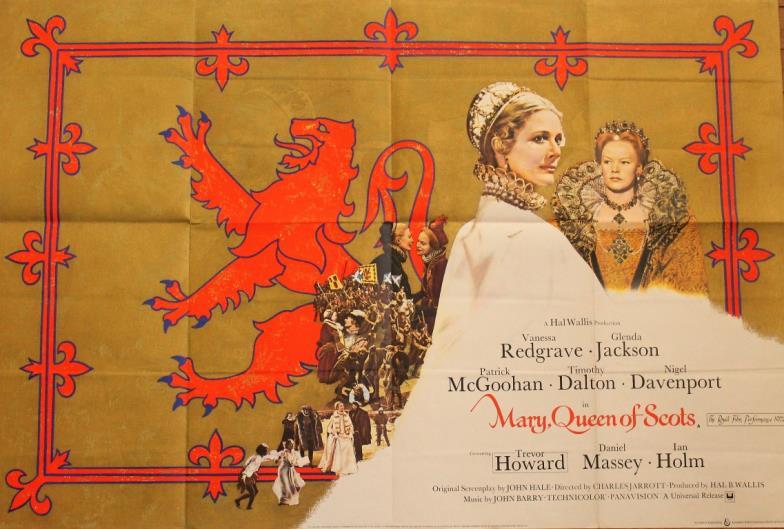 MARY, QUEEN OF SCOTS (12)
6.30pm Sony Movies Classic
Starring: Vanessa Redgrave, Glenda Jackson
Drama, biopic
During the sixteenth century, the Catholic Mary, Queen of Scots engages in over two decades of religious and political conflict with her cousin, the Protestant Queen Elizabeth I of England, amidst political intrigue in her native land. Historical drama with two big hitters of the British acting world. Moderate violence.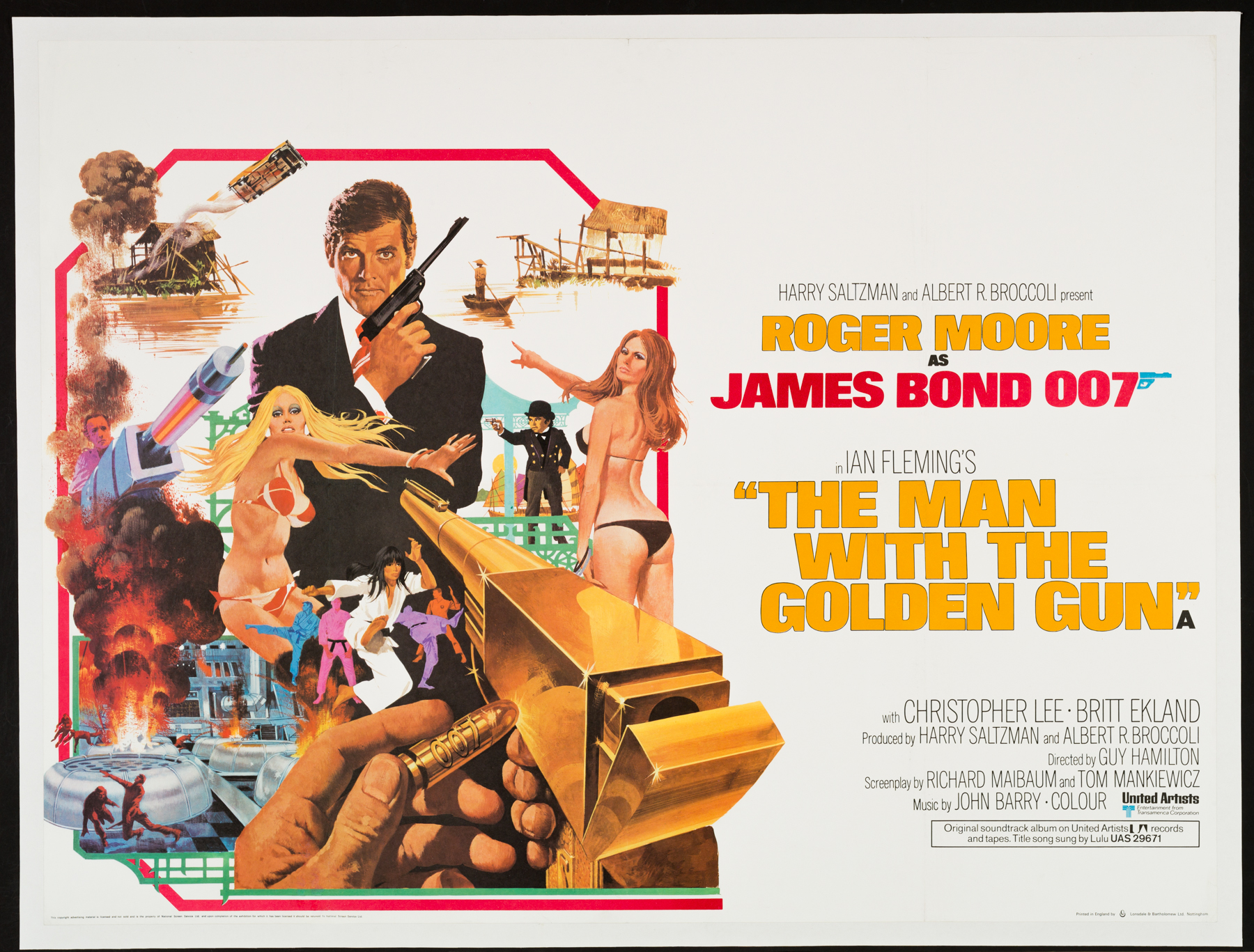 THE MAN WITH THE GOLDEN GUN (PG)
6.30pm ITV4
Starring: Roger Moore, Christopher Lee, Britt Ekland
Action, adventure, thriller
James Bond is targeted by the world's most expensive assassin, while he attempts to recover sensitive solar cell technology that is being sold to the highest bidder. Second Bond outing for Roger Moore. Moderate violence and sexual references.
KONG: SKULL ISLAND (12)
6.40pm ITV2
Starring: Tom Hiddleston, Samuel L. Jackson, John Goodman, Brie Larson
Action, Adventure, Fantasy
After the Vietnam war, a team of scientists explores an uncharted island in the Pacific, venturing into the domain of the mighty Kong, and must fight to escape a primal Eden. Exciting adventure that is the film Peter Jackson's version should have been. Moderate threat, violence, infrequent strong language.
SUPER 8 (12)
6.45pm Film4
Starring: Joel Courtney, Jessica Tuck, Ryan Lee, Elle Fanning
Sci-fi, thriller
During the summer of 1979, a group of friends witness a train crash and investigate subsequent unexplained events in their small town. Terrific 80s style adventure. One use of strong language, moderate threat and soft drug use.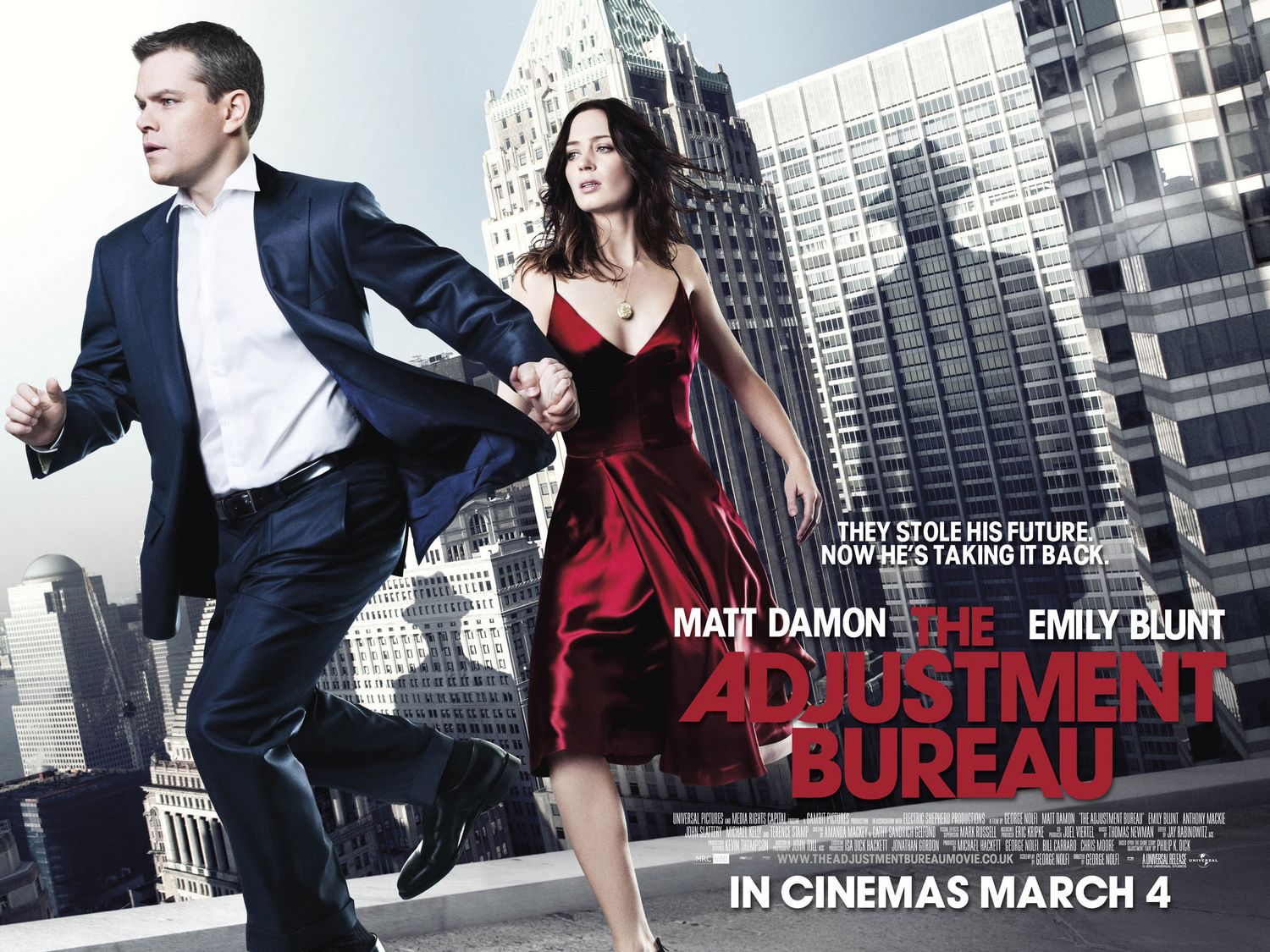 THE ADJUSTMENT BUREAU (12)
6.50pm Sony Movies
Starring: Matt Damon, Emily Blunt, Terence Stamp
Thriller, Sci-Fi, Romance
The affair between a politician and a contemporary dancer is affected by mysterious forces keeping the lovers apart. A decent sci-fi thriller. Infrequent strong language, violence and a discreet sex scene.
PADDINGTON 2 (PG)
7pm BBC1
Starring: Jim Broadbent, Brendan Gleeson, Sally Hawkins, Ben Whishaw, Hugh Grant, Julie Walters
Comedy, family, adventure
Paddington (Ben Whishaw), now happily settled with the Brown family and a popular member of the local community, picks up a series of odd jobs to buy the perfect present for his Aunt Lucy's (Imelda Staunton's) 100th birthday, only for the gift to be stolen. The nicest, sweetest, funniest film around. Unmissable. Mild threat.
SERENITY (15)
9pm Horror Channel
Starring: Nathan Fillion, Gina Torres, Alan Tudyk
Action, adventure, sci-fi
The crew of the ship Serenity try to evade an assassin sent to recapture one of their members who is telepathic. Big-screen version of the short-lived sci-fi series, Firefly. Strong violence and language.
THE INBETWEENERS 2 (15)
9pm E4
Starring: Simon Bird, James Buckley, Blake Harrison, Joe Thomas
Comedy
Jay, Neil, Simon, and Will reunite in Australia for a holiday. The continuing outrageous adventures of the four friends. Hilarious. Very strong nudity, sex references, very strong language and scenes that may disgust.
SUDDEN DEATH (15)
9pm ITV4
Starring: Jean-Claude Van Damme, Powers Boothe
Action, crime, thriller
A former fireman takes on a group of terrorists holding the Vice President and others hostage during the seventh game of the NHL Stanley Cup finals. Jean-Claude Van Damme best film. Die Hard at a hockey match. Strong violence, language.
SUBURBICON (15)
10pm BBC2
Starring: Matt Damon, Oscar Isaac, Julianne Moore
Comedy, crime, drama
As a 1950s suburban community self-destructs, a home invasion has sinister consequences for one seemingly normal family. A strange mix of social comment and dark comedy. Strong violence, language, sex.
DRIVE ANGRY (18)
11.05pm Channel 5
Starring: Nicolas Cage, Amber Heard, William Fichtner
Action, thriller, fantasy
A vengeful father escapes from hell and chases after the men who killed his daughter and kidnapped his granddaughter. Absolutely bonkers yet fun slice of B-movie nonsense. Strong gory violence, language and sex.
LOVELACE (18)
1.20am Film4
Starring: Amanda Seyfried, Peter Sarsgaard
Drama, biopic
The story of Linda Lovelace, who is used and abused by the porn industry at the behest of her coercive husband before taking control of her life. Fascinating and tragic biopic of a legend. Strong sex and sex references, language and domestic abuse.