Morning!
I would apologise about these blogs coming out every day but I feel I have made the right decision and I haven't broken any rules, so yaboo sucks to you! Here are today's recommendations.
Stay safe, look after yourself and Happy Tuesday!
HOME PREMIERES
THE LIGHTHOUSE (15)
Starring: Willem Dafoe, Robert Pattinson
Horror, Drama
Two lighthouse keepers try to maintain their sanity whilst living on a remote and mysterious New England island in the 1890s. Fantastic horror that will stay with you for days after seeing it. Strong sex, nudity, violence, gore, disturbing images. Black and white.
A BEAUTIFUL DAY IN THE NEIGHBOURHOOD (PG)
Starring: Tom Hanks, Matthew Rhys
Biopic, drama
Based on the true story of a real-life friendship between Fred Rogers, an American TV children's presenter, and journalist Lloyd Vogel. Wonderful heartwarming and upbeat drama that was sadly overlooked early this year. Mild bad language, violence.
AMAZON PRIME
BEAUTIFUL BOY (15)
Starring: Steve Carell, Timothée Chalamet, Maura Tierney, Amy Ryan
Biopic, drama
Based on the best-selling pair of memoirs from father and son David and Nic Sheff, Beautiful Boy chronicles the heartbreaking and inspiring experience of survival, relapse and recovery in a family coping with addiction over many years. Heartbreaking drama with excellent performances. Drug misuse, frequent drug references, strong language, sex.
THE WRESTLER (15)
Starring: Mickey Rourke, Marisa Tomei, Evan Rachel Wood
Drama, Sport
A faded professional wrestler must retire, but finds his quest for a new life outside the ring a dispiriting struggle. Drama showing behind the scenes of wrestling with a stunning performance from Mickey Rourke. Strong bloody wrestling violence, strong language, sex & drug use.
NETFLIX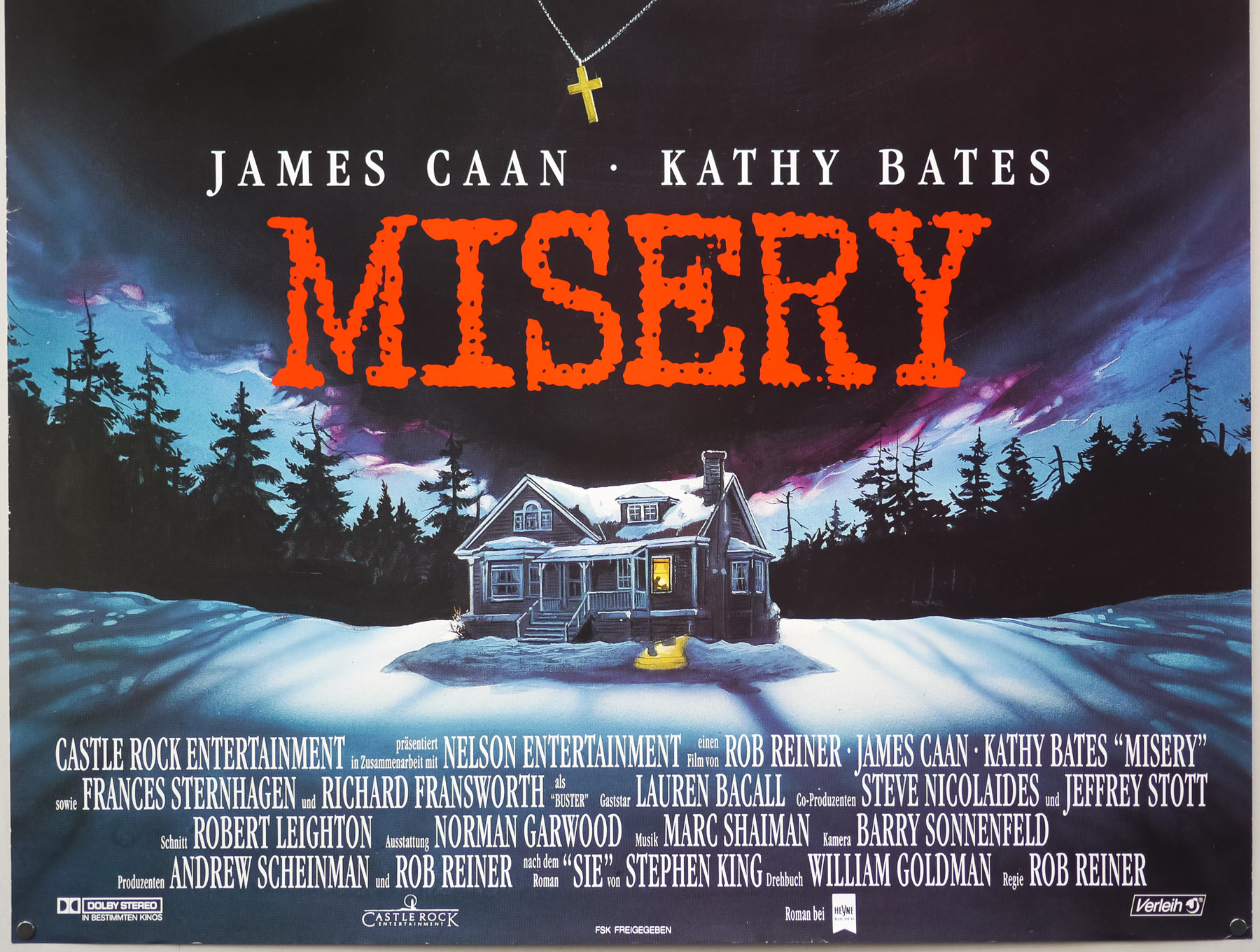 MISERY (15)
Starring: James Caan, Kathy Bates
Drama, Thriller, Horror
After a famous author is rescued from a car crash by a fan of his novels, he comes to realize that the care he is receiving is only the beginning of a nightmare of captivity and abuse. Superior Stephen King adaptation with an Oscar-winning Kathy Bates. Strong violence and threat and infrequent strong language.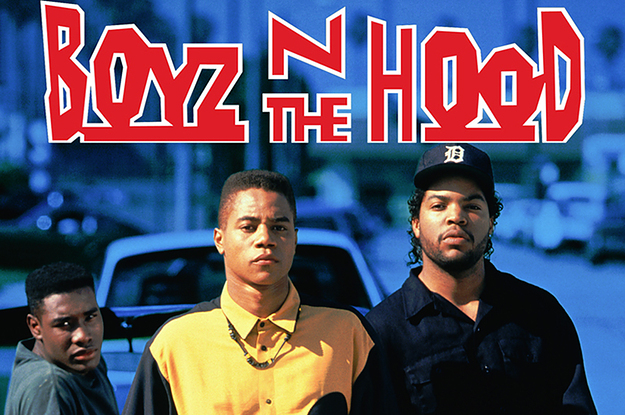 BOYZ N THE HOOD (15)
Starring: Ice Cube, Cuba Gooding Jr., Morris Chestnut, Laurence Fishburne
Drama, crime
Follows the lives of three young males living in the Crenshaw ghetto of Los Angeles, dissecting questions of race, relationships, violence, and future prospects. Outstanding social drama. strong language, bloody violence, sex references, drug references
NOW TV/SKY CINEMA
MARATHON MAN (15)
Starring: Dustin Hoffman, Laurence Olivier, Roy Scheider
Crime, Thriller
A graduate history student is unwittingly caught in the middle of an international conspiracy involving stolen diamonds, an exiled Nazi war criminal, and a rogue government agent. Excellent thriller from the 70s. Strong language, violence, nudity and scenes of torture.
THE WORKSHOP (15)
Starring: Marina Foïs, Matthieu Lucci
Drama
A writing workshop has been set up to help a group of seven young people integrate into the world of work. Under the guidance of well-known novelist Olivia Dejazet, the participants are asked to write a noir fiction connected with the industrial past of their hometown. Session after session, one of them, a boy named Antoine, stands out. Impressive and tense French drama. Strong language. Subtitled.
DISNEY+
BLACK PANTHER (12)
Starring: Chadwick Boseman, Michael B. Jordan
Adventure, Action, Fantasy
T'Challa, heir to the hidden but advanced kingdom of Wakanda, must step forward to lead his people into a new future and must confront a challenger from his country's past. Hugely successful Marvel adventure. Moderate violence, injury detail, rude gesture.
THE COMPUTER WORE TENNIS SHOES (U)
Starring: Kurt Russell, Cesar Romero
Comedy, sci-fi
At Medfield College, an accident with a donated computer gives Dexter Riley the ability to remember any knowledge learned instantly and perfectly. Disney comedy with a young Kurt Russell. Mild violence.
MOVIES ON TERRESTRIAL TV
TIGER BAY (PG)
11am Film4
Starring: John Mills, Hayley Mills, Horst Buchholz
Crime, drama, thriller
A twelve-year-old tomboy witnesses the murder of a woman by her Polish merchant marine boyfriend, but bonds with him and thwarts the police in their investigation. Tense thriller with a terrific performance from Hayley Mills. Violence and mild language. Black and white.
THE BEST YEARS OF OUR LIVES (U)
1pm Sony Movies Classic
Starring: Myrna Loy, Fredric March, Dana Andrews
War, drama, romance
Three World War II veterans return home to small-town America to discover that they and their families have been irreparably changed. Epic drama that won seven Oscars. Mild violence and threat. Black and White.
ELEPHANT WALK (U)
1.10pm Film4
Starring: Elizabeth Taylor, Dana Andrews, Peter Finch
Adventure, Drama
The young bride of a rich planter finds herself the only white woman at Elephant Walk tea plantation, British Ceylon. an agreeable romantic adventure. Mild violence and peril.
HELLFIGHTERS (PG)
2.10pm Sony Movies Action
Starring: John Wayne, Katherine Ross, Vera Miles
Action, Adventure, drama
The story of macho oil well firefighters and their wives. A tense and exciting action film from the director of The Wild Geese. Mild violence and language.
THE MAGNIFICENT AMBERSONS (U)
3.05pm BBC2
Starring: Joseph Cotton, Dolores Costello, Anne Baxter
Drama, Romance
The spoiled young heir to the decaying Amberson fortune comes between his widowed mother and the man she has always loved. Orsen Welles' follow up to Citizen Kane is a touching family drama. Black and white.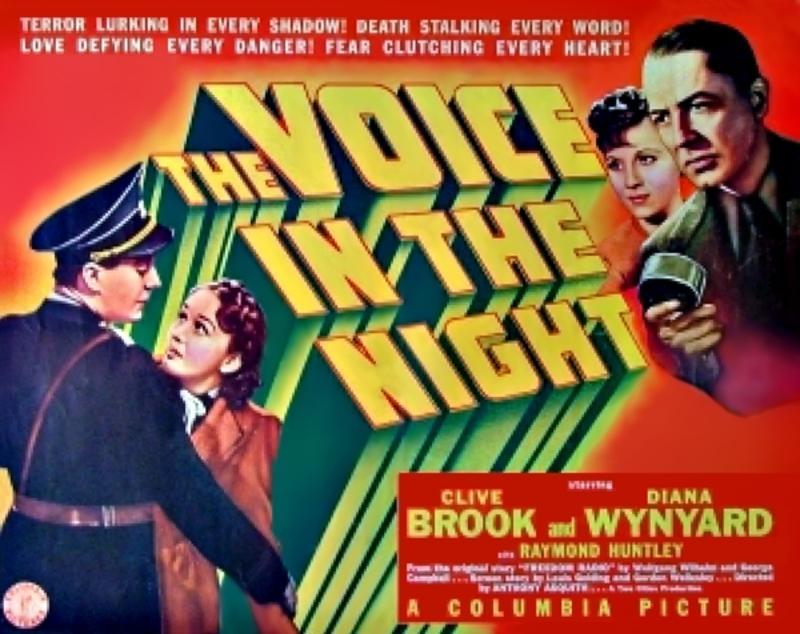 FREEDOM RADIO (PG)
3.15pm Film4
Starring: Clive Brook, Diana Wynyard
War, drama
Hitler's doctor is gradually realising that the Nazi regime isn't as good as it pretends to be when his friends start to "disappear" into the camps. Good old-fashioned propaganda war drama. Mild violence. Black and white.
SALOME (PG)
4.40pm Sony Movies Classic
Starring: Rita Hayworth, Stewart Granger, Charles Laughton
Drama
After her banishment from Rome, Jewish Princess Salome returns to her Roman-ruled native land of Galilee where prophet John the Baptist preaches against Salome's parents, King Herod and Queen Herodias. Epic biblical drama. Mild gory violence and sexual content.
EVOLUTION (PG)
4.45pm Sony Movies
Starring: David Duchovny, Julianne Moore, Orlando Jones, Seann William Scott, Dan Aykroyd
Comedy, sci-fi
A fire-fighting cadet, two college professors, and a geeky but sexy government scientist work against an alien organism that has been rapidly evolving since its arrival on Earth inside a meteor. Silly comedy from the director of Ghostbusters. Mild language, horror, and sexual references.
FANTASTIC VOYAGE (U)
5.10pm Film4
Starring: Stephen Boyd, Raquel Welch, Edmond O'Brien, Donald Pleasence
Sci-fi, adventure
A scientist is nearly assassinated. In order to save him, a submarine is shrunken to microscopic size and injected into his bloodstream with a small crew. Problems arise almost as soon as they enter the bloodstream. Classic sci-fi adventure. Mild violence and language.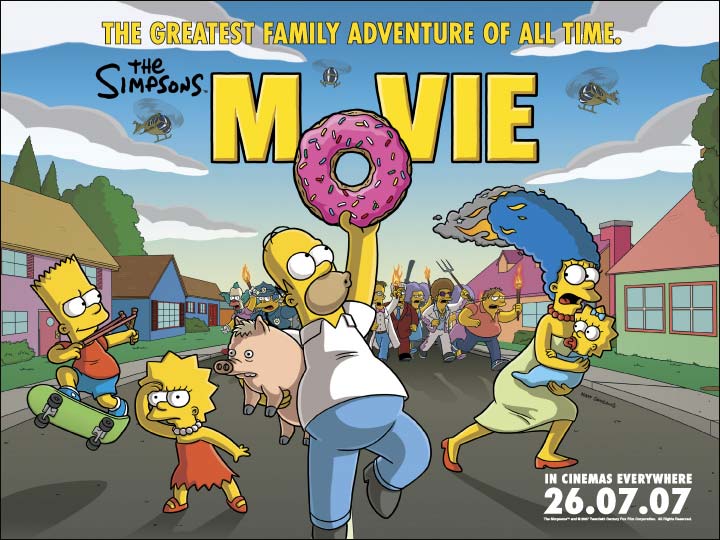 THE SIMPSON MOVIE (PG)
7.15pm Film4
Starring: Dan Castellaneta, Julie Kavner, Nancy Cartwright
Animation, comedy, adventure
After Homer deliberately pollutes the town's water supply, Springfield is encased in a gigantic dome by the EPA and the family are declared fugitives. Big screen outing for the famous cartoon family. Mild language, innuendo and comic violence.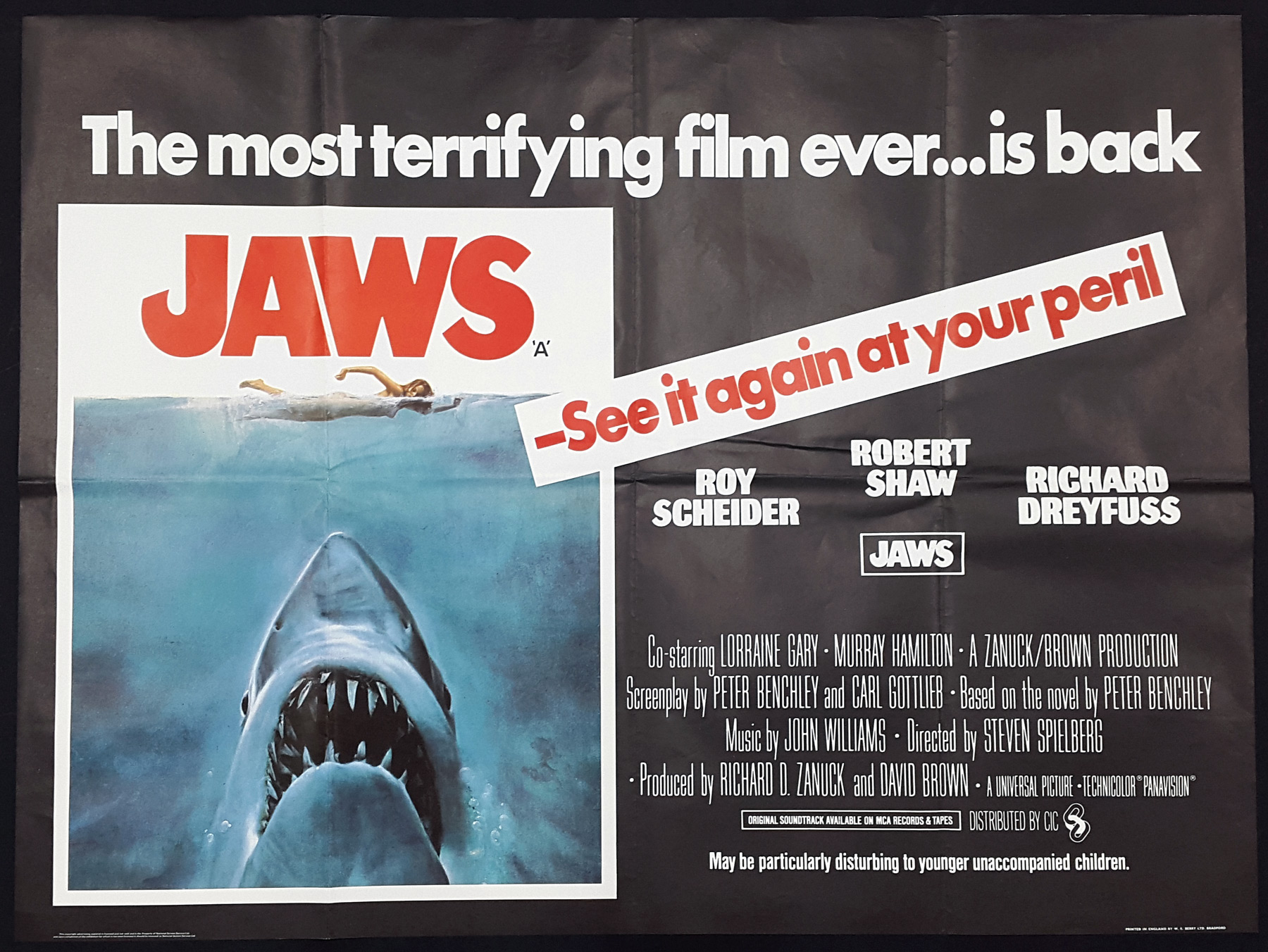 JAWS (12)
9pm ITV4
Starring: Roy Scheider, Robert Shaw, Richard Dreyfuss
Adventure, thriller, horror
When a killer shark unleashes chaos on a beach community, it's up to a local sheriff, a marine biologist, and an old seafarer to hunt the beast down. The ultimate blockbuster that still shocks and amazes. Moderate threat and occasional gory moments.
ARRIVAL (12)
9pm Film4
Starring: Amy Adams, Jeremy Renner, Forest Whitaker
Sci-fi, drama
A linguist works with the military to communicate with alien lifeforms after twelve mysterious spacecraft appear around the world. Terrific sci-fi drama from the director of Blade Runner 2049. Infrequent strong language.
THE WOMAN IN BLACK (15)
9pm Horror Channel
Starring: Daniel Radcliffe, Ciarán Hinds, Janet McTeer
Thriller, Horror, Fantasy
A young solicitor travels to a remote village where he discovers the vengeful ghost of a scorned woman is terrorizing the locals. Very creepy horror from Hammer. Strong horror, psychological threat.
THE DRIVER (15)
10pm Talking Pictures TV
Starring: Ryan O'Neal, Bruce Dern, Isabelle Adjani
Thriller, Action, Crime
A getaway driver becomes the latest assignment for a tenacious detective. Influential tough action thriller with amazing car chases. Strong violence and language.
PRISONERS (15)
11.20pm Film4
Starring: Hugh Jackman, Jake Gyllenhaal, Viola Davis, Maria Bello, Paul Dano, Melissa Leo, Terence Howard
Thriller, drama
When Keller Dover's daughter and her friend go missing, he takes matters into his own hands as the police pursue multiple leads and the pressure mounts. Powerful drama from the director of Arrivals and Blade Runner 2049. Abduction theme, strong violence and strong language.
WANTED (18)
11.20pm ITV4
Starring: James McAvoy, Morgan Freeman, Angelina Jolie
Action, Crime, Fantasy
A frustrated office worker learns that he is the son of a professional assassin and that he shares his father's superhuman killing abilities. Blood splattered action thriller. Strong bloody violence and language.