Morning!
As we wake in total confusion as to should we listen to advice or just travel to family members hundreds of miles away, there is one thing that is certain…you can find at least one movie to watch in today's list.
Stay safe, look after yourself and Happy Sunday!
AMAZON PRIME
MAD MAX: FURY ROAD (15)
Starring: Tom Hardy, Charlize Theron, Nicholas Hoult
Action, drama, sci-fi
Post-apocalyptic action drama in which a man teams up with a woman to rescue a group of women from an evil warlord who controls what remains of life's necessities. Spectacular, edge-of-your-seat action. Strong violence, threat.
LOST IN TRANSLATION (15)
Starring: Bill Murray, Scarlett Johansson
Comedy, drama
A faded movie star and a neglected young woman form an unlikely bond after crossing paths in Tokyo. Sofia Collopa's comedy-drama with a terrific performance from Bill Murray. Language, moderate nudity and sex references.
NETFLIX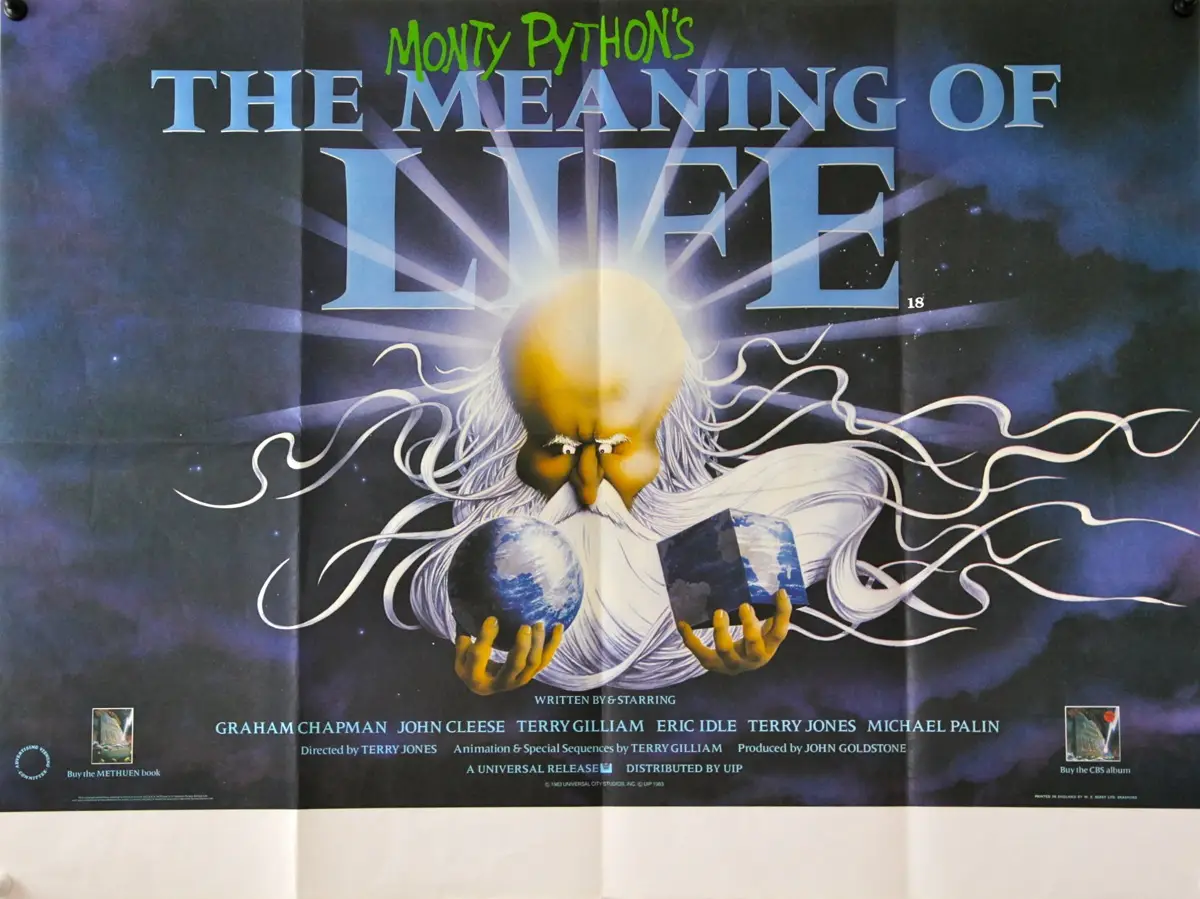 MONTY PYTHON'S THE MEANING OF LIFE (15)
Starring: Graham Chapman, John Cleese, Terry Gilliam, Eric Idle, Terry Jones, Michael Palin
Comedy
The comedy team takes a look at life in all of its stages in their own uniquely silly way. The Monty Python team bring a mix of hit and miss sketches. Strong language, gore, nudity and sex references.
WATERWORLD (12)
Starring: Kevin Costner, Dennis Hopper, Jeanne Tripplehorn
Adventure, Action, Drama, Sci-Fi
In a future where the polar ice-caps have melted and Earth is almost entirely submerged, a mutated mariner fights starvation and outlaw "smokers," and reluctantly helps a woman and a young girl try to find dry land. Mad Max style adventure which flopped on its release but needs re-evaluation. Moderate violence, bloody injury detail, sexual threat.
NOW TV
ALIEN (15)
Starring: Tom Skerritt, Sigourney Weaver, Veronica Cartwright, Harry Dean Stanton, John Hurt, Ian Holm, Yaphet Kotto
Science Fiction, Horror, Thriller
After a space merchant vessel receives an unknown transmission as a distress call, one of the crew is attacked by a mysterious life form and they soon realize that its life cycle has merely begun. Classic sci-fi horror from Ridley Scott. Strong horror, violence, language.
FURY (15)
Starring: Brad Pitt, Shia LaBeouf, Logan Lerman
Action, Drama, War
A grizzled tank commander makes tough decisions as he and his crew fight their way across Germany in April, 1945. A tough war drama. Strong bloody violence, gore, strong language.
DISNEY+
THE JOURNEY OF NATTY GANN (PG)
Starring: Meredith Salenger, Ray Wise, John Cusack
Adventure, drama
In the 1930s, a tomboy runs away from her guardian to join her single father who is 2,000 miles away, where he has found work. Entertaining family Disney drama. Some violence and language.
TOY STORY 3 (U)
Starring: Tom Hanks, Michael Keaton, Tim Allen, Joan Cusack
Animation, Drama, Comedy
The toys are mistakenly delivered to a day-care centre instead of the attic right before Andy leaves for college, and it's up to Woody to convince the other toys that they weren't abandoned and to return home. The best of the series. Wonderful addition with heartbreaking moments. Mild violence and scary scenes.
MOVIES ON TERRESTRIAL TV
GREAT EXPECTATIONS (PG)
10.35am BBC2
Starring: John Mills, Anthony Wager, Valerie Hobson
Adventure, drama
A humble orphan suddenly becomes a gentleman with the help of an unknown benefactor. David Lean's classic version of Charles Dickens' story. Mild violence and scary moments. Black and white.
THE LADY VANISHES (PG)
11am Film4
Starring: Cybil Shepherd, Elliott Gould, Angela Lansbury
Adventure, comedy, thriller
While travelling in pre-war Nazi Germany, a young couple realizes a passenger seems to have been kidnapped off of their train, but, no other passenger aside from themselves, recalls her. Remake of the Hitchcock classic. Violence, mild language and sexual references.
SEVEN YEARS IN TIBET (PG)
11.15am Sony Movies
Starring: Brad Pitt, David Thewlis, B.D. Wong
Adventure, drama, biopic
True story of Heinrich Harrer, an Austrian mountain climber who became friends with the Dalai Lama at the time of China's takeover of Tibet. Impressively looking true story. Mild bad language and war scenes.
CASTLE KEEP (15)
12.30pm Sony Movies Action
Starring: Burt Lancaster, Peter Falk
Action, comedy, drama, war
During the Battle of the Bulge, an anachronistic count shelters a ragtag squad of Americans in his remote 10th Century castle hoping a battle there against the advancing Germans will not lead to its destruction and all the heritage within. A realistic war drama. Moderate sex references and violence. May be edited for content.
MEGAMIND (PG)
1.30pm Channel 4
Starring: Will Ferrell, Brad Pitt, Jonah Hill, Tina Fey
Animation, fantasy, comedy
The supervillain Megamind finally defeats his nemesis, the superhero Metro Man. But without a hero, he loses all purpose and must find new meaning to his life. Silly but enjoyable animated comedy. Mild language and comic fight scenes.
PHENOMENON (PG)
2pm Sony Movies
Starring: John Travolta, Kyra Sedgwick, Forest Whitaker
Drama, fantasy, romance
An ordinary man sees a bright light descend from the sky, and discovers he now has super-intelligence and telekinesis. Touching fantasy drama. Language and sexual content.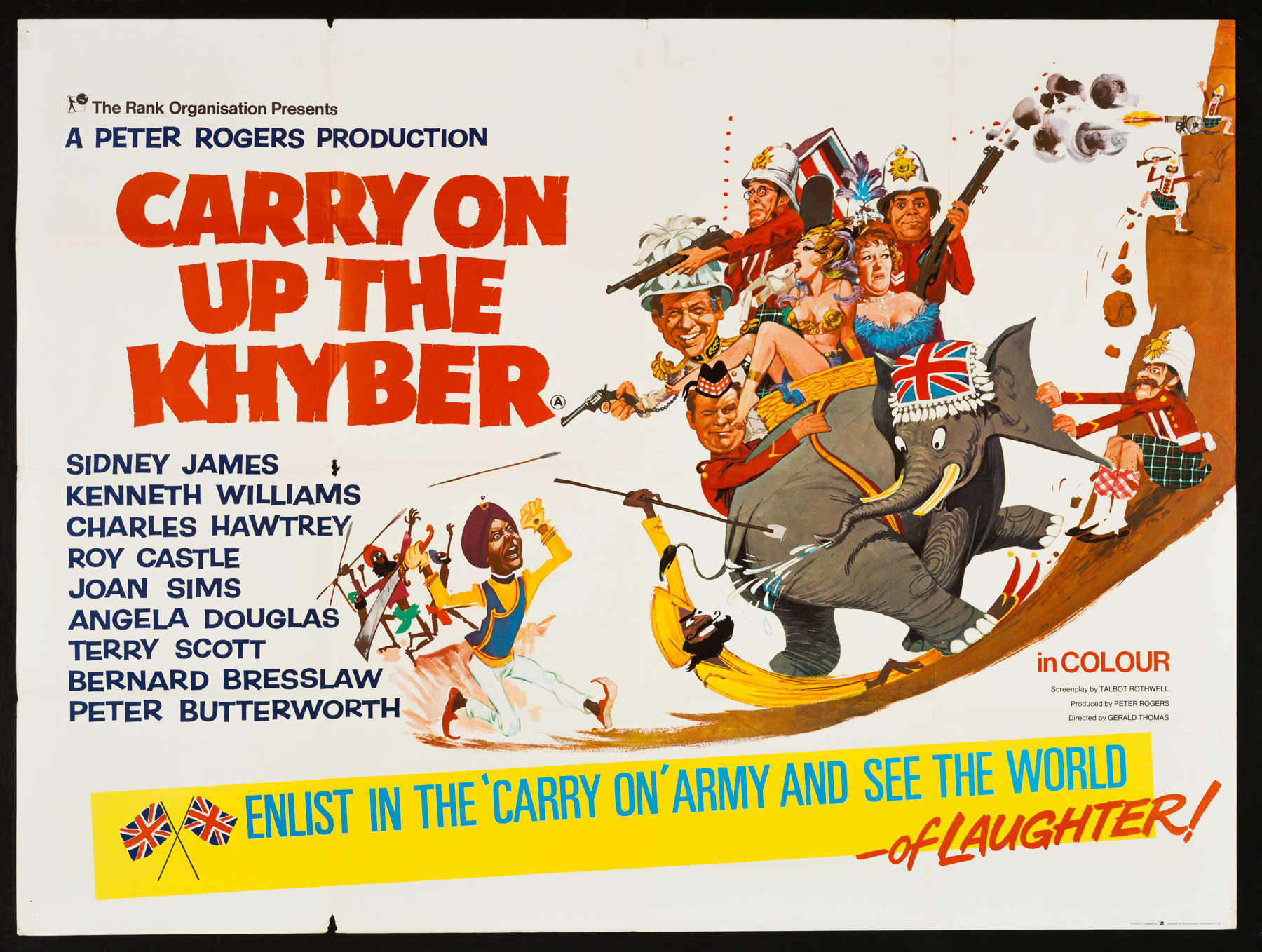 CARRY ON UP THE KHYBER (PG)
2.05pm ITV3
Starring: Sidney James, Kenneth Williams, Charles Hawtrey, Roy Castle
Comedy
Sir Sidney Ruff-Diamond looks after the British outpost near the Khyber Pass. Protected by the kilted Third Foot and Mouth regiment, you would think they were safe but the Khazi of Kalabar has other ideas. Personal favourite of the Carry On Series. Innuendo, mild violence, rude humour.
ACES HIGH (PG)
2.05pm ITV4
Starring: Malcolm McDowell, Christopher Plummer, Simon Ward, Peter Firth, John Gielgud, Trevor Howard
War, drama, action
In World War I, the high casualty rate amongst the rookie pilots of the Royal Flying Corps puts an enormous strain on the survivors. Terrific aerial fight scenes. Mild language, war horror and sex references.
ROAD TO RIO (U)
2.10pm Sony Movies Classic
Starring: Bob Hope, Bing Crosby, Dorothy Lamour
Comedy, musical, adventure
Two inept vaudevillians stow away on a Brazilian-bound ocean liner and foil a plot by a sinister hypnotist to marry off her niece to a greedy fortune hunter. More laughs from the Road team. Comic violence. Black and white.
HAPPY FEET TWO (U)
3.05pm ITV2
Starring: Robin Williams, Elijah Wood, Pink, Sofia Vergara, Brad Pitt, Matt Damon
Animation, adventure, comedy
Mumble's son, Erik, is struggling to realize his talents in the Emperor Penguin world. Meanwhile, Mumble and his family and friends discover a new threat their home — one that will take everyone working together to save them. More animated fun with the music-loving penguin. Mild threat and fight scenes.
SHE WORE A YELLOW RIBBON (PG)
3.35pm BBC2
Starring: John Wayne, Joanne Dru, John Agar
Western
Captain Nathan Brittles, on the eve of retirement, takes out a last patrol to stop an impending massive Indian attack. Encumbered by women who must be evacuated, Brittles finds his mission imperilled. Classic cavalry western from John Ford. Violence.
THE FIVE PENNIES (U)
3.40pm Talking Pictures TV
Starring: Danny Kaye, Barbara Bel Geddes, Louis Armstrong
Drama, biopic, music
Loring "Red" Nichols is a cornet-playing country boy who goes to New York in the 1920s full of musical ambition and principles. He gets a job playing in Wil Paradise's band, but quits to pursue his dream of playing Dixieland jazz. He forms the "Five Pennies" which features his wife, Bobbie, as a vocalist. At the peak of his fame, tragedy strikes. Fascinating jazz biopic.
THE COWBOYS (12)
4.20pm ITV4
Starring: John Wayne, Roscoe Lee Browne, Bruce Dern
Western, Adventure, Drama
Rancher Wil Andersen is forced to hire inexperienced boys as cowhands in order to get his herd to market on time but the rough drive is full of dangers and a gang of cattle rustlers is trailing them. Standard western fare with a twist. Moderate violence.
SOLARIS (12)
4.35pm Sony Movies
Starring: George Clooney, Natasha McElhone
Sci-fi, drama, romance
A troubled psychologist is sent to investigate the crew of an isolated research station orbiting a bizarre planet. Steven Soderbergh's remake of the Russian classic. Language, sexual content, nudity and violence.
DESPICABLE ME 3 (U)
5.10pm ITV2
Starring: Steve Carell, Kristen Wiig
Animation, comedy
Gru meets his long-lost, charming, cheerful, and more successful twin brother Dru, who wants to team up with him for one last criminal heist. Family fun with the third outing of Gru and his Minions. in a tale. Mild comic violence, rude humour, very mild bad language.
JURASSIC PARK (PG)
5.45pm ITV1
Starring: Sam Neill, Laura Dern, Jeff Goldblum, Richard Attenborough
Fantasy, Drama, Adventure
A pragmatic palaeontologist visiting an almost complete theme park is tasked with protecting a couple of kids after a power failure causes the park's cloned dinosaurs to run loose. Spielberg's impressive monster movie. Moderate fantasy horror and mild language.
THE 7TH VOYAGE OF SINBAD (U)
6.40pm Horror Channel
Starring: Kerwin Mathews, Kathryn Grant
Action, adventure, fantasy
When a princess is shrunken by an evil wizard, Sinbad must undertake a quest to an island of monsters to cure her and prevent a war. High adventure with effects by Ray Harryhausen. Violence and scary scenes.
COPACABANA (U)
6.40pm Talking Pictures TV
Starring: Groucho Marx, Carmen Miranda
Comedy, musical
An agent has his only client pose as both a French chanteuse and Brazilian bombshell to fool a nightclub owner. Bright musical comedy with a solo effort of Groucho Marx. Black and white.
THE MADNESS OF KING GEORGE (PG)
6.50pm Film4
Starring: Nigel Hawthorne, Helen Mirren, Rupert Everett, Ian Holm
Biopic, comedy, drama
When King George III goes mad, his Lieutenants try to adjust the rules to run the country without his participation. Superb drama with a brilliant performance from Nigel Hawthrone. Mild language and sexual references.
PADDINGTON (PG)
7.10pm Film4
Starring: Ben Whishaw, Julie Walters, Sally Hawkins, Hugh Bonneville, Peter Capaldi, Jim Broadbent, Nicole Kidman
Adventure, Drama, comedy
Family adventure about a talking bear from Peru who travels to London looking for a new home. One of the most joyful movies of the decade. We could all do with a bit of Paddington in our lives. Dangerous behaviour, mild threat, innuendo, infrequent mild bad language.
ROBIN HOOD: PRINCE OF THIEVES (PG)
8pm 5*
Starring: Kevin Costner, Alan Rickman
Action, adventure, romance
Another retelling of the Robin Hood legend with Kevin Costner in the lead taking on the Sherrif of Nottingham, a scene-stealing Alan Rickman. Famous for THAT Bryan Adams song. Violence, language, peril.
THE DIRTY DOZEN (12)
9pm ITV4
Starring: Lee Marvin, Ernest Borgnine
War, action, adventure
During World War II, a rebellious U.S. Army Major is assigned a dozen convicted murderers to train and lead them into a mass assassination mission of German officers. Classic war adventure. Moderate violence and language.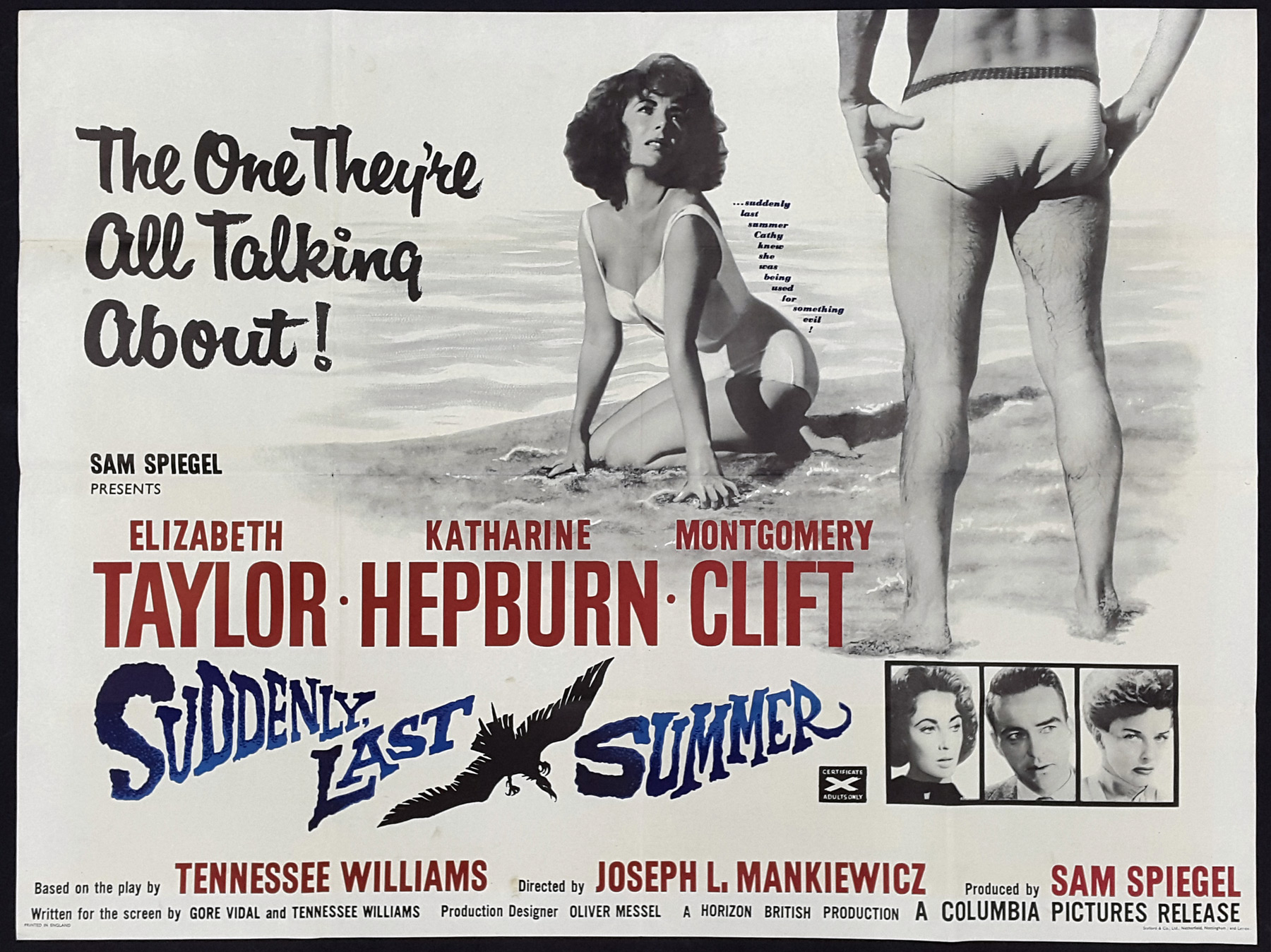 SUDDENLY, LAST SUMMER (15)
9pm Sony Movies Classic
Starring: Elizabeth Taylor, Katharine Hepburn, Montgomery Clift
Drama, thriller
The only son of wealthy widow Violet Venable dies while on vacation with his cousin Catherine. What the girl saw was so horrible that she went insane; now Mrs. Venable wants Catherine lobotomized to cover up the truth. Classic Tennessee William's adaptation. Sexual reference, language and mild peril.
SNOWPIERCER (15)
9pm Film4
Starring: Chris Evans, Jamie Bell, Tilda Swinton
Science Fiction, Drama, Action
In a future where a failed climate-change experiment has killed all life except for the lucky few who boarded the Snowpiercer, a train that travels around the globe, a new class system emerges. Sci-fi adventure from the director of Parasite. Strong bloody violence, language.
ELYSIUM (15)
9pm Sony Movies
Starring: Matt Damon, Jodie Foster, Sharlto Copley
Sci-fi, action, drama
In the year 2154, the very wealthy live on a man-made space station while the rest of the population resides on a ruined Earth. A man takes on a mission that could bring equality to the polarized worlds. Inventive sci-fi from the director of District 9. strong language, bloody violence and gory images.
THE ENFORCER (PG)
10pm Talking Pictures TV
Starring: Humphrey Bogart, Zero Mostel
Crime, film-noir, thriller
A crusading district attorney finally gets a chance to prosecute the organizer and boss of Murder Inc. Forgotten Bogart thriller. Mild violence. Black and white.
SCREAM (18)
11.05pm 5*
Starring: Neve Campbell, Courteney Cox, David Arquette, Skeet Ulrich, Drew Barrymore, Rose McGowan
Horror, mystery
A year after the murder of her mother, a teenage girl is terrorized by a new killer, who targets the girl and her friends by using horror films as part of a deadly game. Wes Craven's celebrated horror satire. Strong bloody violence, language and sexual content.
HALLOWEEN II (18)
11.10pm Horror Channel
Starring: Jamie Lee Curtis, Donald Pleasence
Horror
While Sheriff Brackett and Dr. Loomis hunt for Michael Myers, a traumatized Laurie is rushed to hospital, and the serial killer is not far behind her. Gory sequel to the classic 1978 horror. Strong violence, language, sexual content and horror.
EAST IS EAST (15)
11.25pm Channel 4
Starring: Om Puri, Linda Basset
Comedy, drama
In early 1970s England, a Pakistani father finds the authority he has previously maintained challenged by his increasingly Anglicized children. Entertaining British comedy-drama. Strong language, violence and sexual references.