Morning!
A big day for many as the lockdown is eased, although in some people's minds it's far too early. We just have to wait and see. If you are one who is not going anywhere, then here are today's recommendations.
Stay safe, look after yourself and Happy Monday!
HOME PREMIERES
PARASITE (15)
Starring: Song Kang-ho, Chang Hyae-jin
Thriller, Comedy
Greed and class discrimination threaten the newly formed symbiotic relationship between the wealthy Park family and the destitute Kim clan. Exceptional Oscar-winner from Korea. Strong bloody violence, language, sex, sex references.
AMAZON PRIME
NASHVILLE (15)
Starring: Keith Carradine, Geraldine Chaplin
Comedy, Drama, Music
Over the course of a few hectic days, numerous interrelated people prepare for a political convention as secrets and lies are surfaced and revealed. Robert Altman's multilayer masterpiece. Language, sex, sex references and nudity.
DEMOLITION MAN (15)
Starring: Sylvester Stallone, Wesley Snipes, Sandra Bullock, Nigel Hawthorne
Action, Sci-Fi, Thriller
A police officer is brought out of suspended animation in prison to pursue an old ultra-violent nemesis who is loose in a non-violent future society. Mindless yet fun 90s blockbuster. Strong language and occasional strong violence.
NETFLIX
WILD AT HEART (18)
Starring: Nicolas Cage, Laura Dern, Willem Dafoe
Comedy, crime, drama
Young lovers Sailor and Lula run from the variety of weirdos that Lula's mom has hired to kill Sailor. A twisted love story from David Lynch, the mind behind Twin Peaks. Strong brutal bloody violence including disturbing images, strong sexuality, nudity, and language, sexual threat.
CRY BABY (12)
Starring: Johnny Depp, Amy Locane, Susan Tyrell
Comedy, Musical
In 1950s Baltimore, a bad boy with a heart of gold wins the love of a good girl, whose boyfriend sets out for revenge. A cult favourite from the king of trash cinema, John Waters. Mild violence, language and mild sexual innuendo.
NOW TV/SKY CINEMA
DANIEL ISN'T REAL (15)
Starring: Miles Robbins, Patrick Schwarzenegger
Horror
A troubled college freshman, Luke, suffers a violent family trauma. He then resurrects his charismatic childhood imaginary friend Daniel to help him cope, not realizing how dangerous Daniel is. Low-budget horror that will haunt you long after it's over. Strong violence, bloody images, horror, drug misuse, sex, language.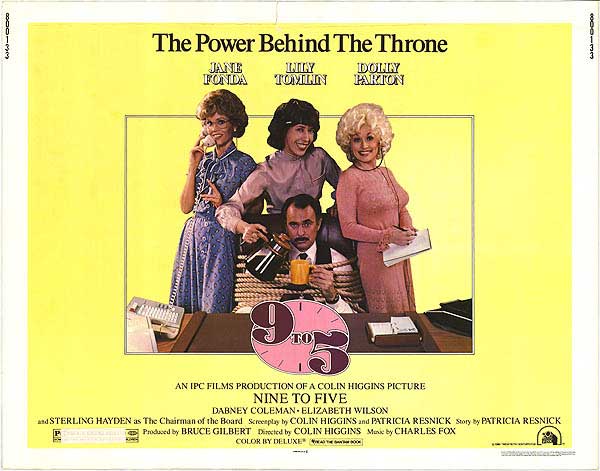 9 TO 5 (15)
Starring: Jane Fonda, Lily Tomlin, Dolly Parton, Dabney Coleman
Comedy
Three female employees of a sexist, egotistical, lying, hypocritical bigot find a way to turn the tables on him. Hilarious females fight back comedy with that famous theme song. Scene of drug misuse, infrequent strong sex references and language.
DISNEY+
GUARDIANS OF THE GALAXY VOL 2 (12)
Starring:  Chris Pratt, Zoe Saldana, Dave Bautista, Vin Diesel, Bradley Cooper, Michael Rooker, Karen Gillan, Kurt Russell
Science Fiction, Fantasy, Action, Comedy
The Guardians struggle to keep together as a team while dealing with their personal family issues, notably Star-Lord's encounter with his father the ambitious celestial being Ego. More fun and action from the Marvel Cinematic Universe. Moderate fantasy action violence, sex references, language.
MILLION DOLLAR DUCK (U)
Starring: Dean Jones, Sandy Duncan, Joe Flynn, Tony Roberts
Comedy
Professor Dooley takes home a duck from his research laboratory as a pet for his son, but soon finds out that it lays golden eggs. Family fun from Disney with this weird comedy.
MOVIES ON TERRESTRIAL TV
HELL BELOW ZERO (U)
11am Film4
Starring: Alan Ladd, Joan Tetzel
Action, Adventure, Drama
The captain of an Antarctic whaling ship falls overboard in mysterious circumstances and his daughter, aided by a sympathetic American, decides to investigate the accident.Gripping 50s adventure. Mild violence.
A NIGHT TO REMEMBER (PG)
12.50pm Film4
Starring: Kenneth More, Ronald Allen, Robert Ayres, Honor Blackman
Biopic, drama
On its maiden voyage in April 1912, the supposedly unsinkable RMS Titanic hits an iceberg in the Atlantic Ocean. The best movie about Titanic. Peril. Black and white.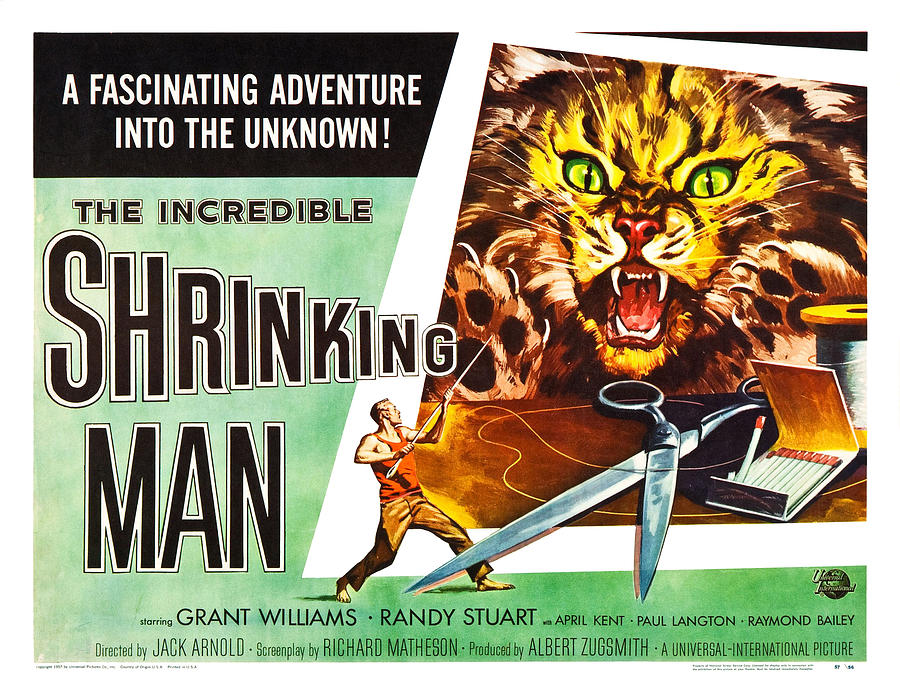 THE INCREDIBLE SHRINKING MAN (PG)
1pm Horror Channel
Starring: Grant Williams, Randy Stuart, April Kent
Sci-fi, horror
When Scott Carey begins to shrink because of exposure to a combination of radiation and insecticide, medical science is powerless to help him. Classic sci-fi from the 50s. Violence, peril and scary scenes. Black and White.
ROAD TO MOROCCO (U)
1.30pm Sony Movies Classic
Starring: Bing Crosby, Bob Hope, Dorothy Lamour
Comedy, adventure, musical
Two carefree castaways on a desert shore find an Arabian Nights city, where they compete for the luscious Princess Shalmar. Madcap comedy from the popular Road series. Mild sexual references. Black and white.
PAL JOEY (PG)
2.45pm BBC1
Starring: Frank Sinatra, Rita Hayworth, Kim Novak
Musical, Drama, Romance
Joey Evans' a charming, handsome, funny, talented a-1st class, A-N°.1 – heel. When Joey meets the former chorus girl and now is the rich widow, Vera Simpson, the pair of lecherous souls seem made for each other. Colourful musical. Mild sex references.
CONDUCT UNBECOMING (PG)
2.55pm Sony Movies Classic
Starring: Michael York, Richard Attenborough, Susannah York, Trevor Howard, Stacy Keach, Christopher Plummer
Drama, crime
At a British Regimental party in Colonial India, the widow of Captain Scarlett is assaulted in the garden, and she accuses one of the newly arrived junior Lieutenants of the crime. A good cast in this courtroom drama. Mild sex references.
ROAD TO ZANZIBAR (PG)
3.15pm Sony Movies Classic
Starring: Bing Crosby, Bob Hope, Dorothy Lamour
Comedy, Musical, Adventure
Stranded in Africa, Chuck and his pal Fearless have comic versions of jungle adventures, featuring two attractive con-women. Comedy adventure with Hope, Crosby and Lamour. Sexual references. Black and white.
HONDO (PG)
3.30pm Film4
Starring: John Wayne, Geraldine Page, Ward Bond
Western, romance
Army dispatch rider Hondo Lane discovers a woman and young son living in the midst of warring Apaches and becomes their protector. Western adventure with the Duke. Violence.
VICE VERSA (PG)
4.50pm Sony Movies
Starring: Judge Reinhold, Fred Savage
Comedy, fantasy, family
During an argument, a divorced executive and his 11-year-old son casually touch a magical Tibetan skull, releasing a mysterious power that transfers the father's mind to the body of the son and vice versa. Their problems have just begun. Fun body-swap comedy. Mild language.
GROUNDHOG DAY (PG)
6.55pm Sony Movies
Starring: Bill Murray, Andie MacDowell
Comedy, romance
A weatherman finds himself inexplicably living the same day over and over again. Regarded now as a classic, and rightly so. Mild language.
DANTE'S PEAK (12)
6.55pm Film4
Starring: Pierce Brosnan, Linda Hamilton
Action, Adventure, Drama
A vulcanologist arrives at a countryside town recently named the second most desirable place to live in America, and discovers that the long-dormant volcano, Dante's Peak, may wake up at any moment. Exciting disaster movie. Violence, mild language, disaster-related peril and gore.
THE DAY OF THE JACKAL (15)
9pm Sony Movies Classic
Starring: Edward Fox, Michel Lonsdale
Thriller, Drama
A professional assassin codenamed "Jackal" plots to kill Charles de Gaulle, the President of France. Gripping thriller based on the best-selling novel. Strong violence, injury detail.
STARGATE (PG)
9pm Film4
Starring: Kurt Russell, James Spader, Jaye Davidson
Sci-fi, action, adventure
An interstellar teleportation device, found in Egypt, leads to a planet with humans resembling ancient Egyptians who worship the god Ra. Exciting sci-fi adventure. Mild language and fantasy violence.
NIGHT OF THE LIVING DEAD (18)
10.50pm Horror Channel
Starring: Tony Todd, Patricia Tallman, Tom Towles
Horror
The unburied dead return to life and seek human victims. Fairly faithful reboot of the classic zombie movie. Horror violence/gore, brief nudity and language.
THE GREAT BEAUTY (15)
11.25pm Film4
Starring: Toni Servillo, Carlo Verdone, Sabrina Ferilli
Drama
Jep Gambardella has seduced his way through the lavish nightlife of Rome for decades, but after his 65th birthday and a shock from the past, Jep looks past the nightclubs and parties to find a timeless landscape of absurd, exquisite beauty. Wonderful Italian drama. Language, sexual content, nudity, mild violence and drug use. Subtitled.
MIKE BASSETT: ENGLAND MANAGER (15)
12midnight ITV4
Starring: Ricky Tomlinson, Amanda Redman, Bradley Walsh
Comedy, sport
The manager of England's national football unexpectedly succumbs to a heart attack, and suddenly the search is on for a replacement. Most people who seem qualified for the position have the good sense to turn it down, and so the responsibility falls to Mike Bassett, a scruffy and loud-mouthed lout whose claim to football fame is leading a previously undistinguished team to a league championship. Fun British comedy. Strong language.
THE BURNING (18)
12.40am Horror Channel
Starring: Brian Matthews, Leah Ayers, Jason Alexander
Horror
A former summer camp caretaker, horribly burned from a prank gone wrong, lurks around an upstate New York summer camp bent on killing the teenagers responsible for his disfigurement. Notorious slasher horror from the 80s. Strong bloody violence and horror, sex, sexual references, nudity and language.