Morning!
Last day of May and what is the only way to celebrate this fact by taking in a movie or two. Trust me, there are a lot of movies on today. And I mean A LOT! Here are today's selection.
Stay safe, look after yourself and Happy Sunday!
AMAZON PRIME
TRUTH (15)
Starring: Cate Blanchett, Robert Redford, Topher Grace, Dennis Quaid, Elisabeth Moss
Drama, biopic
Newsroom drama detailing the 2004 CBS 60 Minutes report investigating then-President George W. Bush's military service, and the subsequent firestorm of criticism that cost anchor Dan Rather and producer Mary Mapes their careers. Intriguing drama with two strong leads. Strong language.
IF…(15)
Starring: Malcolm McDowell, David Wood, Richard Warwick
Drama
In this allegorical story, a revolution led by pupil Mick Travis takes place at an old established private school in England. Classic British anti-establishment drama. Strong violence, mild language, nudity, sexual content and punishment.
NETFLIX
RONIN (15)
Starring: Robert De Niro, Jean Reno, Natascha McElhone
Action, thriller
A freelancing former U.S. Intelligence Agent tries to track down a mysterious package that is wanted by the Irish and the Russians. Action-packed thriller. Strong violence and language
AMERICAN PIE (15)
Starring: Jason Biggs, Shannon Elizabeth, Alyson Hannigan, Chris Klein
Comedy
Four teenage boys enter a pact to lose their virginity by prom night. Hilarious teen sex comedy. Strong sexuality, crude sexual references, language, nudity.
NOW TV/SKY CINEMA
BATMAN BEGINS (12)
Starring: Christian Bale, Michael Caine, Liam Neeson, Morgan Freeman, Gary Oldman
Action, adventure, fantasy
After training with his mentor, Batman begins his fight to free crime-ridden Gotham City from corruption. Christopher Nolan's first instalment of his Dark Knight trilogy. Moderate horror and violence.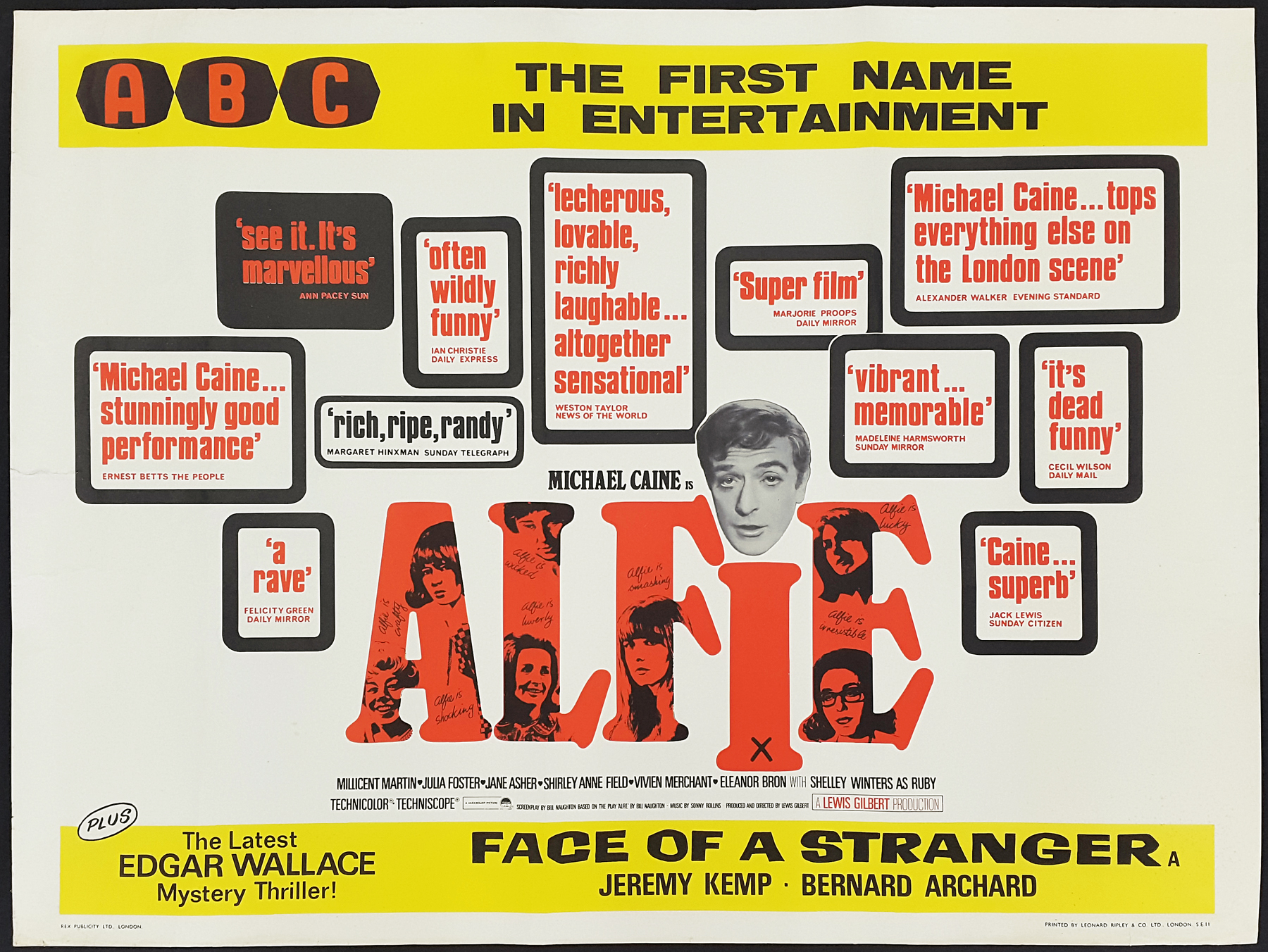 ALFIE (15)
Starring: Michael Caine, Shelley Winters, Millicent Martin, Julia Foster, Jane Asher, Shirley Anne Field
Comedy, drama
An unrepentant ladies' man gradually begins to understand the consequences of his lifestyle. The film that made Michael Caine a star. Strong sexual references, very mild language and conversations about abortion.
DISNEY+
STAR WARS: THE LAST JEDI (12)
Starring: Mark Hamill, Carrie Fisher, Adam Driver, Daisy Ridley, John Boyega, Oscar Isaac
Science Fiction, Adventure, Action
Rey develops her newly discovered abilities with the guidance of Luke Skywalker, who is unsettled by the strength of her powers. Meanwhile, the Resistance prepares for battle with the First Order. The saga continues with this divisive entry. Moderate violence.
D2: THE MIGHTY DUCKS (U)
Starring: Emilio Estevez, Kathryn Erbe
Comedy, drama, sports
Can Gordon's team win the Junior Goodwill Games in California in spite of all the set-backs? More from the ice hockey team in this Disney sequel. Mild language and rough hockey action.
MOVIES ON TERRESTRIAL TV
CRACK IN THE WORLD (U)
11am Film4
Action, drama, sci-fi
Starring: Dana Andrews, Janette Scott
A dying scientist pushes forward his project to tap through to the Earth's magma layer, with results that threaten to destroy the Earth as we know it. Disaster movie from the 1960s. Mild violence.
STEPMOM (12)
11.10am Sony Movies
Starring: Julia Roberts, Susan Sarandon, Ed Harris
Comedy, drama
A terminally-ill woman must deal with her ex-husband's new lover, who will be their children's stepmother. Tear-jerking comedy-drama. Infrequent strong language, moderate sex references, drug misuse. May be edited for content.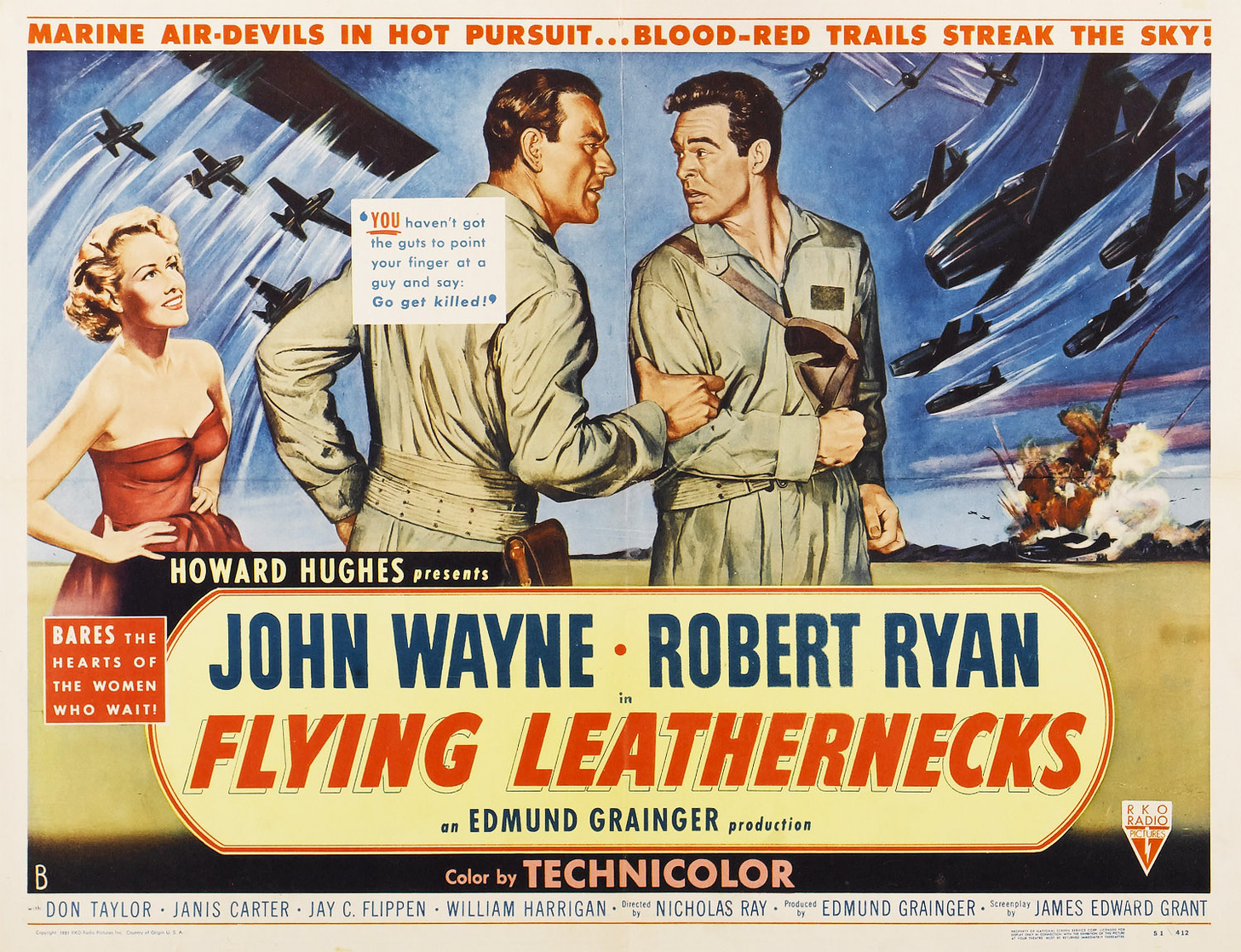 FLYING LEATHERNECKS (PG)
12.35pm Sony Movies Action
Starring: John Wayne, Robert Ryan
War, action, drama
Major Kirby leads The Wildcats squadron into the historic WWII battle of Guadalcanal. Tough John Wayne war movie. Violence.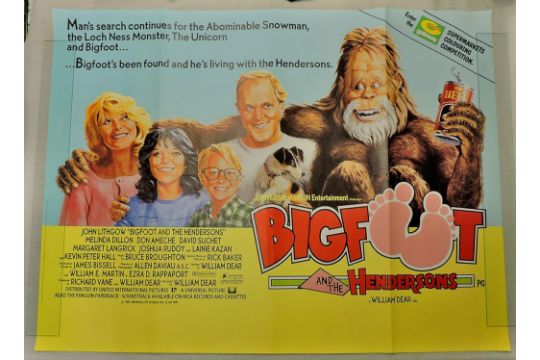 HARRY AND THE HENDERSONS (PG)
12.55pm Film4
Starring: John Lithgow, Melinda Dillon
Fantasy, comedy, family
The Henderson family adopt a friendly Sasquatch but have a hard time trying to keep the legend of 'Bigfoot' a secret. Delightful 80s family comedy. Mild language, horror and comic violence.
CAESAR AND CLEOPATRA (U)
1pm Talking Pictures TV
Starring: Vivien Leigh, Claude Rains, Stewart Granger
Drama
At the height of the Roman Civil War, a young Cleopatra (Vivien Leigh) meets a middle-aged Julius Caesar (Claude Rains), who teaches her how to rule Egypt. 40s epic historical drama.
THE MOUSE THAT ROARED (U)
1.05pm Sony Movies Classic
Starring: Peter Sellers, Jean Seberg, David Kossoff
An impoverished backward nation declares a war on the United States of America, hoping to lose, but things don't go according to plan. Classic British comedy.
THE BOOK OF LIFE (U)
1.25pm Film4
Starring: Diego Luna, Zoe Saldana, Channing Tatum
Animation, Adventure, Comedy
Manolo, a young man who is torn between fulfilling the expectations of his family and following his heart, embarks on an adventure that spans three fantastic worlds where he must face his greatest fears. Bright and colourful animation similar to Coco. Mild fantasy violence, brief scary scenes.
LITTLE WOMEN (U)
1.45pm Sony Movies
Starring: Winona Ryder, Gabriel Byrne, Susan Sarandon
Drama, romance
The March sisters live and grow in post-Civil War America. All-star cast in this 90s adaptation of the classic story.
OKLAHOMA! (U)
2.05pm BBC2
Starring: Gordon Macrae, Gloria Grahame, Gene Nelson, Charlotte Greenwood, Shirley Jones, Eddie Albert, Rod Steiger
Musical, drama
In Oklahoma, several farmers, cowboys and a travelling salesman compete for the romantic favours of various local ladies. Glorious Rogers and Hammerstein musical.
RIO 2 (U)
3.05pm Film4
Starring:  Anne Hathaway, Jesse Eisenberg, Bruno Mars
Animation, Adventure, Comedy
It's a jungle out there for Blu, Jewel and their three kids after they're hurtled from Rio de Janeiro to the wilds of the Amazon. As Blu tries to fit in, he goes beak-to-beak with the vengeful Nigel, and meets his father-in-law. Bright and breezy sequel. Mild comic threat, slapstick.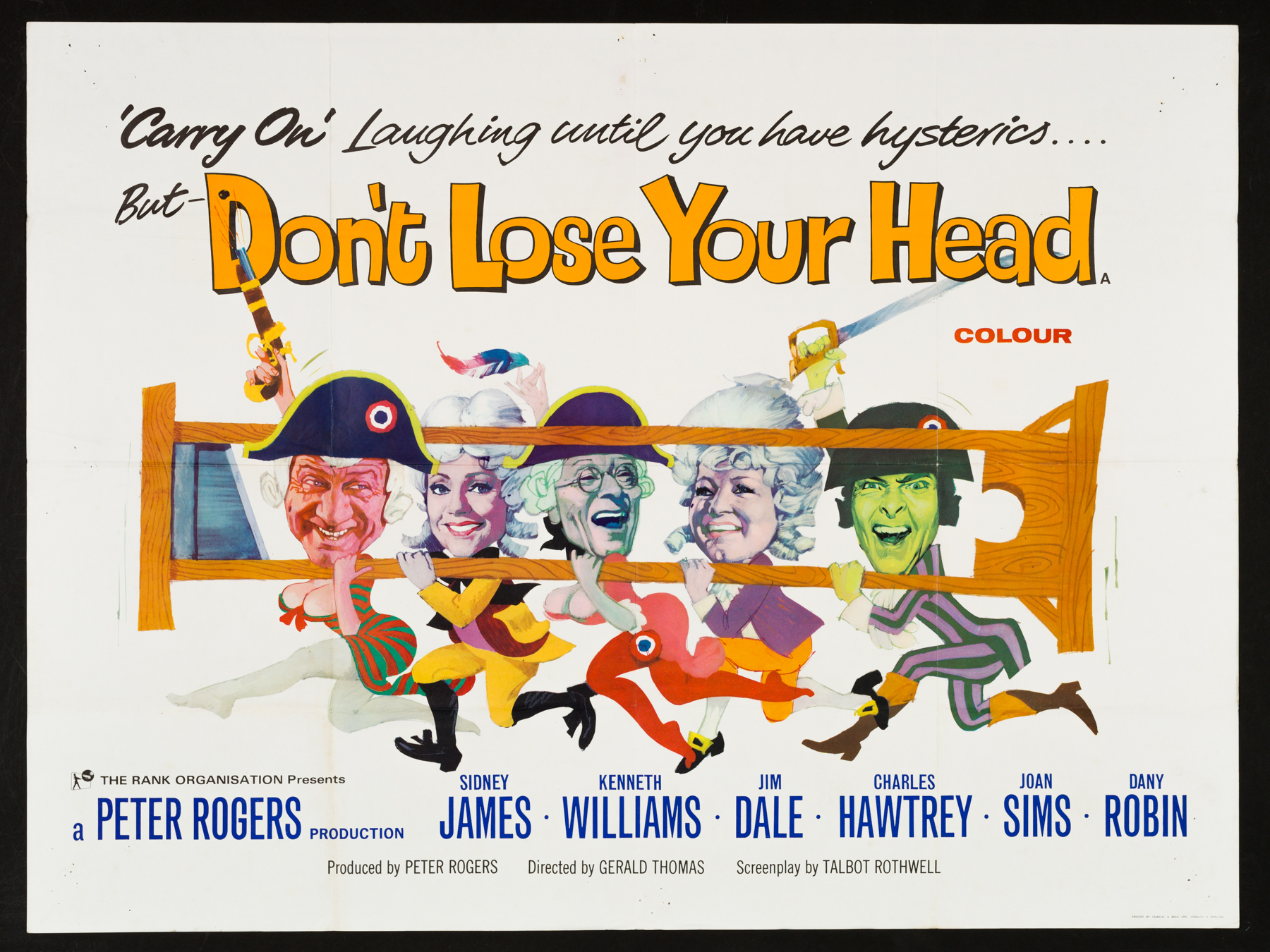 CARRY ON DON'T LOSE YOUR HEAD (PG)
3.15pm ITV3
Starring: Sidney James, Kenneth Williams, Jim Dale
Comedy
The time of the French revolution and Citizen Robespierre is beheading the French aristocracy. When word gets to England, two noblemen, Sir Rodney Ffing and Lord Darcy take it upon themselves to aid their French counterparts. One of the underrated Carry On comedies. Innuendo and comic slapstick.
AN IDEAL HUSBAND (U)
3.30pm Talking Pictures TV
Starring: Paulette Goddard, Michael Wilding, Diana Wynyard
Comedy, drama, romance
A prominent politician is preparing to expose a financial scandal. But then a woman who has invested heavily in the shady venture threatens to uncover a damaging secret in the politician's past if he exposes the speculation as a fraud. Delightful Oscar Wilde adaptation.
THE LOST WORLD: JURASSIC PARK (PG)
3.45pm ITV1
Starring: Jeff Goldblum, Julianne Moore, Pete Postlethwaite
Action, Adventure, Sci-Fi
A research team is sent to the Jurassic Park Site B island to study the dinosaurs there, while an InGen team approaches with another agenda. Reasonable sequel to the huge blockbuster. Moderate violence and threat.
DEAD POETS SOCIETY (PG)
12.40pm Sony Movies
Starring: Robin Williams, Robert Sean Leonard
Drama
English teacher John Keating inspires his students to look at poetry with a different perspective of authentic knowledge and feelings. Wonderful drama with a first-rate cast. Language, mild violence and sexual reference.
TOBRUK (12)
4.20pm ITV4
Starring:  Rock Hudson, George Peppard
War, Drama, Action
A Canadian POW major is rescued by a special British military unit made up of Germans to help lead an attack on a major Nazi fuel depot in Tobruk, Libya. Boy's own war adventure. Moderate violence.
SHREK 2 (U)
5pm ITV2
Starring: Mike Myers, Eddie Murphy, Cameron Diaz, Julie Andrews, Antonio Banderas, John Cleese, Rupert Everett
Comedy, Animation, Fantasy
Shrek and Fiona travel to the Kingdom of Far Far Away, where Fiona's parents are King and Queen, to celebrate their marriage. When they arrive, they find they are not as welcome as they thought they would be. More animated fun with everyone's favourite ogre. Very mild language, rude humour and comic fight scenes.
DUNKIRK (PG)
5pm BBC2
Starring: John Mills, Richard Attenborough
War, action, drama
A dramatization of the British Expeditionary Force's 1940 retreat to the beaches of France and the extraordinary seaborne evacuation that saved it from utter destruction by Nazi Germany. A classic British war adventure. Mild language and violence. Black and white.
THE 'BURBS (12)
6.30pm Horror Channel
Starring: Tom Hanks, Carrie Fisher
Comedy, drama, mystery
An overstressed suburbanite and his neighbours are convinced that the new family on the block are part of a murderous Satanic cult. Forgotten gem from the director of Gremlins. Moderate violence and language.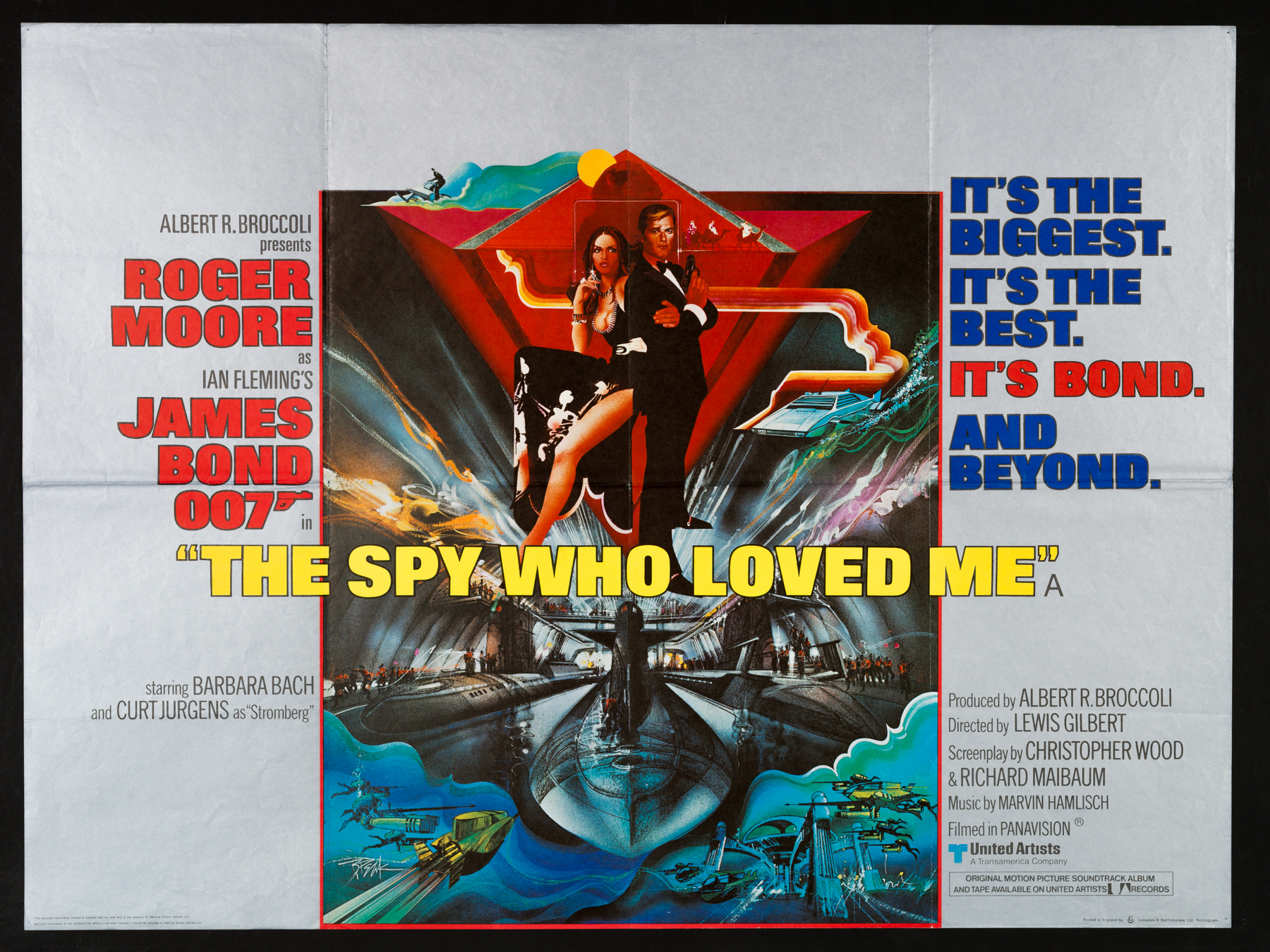 THE SPY WHO LOVED ME (PG)
6.35pm ITV4
Starring: Roger Moore, Barbara Bach, Curt Jurgens, Richard Kiel
Action, adventure, thriller
James Bond investigates the hijacking of British and Russian submarines carrying nuclear warheads, with the help of a K.G.B. Agent, whose lover he killed. Spectacular Bond adventure. Moderate violence, sexual content and innuendo.
WHAT'S EATING GILBERT GRAPE (12)
6.40pm Sony Movies
Starring: Johnny Depp, Juliette Lewis, Leonardo DiCaprio, Mary Steenburgen
Drama
A young man in a small Midwestern town struggles to care for his mentally-disabled younger brother and morbidly obese mother while attempting to pursue his own happiness. A moving tale of small-town America. Mild language, violence and sexual content.
SHE WORE A YELLOW RIBBON (PG)
6.55pm Sony Movies Action
Starring: John Wayne, Joanne Dru, John Agar
Western
Captain Nathan Brittles, on the eve of retirement, takes out a last patrol to stop an impending massive Indian attack. Encumbered by women who must be evacuated, Brittles finds his mission imperilled. Classic cavalry western from John Ford. Violence.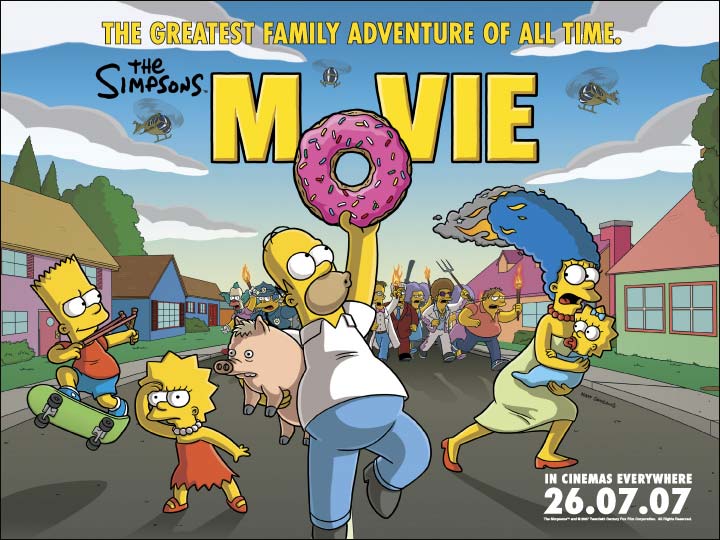 THE SIMPSON MOVIE (PG)
7.15pm Film4
Starring: Dan Castellaneta, Julie Kavner, Nancy Cartwright
Animation, comedy, adventure
After Homer deliberately pollutes the town's water supply, Springfield is encased in a gigantic dome by the EPA and the family are declared fugitives. Big screen outing for the famous cartoon family. Mild language, innuendo and comic violence.
FANTASTIC BEASTS AND WHERE TO FIND THEM (12)
7.30pm ITV1
Starring: Eddie Redmayne, Ezra Miller, Colin Farrell, Jon Voight
Fantasy, Drama
The adventures of writer Newt Scamander in New York's secret community of witches and wizards seventy years before Harry Potter reads his book in school. Entertaining J.K. Rowling's Harry Potter prequel.  Moderate threat.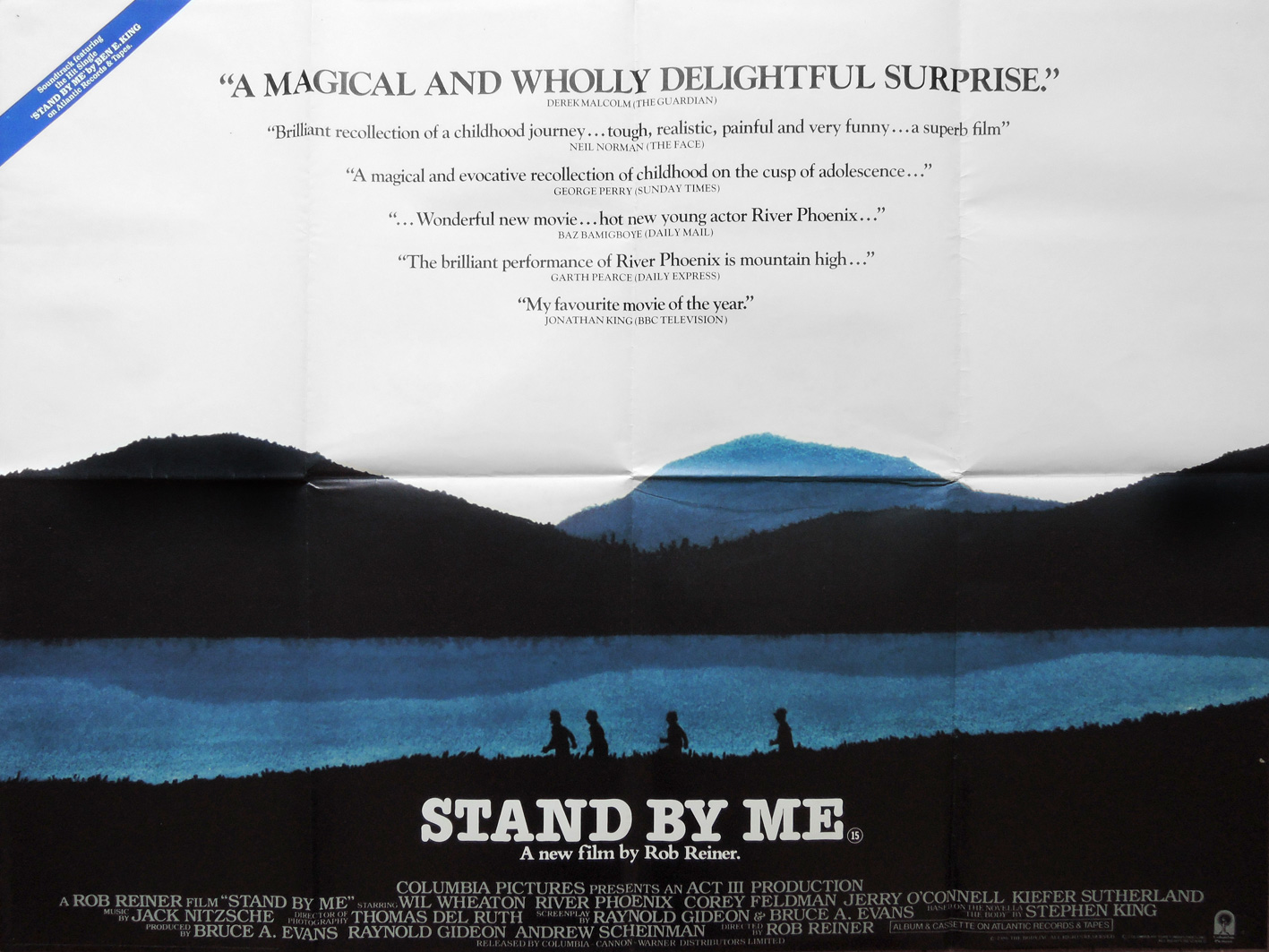 STAND BY ME (15)
9pm Sony Movies
Starring: Wil Wheaton, River Phoenix, Corey Feldman, Jerry O'Connell, Kiefer Sutherland
Adventure, drama, comedy
After the death of one of his friends, a writer recounts a boyhood journey with his friends to find the body of a missing boy. Truly wonderful coming-of-age drama from a short story by Stephen King. Language, violence and sexual references.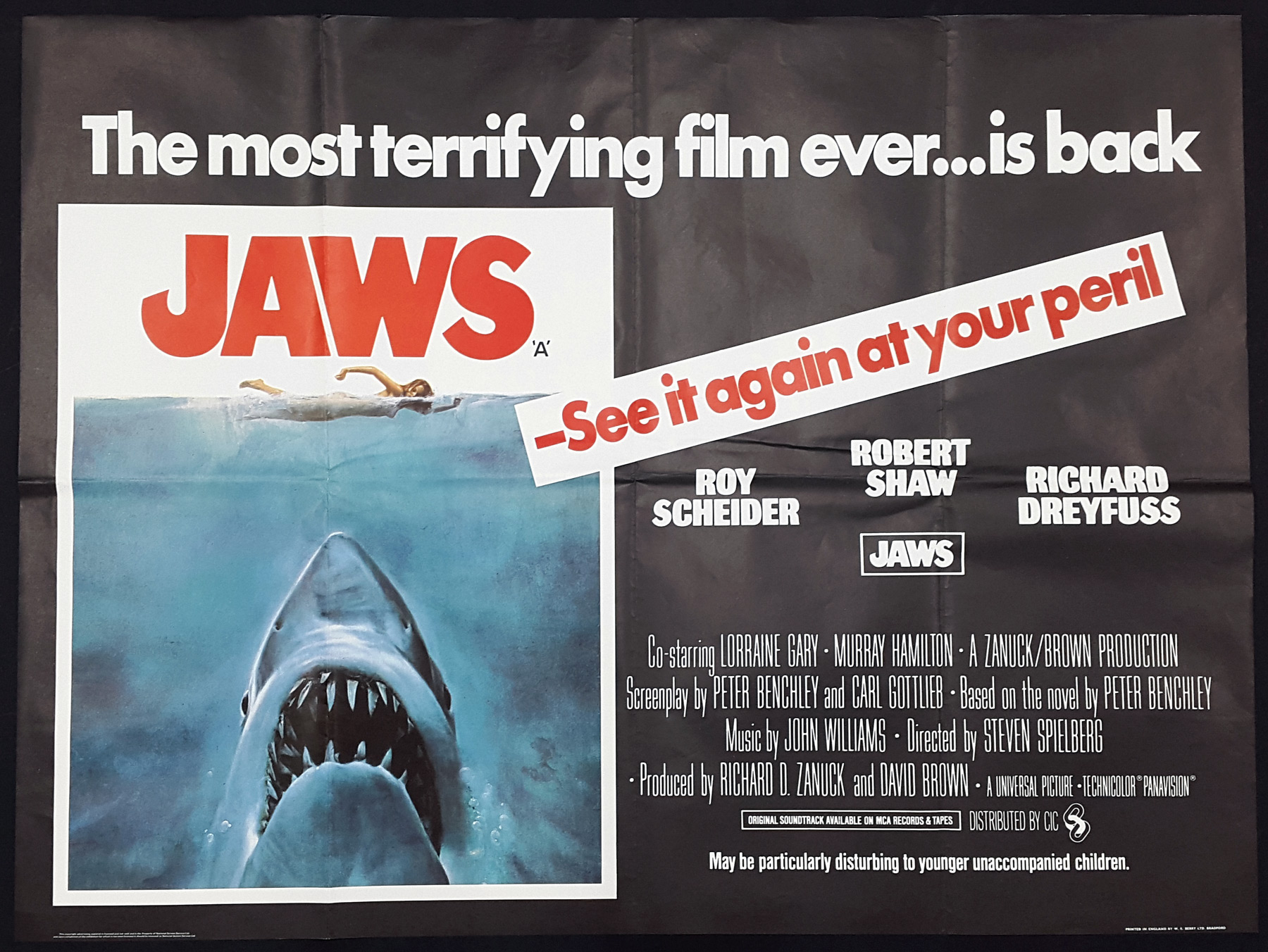 JAWS (12)
9pm ITV4
Starring: Roy Scheider, Robert Shaw, Richard Dreyfuss
Adventure, thriller, horror
When a killer shark unleashes chaos on a beach community, it's up to a local sheriff, a marine biologist, and an old seafarer to hunt the beast down. The ultimate blockbuster that still shocks and amazes. Moderate threat and occasional gory moments.
WATERLOO (U)
9pm Sony Movies Classic
Starring: Rod Steiger, Christopher Plummer, Orson Welles
Action, biopic, war, drama
Facing the decline of everything he has worked to obtain, conqueror Napoleon Bonaparte and his army confront the British at the Battle of Waterloo. Impressive epic war drama. Mild violence.
VACANCY (15)
9pm Horror Channel
Starring: Kate Beckinsale, Luke Wilson
Horror, thriller
A married couple becomes stranded at an isolated motel and finds hidden video cameras in their room. They soon realize that unless they escape, they'll be the next victims of a snuff film. Creepy horror with two strong leads. Sustained terrorisation, language and strong violence.
THE MAN WHO HAUNTED HIMSELF (PG)
10pm Talking Pictures TV
Starring: Roger Moore, Hildegard Neil
Thriller
Harold Pelham encounters a duplicate of himself in the aftermath of a car crash. After that moment, his life is upset. Underrated thriller with a terrific performance from Roger Moore. Mild language, sex references and violence.
DIE ANOTHER DAY (12)
10.20pm ITV1
Starring: Pierce Brosnan, Halle Berry, Toby Stephens, Rosamund Pike
Action, Adventure, Thriller
James Bond is sent to investigate the connection between a North Korean terrorist and a diamond mogul, who is funding the development of an international space weapon. Pierce Brosnan's final outing as 007. Violence, sexual content and innuendo.
BILLY ELLIOT (15)
10.30pm BBC1
Starring: Jamie Bell, Julie Walters, Gary Lewis, Jamie Draven
Drama, Music
A talented young boy becomes torn between his unexpected love of dance and the disintegration of his family. Crowd-pleasing British drama. Strong language.
HOLLOW MAN (18)
10.40pm Horror Channel
Starring: Elisabeth Shue, Kevin Bacon, Josh Brolin
Action, Horror, Sci-Fi
When the leader of a team of scientists volunteers to be the test subject for their experiment in human invisibility, he slowly unravels and turns against them, with horrific consequences. Reinvention of The Invisible Man from the director of Basic Instinct. Strong gory violence, language, sex, sexual reference and nudity.
TRANSSIBERIAN (15)
10.50pm Sony Movies
Starring: Woody Harrelson, Emily Mortimer, Kate Mara
Crime, drama, thriller
A Transsiberian train journey from China to Moscow becomes a thrilling chase of deception and murder when an American couple encounters a mysterious pair of fellow travellers. Superbly tense thriller. Violence, torture and language.
SIDE EFFECTS (15)
11.05pm Film4
Starring: Rooney Mara, Channing Tatum, Jude Law, Catherine Zeta-Jones
Crime, drama
A young woman's world unravels when a drug prescribed by her psychiatrist has unexpected side effects. Very tense drama from the director of Contagion. Strong language, sex and violence.
WANTED (18)
11.30pm ITV4
Starring: James McAvoy, Morgan Freeman, Angelina Jolie
Action, Crime, Fantasy
A frustrated office worker learns that he is the son of a professional assassin and that he shares his father's superhuman killing abilities. Blood splattered action thriller. Strong bloody violence and language.
LIFE AT THE TOP (12)
11.50pm Talking Pictures TV
Starring: Laurence Harvey, Jean Simmons, Honor Blackman
Drama
Joe Lampton thought he had really made it by marrying the boss's daughter in his northern mill town. But he finds he is being sidelined at work and his private life manipulated by his father-in-law. Sequel to the British drama, Man At The Top. Moderate language, violence and sex references. Black and white.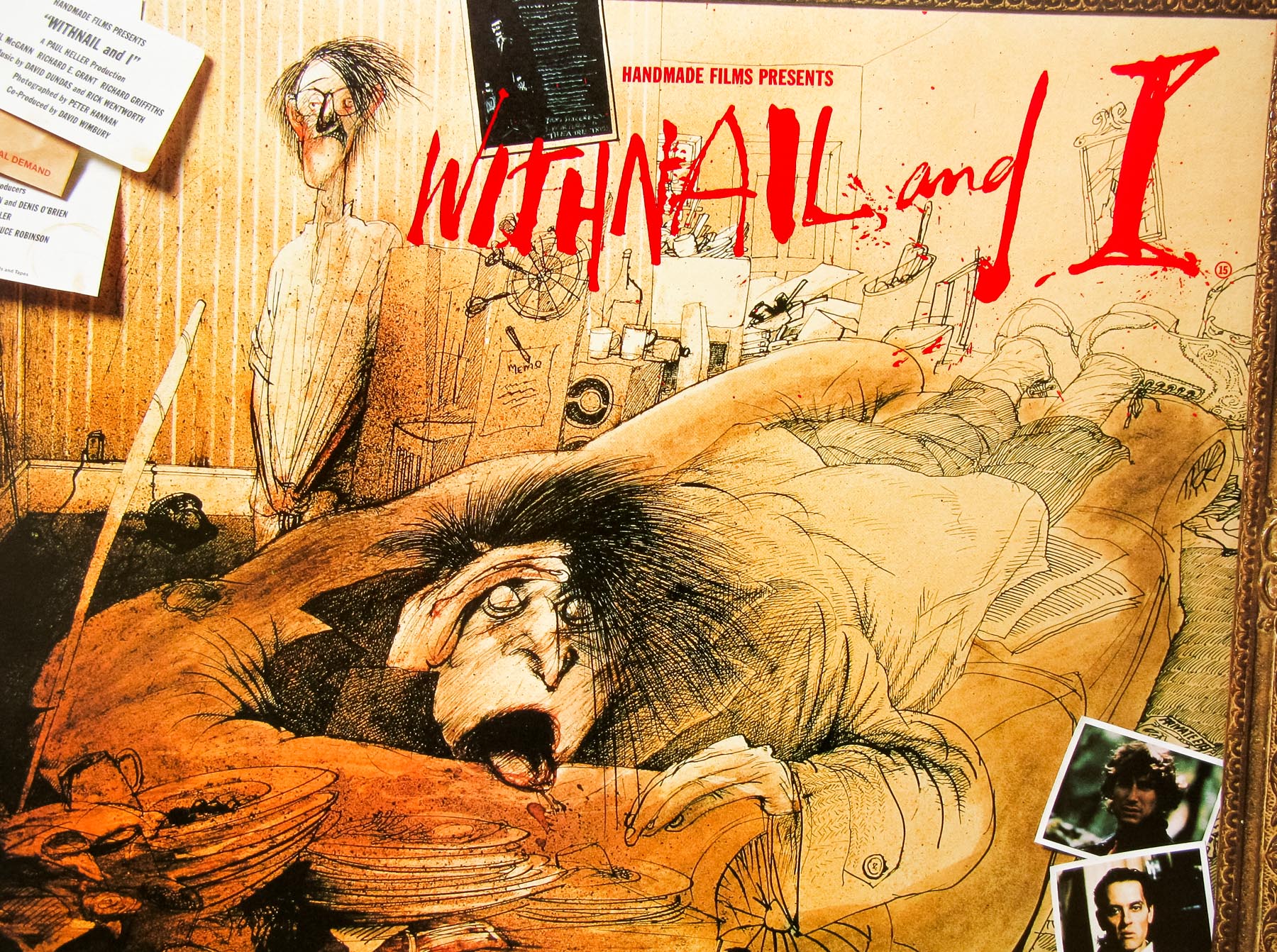 WITHNAIL AND I (15)
12.15am Channel 4
Starring: Paul McGann, Richard E. Grant, Richard Griffiths, Ralph Brown
Comedy, drama
In 1969, two substance-abusing, unemployed actors retreat to the countryside for a holiday that proves disastrous. Brilliant cult favourite. Very strong language, drug use, strong sex references.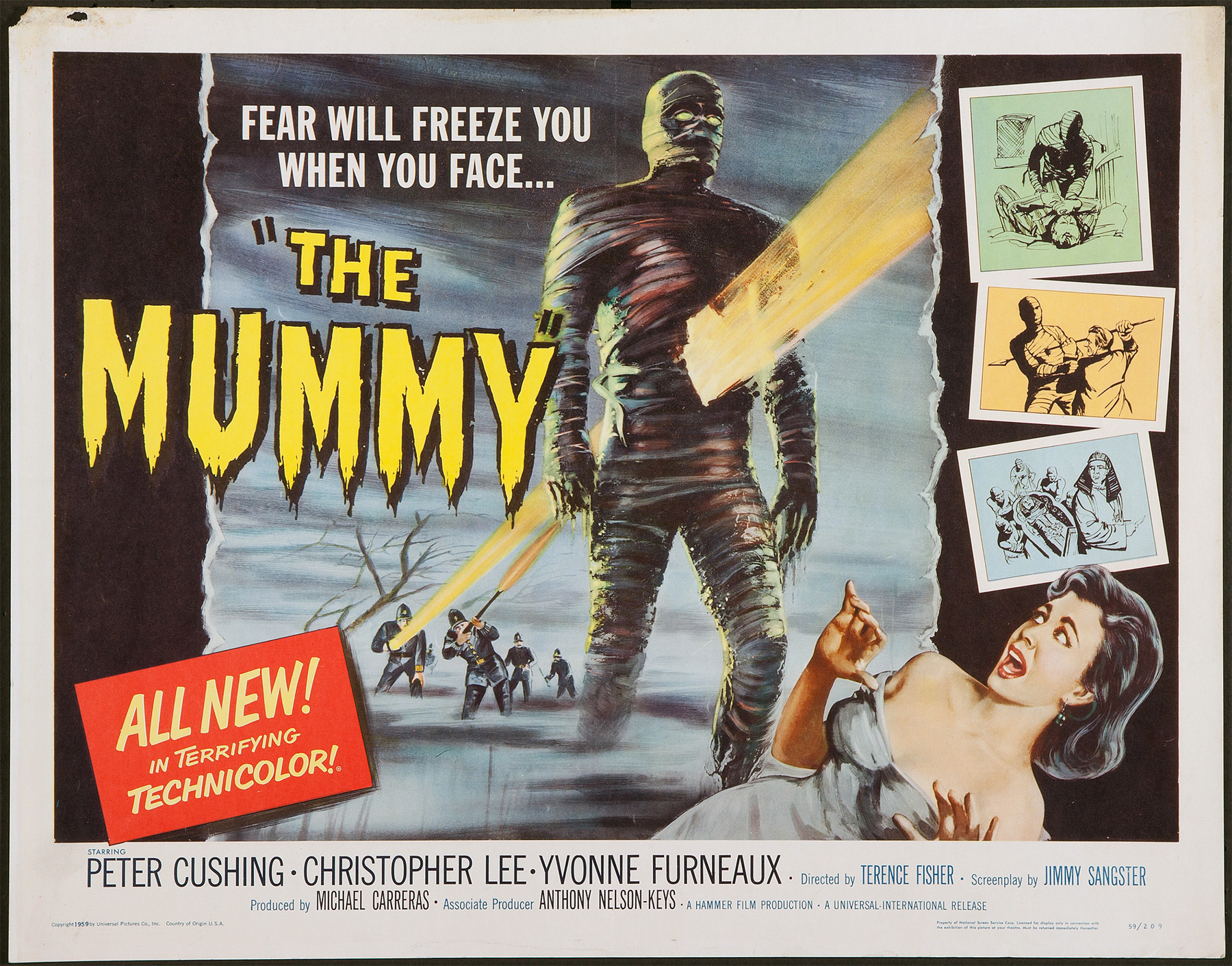 THE MUMMY (PG)
12.50am Horror Channel
Starring: Peter Cushing, Christopher Lee
Horror,adventure
In 1895, British archaeologists find and open the tomb of Egyptian Princess Ananka with nefarious consequences. Classic Hammer horror. Violence and mild peril.