Morning!
Stay safe, look after yourself and Happy Tuesday!
AMAZON PRIME
THE SHINING (15)
Starring: Jack Nicholson, Shelley Duvall, Danny Lloyd, Scatman Crothers
Drama, Horror
A family heads to an isolated hotel for the winter where a sinister presence influences the father into violence, while his psychic son sees horrific forebodings from both past and future. Classic horror from Stanley Kubrick. Strong violence, language.
REVOLUTIONARY ROAD (15)
Starring: Leonardo DiCaprio, Kate Winslet
Drama, Romance
A young couple living in a Connecticut suburb during the mid-1950s struggle to come to terms with their personal problems while trying to raise their two children. DiCaprio and Winslett reteam for this Sam Mendes' drama. Language and some sexual content/nudity.
NETFLIX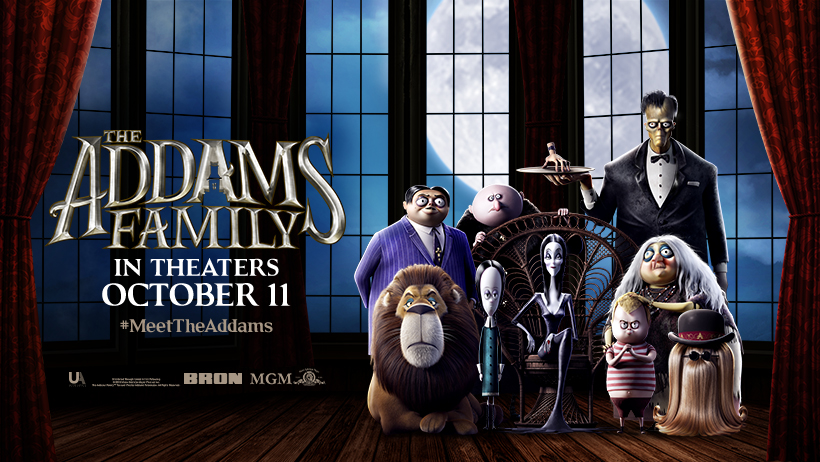 THE ADDAMS FAMILY (PG)
Starring: Oscar Isaac, Charlize Theron, Chloë Grace Moretz
Comedy, Animation, Horror
The eccentrically macabre family moves to a bland suburb where Wednesday Addams' friendship with the daughter of a hostile and conformist local reality show host exacerbates conflict between the families. Animated version of the ghoulish family. Mild comic threat, language.
THE EDGE OF SEVENTEEN (15)
Starring: Hailee Steinfeld, Haley Lu Richardson, Blake Jenner, Kyra Sedgwick, Woody Harrelson
Drama, Comedy
High-school life gets even more unbearable for Nadine when her best friend, Krista, starts dating her older brother. Wonderful teen comedy-drama. Strong language, sex references.
NOW TV/SKY CINEMA
THE ROYAL TENENBAUMS (15)
Starring: Gene Hackman, Anjelica Huston, Ben Stiller, Gwyneth Paltrow, Luke Wilson, Owen Wilson, Danny Glover, Bill Murray
Drama, Comedy
The eccentric members of a dysfunctional family reluctantly gather under the same roof for various reasons.  The bizarre world of Wes Anderson with this all-star comedy. Some language, sexuality/nudity and drug content.
KING RALPH (PG)
Starring: John Goodman, Peter O'Toole, John Hurt
Comedy
As the only relative to take over the Royal throne, a down on his luck American slob must learn the ways of the English. Enjoyably silly comedy with charismatic leads. Mild language and sexual references.
DISNEY+
THE BLACK HOLE (PG)
Starring: Maximilian Schell, Anthony Perkins, Ernest Borgnine
Action, Sci-Fi
A research vessel finds a missing ship, commanded by a mysterious scientist, on the edge of a black hole. Disney's answer to Star Wars is an action-packed journey to space.
BABES IN TOYLAND (U)
Starring: Ray Bolger, Tommy Sands, Annette Funicello
Comedy, Fantasy, Musical
Tom the Piper's Son is about to marry Mary Quite Contrary. On the eve of their wedding, evil miser Barnaby hires two henchmen to drown Tom and steal Mary's sheep, cared for by Little Bo Peep, thus depriving Mary and the children she lives with of their livelihood, forcing her to marry Barnaby. Forgotten magical Disney fairytale. Mild horror.
MOVIES ON TERRESTRIAL TV
STALAG 17 (PG)
12.50pm Film4
Starring: William Holden, Don Taylor, Otto Preminger
War, Drama, Comedy
When two escaping American World War II prisoners are killed, the German P.O.W. camp barracks black marketeer, J.J. Sefton, is suspected of being an informer. Classic prisoner-of-war drama from Billy Wilder. Mild language and violence. Black and white.
WAGON MASTER (PG)
1.10pm Sony Movies Action
Starring: Ben Johnson, Joanne Dru, Robert Barrat
Western, Adventure
Two young drifters guide a Mormon wagon train to the San Juan Valley and encounter cutthroats, Indians, geography, and moral challenges on the journey. A small but perfectly formed John Ford western. Violence. Black and white.
BORN FREE (PG)
2pm Sony Movie Classics
Starring: Virginia McKenna, Bill Travers
Adventure, family
Based on the life of George and Joy Adamson, this classic family adventure has the couple adopting a lioness called Elsa. Beautiful true story for fans of animal films. Some wild animal action and brief language.
CALL ME MADAM (U)
2.40pm BBC2
Starring: Ethel Merman, Donald O'Connor, Vera Ellen
Musical, Comedy, Romance
Washington hostess Sally Adams becomes a Truman-era US ambassador to a European grand duchy. Bright and energetic musical extravaganza.
THE BARGEE (PG)
2.50pm Talking Pictures TV
Starring: Harry H. Corbett, Hugh Griffith, Eric Sykes, Ronnie Barker, Julia Foster
Comedy
Hemel Pike is a canal barge casanova, aided and abetted by his illiterate cousin, Ronnie. Hemel has a girl in every town along his route, and each one is intent on marriage. He is finally caught when one of the girls, Christine, falls pregnant. Bright British comedy from the creators of Steptoe and Son. Mild sex references.
THE BLACK TENT (PG)
3.15pm Film4
Starring: Donald Sinden, Anthony Steel
War, Drama, Romance
In the African desert, a British soldier romances the native chief's daughter and helps the tribe fight off a Nazi attack. Romance among the ruins with this war drama. Mild war violence.
REVOLUTION (12)
3.55pm Sony Movies Classic
Starring: Al Pacino, Natasha Kinski, Donald Sutherland
Drama, War, Adventure
A trapper and his young son get pulled into the American revolution early as unwilling participants and remain involved through to the end. Epic war drama. Moderate language, violence and occasional gore. May be edited for content.
FLY AWAY HOME (U)
4.30pm Sony Movies
Starring: Jeff Daniels, Anna Paquin, Dana Delany
Drama, adventure, family
A father and daughter decide to attempt to lead a flock of orphaned Canada Geese south by air. Beautiful and touching story of the relationship between humans and animals. Mild peril.
G.I. JOE: THE RISE OF COBRA (12)
6.45pm Film4
Starring: Dennis Quaid, Christopher Eccleston, Joseph Gordon-Levitt, Sienna Miller, Jonathan Pryce, Channing Tatum
Science Fiction, Fantasy, Drama, Action
An elite military unit comprised of special operatives known as G.I. Joe, operating out of The Pit, takes on an evil organization led by a notorious arms dealer. Ludicrous yet enjoyable blockbuster nonsense. Moderate violence.
PHILADELPHIA (12)
9pm Sony Movies Classic
Starring: Tom Hanks, Denzel Washington, Jason Robards, Antonio Banderas
Drama
When a man with HIV is fired by his law firm because of his condition, he hires a homophobic small time lawyer as the only willing advocate for a wrongful dismissal suit. Powerful drama with an Oscar-winning performance from Tom Hanks. Moderate sex references and language.
AMERICAN MADE (15)
9pm Film4
Starring: Tom Cruise, Caleb Landry Jones, Domhnall Gleeson
Action, comedy, biopic
The story of Barry Seal, an American pilot who became a drug-runner for the CIA in the 1980s in a clandestine operation that would be exposed as the Iran-Contra Affair. Hugely enjoyable biopic with a charismatic Tom Cruise. Very strong language, sexual content and nudity.
THAT'LL BE THE DAY (15)
10pm Talking Pictures TV
Starring: David Essex, Ringo Starr, Rosemary Leach
Drama, Music
Abandoned by his father at an early age, Jim MacLaine decides not to take the exams that would pave his way to university. He lives, for a time, a life consisting of dead-end jobs and meaningless sex, before he begins to think that the life of a pop musician might be the thing for him. Great, forgotten film with superior performances from David Essex. Moderate sex, mild language and violence.
IRON SKY (15)
10.45pm Horror Channel
Starring: Julia Dietze, Götz Otto, Christopher Kirby
Science Fiction, Comedy, Action
The Nazis set up a secret base on the dark side of the moon in 1945 where they hide out and plan to return to power in 2018. Bonkers cult favourite. Strong language and occasional strong violence.
FRAGMENT OF FEAR (15)
11.50pm Talking Pictures TV
Starring: David Hemmings, Gayle Hunnicutt, Wilfrid Hyde-White
Crime, Drama, Horror
Reformed drug addict Tim Brett (David Hemmings) is vacationing in Italy with his aunt. When she is murdered, he tries to investigate, and soon his whole life is out of control. British chiller from the 70s. Violence, language and sexual content.