Morning!
Another packed day of movie entertainment today. I hope this is helping you through these uncertain times. I am enjoying producing these lists (even though there are far too many repeats). These will keep going until the lockdown is fully over.
Stay safe, look after yourself and Happy Sunday!
AMAZON PRIME
A SERIOUS MAN (15)
Starring: Michael Stuhlbarg, Richard Kind
Comedy, Drama
Larry Gopnik, a Midwestern physics teacher, watches his life unravel over multiple sudden incidents. Though seeking meaning and answers amidst his turmoils, he seems to keep sinking. Low-key comedy-drama from the Coen brothers. Language, some sexuality/nudity and brief violence.
THE WITCHES OF EASTWICK (18)
Starring: Jack Nicholson, Cher, Susan Sarandon, Michelle Pfeiffer
Comedy, Horror, Fantasy
Three single women in a picturesque village have their wishes granted, at a cost, when a mysterious and flamboyant man arrives in their lives. Over-the-top comedy-horror with a cracking cast. Strong sex references, language and infrequent scenes of horror.
NETFLIX
LEGALLY BLONDE(12)
Starring: Reece Witherspoon, Luke Wilson
Comedy
Elle Woods (Reese Witherspoon), a fashionable sorority queen is dumped by her boyfriend. She decides to follow him to law school, while she is there, she figures out that there is more to her than just looks. Likeable comedy helped by a charismatic lead. Mild language and sexual references.
TRAINING DAY (18)
Starring: Denzel Washington, Ethan Hawke
Crime, Drama, Thriller
A rookie cop spends his first day as a Los Angeles narcotics officer with a rogue detective who isn't what he appears to be. Tough cop thriller with an Oscar-winning Denzel Washington. Strong brutal violence, strong language, drug content and brief nudity.
NOW TV/SKY CINEMA
THE DEAD DON'T DIE (15)
Starring: Adam Driver, Tilda Swinton, Chloë Sevigny, Bill Murray, Steve Buscemi, Danny Glover
Comedy, Horror
The peaceful town of Centerville finds itself battling a zombie horde as the dead start rising from their graves. All-star comedy horror from cult director Jim Jarmusch. Gory images, strong violence, language.
HOWARD THE DUCK (12)
Starring: Lea Thompson, Tim Robbins, Jeffrey Jones
Action. adventure, Comedy, Fantasy
A sarcastic humanoid duck is pulled from his homeworld to Earth where he must stop a hellish alien invasion with the help of a nerdy scientist and a cute struggling female rock singer who fancies him. Now legendary bad movie worth watching. Bleeped strong language, moderate sex references and horror.
DISNEY+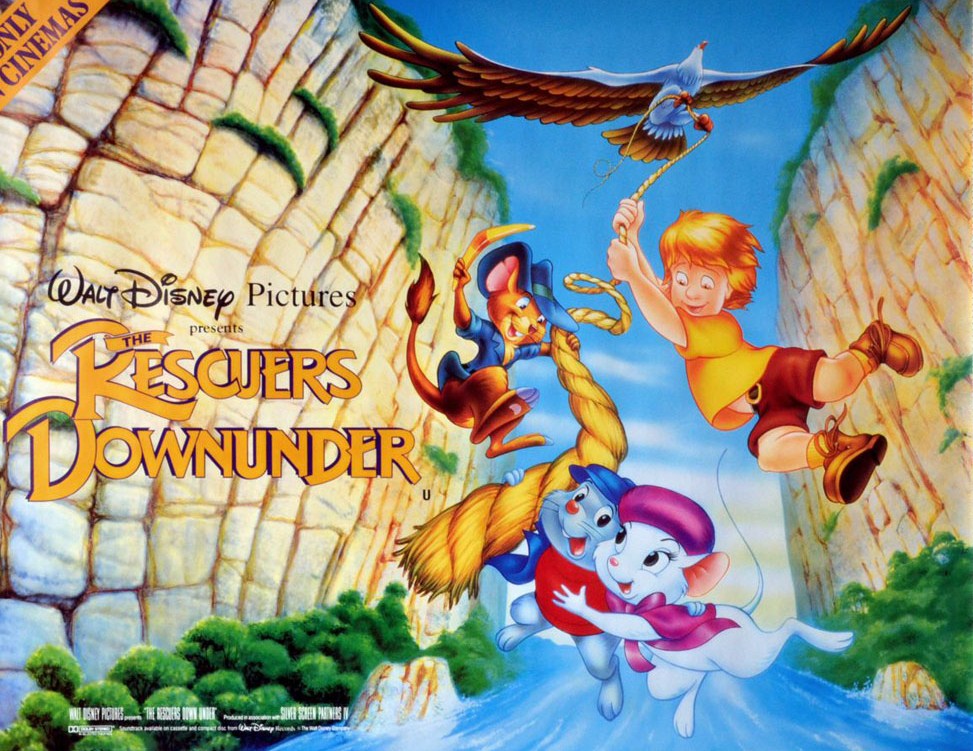 THE RESCUERS DOWN UNDER (U)
Starring: Bob Newhart, Eva Gabor, George C. Scott, John Candy
Animation, Adventure, Comedy
The R.A.S. agents, Miss Bianca and Bernard, race to Australia to save a little boy and a rare golden eagle from a murderous poacher. Sequel to the 1977 Disney animation. Mild threat.
SNOWBALL EXPRESS (U)
Starring: Dean Jones, Nancy Olson, Harry Morgan
Comedy
When John Baxter inherits a ski resort in the Rocky Mountains, he quits his job in New York and moves the family west to run it. Only to find that the place is a wreck. Madcap family comedy from Disney.
MOVIES ON TERRESTRIAL TV
HULK (12)
10.55am E4
Starring: Eric Bana, Jennifer Connelly, Sam Elliott, Josh Lucas, Nick Nolte
Thriller, Science Fiction, Adventure
Bruce Banner, a genetics researcher with a tragic past, suffers an accident that causes him to transform into a raging green monster when he gets angry. Director Ang Lee takes on the Marvel green giant. Moderate violence and scary moments. May be edited for content. 
ROAD TO ZANZIBAR (PG)
11.30am Sony Movies Classic
Starring: Bing Crosby, Bob Hope, Dorothy Lamour
Comedy, Musical, Adventure
Stranded in Africa, Chuck and his pal Fearless have comic versions of jungle adventures, featuring two attractive con-women. Comedy adventure with Hope, Crosby and Lamour. Sexual references. Black and white.
WAGON MASTER (PG)
12.05pm Sony Movies Action
Starring: Ben Johnson, Joanne Dru, Robert Barrat
Western, Adventure
Two young drifters guide a Mormon wagon train to the San Juan Valley and encounter cutthroats, Indians, geography, and moral challenges on the journey. A small but perfectly formed John Ford western. Violence. Black and white.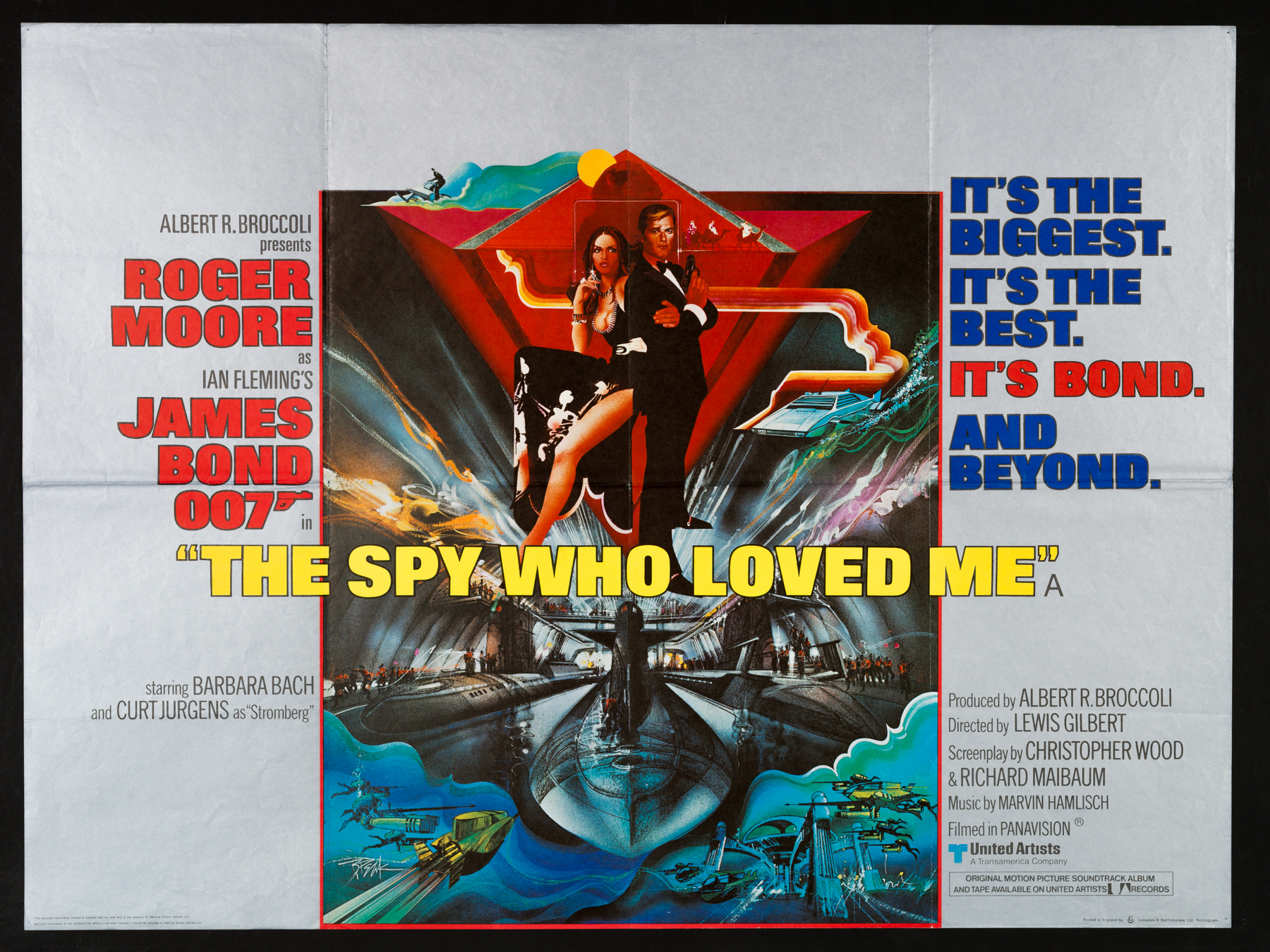 THE SPY WHO LOVED ME (PG)
12.15pm ITV4
Starring: Roger Moore, Barbara Bach, Curt Jurgens, Richard Kiel
Action, adventure, thriller
James Bond investigates the hijacking of British and Russian submarines carrying nuclear warheads, with the help of a K.G.B. Agent, whose lover he killed. Spectacular Bond adventure. Moderate violence, sexual content and innuendo.
ROAD TO MOROCCO (U)
12.20pm Sony Movies Classic
Starring: Bing Crosby, Bob Hope, Dorothy Lamour
Comedy, adventure, musical
Two carefree castaways on a desert shore find an Arabian Nights city, where they compete for the luscious Princess Shalmar. Madcap comedy from the popular Road series. Mild sexual references. Black and white.
RIO 2 (U)
12.55pm Film4
Starring:  Anne Hathaway, Jesse Eisenberg, Bruno Mars
Animation, Adventure, Comedy
It's a jungle out there for Blu, Jewel and their three kids after they're hurtled from Rio de Janeiro to the wilds of the Amazon. As Blu tries to fit in, he goes beak-to-beak with the vengeful Nigel, and meets his father-in-law. Bright and breezy sequel. Mild comic threat, slapstick.
MY GIRL (PG)
2.45pm Sony Movies
Starring: Dan Aykroyd, Jamie Lee Curtis, Macaulay Culkin, Anna Chlumsky
Comedy, Drama
A young girl, on the threshold of her teen years, finds her life turning upside down, when she is accompanied by an unlikely friend. Charming tale of growing up. Mild language, violence, sexual content.
SHREK FOREVER AFTER (U)
2.55pm Film4
Starring: Mike Myers, Eddie Murphy, Cameron Diaz, Antonio Banderas, Julie Andrews, John Cleese
Animation, Adventure, Comedy, Fantasy
Rumpelstiltskin tricks a mid-life crisis burdened Shrek into allowing himself to be erased from existence and cast in a dark alternate timeline where Rumpelstiltskin rules supreme. The final of the Shrek movies. Mild fight scenes.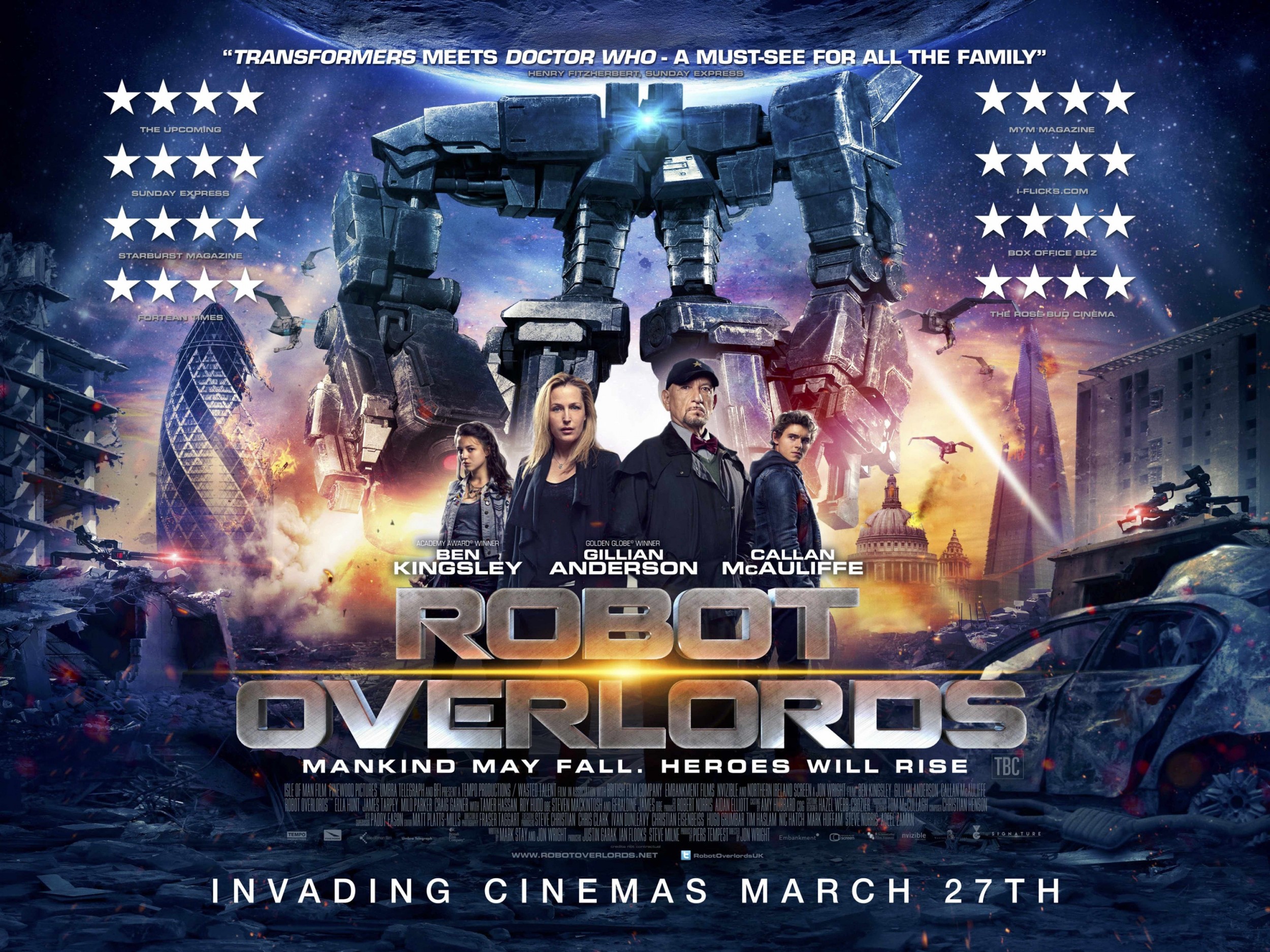 ROBOT OVERLORDS (12)
3pm Horror Channel
Starring: Gillian Anderson, Ben Kingsley, Callan McAuliffe
Action, Adventure, Sci-Fi
Earth has been conquered by robots from a distant galaxy. Survivors are confined to their houses and must wear electronic implants, risking incineration by robot sentries if they venture outside. Entertaining sci-fi adventure. Moderate threat, sex references.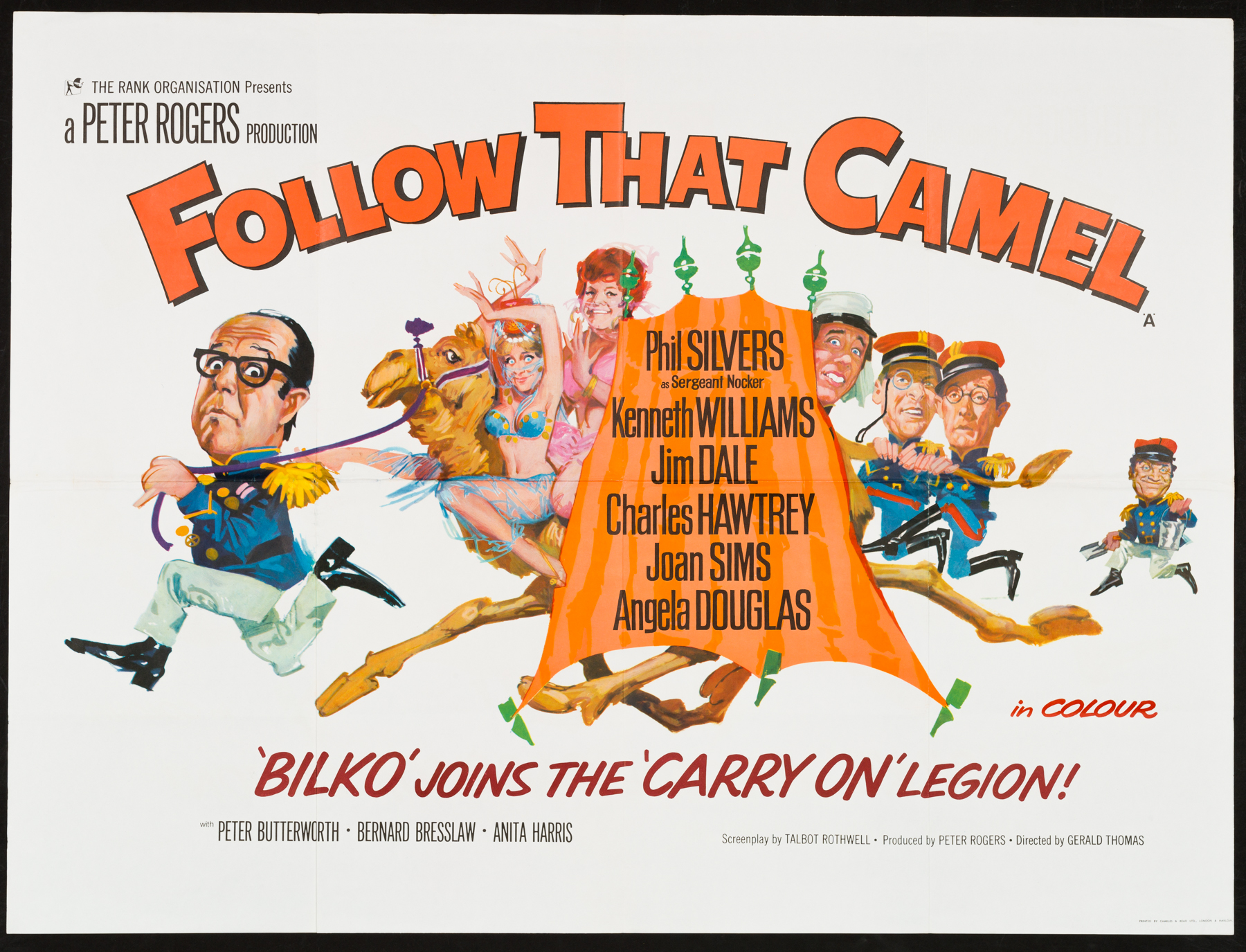 FOLLOW THAT CAMEL (PG)
3.05pm ITV3
Starring: Phil Silvers, Kenneth Williams, Jim Dale, Charles Hawtrey
Comedy
A bogus legionnaire proves his mettle during an Arab attack. Phil Silvers joins the Carry On team with another comedy. Innuendo.
GUYS AND DOLLS (U)
3.50pm BBC2
Starring: Marlon Brando, Jean Simmons, Frank Sinatra, Vivian Blaine
Musical, Comedy
In New York, a gambler is challenged to take a cold female missionary to Havana, but they fall for each other, and the bet has a hidden motive to finance a crap game. Classic, colourful musical. Very mild violence, sex references.
JURASSIC PARK III (PG)
4.30pm ITV1
Starring: Sam Neill, Tea Leoni, William H. Macy
Action, Adventure, Sci-fi
A decidedly odd couple with ulterior motives convince Dr. Grant to go to Isla Sorna for a holiday, but their unexpected landing startles the island's new inhabitants. A less impressive entry to the Jurassic Park franchise. Moderate violence, threat and horror.
DANTE'S PEAK (12)
4.40pm Film4
Starring: Pierce Brosnan, Linda Hamilton
Action, Adventure, Drama
A vulcanologist arrives at a countryside town recently named the second most desirable place to live in America, and discovers that the long-dormant volcano, Dante's Peak, may wake up at any moment. Exciting disaster movie. Violence, mild language, disaster-related peril and gore.
MY GIRL 2 (PG)
4.50pm Sony Movies
Starring: Dan Aykroyd, Jamie Lee Curtis, Anna Chlumsky, Austin O'Brien
Comedy, Drama
Vada Sultenfuss must go to LA to stay with her Uncle Phil to do some research on her mother's life, but finds much more. More charming coming-of-age comedy-drama. Mild language.
THE DAY OF THE JACKAL (15)
6.15pm Sony Movies Classic
Starring: Edward Fox, Michel Lonsdale
Thriller, Drama
A professional assassin codenamed "Jackal" plots to kill Charles de Gaulle, the President of France. Gripping thriller based on the best-selling novel. Strong violence, injury detail.
CHARLIE AND THE CHOCOLATE FACTORY (PG)
6.45pm ITV2
Starring: Johnny Depp, Freddie Highmore, Helena Bonham Carter
Adventure, Comedy, Fantasy
A young boy wins a tour through the most magnificent chocolate factory in the world, led by the world's most unusual candy maker. Tim Burton's colourful reimagination of Roald Dahl's classic story. Mild language and peril.
GROUNDHOG DAY (PG)
6.55pm Sony Movies
Starring: Bill Murray, Andie MacDowell
Comedy, romance
A weatherman finds himself inexplicably living the same day over and over again. Regarded now as a classic, and rightly so. Mild language.
JURASSIC WORLD: FALLEN KINGDOM (12)
7.30pm ITV1
Starring: Chris Pratt, Bryce Dallas Howard, Ted Levine, Rafe Spall, Toby Jones
Science Fiction, Drama, Adventure
When the island's dormant volcano begins roaring to life, Owen and Claire mount a campaign to rescue the remaining dinosaurs from this extinction-level event. A film that starts spectacularly but lessens by the end. Still fun. Moderate threat, occasional bloody moments, action violence.
THE AFRICAN QUEEN (U)
9pm Sony Movie Action
Starring: Humphrey Bogart, Katharine Hepburn
Adventure, drama
In WWI Africa, a gin-swilling riverboat captain is persuaded by a strait-laced missionary to use his boat to attack an enemy warship.. Bogart won an Oscar for his role in this classic adventure. Violence and mild peril.
A FEW GOOD MEN (15)
9pm 5*
Starring: Tom Cruise, Jack Nicholson, Demi Moore, Kevin Bacon, Kiefer Sutherland
Drama, Thriller
Military lawyer Lieutenant Daniel Kaffee defends Marines accused of murder. They contend they were acting under orders. Powerful courtroom drama. Strong language.
STARGATE (PG)
9pm Film4
Starring: Kurt Russell, James Spader, Jaye Davidson
Sci-fi, action, adventure
An interstellar teleportation device, found in Egypt, leads to a planet with humans resembling ancient Egyptians who worship the god Ra. Exciting sci-fi adventure. Mild language and fantasy violence.
LAKE PLACID (15)
9pm Sony Movies
Starring: Bill Pullman, Bridget Fonda, Oliver Platt, Brendan Gleeson
Action, Comedy, Horror
Three people attempt to stop a gigantic crocodile, who is terrorizing residents in Black Lake, Maine. Terrific comedy horror. Strong language and horror.
WATERWORLD (12)
11pm ITV4
Starring: Kevin Costner, Dennis Hopper, Jeanne Tripplehorn
Adventure, Action, Drama, Sci-Fi
In a future where the polar ice-caps have melted and Earth is almost entirely submerged, a mutated mariner fights starvation and outlaw "smokers," and reluctantly helps a woman and a young girl try to find dry land. Mad Max style adventure which flopped on its release but needs re-evaluation. Moderate violence, bloody injury detail, sexual threat.
BREAKER MORANT (PG)
11.10pm Sony Movies Classic
Starring: Edward Woodward, Jack Thompson, John Waters, Bryan Brown
Drama, war
Three Australian lieutenants are court-martialed for executing prisoners as a way of deflecting attention from war crimes committed by their superior officers. Impressively acted Australian drama. Mild violence and sexual references.
JOY (12)
11.15pm Channel 4
Starring: Jennifer Lawrence, Robert De Niro, Bradley Cooper
Biopic, Drama
Joy is the story of the title character, who rose to become founder and matriarch of a powerful family business dynasty. An interesting drama of how to start a business. Infrequent strong language.
RAIN MAN (15)
11.50pm 5*
Starring: Dustin Hoffman, Tom Cruise
Drama
Tom Cruise stars as a selfish yuppie who is left nothing in his father's will but his autistic brother has a fortune. The pair go on a road trip to build on their relationship. Dustin Hoffman won an Oscar for his performance. Language and sexual content.
BEFORE WINTER COMES (PG)
12midnight Talking Pictures TV
Starring: David Niven, Topol, Anna Karina, John Hurt
War, Comedy, Drama
After World War II, in an Austrian camp for displaced people, an interpreter mediates between the British and the Soviets regarding the fate of various refugees. Fun war comedy. Mild violence and sexual references.
QUADROPHENIA (18)
1.35am Film4
Starring: Phil Daniels, Leslie Ash, Philip Davis, Mark Wingett, Sting, Ray Winstone
Music, Drama, Crime
Jimmy loathes his job and parents. He seeks solace with his mod clique, scooter riding and drugs, only to be disappointed. Based on the Who album, a tough, classic British film. Strong language, violence, drug use and sexual scenes.