Morning!
We wake up today with horrible news coming from Reading. Thoughts go out to those involved.
Let's try and take our minds off the horrific and watch a movie on TV as there are loads to choose from today.
Stay safe, look after yourself and Happy Sunday!
AMAZON PRIME
HACKSAW RIDGE (15)
Starring: Andrew Garfield, Vince Vaughn, Sam Worthington
War, Drama, Biopic
World War II American Army Medic, who served during the Battle of Okinawa, refuses to kill people and becomes the first man in American history to receive the Medal of Honor without firing a shot. Gritty war drama directed by Mel Gibson. Strong bloody violence, gory injury detail, language.
NECESSARY ROUGHNESS (15)
Starring: Scott Bakula, Hector Elizondo
Comedy, Sports
Due to NCAA sanctions, the Texas State University Fightin' Armadillos must form a football team from their actual student body, with no scholarships to help, to play their football schedule. American Football comedy. Violence, language and sexual content.
NETFLIX
FOXY BROWN (18)
Starring:  Pam Grier, Antonio Fargas, Peter Brown
Action, Crime, Thriller
A voluptuous black vigilante takes a job as a high-class prostitute in order to get revenge on the mobsters who murdered her boyfriend. Action-packed blaxploitation thriller with Pam (Jackie Brown) Grier. Contains strong violence, language and sex.
THE LITTLE GIRL WHO LIVES DOWN THE LANE (15)
Starring: Jodie Foster, Martin Sheen
Horror, Drama, Mystery
13-year-old Rynn Jacobs lives alone in a high-class Quebec small town, but unknown to the neighbours, she is leading a secret and dangerous life. Rarely seen disturbing horror from the 70s. Violence, language, brief nudity, moderate threat to a child and paedophilia references.
NOW TV/SKY CINEMA
SPARTACUS (PG)
Starring: Kirk Douglas, Laurence Olivier, Jean Simmons, Peter Ustinov, Charles Laughton, Tony Curtis
Drama, Action, Adventure
The slave Spartacus leads a violent revolt against the decadent Roman Republic. Epic adventure from director Stanley Kubrick. Moderate violence and sexual references.
DAYS OF THUNDER (12)
Starring: Tom Cruise, Robert Duvall, Nicole Kidman
Drama, Sports, Action
A young hot-shot stock car driver gets his chance to compete at the top level. Flashy blockbuster from director Tony Scott. Strong language, intense car crashes and moderate sex references.
DISNEY+
HONEY, I BLEW UP THE KID (U)
Starring: Rick Moranis, Marcia Strassman
Comedy, Fantasy
The Szalinski family is back, this time hilarious disaster strikes when an experiment causes their new toddler son to grow many stories tall. Fun sequel to Honey, I Shrink The Kid.
MCFARLAND, USA (PG)
Starring: Kevin Costner, Ramiro Rodriguez
Biopic, Drama, Sports
Jim White moves his family after losing his last job as a football coach. He sees that some of the students are worth starting a cross-country team and turns seven students with no hope into one of the best cross-country teams. Life-affirming sports drama. Mild bad language, brief injury detail.
MOVIES ON TERRESTRIAL TV
BACK TO THE FUTURE (PG)
11am Film4
Starring: Michael J. Fox, Crispin Glover, Christopher Lloyd, Lea Thompson
Science Fiction, Adventure, Comedy
Marty McFly, a 17-year-old high school student, is accidentally sent thirty years into the past in a time-travelling DeLorean invented by his close friend, the eccentric scientist Doc Brown. Now classic 80s time-travelling comedy. mild language, sexual reference and violence.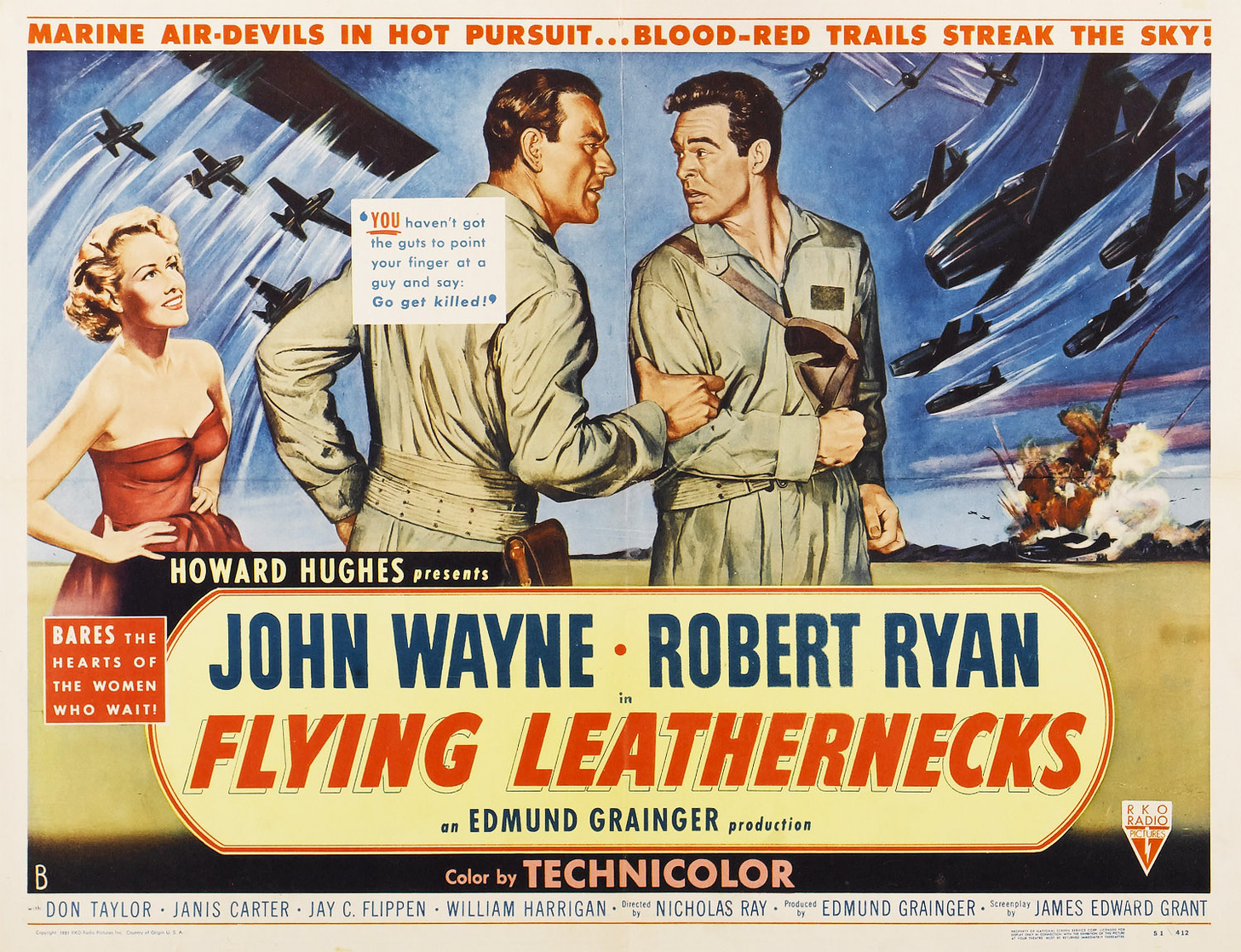 FLYING LEATHERNECKS (PG)
12noon Sony Movies Action
Starring: John Wayne, Robert Ryan
War, action, drama
Major Kirby leads The Wildcats squadron into the historic WWII battle of Guadalcanal. Tough John Wayne war movie. Violence.
ROAD TO RIO (U)
12.35pm Sony Movies Classic
Starring: Bob Hope, Bing Crosby, Dorothy Lamour
Comedy, musical, adventure
Two inept vaudevillians stow away on a Brazilian-bound ocean liner and foil a plot by a sinister hypnotist to marry off her niece to a greedy fortune hunter. More laughs from the Road team. Comic violence. Black and white.
THE DEVIL WEARS PRADA (PG)
12.35pm Sony Movies
Starring: Meryl Streep, Anne Hathaway, Stanley Tucci, Emily Blunt
Comedy, drama
A smart but sensible new graduate lands a job as an assistant to Miranda Priestly, the demanding editor-in-chief of a high fashion magazine. Fabulous comedy-drama with another Oscar-nominated performance from Meryl Streep. Mild language.
A KNIGHT'S TALE (PG)
1.15pm Channel 5
Starring: Heath Ledger, Mark Addy, Rufus Sewell, Paul Bettany
Action, Adventure, Romance, Comedy
After his master dies, a peasant squire, fueled by his desire for food and glory, creates a new identity for himself as a knight. Fun reimagination of the classic knight story with a modern soundtrack. mild violence, language, sex references and horror.
THE LONGEST RIDE (15)
1.20pm Film4
Starring: Scott Eastwood, Britt Robertson, Alan Alda
Romance, Drama
The lives of a young couple intertwine with a much older man, as he reflects back on a past love. Typical Nicholas Sparks adaptation of his rugged romance. Some sexuality, partial nudity, and some war and sports action. May be edited for content.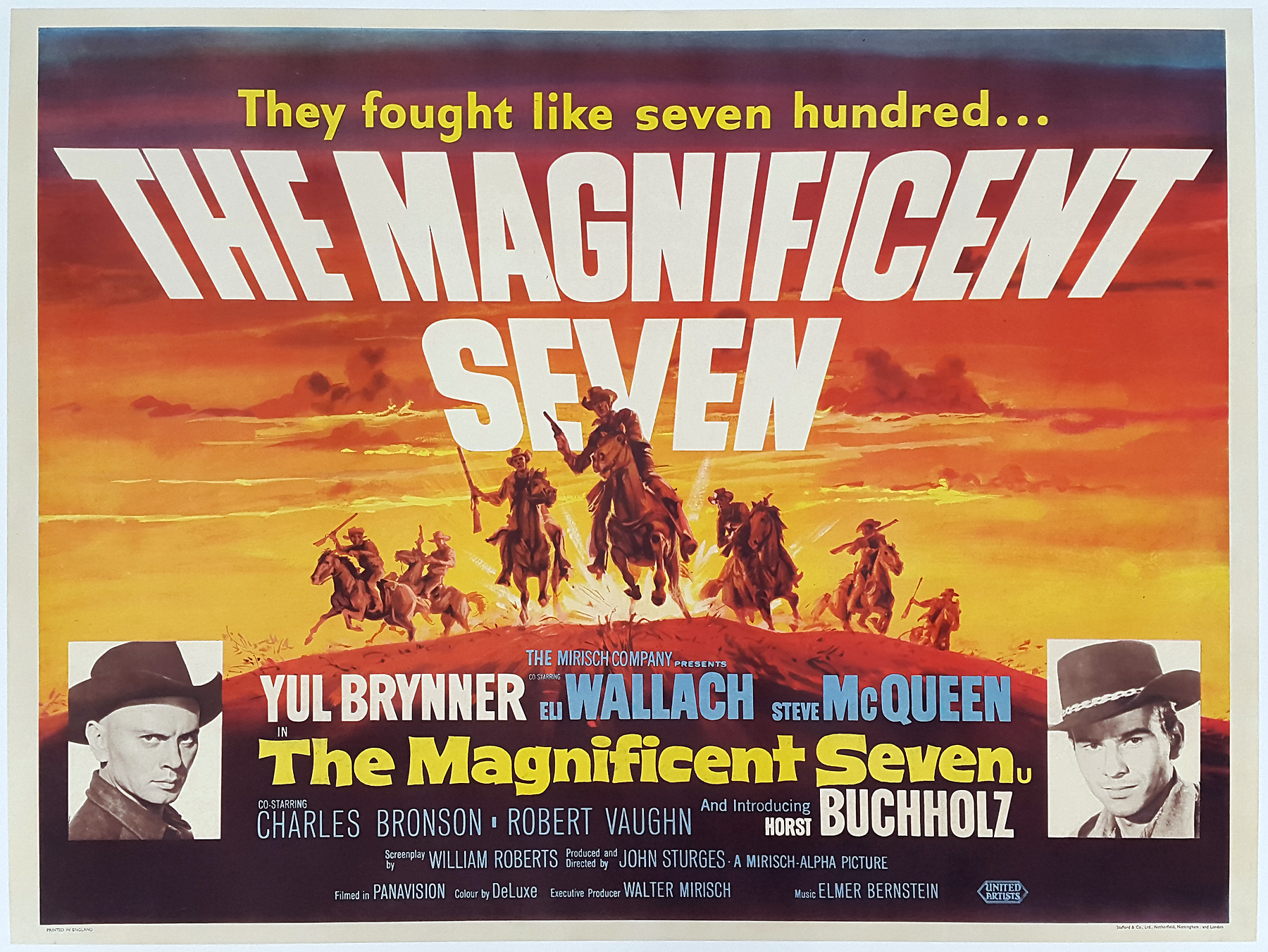 THE MAGNIFICENT SEVEN (PG)
2pm BBC2
Starring: Yul Brynner, Steve McQueen, Robert Vaughn, James Coburn, Charles Bronson, Horst Buchholz, Eli Wallach, Brad Dexter
Western, Adventure, Action
Seven gunfighters are hired by Mexican peasants to liberate their village from oppressive bandits. One of the most famous and best westerns around. Mild violence.
GENEVIEVE (U)
2.20pm Talking Pictures TV
Starring: Dinah Sheridan, John Gregson, Kay Kendall, Kenneth More
Comedy
It's time for the annual London to Brighton antique car rally, and Alan McKim and Ambrose Claverhouse are not going to let their friendship stop them from trying to humiliate each other. Delightfully old-fashioned British comedy.
THE WACKIEST SHIP IN THE ARMY (U)
2.40pm Sony Movies Classic
Starring: Jack Lemmon, Ricky Nelson
Comedy, War
During WW2, Lt. Rip Crandall, who was a yachtsman before the war, takes command of the USS Echo, a sailing ship, for a secret mission in waters patrolled by Japanese warships. Madcap comedy capers on board a ship.
SHANGHAI KNIGHTS (12)
2.45pm Sony Movies
Starring: Jackie Chan, Owen Wilson
Action, Adventure, Comedy
When a Chinese rebel murders Chon's estranged father and escapes to England, Chon and Roy make their way to London with revenge on their minds. Less successful sequel to Shanghai Noon. Moderate martial arts violence and sex references.
THE MAN IN THE IRON MASK (12)
3.55pm Channel 5
Starring: Leonardo DiCaprio, Jeremy Irons, John Malkovich, Gerard Depardieu, Gabriel Byrne
Drama, Action
The cruel King Louis XIV of France has a secret twin brother whom he keeps imprisoned. Can the twin be substituted for the real king? Starry adaptation of the classic novel. Violence and some sensuality/nudity. May be edited for content.
THE CORE (12)
3.55pm Film4
Starring: Hilary Swank, Aaron Eckhart, Tcheky Karyo, Stanley Tucci
Science Fiction, Action, Fantasy
The only way to save Earth from catastrophe is to drill down to the core and set it spinning again. A good cast in a silly sci-fi disaster movie. One use of strong language and frequent moderate threat.
HELLFIGHTERS (PG)
4.30pm Sony Movies Action
Starring: John Wayne, Katherine Ross, Vera Miles
Action, Adventure, drama
The story of macho oil well firefighters and their wives. A tense and exciting action film from the director of The Wild Geese. Mild violence and language.
TITANIC (PG)
4.45pm Sony Movies Classic
Starring: Clifton Webb, Barbara Stanwyck, Robert Wagner
Drama, Romance
An unhappily married couple struggle to deal with their problems while onboard the ill-fated ship. Not the James Cameron version but a 50s tale of the famous ship. Mild peril.
KRULL (PG)
6.35pm Horror Channel
Starring: Ken Marshall, Lysette Anthony, Freddie Jones
Fantasy, adventure, action
A prince and a fellowship of companions set out to rescue his bride from a fortress of alien invaders who have arrived on their home planet. Fantasy with a touch of sci-fi from the director of Bullitt. Violence and peril.
THE IMITATION GAME (12)
6.45pm Film4
Starring: Benedict Cumberbatch, Keira Knightley, Matthew Goode
Biopic, drama
During World War II, the English mathematical genius Alan Turing tries to crack the German Enigma code with help from fellow mathematicians. A fascinating drama about a real war hero. Moderate sex references and language.
ARABESQUE (12)
6.50pm Sony Movies Classic
Starring: Gregory Peck, Sophia Loren
Action, Adventure, Crime
Story of international intrigue involving a university professor, an Arab prime minister, a ruthless businessman, a beautiful spy, and hieroglyphics. 60s spy thriller. Moderate violence.
IN THE DOGHOUSE (U)
7.10pm Talking Pictures TV
Starring: Leslie Philips, Hattie Jacques
Comedy
British comedy about the ups and downs of a London vet. A Carry On film without being one. Mild slapstick, innuendo. Black and white.
TOMB RAIDER (12)
7.50pm ITV1
Starring: Alicia Vikander, Kristin Scott Thomas, Dominic West, Nick Frost
Fantasy, Drama, Adventure
Lara Croft, the fiercely independent daughter of a missing adventurer, must push herself beyond her limits when she discovers the island where her father, Lord Richard Croft disappeared. Better than the original films thanks to the performance of Alicia Vikander. Moderate violence, threat, injury detail.
GUESS WHO'S COMING TO DINNER (PG)
9pm Sony Movies Classic
Starring: Spencer Tracy, Sidney Poitier, Katharine Hepburn
Comedy, drama
A couple's attitudes are challenged when their daughter introduces them to her African-American fiancé. Terrific comedy-drama with a first-class cast. Language and racial language.
ALL THE MONEY IN THE WORLD (15)
9pm Channel 4
Starring: Michelle Williams, Christopher Plummer, Mark Wahlberg
Thriller, Drama, Crime, Biopic
The story of the kidnapping of 16-year-old John Paul Getty III and the desperate attempt by his devoted mother to convince his billionaire grandfather Jean Paul Getty to pay the ransom. More memorable for Christopher Plummer stepping in to the role and reshooting major scenes. Strong violence, injury detail, threat, language.
THE COMANCHEROS (PG)
9pm Sony Movies Action
Starring: John Wayne, Stuart Whitman
Western, Adventure, Drama
Texas Ranger Jake Cutter arrests gambler Paul Regret, but soon finds himself teamed with his prisoner in an undercover effort to defeat a band of renegade arms merchants and thieves dealing with the Comanches known as Comancheros. Western adventure from the director of Casablanca. Mild violence.
THE FIRM (15)
9pm 5*
Starring: Tom Cruise, Jeanne Tripplehorn, Gene Hackman
Thriller, drama
A young lawyer joins a prestigious law firm only to discover that it has a sinister dark side. Decent adaptation of John Grisham's best-selling thriller. Language and violence.
JACK REACHER: NEVER GO BACK (12)
9pm Film4
Starring: Tom Cruise, Cobie Smulders
Action, Adventure, Thriller
Jack Reacher must uncover the truth behind a major government conspiracy in order to clear his name while on the run as a fugitive from the law. Tom Cruise returns as Jack Reacher in this decent sequel. Moderate violence, language, brief bloody moments.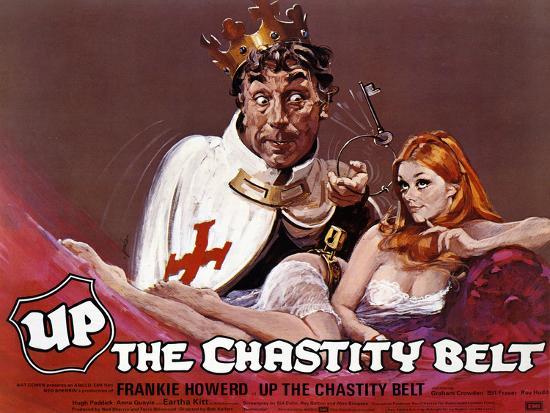 UP THE CHASTITY BELT (PG)
10pm Talking Pictures TV
Starring: Frankie Howerd, Graham Crowden, Bill Fraser, Roy Hudd
Comedy
The Queen of England gives birth to twins. In order to protect the bloodline, one is kept and the other hidden in a pigsty and is raised to think its mother is the pig. Lurkalot is the one raised by pigs who doesn't know his past. Saucy British comedy follow-up to Up Pompeii. Frequent mild innuendo.
ROLE MODELS (15)
11pm ITV4
Starring: Paul Rudd, Seann William Scott, Christopher Mintz-Plasse, Bobb'e J. Thompson
Comedy
Wild behaviour forces a pair of energy drink reps to enrol in a Big Brother program. Gross-out comedy that is mildly more enjoyable than most. Strong language and crude sexual references.
THE FRENCH LIEUTENANT'S WOMAN (12)
11.15pm Sony Movies Classic
Starring: Meryl Streep, Jeremy Irons
Drama, Romance
Wife and husband, both actors, play a couple in love from the Victorian era. Soon they begin to feel that fiction interweaves into reality. Beautifully shot romantic drama. Sexual content.
AND THEN THERE WERE NONE (U)
11.50pm Talking Pictures TV
Starring: Oliver Reed, Elke Sommer, Richard Attenborough
Thriller, Mystery
Ten people are invited to a hotel in the Iranian desert, only to find that an unseen person is killing them one by one. Could one of them be the killer? Gripping whodunnit from Agatha Christie. Mild violence and threat.
DONNIE BRASCO (18)
12.35am Sony Movies
Starring: Al Pacino, Johnny Depp
Biopic, crime, drama
An FBI undercover agent infiltrates the mob and finds himself identifying more with the mafia life, at the expense of his regular one. Tough true-life gangster story. Strong violence and language.
LEVIATHAN (15)
1am BBC2
Starring: Elena Lyadova, Vladimir Vdovichenkov
Drama
In a Russian coastal town, Kolya is forced to fight the corrupt mayor when he is told that his house will be demolished. He recruits a lawyer friend to help, but the man's arrival brings further misfortune for Kolya and his family. Superb Russian drama. Strong language, moderate sex. Subtitled.
HECTOR AND THE SEARCH FOR HAPPINESS (15)
1.25am Film4
Starring: Simon Pegg, Rosamund Pike, Toni Collette, Stellan Skarsgård
Comedy, Drama, Adventure
A psychiatrist searches the globe to find the secret of happiness. Entertaining comedy-drama helped by a likeable Simon Pegg. Strong language.