Morning!
After the greyness, comes the sun again. Loads of films to view today but it might be preferable to catch some rays. Maybe you could do both by watching on a tablet or phone (although films were never meant for very small screens)
Stay safe, look after yourself and Happy Saturday!
AMAZON PRIME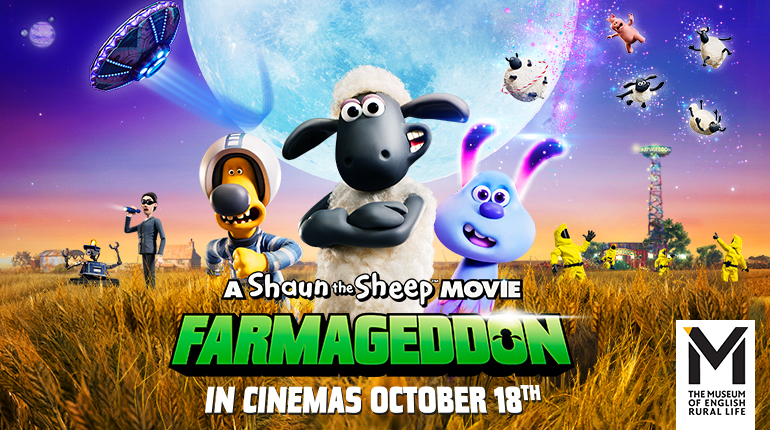 A SHAUN THE SHEEP MOVIE: FARMAGEDDON (U)
Starring: Justin Fletcher, John Sparkes, Kate Harbour
Comedy, Animation, Adventure
When an alien with amazing powers crash-lands near Mossy Bottom Farm, Shaun the Sheep goes on a mission to shepherd the intergalactic visitor home before a sinister organization can capture her. Another winner from Aardman animations. Very mild threat, language, rude humour.
ORPHAN (15)
Starring: Vera Farmiga, Peter Sarsgaard, Isabelle Fuhrman
Thriller, Horror
A husband and wife who recently lost their baby adopt a 9-year-old girl who is not nearly as innocent as she claims to be. Gripping forgotten horror. Strong sex, language and bloody violence.
NETFLIX
BRIDGE OF SPIES (12)
Starring: Tom Hanks, Mark Rylance
War, Drama, Thriller
During the Cold War, an American lawyer is recruited to defend an arrested Soviet spy in court, and then help the CIA facilitate an exchange of the spy for the Soviet captured American U2 spy plane pilot, Francis Gary Powers. Gripping spy thriller from Steven Spielberg. Infrequent strong language, moderate threat, violence.
13TH (15)
Starring: Cory Brooker, Gina Clayton
Documentary
An in-depth look at the prison system in the United States and how it reveals the nation's history of racial inequality. Ava DuVernay's powerful and relevant documentary. Images of real dead bodies, violence, rape references, racist language.
NOW TV/SKY CINEMA
BABEL (15)
Starring: Cate Blanchett, Brad Pitt, Gael Garcia Bernal
Drama
Tragedy strikes a married couple on vacation in the Moroccan desert, touching off an interlocking story involving four different families. Complex drama from the director of The Revenant. Strong language, violence, sex references and drug use.
THE BOURNE IDENTITY (12)
Starring: Matt Damon, Franka Potente, Chris Cooper, Clive Owen
Thriller, Action
A man is picked up by a fishing boat, bullet-riddled and suffering from amnesia, before racing to elude assassins and attempting to regain his memory. Cracking action-packed spy thriller. Moderate violence, infrequent strong language.
DISNEY+
DOCTOR DOLITTLE (PG)
Starring: Eddie Murphy, Ossie Davis, Oliver Platt
Comedy, Fantasy
Dr. John Dolittle has the world in his hands: A beautiful wife at his side, two adorable daughters and a career that could not go better. One night, he nearly runs over a dog with his car. The dog yells "bonehead" and disappears. From then on, his childhood ability is back: To communicate with animals. Enjoyably silly comedy remake of the classic story. Mild language and rude humour.
FANTASIA 2000 (U)
Starring: Walt Disney, Penn Jillette, James Earl Jones, Quincy Jones, Angela Lansbury, James Levine, Steve Martin, Bette Midler
Musical, Animation
An update of the original film with new interpretations of great works of classical music. Lavish update of the 1941 original. Mild peril.
MOVIES ON TERRESTRIAL TV
TIME BANDITS (PG)
11am Film4
Starring: John Cleese, Sean Connery, Shelley Duvall, Katherine Helmond, Ian Holm, Michael Palin
Comedy, Adventure, Fantasy
A young boy accidentally joins a band of time travelling dwarves, as they jump from era to era looking for treasure to steal. Enjoyable family adventure from Terry Gilliam. Mild violence, threat and language.
BEND OF THE RIVER (PG)
11.25am ITV4
Starring: James Stewart, Rock Hudson, Arthur Kennedy
Wester, Adventure, Romance
When a town boss confiscates homesteader's supplies after gold is discovered nearby, a tough cowboy risks his life to try and get it to them. Another great western from Anthony Mann and James Stewart. Mild violence.
WE DIVE AT DAWN (U)
12.30pm Talking Pictures TV
Starring: John Mills, Eric Portman
War, Action, Drama
All leave is cancelled so that a British submarine can be sent after a new German warship. They chase it so far that they have no fuel to get home. Classic British war drama. Mild violence. Black and white.
ELLA ENCHANTED (PG)
1pm Sony Movies
Starring: Anne Hathaway, Hugh Dancy, Cary Elwes
Comedy, Fantasy
Ella is under a spell to be constantly obedient, a fact she must hide from her new stepfamily in order to protect the prince of the land, her friend for whom she's falling. Enormously entertaining fairy tale. Mild comic violence.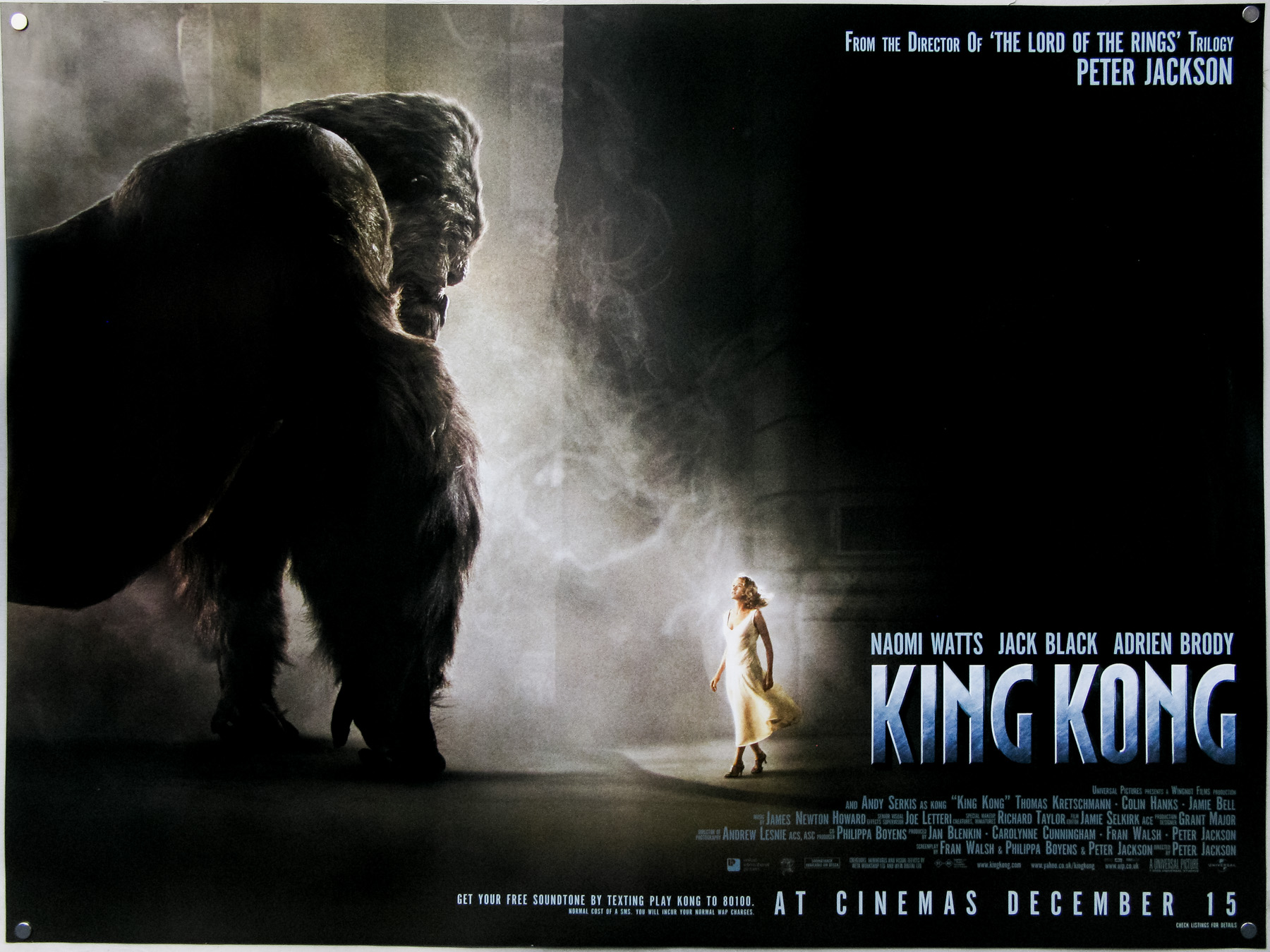 KING KONG (12)
1.05pm 5*
Starring: Naomi Watts, Jack Black, Adrien Brody, Andy Serkis
Action, adventure, drama
A greedy film producer assembles a team of moviemakers and sets out for the infamous Skull Island, where they find more than just cannibalistic natives. Peter Jackson's epic retelling of the classic 1933 movie. Violence, language, sex references and intense scenes. May be edited for content.
THE HUNDRED-FOOT JOURNEY (PG)
2pm Channel 5
Starring: Helen Mirren, Om Puri, Manish Dayal, Charlotte Lebon
Drama, Comedy
The Kadam family leaves India for France where they open a restaurant directly across the road from Madame Mallory's Michelin-starred eatery. Warm-hearted comedy-drama that will leave you hungry. Mild bad language, threat.
CHICKEN RUN (U)
2.10pm CBBC
Starring: Jane Horricks, Mel Gibson
Animation, comedy, family
When a cockerel apparently flies into a chicken farm, the chickens see him as an opportunity to escape their evil owners. Hilarious spoof of The Great Escape. Mild language.
SPY KIDS (U)
2.20pm ITV2
Starring: Antonio Banderas, Alan Cumming, Carla Gugino, Teri Hatcher, Cheech Marin, Robert Patrick, Alexa Vega, Daryl Sabara
Action, Adventure, Comedy
When their former colleagues, the world's most formidable spies, start disappearing one by one, the Cortez's are forced to take on techno-wizard Fegan Floop and his evil, egg-headed sidekick, Minion. But when the unthinkable happens and they too disappear, unfortunately, there are only two people in the world who can rescue them…their kids. Silly family spy adventure. Mild violence and language.
LABYRINTH (U)
2.55pm Sony Movies
Starring: David Bowie, Jennifer Connelly
Adventure, fantasy, family
Sixteen-year-old Sarah is given thirteen hours to solve a labyrinth and rescue her baby brother Toby when her wish for him to be taken away is granted by the Goblin King Jareth. Inventive fantasy from Terry Jones and Jim Henson. Mild violence and peril.
THE FOUR FEATHERS (U)
3pm Talking Pictures TV
Starring: John Clements, Ralph Richardson
Adventure, Drama, Romance
A timid British Army officer has quit and burns his last day summons to a war in Egypt. Calling him a coward, his girlfriend and 3 officer friends give him a white feather. In redemption, he shadows his friends in war to save their lives. Classic film version of the famous novel. Mild violence.
HOW TO TRAIN YOUR DRAGON (PG)
3.05pm Film4
Starring: Jay Baruchel, Gerard Butler
Animation, Fantasy, Adventure
A hapless young Viking who aspires to hunt dragons becomes the unlikely friend of a young dragon himself, and learns there may be more to the creatures than he assumed. Wonderful and underrated animated fantasy. Frequent mild threat.
WUTHERING HEIGHTS (U)
3.20pm Sony Movies Classic
Starring: Merle Oberon, Laurence Olivier, David Niven
Drama, romance
A servant in the house of Wuthering Heights tells a traveller the unfortunate tale of lovers Cathy (Merle Oberon) and Heathcliff (Sir Laurence Olivier). Classic adaptation of the Emily Bronte novel. Black and White.
SING (U)
4.10pm ITV2
Starring: Matthew McConaughey, Reese Witherspoon, Seth MacFarlane, Scarlett Johansson, John C. Reilly, Taron Egerton
Musical, Animation, Comedy
In a city of humanoid animals, a hustling theatre impresario's attempt to save his theatre with a singing competition becomes grander than he anticipates even as its finalists find that their lives will never be the same. Wonderfully inventive animated comedy. Very mild bad language, threat, rude humour.
KING RAT (PG)
4.20pm Sony Movies Action
Starring: George Segal, Tom Courtenay, John Mills, James Fox
War, Drama
Fast-taking wheeler-dealer Corporal King (George Segal), in a Malaysian P.O.W. camp during World War II, uses bribery and larceny to take de facto control of the camp from his senior officers. Terrific P.O.W. drama. Mild bad language, threat and war horror. Black and white.
EVOLUTION (PG)
4.55pm Film4
Starring: David Duchovny, Julianne Moore, Orlando Jones, Seann William Scott, Dan Aykroyd
Comedy, sci-fi
A fire-fighting cadet, two college professors, and a geeky but sexy government scientist work against an alien organism that has been rapidly evolving since its arrival on Earth inside a meteor. Silly comedy from the director of Ghostbusters. Mild language, horror, and sexual references.
DANCES WITH WOLVES (15)
5pm Sony Movies
Starring: Kevin Costner, Mary McDonnell, Graham Greene
Western, drama
Lieutenant John Dunbar, assigned to a remote western Civil War outpost, befriends wolves and Indians, making him an intolerable aberration in the military. Epic western directed by Kevin Costner. Strong violence, language, sex. May be edited for content.
BIG HERO 6 (PG)
5.20pm BBC1
Starring: Scott Adsit, Ryan Potter
Fantasy, Animation, Adventure
The special bond that develops between plus-sized inflatable robot Baymax, and prodigy Hiro Hamada, who team up with a group of friends to form a band of high-tech heroes. Hugely entertaining Disney animation based on the Marvel comic books. Mild threat, scary scenes.
THE DEVIL AT 4 O'CLOCK (U)
5.30pm Sony Movies Classic
Starring: Spencer Tracy, Frank Sinatra
Adventure, Drama, Thriller
A crusty, eccentric priest recruits 3 reluctant convicts to help him rescue a children's leper colony from a Pacific island menaced by a smouldering volcano. Boys' own adventure mixed with a disaster movie. Mild violence and peril.
ANGELS ONE FIVE (U)
6pm Talking Pictures TV
Starring: Jack Hawkins, Michael Denison, Dulcie Gray
War, Drama
The story of an RAF fighter squadron at the height of the Battle of Britain. Stiff-upper-lip war drama. Mild violence. Black and white.
FANTASTIC BEASTS AND WHERE TO FIND THEM (12)
6.20pm ITV2
Starring: Eddie Redmayne, Ezra Miller, Colin Farrell, Jon Voight
Fantasy, Drama
The adventures of writer Newt Scamander in New York's secret community of witches and wizards seventy years before Harry Potter reads his book in school. Entertaining J.K. Rowling's Harry Potter prequel.  Moderate threat.
BEND IT LIKE BECKHAM (12)
6.40pm E4
Starring: Parminder K. Nagra, Keira Knightley, Jonathan Rhys-Myers
Comedy, Drama, Sports
The daughter of orthodox Sikh rebels against her parents' traditionalism and joins a football team. Joyous British comedy that made Keira Knightley a star. Language and sexual content.
MY BEST FRIEND'S WEDDING (12)
6.50pm 5*
Starring: Julia Roberts, Dermot Mulroney, Cameron Diaz, Rupert Everett
Comedy, Drama, Romance
When a woman's long-time friend reveals he's engaged, she realizes she loves him herself and sets out to get him, with only days before the wedding. Quirky romantic comedy. One use of strong language and moderate sex references.
X-MEN: THE LAST STAND (12)
6.55pm Film4
Starring: Patrick Stewart, Ian McKellan, Hugh Jackman
Action, adventure, fantasy
As the government find a cure for the mutant, one of the X-Men is struggling with her own powers. The third and weakest of the Marvel adaptation about mutants. Moderate violence, moderate bad language.
THE PRIME OF MISS JEAN BRODIE (12)
8pm Sony Movies Classic
Starring: Maggie Smith, Robert Stephens
Comedy, Drama, Romance
A headstrong young teacher in a private school in 1930s Edinburgh ignores the curriculum and influences her impressionable twelve-year-old charges with her over-romanticized world view. Terrific drama with a first-rate lead from Maggie Smith. Moderate language, sex references and sexualised nudity.
CITY THAT NEVER SLEEPS (PG)
8pm Talking Pictures TV
Starring: Gig Young, Mala Power
Crime, Drama, Film-noir
Johnny Kelly, who plans on resigning from the police force and leaving his wife the next day, has a very eventful last night on duty. One of the best film-noir thrillers. Violence and sexual references. Black and white.
SKYFALL (12)
8.30pm ITV1
Starring: Daniel Craig, Judi Dench, Javier Bardem
Action, thriller
James Bond's loyalty to M is tested when her past comes back to haunt her. When MI6 comes under attack, 007 must track down and destroy the threat, no matter how personal the cost. Daniel Craig returns for the third time as Bond in the best of his reign (so far). Moderate action violence and one use of strong language.
VON RYAN'S EXPRESS (PG)
9pm Sony Movies Action
Starring: Frank Sinatra, Trevor Howard
War, Drama, Action
An American POW leads a group of mainly British prisoners to escape from the Germans in WWII. Cracking wartime adventure. Mild violence, language.
X-MEN ORIGINS: WOLVERINE (12)
9pm E4
Starring: Hugh Jackman, Ryan Reynolds, Liev Schreiber
Fantasy, Action
The early years of James Logan, featuring his rivalry with his brother Victor Creed, his service in the special forces team Weapon X, and his experimentation into the metal-lined mutant Wolverine. Darkly entertaining origins story. Moderate fantasy violence.
JUMPIN' JACK FLASH (15)
9pm Sony Movies
Starring: Whoopi Goldberg, Stephen Collins, John Wood
Comedy, Thriller
A computer wiz woman works at a computer terminal in an NYC bank. One day she gets a strange message and breaks the code. Suddenly, she finds herself in the middle of a dangerous spy business. Fun comedy spy thriller. Strong language.
THE GRUDGE (15)
9pm Horror Channel
Starring: Sarah Michelle Gellar, Jason Behr
Horror, Thriller
An American nurse living and working in Tokyo is exposed to a mysterious supernatural curse, one that locks a person in a powerful rage before claiming their life and spreading to another victim. Creepy remake of the Asian horror. Strong violence and horror.
PHILOMENA (12)
10.50pm BBC Four
Starring:  Judi Dench, Steve Coogan
Biopic, comedy, drama
A world-weary political journalist picks up the story of a woman's search for her son, who was taken away from her decades ago after she became pregnant and was forced to live in a convent. Terrific comedy-drama with a great screen double act. Infrequent strong language and moderate sex references.
GIFTED (15)
11pm Channel 4
Starring: Chris Evans, McKenna Grace, Lindsay Duncan, Jenny Slate, Octavia Spencer
Drama
Frank, a single man raising his child prodigy niece Mary, is drawn into a custody battle with his mother. Massively underrated drama with loads of heart. Infrequent strong language, moderate sex references.
THE NICE GUYS (15)
11pm ITV4
Starring: Russell Crowe, Ryan Gosling
Comedy, drama, thriller
Hugely underrated comedy thriller set in Los Angeles in 1977, in which a private investigator and an unlicensed enforcer uncover a conspiracy when they team up to trace a missing young woman. Crowe and Gosling are terrific. From the man who gave us Iron Man 3. Strong violence, sex references, strong language.
MASK (12)
12.10am Sony Movies Classic
Starring: Cher, Sam Elliott, Eric Stoltz, Laura Dern
Biopic, Drama
A teenager with a massive facial skull deformity and biker gang mother attempt to live as normal a life as possible under the circumstances. Heartbreaking true story. Infrequent drug misuse, infrequent strong language.
TIMECOP (15)
12.55am 5*
Starring: Jean-Claude Van Damme, Mia Sara, Ron Silver
Action, crime,sci-fi
Max Walker, an officer for a security agency that regulates time travel, must fend for his life against a shady politician who's intent on changing the past to control the future. Possibly Jean-Claude Van Damme best film. Strong violence, language and sex.
KAJAKI (15)
12.35am BBC1
Starring: David Elliot, Mark Stanley
War, Drama, Biopic
Kajaki Dam 2006. A company of young British soldiers encounter an unexpected, terrifying enemy. A dried-out river bed, and under every step the possibility of an anti-personnel mine. A mine that could cost you your leg – or your life. Gritty and powerful war movie based on a true story. Very strong language, strong bloody injury detail.
PHANTASM (15)
12.45am Horror Channel
Starring: Michael Baldwin, Reggie Bannister
Horror
A teenage boy and his friends face off against a mysterious grave robber known only as the Tall Man, who keeps a lethal arsenal of terrible weapons with him. Cult favourite horror. Infrequent bloody horror, language and nudity.
THE WOMAN IN BLACK: ANGEL OF DEATH (15)
1am Film4
Starring: Helen McCrory, Jeremy Irvine, Adrian Rawlins
Thriller, Horror, Drama
40 years after the first haunting at Eel Marsh House, a group of children evacuated from WWII London arrives, awakening the house's darkest inhabitant. A far better sequel to the Daniel Radcliffe original. Strong horror, threat.
THE SOCIAL NETWORK (12)
1.10am Sony Movies
Starring: Jesse Eisenberg, Andrew Garfield, Justin Timberlake
Drama, biopic
As Harvard student Mark Zuckerberg creates the social networking site that would become known as Facebook, he is sued by the twins who claimed he stole their idea, and by the co-founder who was later squeezed out of the business. A fascinating insight into the beginnings of Facebook. Infrequent strong language and drug use.
THE KNACK AND HOW TO GET IT (15)
2.20am Sony Movies Classic
Starring: Rita Tushingham, Ray Brooks, Michael Crawford
Comedy
Cool, sophisticated Tolen (Ray Brooks) has a monopoly on womanizing – with a long like of conquests to prove it – while the naïve, awkward Colin (Michael Crawford) desperately wants a piece of it. But when Colin falls for an innocent country girl (Rita Tushingham), it's not long before the self-assured Tolen moves in for the kill. Swinging 60s comedy. Moderate sex references. Black and white.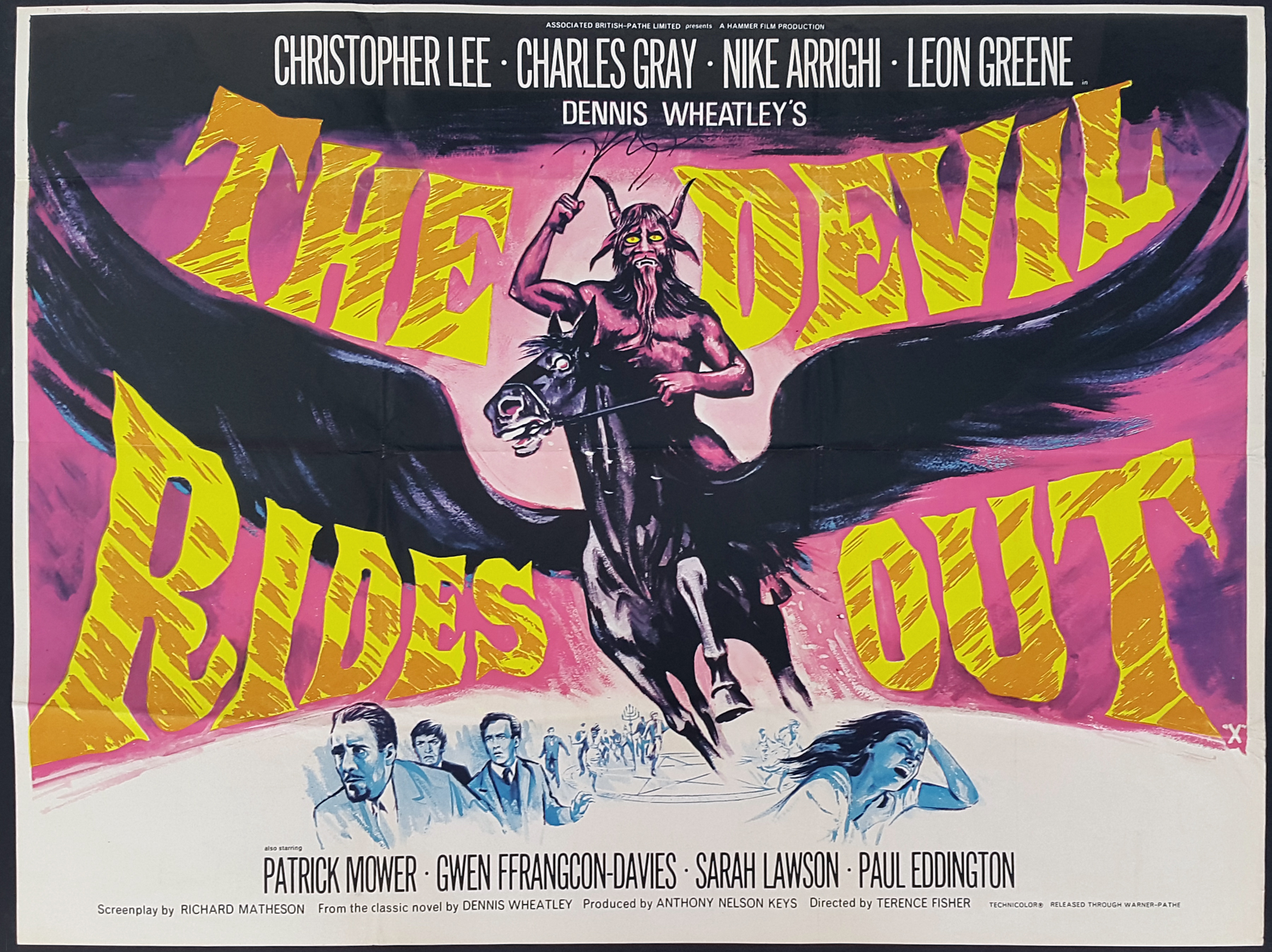 THE DEVIL RIDES OUT (15)
2.35am Horror Channel
Starring: Christopher Lee, Charles Gray, Nick Arrighi
Horror
Devil worshipers plan to convert two new victims. Excellent Hammer horror. Violence and horror moments.