Morning!
Looking like another blustery day outside so a perfect opportunity  to catch a movie or two. Here are today's recommendations.
Stay safe, look after yourself and Happy Monday!
AMAZON PRIME
SHAUN OF THE DEAD (15)
Starring: Simon Pegg, Nick Frost
Horror, comedy
A man's uneventful life is disrupted by the zombie apocalypse. Hugely popular British comedy-horror. Very strong language and strong bloody horror.
WAR DOGS (15)
Starring: Jonah Hill, Miles Teller
Biopic, Comedy, Crime
Loosely based on the true story of two young men, David Packouz and Efraim Diveroli, who won a three hundred million dollar contract from the Pentagon to arm America's allies in Afghanistan. Fascinating tale that proves truth is stranger than fiction. Strong language, sex references, drug misuse.
NETFLIX
DAVID BRENT: A LIFE ON THE ROAD (15)
Starring: Ricky Gervais, Oliver Maltman, Doc Brown
Comedy
A camera crew catches up with David Brent, the former star of the fictional British TV series The Office (2001), as he now fancies himself a rock star on the road. Hilarious return of Rick Gervais's embarrassing character. Strong sex references, very strong language.
FAR NORTH (15)
Starring: Jessica Lange, Charles Durning, Tess Harper
Drama
After generations of being apart, an accident brings a family back together and they begin to cope with their original issues. Impressive drama written and directed by Sam Shepard. Language.
NOW TV/SKY CINEMA
THE GODFATHER PART II (15)
Starring: Al Pacino, Robert Duvall, Diane Keaton, Robert De Niro
Drama, Crime
The early life and career of Vito Corleone in 1920s New York City is portrayed, while his son, Michael, expands and tightens his grip on the family crime syndicate. Epic Oscar-winning sequel to The Godfather. Strong violence.
WEIRD SCIENCE (12)
Starring: Anthony Michael Hall, Kelly LeBrock, Ilan Mitchell-Smith, Bill Paxton
Comedy, Fantasy
Two high school nerds use a computer program to literally create the perfect woman, but she turns their lives upside down. Crazy teen comedy. Moderate language, sex references and nudity.
DISNEY+
THOSE CALLOWAYS (U)
Starring: Brian Keith, Vera Miles
Drama, Adventure
Story of Cam Calloway and his family, who live in a densely wooded area in New England. Cam dreams of building a sanctuary for the geese that fly over the area each year, and he tries several schemes to buy a nearby lake for this sanctuary. Charming family adventure with a wildlife twist.
CHICKEN LITTLE (U)
Starring: Zach Braff, Steve Zahn, John Cusack
Animation, Adventure, Comedy
After ruining his reputation with the town, a courageous chicken must come to the rescue of his fellow citizens when aliens start an invasion. Enjoyable Disney animation. Mild violence and scary scenes.
MOVIES ON TERRESTRIAL TV
SUPPORT YOUR LOCAL GUNFIGHTER (U)
11am Film4
Starring: James Garner, Suzanne Pleshette, Jack Elam
Western, comedy
A con artist arrives in a mining town controlled by two competing companies. Both companies think he's a famous gunfighter and try to hire him to drive the other out of town. Funny western. Mild language.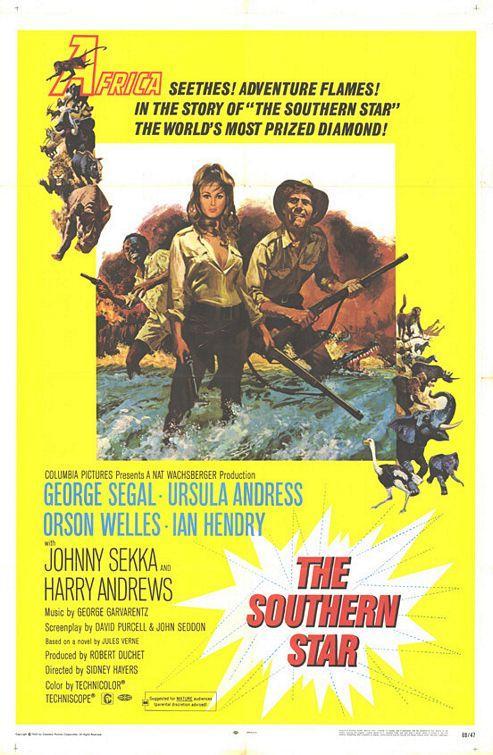 THE SOUTHERN STAR (PG)
Starring: George Segal, Ursula Andress, Orson Welles
Adventure, Comedy
In 1912 West Africa, diamond tycoon Kramer hires penniless American fortune hunter Dan Rockland, who's posing as a geologist, but when a huge diamond is found, everyone wants to steal it. Enjoyable adventure comedy. Mild violence and nudity.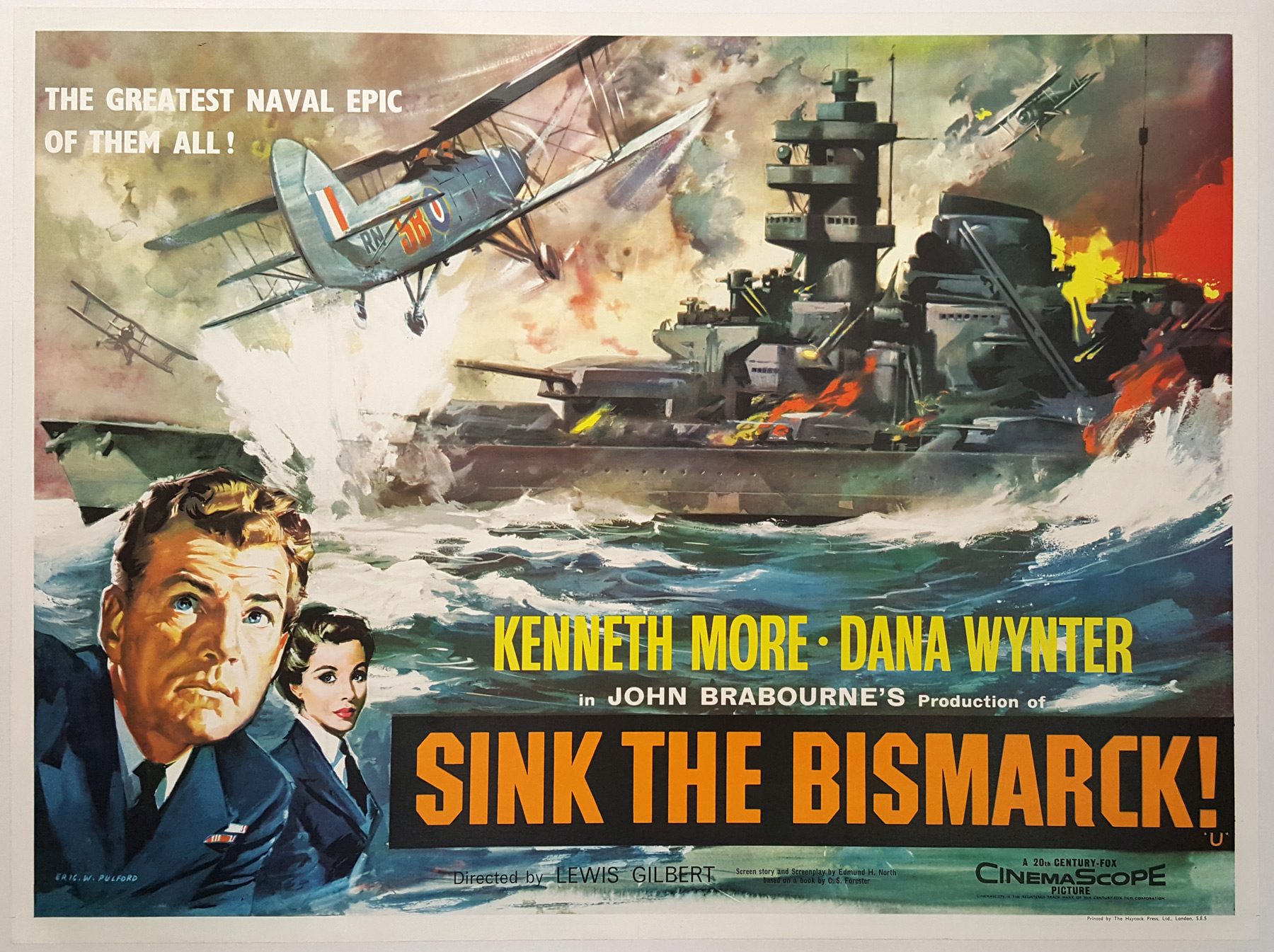 SINK THE BISMARCK! (U)
12.50pm Film4
Starring: Kenneth More, Dana Wyner
War, Drama, Action
The World War II story of the Royal Navy's effort to defeat Nazi Germany's most powerful warship. Classic British war drama based on real events. Mild violence. Black and white.
THE PALEFACE (U)
1pm Sony Movies Classic
Starring: Bob Hope, Jane Russell
Comedy, western
Calamity Jane is despatched to find out who's smuggling rifles to the Indians, and winds up married to a hapless correspondence school dentist as part of her cover. Fun western comedy. Mild violence and peril.
RUN FOR COVER (U)
2.50pm Film4
Starring: James Cagney, Viveca Lindfors, John Derek
Western
Mistaken for train robbers, Matt Dow and Davey Bishop are shot at by the sheriff and his posse but they are cleared and hired as lawmen. Western adventure from the director of Rebel Without A Cause. Violence.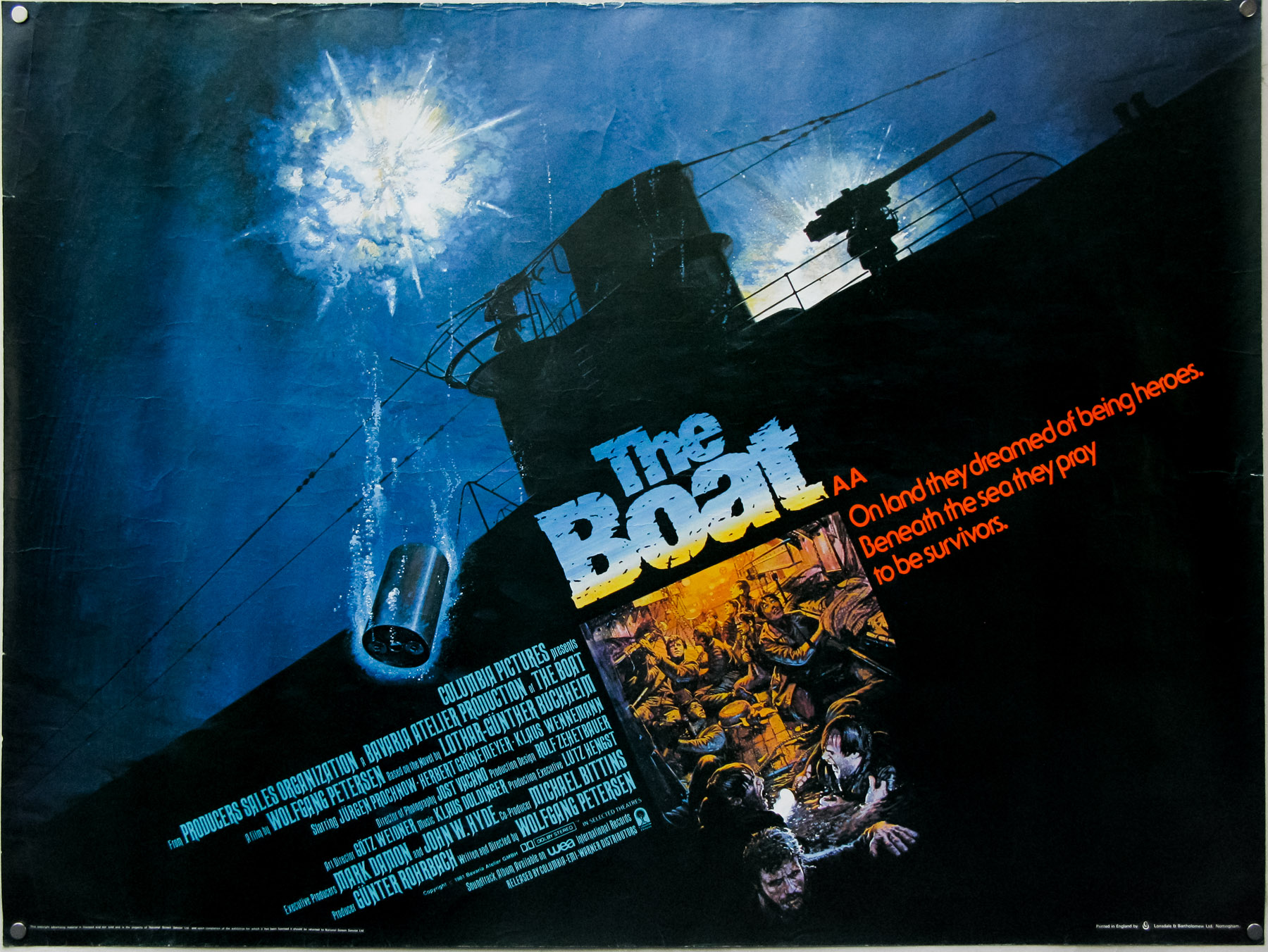 DAS BOOT (THE BOAT) (15)
4.20pm Sony Movies Action
Starring: Jurgen Prochnow, Herbert Gronemeyer
Adventure, drama, war
The claustrophobic world of a WWII German U-boat; boredom, filth and sheer terror. A brilliant German film that will built up the tension brilliantly. Sex references and violence. Subtitled. May be edited for content.
THE ENEMY BELOW (PG)
4.40pm Film4
Starring: Robert Mitchum, Curt Jurgens
War, Action, Adventure, Drama
During World War II, an American destroyer meets a German U-Boat. Both captains are experts, and so begins a deadly game of cat-and-mouse. Classic war drama directed by Dick Powell. Violence.
FUN WITH DICK AND JANE (12)
4.50pm Sony Movies
Starring: Jim Carrey, Tea Leoni, Alec Baldwin
Comedy, crime
When an affluent couple loses all their money following a series of blunders, they turn to a life of crime to make ends meet. Likeable remake of the 70s comedy. Brief language, some sexual humour and occasional humorous drug references.
FOR WHOM THE BELL TOLLS (PG)
5.50pm Sony Movies Classic
Starring: Gary Cooper, Ingrid Bergman
Adventure, Drama
During the Spanish Civil War, an American allied with the Republicans finds romance during a desperate mission to blow up a strategically important bridge. Impressive adaptation of Ernest Hemmingway's novel. Mild violence.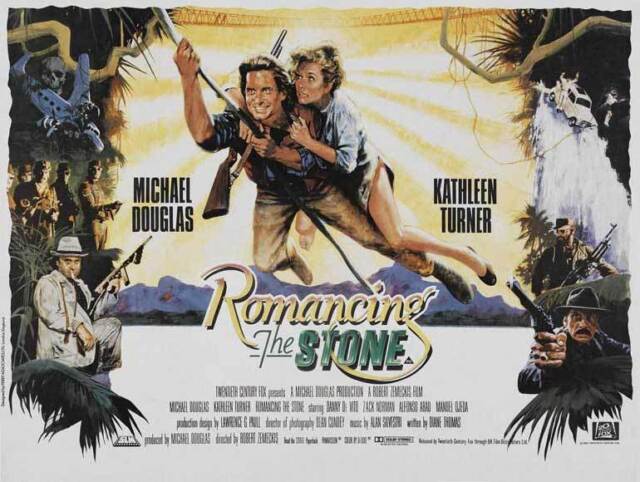 ROMANCING THE STONE (12)
6.40pm Film4
Starring: Michael Douglas, Kathleen Turner, Danny DeVito
Action, Adventure, Comedy
A mousy romance novelist sets off for Colombia to ransom her kidnapped sister, and soon finds herself in the middle of a dangerous adventure hunting for treasure with a mercenary rogue. Indiana Jones-style adventure from the director of Back to the Future. Moderate language, violence and drug references.
HITCH (12)
7.40pm Sony Movies
Starring: .Will Smith, Kevin James, Amber Valletta
Comedy, romance
While helping his latest client woo the woman of his dreams, a professional "date doctor" finds that his game doesn't quite work on the gossip columnist with whom he's smitten. An amiable romantic comedy. Language and sex references.
12 YEARS A SLAVE (15)
9pm Film4
Starring: Chiwetel Ejiofor, Michael Fassbender, Benedict Cumberbatch, Paul Dano, Paul Giamatti, Lupita Nyong'o, Sarah Paulson, Brad Pitt, Alfré Woodard
Biopic, Drama
In the antebellum United States, Solomon Northup, a free black man from upstate New York, is abducted and sold into slavery. Powerful and shocking Oscar-winning true story. Strong violence, injury detail, sex, nudity and racist terms.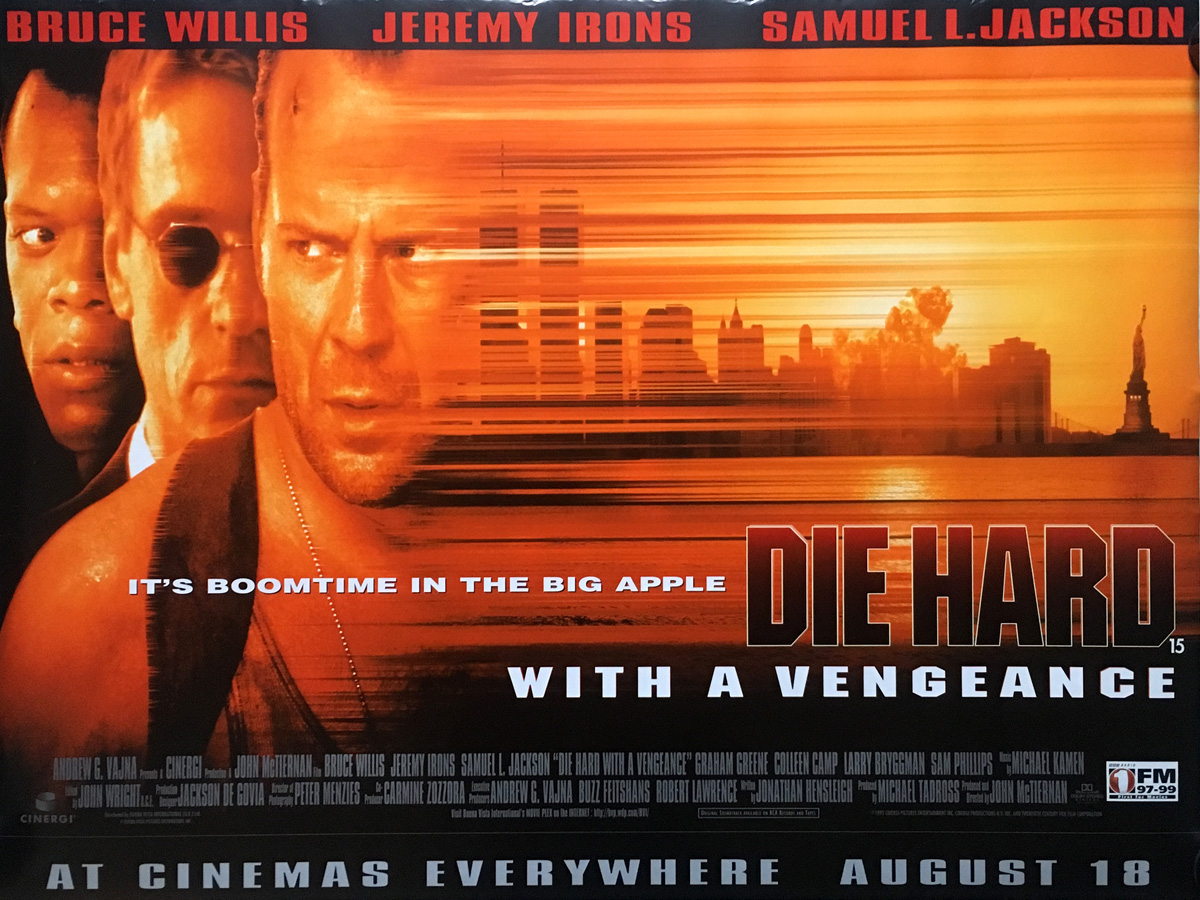 DIE HARD WITH A VENGEANCE (15)
9pm Sony Movies
Starring: Bruce Willis, Jeremy Irons, Samuel L. Jackson
Action, Adventure, Thriller
John McClane and a Harlem store owner are targeted by German terrorist Simon Gruber in New York City, where he plans to rob the Federal Reserve Building. Cracking third film in the Die Hard series. Strong language and violence.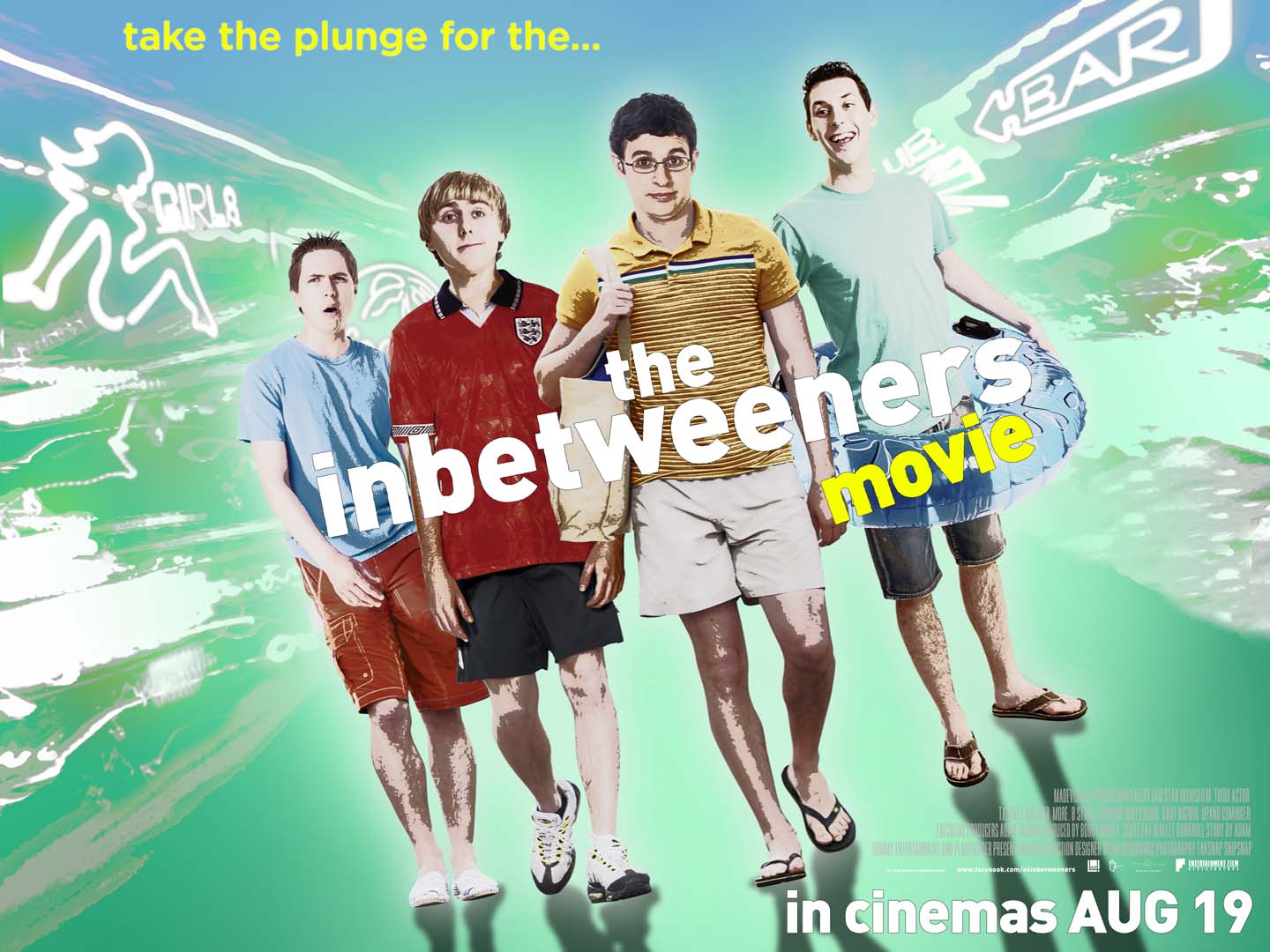 THE INBETWEENERS MOVIE (18)
9pm E4
Starring: Simon Bird, James Buckley, Blake Harrison, Joe Thomas
Comedy
Four socially troubled 18-year-olds from the south of England go on holiday to Malia. Spin-off movie of the hit Channel 4 comedy, longer and ruder. Very strong language, strong sex references and nudity.
TORN CURTAIN (15)
9pm Sony Movies Classic
Starring: Paul Newman, Julie Andrews
Thriller, romance
An American scientist publicly defects to East Germany as part of a cloak and dagger mission to find the solution for a formula resin before planning an escape back to the West. Lesser-known Alfred Hitchcock thriller. Moderate violence.
RED STATE (18)
9pm Horror Channel
Starring: Michael Parks, Melissa Leo, John Goodman
Thriller, Horror
Set in Middle America, a group of teens receive an online invitation for sex, though they soon encounter fundamentalists with a much more sinister agenda. Unusual film for Clerks director Kevin Smith. Strong violence, language and sex references.
MAD MAX (15)
10pm ITV4
Starring: Mel Gibson, Joanne Samuel
Sci-Fi, Action, Adventure
In a self-destructing world, a vengeful Australian policeman sets out to stop a violent motorcycle gang. The original Mad Max movie that made Mel Gibson a star. strong threat, violence, language, injury detail.
THE LADY IN THE VAN (12)
10pm BBC Four
Starring: Maggie Smith, Alex Jennings, Dominic Cooper, James Corden, Jim Broadbent, Frances de la Tour, Roger Allam
Comedy, Drama
Writer Alan Bennett forms an unexpected bond with a transient woman living in her van that's parked in his driveway. Wonderfully charming comedy-drama with the legendary Maggie Smith. Infrequent strong language.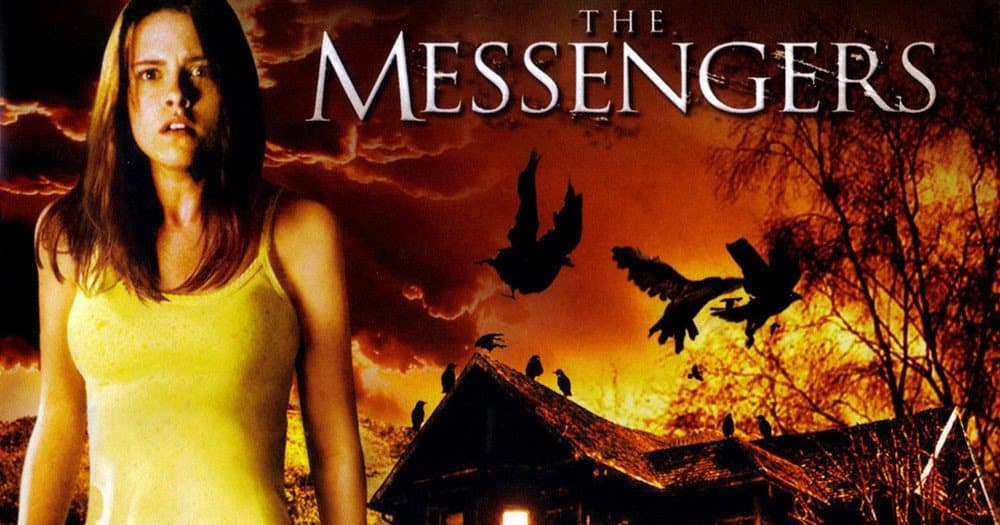 THE MESSENGERS (15)
10.45pm Horror Channel
Starring: Kristen Stewart, Dylan McDermott, Penelope Ann Miller
Horror, Thriller
An ominous darkness invades a seemingly serene sunflower farm in North Dakota, and the Solomon family is torn apart by suspicion, mayhem and murder. Creepy horror. strong horror, language and moderate violence.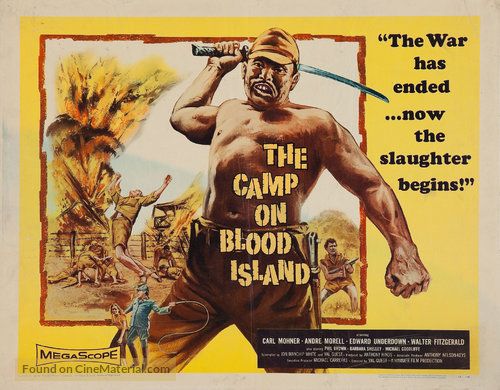 THE CAMP ON BLOOD ISLAND (15)
11pm Talking Pictures TV
Starring: Andre Morell, Carl Mohner
War, Drama, Action
Deep in Malaya, as World War II is rapidly coming to an end, men, women and children, trapped by the Japanese invasion, are held captive in the Blood Island prison camp. Wartime drama from Hammer. Moderate violence, torture scenes. Black and White.
WOMEN IN LOVE (15)
11.30pm Sony Movies Classic
Starring: Alan Bates, Oliver Reed, Glenda Jackson, Jennie Linden
Drama, romance
Two best friends fall in love with a pair of women, but the relationships soon go in very different directions. Classic adaptation of D.H. Lawrence's novel. Strong sex and nudity.
SHAME (18)
11.40pm Film4
Starring: Michael Fassbender, Carey Mulligan
Drama
A sex addict's carefully cultivated private life falls apart after his sister arrives for an indefinite stay. Steamy drama from the director of 12 Years A Slave.  Strong sex, language, nudity and sex references.
MEN AND CHICKEN (15)
1.45pm Film4
Starring: Mads Mikkelsen, David Dencik
Comedy, Drama
Two outcast brothers, through getting to know their unknown family, discover a horrible truth about themselves and their relatives. Off-beat comedy-drama. Strong sex references and language. Subtitled.
LEGAL EAGLES (PG)
2.05am Sony Movies Classic
Starring: Robert Redford, Debra Winger, Daryl Hannah
Comedy, Crime, Romance
A New York district attorney works and flirts with his adversary and her kooky artist client, who is on trial for a murder she didn't commit. Comedy crime movie from the director of Ghostbusters. Mild violence, language and sexual content.