Morning!
First, Happy Independence Day to my US readers. To my Brit readers, THAT day has arrived. Please, please, please…be careful out there! We may have been in lockdown for months but that doesn't mean we need to go crazy. There's still a virus out there. Best advice is to stay inside and watch some movies on TV.
Stay safe, look after yourself and Happy Saturday!
AMAZON PRIME
VANILLA SKY (15)
Starring: Tom Cruise, Penelopé Cruz, Kurt Russell, Cameron Diaz
Fantasy, Mystery, Romance
A self-indulgent and vain publishing magnate finds his privileged life upended after a vehicular accident with a resentful lover. A bizarre curiosity from the director of Almost Famous. Strong language and sexual content.
BEFORE STONEWALL (12)
Starring: Rita Mae Brown, Allen Ginsberg, Ann Bannon
Documentary
The history of the Gay and Lesbian community before the Stonewall riots began the major gay rights movement. Fascinating documentary from 1984. Moderate sex, drug and suicide references, injury detail.
NETFLIX
MISSION: IMPOSSIBLE – FALLOUT (12)
Starring: Tom Cruise, Rebecca Ferguson, Henry Cavill, Michelle Monaghan, Simon Pegg, Angela Bassett
Action, adventure, thriller
Ethan Hunt and his IMF team, along with some familiar allies, race against time after a mission gone wrong. The sixth outing of the popular franchise and the best. A big, amazing blockbuster that will have you gasping for breath. Moderate violence, injury detail, infrequent strong language.
ATONEMENT (15)
Starring: Keira Knightley, James McAvoy, Romola Garai, Saoirse Ronan
Drama, Romance
Thirteen-year-old fledgling writer Briony Tallis irrevocably changes the course of several lives when she accuses her older sister's lover of a crime he did not commit. Terrific drama based on the best-seller. Very strong language, bloody injuries and moderate sex.
NOW TV/SKY CINEMA
STAR TREK IV: THE VOYAGE HOME (PG)
Starring: William Shatner, Leonard Nimoy, DeForest Kelley
Sci-Fi, Adventure, Comedy
To save Earth from an alien probe, Admiral James T. Kirk and his fugitive crew go back in time to San Francisco in 1986 to retrieve the only beings who can communicate with it: humpback whales. A lighter entry to the Star Trek franchise. Mild language.
FULL METAL JACKET (15)
Starring: Matthew Modine, Adam Baldwin, Vincent D'Onofrio, Lee Ermey
War, Drama
A pragmatic U.S. Marine observes the dehumanising effects the Vietnam War has on his fellow recruits from their brutal boot camp training to the bloody street fighting in Hue. Brilliant war drama from Stanley Kubrick. Strong language, sex references and bloody battle violence.
DISNEY+
MONSTERS UNIVERSITY (U)
Starring: Billy Crystal, John Goodman
Comedy, Animation
A look at the relationship between Mike Wazowski (Billy Crystal) and James P. "Sully" Sullivan (John Goodman) during their days at Monsters University, when they weren't necessarily the best of friends. Not as good as the original but still plenty of fun. Mild slapstick and comic threat .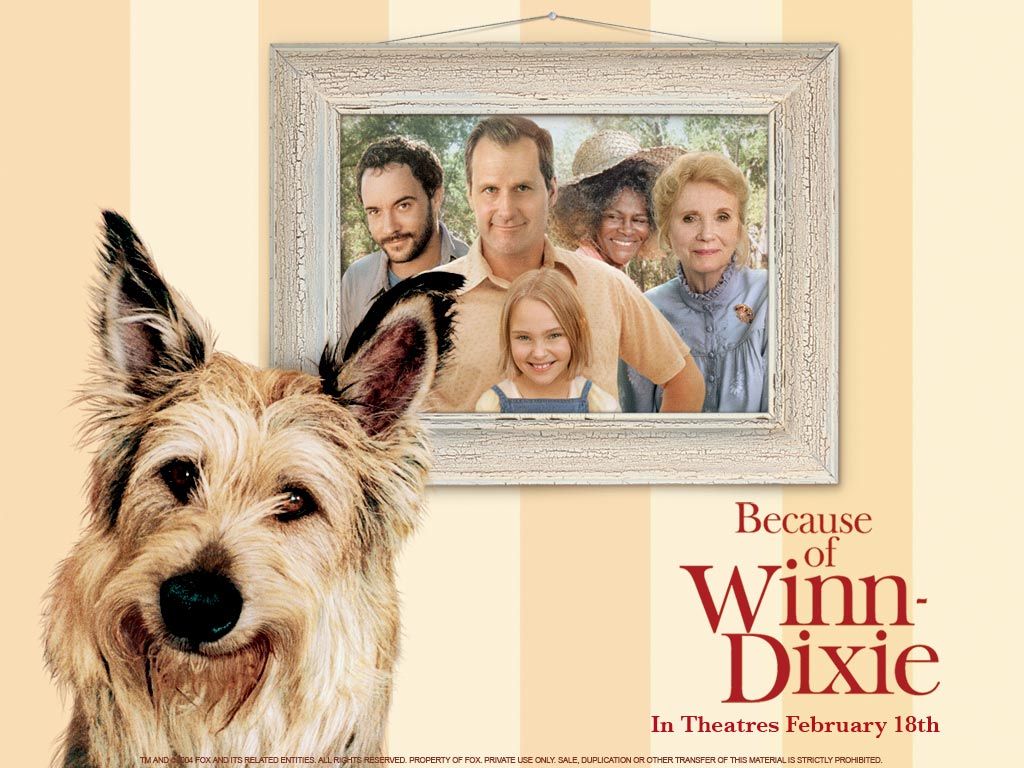 BECAUSE OF WINN-DIXIE (U)
Starring: Annasophia Robb, Jeff Daniels, Cicely Tyson
Comedy, Drama
A mischievous dog befriends a lonely young girl in a new town and helps her make new friends. Charming family comedy-drama. Mild bad language.
MOVIES ON TERRESTRIAL TV
THE STRAIGHT STORY (U)
11am Film4
Starring: Richard Farnsworth, Sissy Spacek
Drama
An old man makes a long journey by lawnmower to mend his relationship with an ill brother. David Lynch's most accessible movie is a genuinely moving story.
YOU'VE GOT MAIL (PG)
12.15pm 5*
Starring: Tom Hanks, Meg Ryan
Comedy, drama, romance
Two business rivals who despise each other in real life unwittingly fall in love over the Internet. Charming rom-com from the team behind Sleepless In Seattle. Mild language.
FIRST MEN IN THE MOON (U)
12.20pm Sony Movies Classic
Starring: Edward Judd, Martha Hyer, Lionel Jeffries
Sci-fi, adventure
When a spaceship lands on the moon, it is hailed as a new accomplishment, before it becomes clear that a Victorian party completed the journey in 1899, leading investigators to that mission's last survivor. Fine 60s adventure. Mild violence and peril.
THE TRAIN ROBBERS (U)
12.40pm ITV4
Starring: John Wayne, Ann-Margret, Rod Taylor
Western, Action, Comedy
A gunhand named Lane is hired by a widow, Mrs. Lowe, to find gold stolen by her husband so that she may return it and start fresh. Enjoyable John Wayne western. Mild violence.
BACK TO THE FUTURE PART III (PG)
1.15pm Film4
Starring: Michael J. Fox, Crispin Glover, Christopher Lloyd, Lea Thompson
Science Fiction, Adventure, Comedy, Western
Stranded in 1955, Marty McFly learns about the death of Doc Brown in 1885 and must travel back in time to save him. With no fuel readily available for the DeLorean, the two must figure how to escape the Old West before Emmett is murdered. Third and final part of the trilogy. Mild violence, mild bad language.
WARLORDS OF ATLANTIS (PG)
1.30pm Talking Pictures TV
Starring: Doug McClure, Peter Gilmore, Shane Rimmer
Adventure, Fantasy
Searching for the lost world of Atlantis, Prof. Aitken, his son Charles and Greg Collinson are betrayed by the crew of their expedition's ship, attracted by the fabulous treasures of Atlantis. They are all dragged to the bottom of the sea where they meet the inhabitants of the lost continent, an advance alien race makes slaves of the ship-wrecked sailors. Fun family adventure. Mild violence and peril.
PETE'S DRAGON (U)
2.15pm BBC2
Starring: Helen Reddy, Jim Dale, Mickey Rooney, Shelley Winters
Musical, Animation, Adventure
An orphan boy and his magical dragon come to town with his abusive adoptive parents in pursuit. Musical mixing live-action with animation. Very mild threat.
SMOKEY AND THE BANDIT (PG)
2.30pm ITV4
Starring: Burt Reynolds, Jackie Gleason, Sally Field, Jerry Reed
Action, comedy
The Bandit is hired on to run a tractor-trailer full of beer over state lines, in hot pursuit by a pesky sheriff. Burt Reynolds stars in the fun, action-packed comedy. Language and violence.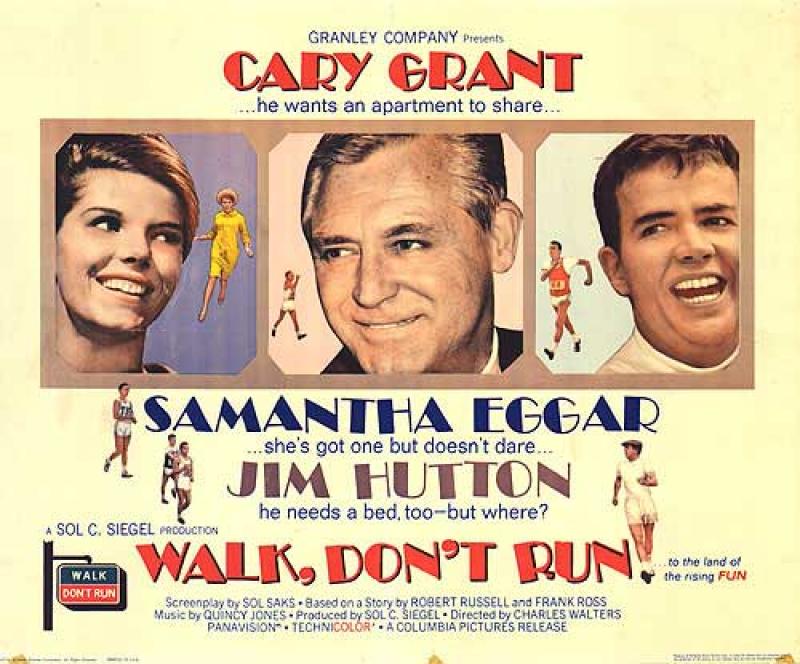 WALK, DON'T RUN (U)
1pm Sony Movies Classic
Starring: Cary Grant, Samantha Eggar, Jim Hutton
Comedy, romance
During the housing shortage of the Summer Olympic Games in 1964, two men and a woman share a small apartment in Tokyo, and the older man soon starts playing Cupid to the younger pair. 60s romantic comedy. One very mild sex reference.
SPY KIDS 2: ISLAND OF LOST DREAMS (U)
2.55pm ITV2
Starring: Antonio Banderas, Carla Gugino, Alexa Vega, Daryl Sabara
Action, Adventure, Comedy
The Cortez siblings set out for a mysterious island, where they encounter a genetic scientist and a set of rival spy kids. Fun sequel to the 2001 hit. Mild language and violence.
BEAN (PG)
3.25pm Channel 5
Starring: Rowan Atkinson, Burt Reynolds, Peter MacNicol
Comedy
The bumbling Mr. Bean travels to America when he is given the responsibility of bringing a highly valuable painting to a Los Angeles museum. First big-screen outing for the popular comedy character. Mild language and sex references.
YOUNG SHERLOCK HOLMES (PG)
3.45pm Film4
Starring: Nicholas Rowe, Alan Cox, Sophie Ward, Anthony Higgins
Adventure, fantasy, mystery
When assorted people start having inexplicable delusions that lead to their deaths, a teenage Sherlock Holmes (Nicholas Rowe) decides to investigate. Inventive twist to the Sherlock Holmes stories. Frequent mild violence and some mild horror.
OCTOPUSSY (PG)
4.25pm ITV4
Starring: Roger Moore, Maud Adams, Louis Jourdan
Action, Adventure, Thriller
A fake Fabergé egg, and a fellow Agent's death, lead James Bond to uncover an international jewel-smuggling operation, headed by the mysterious Octopussy, being used to disguise a nuclear attack on N.A.T.O. forces. Roger Moore's Bond still has great moments but age is taking its toll. Moderate violence, innuendo and sexual content.
COVER GIRL (U)
9pm Sony Movies Classic
Starring: Rita Hayworth, Gene Kelly, Phil Silvers
Musical, comedy, romance
Rusty Parker wins a contest and becomes a celebrated cover girl; this endangers her romance with dancing mentor Danny. Bright and breezy musical comedy from the 40s.
SHREK (U)
5pm ITV2
Starring: Mike Myers, Eddie Murphy, Cameron Diaz
Comedy, Animation, Fantasy
A mean lord exiles fairytale creatures to the swamp of a grumpy ogre, who must go on a quest and rescue a princess for the lord in order to get his land back. Hilarious animation fantasy. Very mild bad language and mild comic violence.
THE JUNGLE BOOK (PG)
5pm BBC1
Starring: Neel Sethi, Bill Murray, Ben Kingsley, Idris Elba
Adventure, Drama
After a threat from the tiger Shere Khan forces him to flee the jungle, a man-cub named Mowgli embarks on a journey of self discovery with the help of panther Bagheera and free-spirited bear Baloo. Wonderful live-action version of the classic story.
INDEPENDENCE DAY (12)
9pm Film4
Starring: Will Smith, Jeff Goldblum, Bill Pullman
Sci-fi, action, adventure
The aliens are coming and their goal is to invade and destroy Earth. Fighting superior technology, mankind's best weapon is the will to survive. The special effects are spectacular even if the script is creaky and massively jingoistic. Language and violence.
STARMAN (PG)
6.20pm Horror Channel
Starring: Jeff Bridges, Karen Allen, Charles Martin Smith
Science Fiction, Drama, Comedy
An alien takes the form of a young widow's husband and asks her to drive him from Wisconsin to Arizona. The government tries to stop them. Wonderful change of pace for director John Carpenter. Moderate violence, sex, rude gestures.
CASTLE KEEP (15)
6.50pm Sony Movies Action
Starring: Burt Lancaster, Peter Falk
Action, comedy, drama, war
During the Battle of the Bulge, an anachronistic count shelters a ragtag squad of Americans in his remote 10th Century castle hoping a battle there against the advancing Germans will not lead to its destruction and all the heritage within. A realistic war drama. Moderate sex references and violence.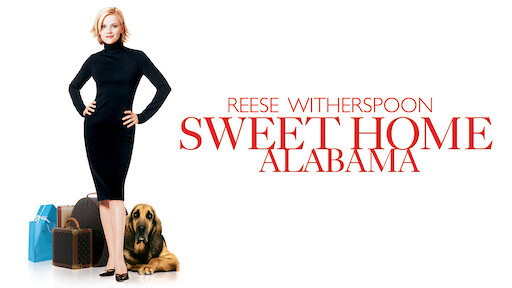 SWEET HOME ALABAMA (12)
6.50pm Sony Pictures
Starring: Reese Witherspoon, Josh Lucas, Patrick Dempsey
Comedy, Romance
A young woman who's reinvented herself as a New York City socialite must return home to Alabama to obtain a divorce from her husband, after seven years of separation. Routine comedy romance. Language/sexual references.
THE LEGEND OF TARZAN (12)
6.50pm ITV2
Starring: Alexander Skarsgård, Samuel L Jackson, Margot Robbie, Djimon Hounsou, Christoph Waltz
Fantasy, Action, Adventure, Drama
Tarzan, having acclimated to life in London, is called back to his former home in the jungle to investigate the activities at a mining encampment. Updated version of the Tarzan story. Moderate action violence, threat, injury detail.
NIGHT AT THE MUSEUM: SECRET OF THE TOMB (PG)
7pm E4
Starring: Ben Stiller, Owen Wilson, Robin Williams, Rebel Wilson, Dan Stevens, Ben Kingsley, Mickey Rooney, Dick Van Dyke, Steeve Coogan, Ricky Gervais
Comedy, Adventure, Fantasy
Larry spans the globe, uniting favorite and new characters while embarking on an epic quest to save the magic before it is gone forever. Final part of the successful franchise. Mild comic violence, mild threat.
BUS STOP (U)
7.05pm Sony Movies Classic
Starring: Marilyn Monroe, Don Murray
Comedy, Drama, Romance
A naive but stubborn cowboy falls in love with a saloon singer and tries to take her away against her will to get married and live on his ranch in Montana. Classic comedy with Marilyn Monroe. Sexual references.
CANNONBALL RUN II (PG)
8pm ITV4
Starring: Burt Reynolds, Dom DeLuise, Dean Martin, Sammy Davis Jr., Jamie Farr, Telly Savalas, Marilu Henner, Shirley MacLaine
Comedy, Action
The original characters from The Cannonball Run (1981) race across the country once more in various cars and trucks. Even the all-star cast couldn't save this messy sequel. Mild violence, language and sexual references.
DR. NO (PG)
8.30pm ITV1
Starring: Sean Connery, Ursula Andress, Joseph Wiseman, Jack Lord, Bernard Lee
Thriller, Drama, Action
A resourceful British government agent seeks answers in a case involving the disappearance of a colleague and the disruption of the American space program. The first outing for James Bond is one of the best. Mild action violence and sexual content.
THE SPY WHO CAME IN FROM THE COLD (PG)
9pm Talking Pictures TV
Starring: Richard Burton, Claire Bloom, Oskar Werner
Drama, Thriller
British Agent Alec Leamas (Richard Burton) refuses to come in from the Cold War during the 1960s, choosing to face another mission, which may prove to be his final one. Cracking spy thriller from John Le Carre. Mild violence, language and sex references. Black and White.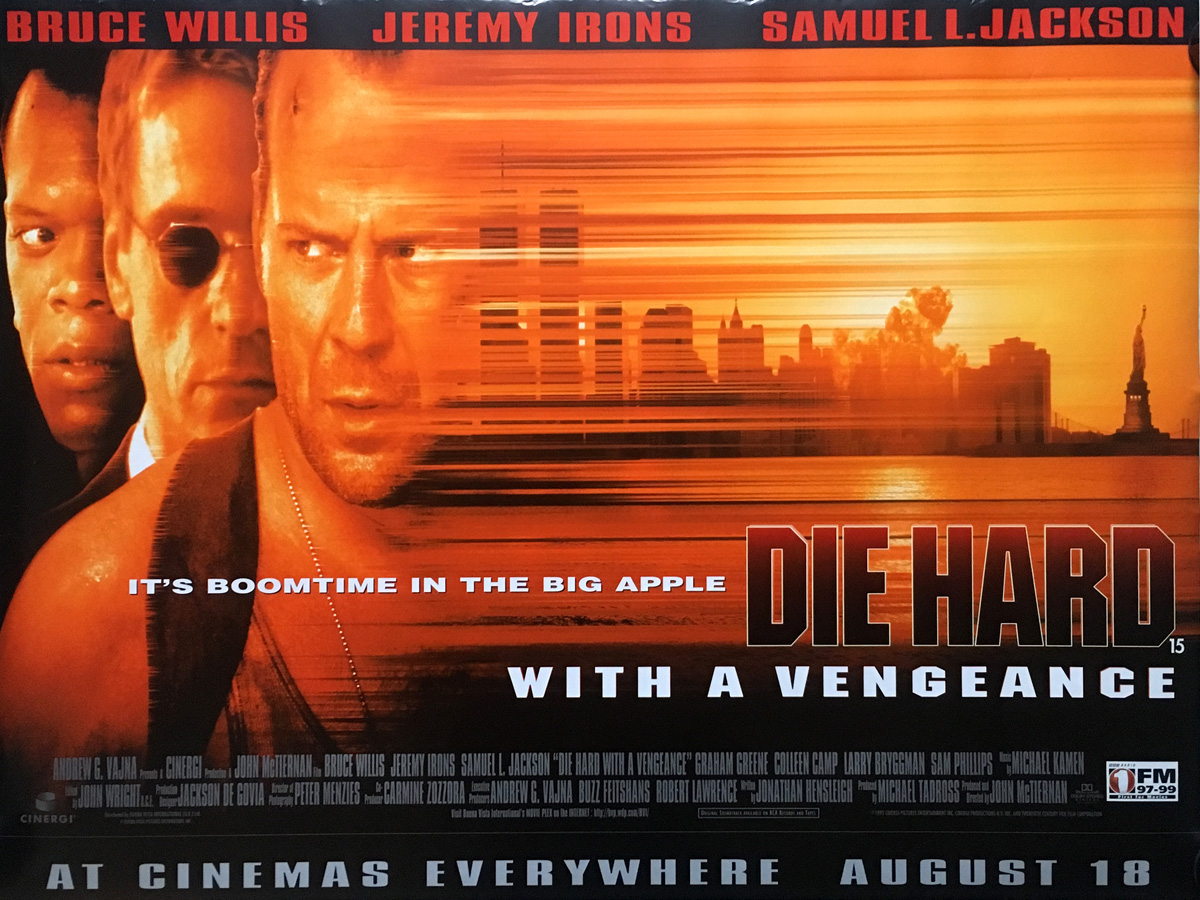 DIE HARD WITH A VENGEANCE (15)
9pm Sony Movies
Starring: Bruce Willis, Jeremy Irons, Samuel L. Jackson
Action, Adventure, Thriller
John McClane and a Harlem store owner are targeted by German terrorist Simon Gruber in New York City, where he plans to rob the Federal Reserve Building. Cracking third film in the Die Hard series. Strong language and violence.
AN AFFAIR TO REMEMBER (U)
9pm Sony Movies Classic
Starring: Cary Grant, Deborah Kerr
Romance, Drama
A couple falls in love and agrees to meet in six months at the Empire State Building – but will it happen? Classic love story that inspired Sleepless In Seattle.
THE WEDDING SINGER (12)
9pm 5*
Starring: Drew Barrymore, Adam Sandler, Christine Taylor
Comedy, Music, Romance
Robbie, a singer, and Julia, a waitress, are both engaged, but to the wrong people. Fortune intervenes to help them discover each other. One of Adam Sandler's better comedies. One use of strong language and moderate sex references.
MAD MAX 2 (15)
10.15pm ITV4
Starring: Mel Gibson, Bruce Spence, Vernon Wells
Sci-Fi, Action, Adventure
In the post-apocalyptic Australian wasteland, a cynical drifter agrees to help a small, gasoline-rich community escape a horde of bandits. Spectacular action-packed sequel to the 1980 original. Strong violence, scene of sexual violence.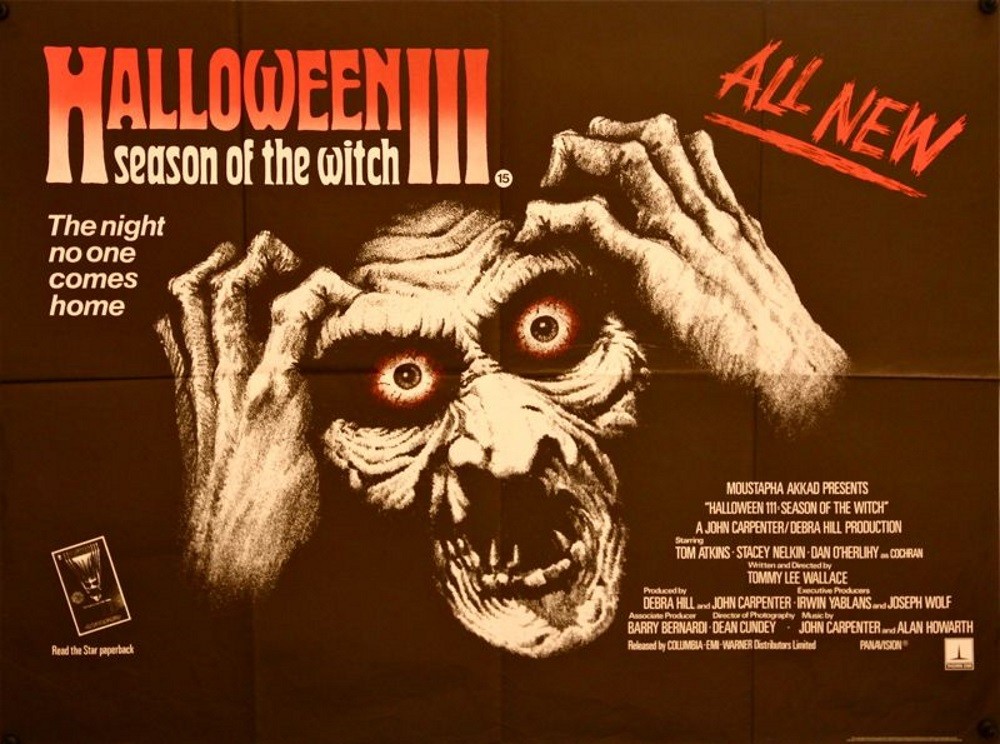 HALLOWEEN III: SEASON OF THE WITCH (15)
10.50pm Horror Channel
Starring: Tom Atkins, Stacey Nelkin, Daniel O'Herlihy
Horror, sci-fi
Kids all over America want Silver Shamrock masks for Halloween. Doctor Daniel Challis seeks to uncover a plot by Silver Shamrock owner Conal Cochran. Stand-alone horror with a sci-fi twist. Strong violence, language, sex, horror gore.
THE HUNTER (15)
11.15pm Talking Pictures TV
Starring: Steve McQueen, Eli Wallach, Kathryn Harrold
Action, comedy, drama
The story of professional bounty hunter Ralph "Papa" Thorson. Steve McQueen's final film is a fun romp. Violence and language.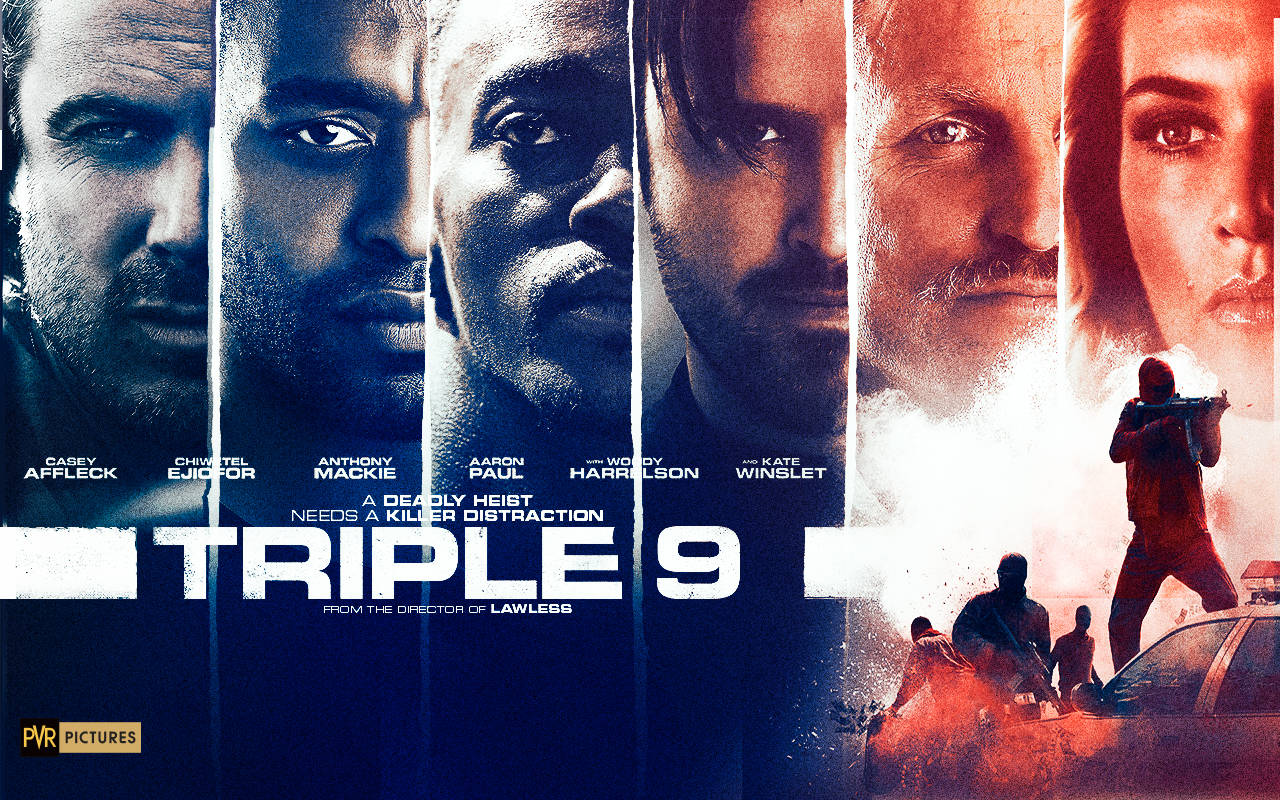 TRIPLE 9 (15)
11.15pm Channel 4
Starring: Casey Affleck, Chiwetel Ejiofor, Anthony Mackie, Aaron Paul, Norman Reedus, Woody Harrelson, Kate Winslet
Action, Crime, Thriller
A gang of criminals and corrupt cops plan the murder of a police officer in order to pull off their biggest heist yet across town. Tough crime thriller. Strong bloody violence, very strong language, drug use, sexualised nudity.
AUSTIN POWERS: INTERNATIONAL MAN OF MYSTERY (15)
11.20pm Sony Movies
Starring: Mike Myers, Elizabeth Hurley, Michael York
Comedy, adventure
A 1960s secret agent is brought out of cryofreeze to oppose his greatest enemy in the 1990s, where his social attitudes are glaringly out of place. The first and funniest of Mike Myers' Austin Powers movies. Strong sex references and violence.
TWO DAYS, ONE NIGHT (15)
12.15am BBC2
Starring: Marion Cotillard, Fabrizio Rongione
Drama
Liège, Belgium. Sandra is a factory worker who discovers that her workmates have opted for a EUR1,000 bonus in exchange for her dismissal. She has only a weekend to convince her colleagues to give up their bonuses in order to keep her job. Powerful drama with a terrific performance from Marion Cotillard. Language, suicide attempt. Subtitled.