Morning!
Have we survived the opening of pubs and restaurants? As I didn't go anywhere, I have no idea. Day two and it's very windy out there so best stay in to view one of the ton of movies on TV.
Don't forget to celebrate the 72nd anniversary of the NHS. Back to clapping at 5 this afternoon.
Stay safe, look after yourself and Happy Sunday!
AMAZON PRIME
HELLBOY (12)
Starring: Ron Perlman, Doug Jones, Selma Blair, John Hurt
Action, fantasy, horror
A demon, raised from infancy after being conjured by and rescued from the Nazis, grows up to become a defender against the forces of darkness. Fantastic fantasy from Guillermo del Toro. Violence and frightening images.
RISKY BUSINESS (18)
Starring: Tom Cruise, Rebecca De Mornay
Comedy, Crime, Drama
A Chicago teenager is looking for fun at home while his parents are away, but the situation quickly gets out of hand. The film that made Tom Cruise a star. Strong language, sex references, sex, nudity.
NETFLIX
BEHIND THE CANDELABRA (15)
Starring: Michael Douglas, Matt Damon, Debbie Reynolds, Rob Lowe
Biopic, Drama, Music
A chronicle of the tempestuous six-year romance between megastar singer Liberace and his young lover Scott Thornton. Fabulous biopic with great performances from a strong cast. Strong language, sex, sex references and drug use.
DAYLIGHT (12)
Starring: Sylvester Stallone, Amy Brenneman, Stan Shaw, Viggo Mortensen, Claire Bloom
Action, Adventure, Drama
Disaster in a New York tunnel as explosions collapse both ends of it. One hero tries to help the people inside find their way to safety. Exciting disaster movie. Disaster scenes, moderate threat and horror.
NOW TV/SKY CINEMA
THE NAKED GUN 2 1/2: THE SMELL OF FEAR (15)
Starring: Leslie Nielsen, Priscilla Presley, George Kennedy
Comedy
Lieutenant Frank Drebin discovers that his ex-girlfriend's new beau is involved in a plot to kidnap a scientist who advocates solar energy. More madcap comedy with Leslie Nielsen. Language, mild comic violence, sexual content and references.
PATRIOT GAMES (15)
Starring: Harrison Ford, Anne Archer, Patrick Bergin, Sean Bean
Action, Thriller
When CIA analyst Jack Ryan interferes with an IRA assassination, a renegade faction targets him and his family for revenge. Exciting continuing adventures of Jack Ryan, from Hunt For Red October. Infrequent strong language and moderate violence and sex.
DISNEY+
THE KID (PG)
Starring: Bruce Willis, Spencer Breslin, Emily Mortimer, Lily Tomlin
Comedy, Fantasy
An unhappy and disliked image consultant gets a second shot at life when he is mysteriously confronted by an eight-year-old version of himself. Gentle comedy fantasy. Mild violence.
DINOSAUR (PG)
Starring: Julianna Margulies, D. B. Sweeney, Joan Plowright
Animation, Adventure
An orphaned dinosaur raised by lemurs joins an arduous trek to a sanctuary after a meteorite shower destroys his family home. Impressive looking CGI animation from Disney. Intense images.
MOVIES ON TERRESTRIAL TV
THE SPONGEBOB MOVIE: SPONGE OUT OF WATER (U)
11am Film4
Starring: Tom Kenny, Bill Fagerbakke, Antonio Banderas
Animation, Comedy
After SpongeBob's beloved pet snail Gary is snail-napped, he and Patrick embark on an epic adventure to The Lost City of Atlantic City to bring Gary home. Crazy mix of CGI animation and live-action. A bonkers hoot. Mild slapstick violence, toilet humour.
FATHER BROWN (aka THE DETECTIVE) (PG)
11.50am Sony Movies Classic
Starring: Alec Guinness, Joan Greenwood, Peter Finch
Comedy, Crime, Drama
Works of art are disappearing, stolen by a master thief, a master of disguise. Father Brown has two goals: to catch the thief and to save his soul. Charming gentle detective drama. Mild language. Black and white.
FUN WITH DICK AND JANE (12)
12.40pm Sony Movies
Starring: Jim Carrey, Tea Leoni, Alec Baldwin
Comedy, crime
When an affluent couple loses all their money following a series of blunders, they turn to a life of crime to make ends meet. Likeable remake of the 70s comedy. Brief language, some sexual humour and occasional humorous drug references.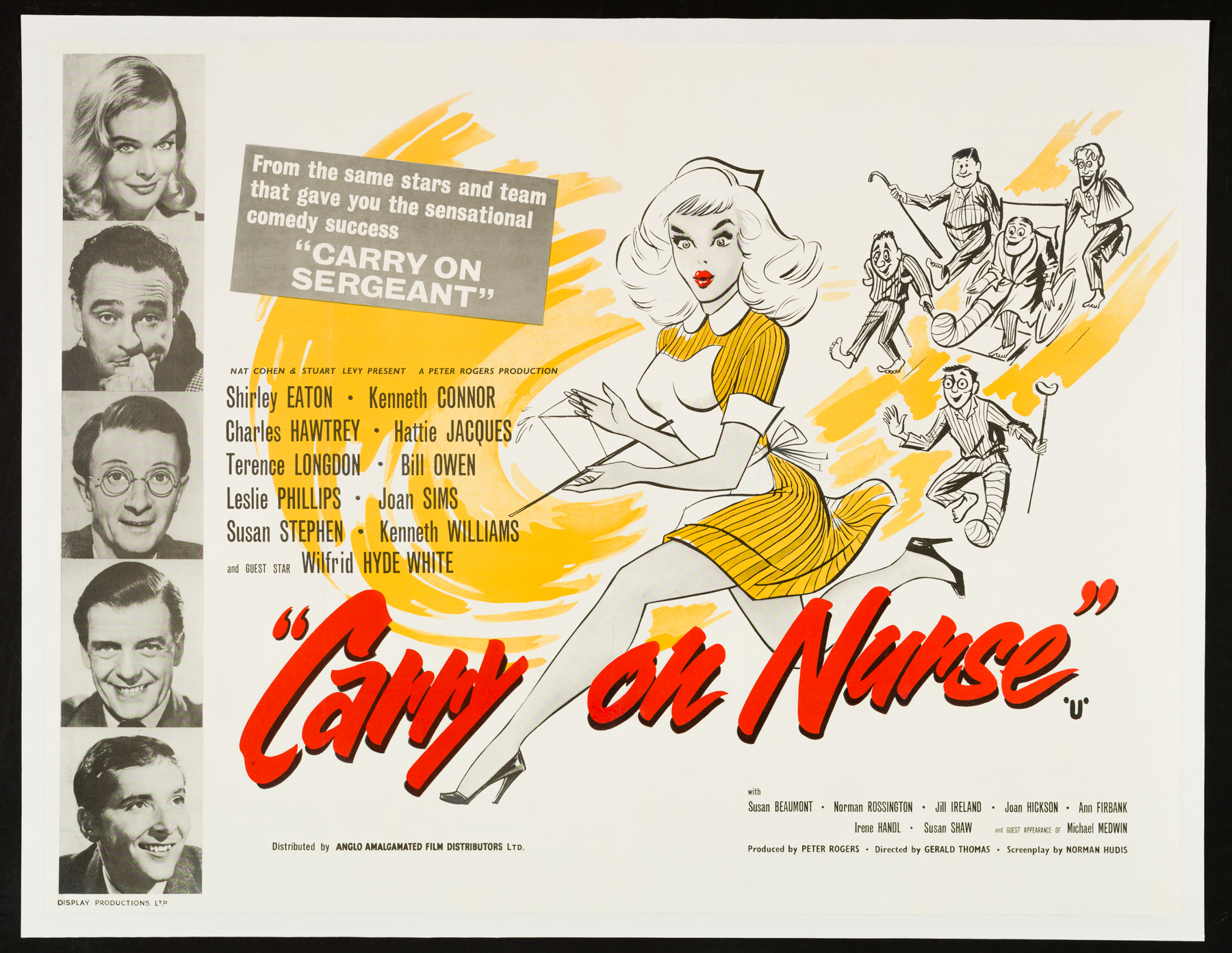 CARRY ON NURSE (U)
12.50pm Film4
Starring: Shirley Eaton, Kenneth Connor, Charles Hawtrey, Kenneth Williams
Comedy
An idiosyncratic group of patients wreak havoc in the men's surgical ward of Haven Hospital. They decide to take their revenge on the frosty Matron. Classic hospital fun from the Carry On team. Mild innuendo and slapstick violence. Black and White.
SHALAKO (PG)
1.30pm ITV4
Starring: Sean Connery, Brigitte Bardot, Jack Hawkins, Stephen Boyd
Western
In 1880 New Mexico, a group of European hunters runs afoul of the Apache but is aided by an ex-cavalryman turned guide. Sean Connery makes a rare outing in a western. Mild violence, language and nudity.
YOU MUST BE JOKING (U)
1.40pm Sony Movies Classic
Michael Callan, Lionel Jeffries
Comedy
A motley group of soldiers are set loose in swinging London in an initiative test to collect a selection of esoteric items. Silly 60s comedy. Mild innuendo.
THE WOLVES OF WILLOUGHBY CHASE (PG)
2pm Talking Pictures TV
Starring: Stephanie Beacham, Mel Smith, Geraldine James, Richard O'Brien
Adventure, Drama
Willoughby Chase is the grand but remote home of Sir Willoughby and Lady Green and their daughter Bonnie with a problems involving wolves. Family-friendly British adventure. Mild peril.
STUART LITTLE (U)
2.05pm Channel 4
Starring: Michael J. Fox, Geena Davis, Hugh Laurie
Comedy, Adventure
The Little family adopt a charming young mouse named Stuart, but the family cat wants rid of him. Charming and sweet family comedy. Brief language and mild peril.
THE TRUMAN SHOW (PG)
2.30pm Sony Movies
Starring: Jim Carrey, Laura Linney, Ed Harris
Comedy, drama
An insurance salesman discovers his whole life is actually a reality TV show. Wonderful satire on the world of TV. Mild threat and language.
LOCAL HERO (PG)
2.35pm Film4
Starring: Burt Lancaster, Peter Riegert, Fulton Mackay
Comedy, drama
An American oil company sends a man to Scotland to buy up an entire village where they want to build a refinery. But things don't go as expected. Gentle comedy from the director of Gregory's Girl. Language.
LEGALLY BLONDE(12)
3.20pm Channel 5
Starring: Reece Witherspoon, Luke Wilson
Comedy
Elle Woods (Reese Witherspoon), a fashionable sorority queen is dumped by her boyfriend. She decides to follow him to law school, while she is there, she figures out that there is more to her than just looks. Likeable comedy helped by a charismatic lead. Mild language and sexual references.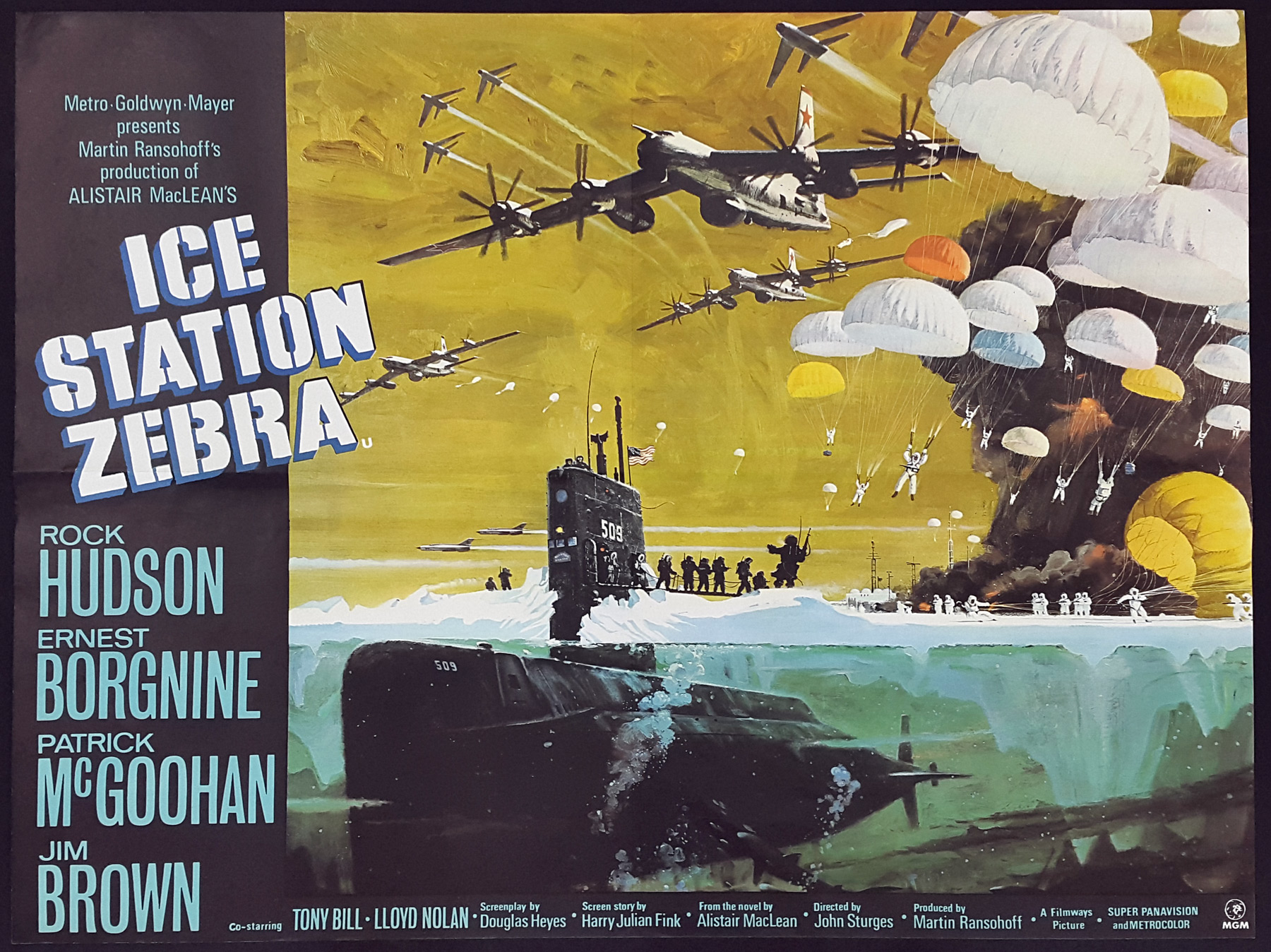 ICE STATION ZEBRA (U)
3.40pm BBC2
Starring: Rock Hudson, Ernest Borgnine, Patrick McGoohan
Adventure, Thriller
USN nuclear sub USS Tigerfish must rush to the North Pole to rescue the staff of Drift Ice Station Zebra weather station. Exciting boys own adventure. Mild violence, language and peril.
THE SWIMMER (PG)
3.45pm Sony Movies Classic
Starring: Burt Lancaster, Janet Landgard
Drama
A man spends a summer day swimming as many pools as he can all over a quiet suburban town. A strange drama with a solid performance from Burt Lancaster. Mild language and sex references.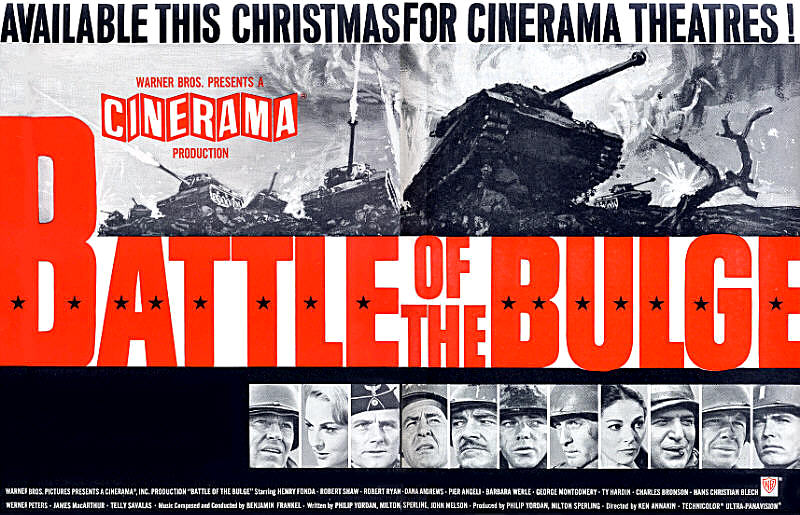 BATTLE OF THE BULGE (PG)
3.45pm ITV4
Starring: Henry Fonda, Robert Shaw, Robert Ryan
Drama, war
A dramatisation of Nazi Germany's final Western Front counterattack of World War II with an all-star cast. Terrific action sequences. Frequent mild violence.
CASPER (PG)
4.35pm ITV2
Starring: Christina Ricci, Bill Pullman, Cathy Moriarty, Eric Idle
Comedy, drama, fantasy family
An afterlife therapist and his daughter meet a friendly young ghost when they move into a crumbling mansion in order to rid the premises of wicked spirits. A delightful family fare that will touch as much as it makes you smile. Mild language, violence and ghost horror.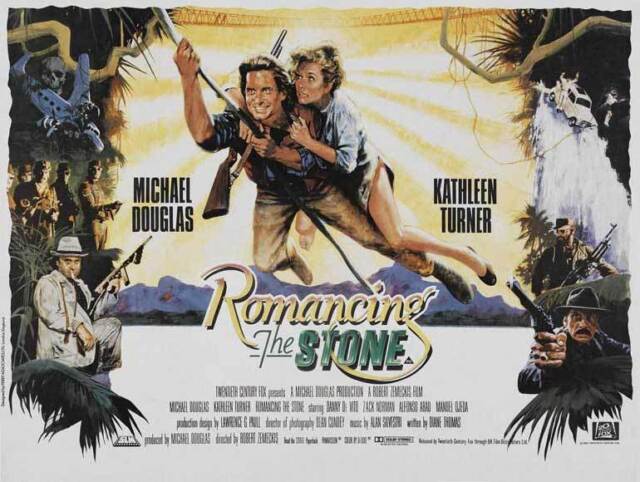 ROMANCING THE STONE (12)
4.45pm Film4
Starring: Michael Douglas, Kathleen Turner, Danny DeVito
Action, Adventure, Comedy
A mousy romance novelist sets off for Colombia to ransom her kidnapped sister, and soon finds herself in the middle of a dangerous adventure hunting for treasure with a mercenary rogue. Indiana Jones-style adventure from the director of Back to the Future. Moderate language, violence and drug references. May be edited for content.
BROKEN ARROW (PG)
5pm Sony Movies Action
Starring: James Stewart, Jeff Chandler
Western, Drama
Tom Jeffords tries to make peace between settlers and Apaches in Arizona territory. Terrific western adventure with James Stewart. Mild violence.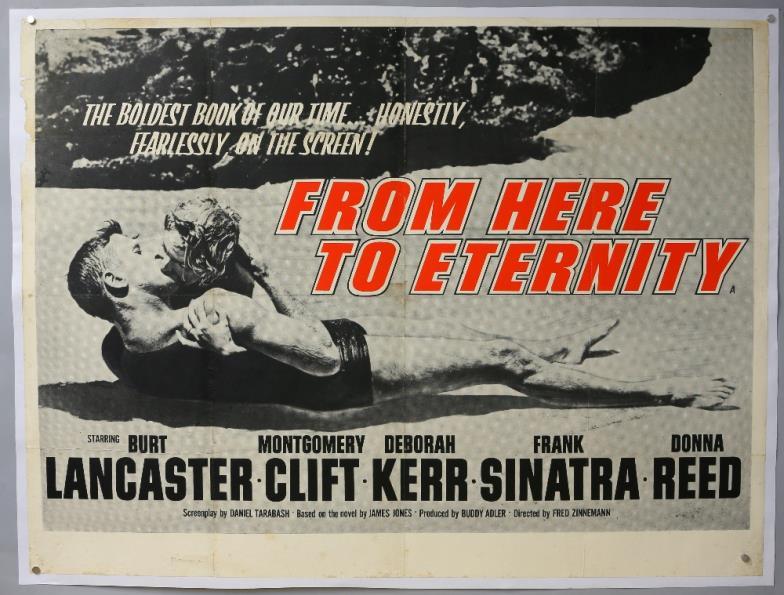 FROM HERE TO ETERNITY (PG)
5.40pm Sony Movie Classic
Starring: Burt Lancaster, Montgomery Clift, Deborah Kerr, Donna Reed, Frank Sinatra
War, Drama, Romance
In Hawaii in 1941, a private is cruelly punished for not boxing on his unit's team, while his captain's wife and second-in-command are falling in love. Oscar-winning wartime drama. Mild violence, sex references and language. Black and white.
THE HUNGER GAMES: CATCHING FIRE (12)
6.05pm E4
Starring: Jennifer Lawrence, Josh Hutcherson, Liam Hemsworth, Elizabeth Banks
Drama, Adventure
Katniss Everdeen and Peeta Mellark become targets of the Capitol after their victory in the 74th Hunger Games sparks a rebellion in the Districts of Panem. Solid continuation of the Hunger Games story. Moderate violence and threat, and infrequent strong language.
A GOOD YEAR (12)
6.40pm Sony Movies
Starring: Russell Crowe, Mitchell Mullen, Marion Cotillard
Comedy, Drama, Romance
A British investment broker inherits his uncle's chateau and vineyard in Provence, where he spent much of his childhood. He discovers a new laid-back lifestyle as he tries to renovate the estate to be sold. An unusual change of pace for director Ridley Scott. Language and some sexual content.
HOME ALONE (PG)
6.55pm Film4
Starring: Macaulay Culkin, Joe Pesci, Daniel Stern
Comedy, adventure
An eight-year-old troublemaker must protect his house from a pair of burglars when he is accidentally left home alone by his family during Christmas vacation. Christmas favourite from John Hughes. moderate slapstick violence and infrequent moderate language.
BIRDMAN OF ALCATRAZ (PG)
8pm Sony Movies Classic
Starring: Burt Lancaster, Karl Malden, Thelma Ritter
Biopic, Drama
A surly convicted murderer held in permanent isolation redeems himself when he becomes a renowned bird expert. Superb prison drama with a subtle lead in Burt Lancaster. Mild violence. Black and white.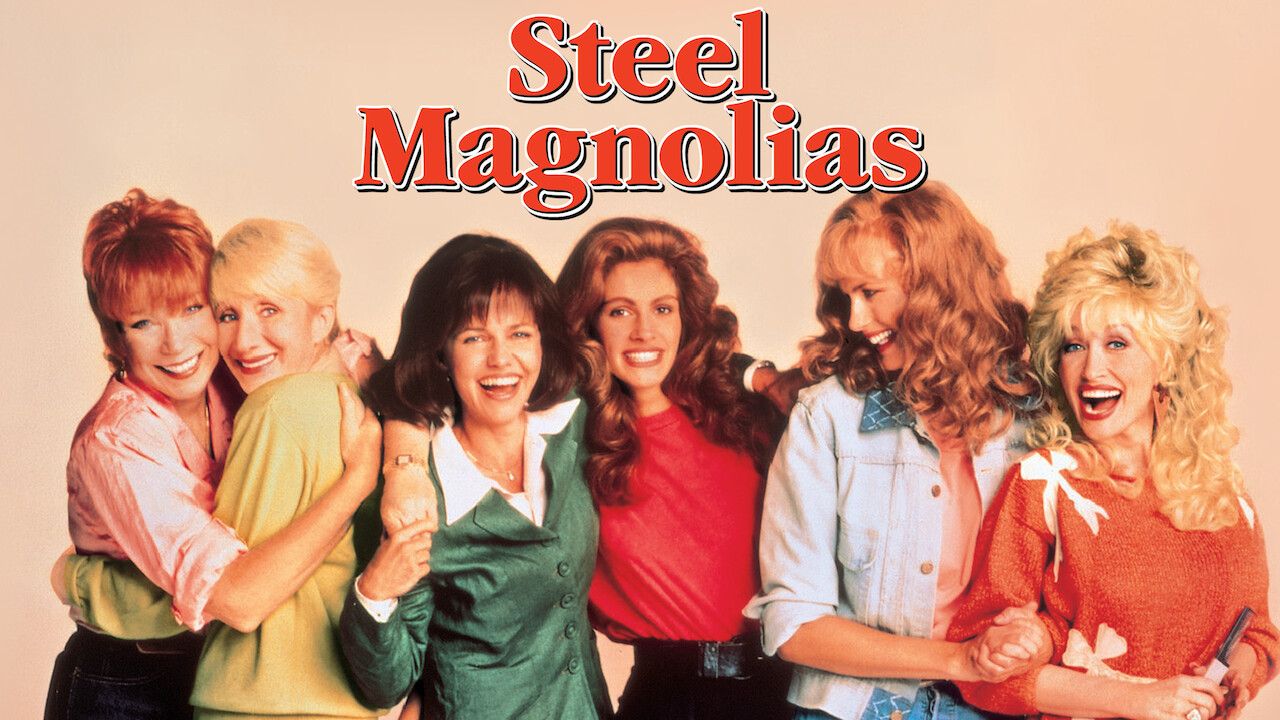 STEEL MAGNOLIAS (PG)
8pm 5*
Starring: Sally Field, Julia Roberts, Shirley MacLaine
Drama, comedy
A young beautician, newly arrived in a small Louisiana town, finds work at the local salon, where a small group of women share a close bond of friendship, and welcome her into the fold. Terrific ensemble cast tear-jerker. Mild language, sexual references.
CITY SLICKERS II: THE LEGEND OF CURLY'S GOLD (12)
8pm ITV4
Starring: Billy Crystal, Daniel Stern, Jon Lovitz, Jack Palance
Comedy
One year after their first western adventure, Mitch Robbins and his friends discover a treasure map that belonged to their late trail guide Curly and they set out to discover its secrets. Amusing sequel to the huge sleeper hit. Mild language, sexual references.
DAWN OF THE PLANET OF THE APES (12)
9pm Channel 4
Action, adventure, sci-fi, drama
Starring: Andy Serkis, Jason Clarke, Gary Oldman
The second of the rebooted series sees Ceasar (Andy Serkis) and the apes living in woodlands until the humans arrive looking for power. Brilliant addition to the successful series. Moderate violence, threat, infrequent strong language.
HARLOW (15)
10.05pm Talking Pictures TV
Starring: Carroll Baker, Martin Balsam, Red Buttons
Biopic, Drama
A screen adaption of the blistering best-seller which examines the story of platinum blonde bombshell Jean Harlow (Carroll Baker) who rose to fame in the reckless Hollywood of the 1930s. Fascinating insight into classic Hollywood.
COBRA (18)
10.15pm ITV4
Starring: Sylvester Stallone, Brigitte Nielsen, Reni Santoni
Action, Crime, Thriller
A tough-on-crime street cop must protect the only surviving witness to a strange murderous cult with far-reaching plans. Sylvester Stallone's 80s exploitation cop thriller. Strong language and violence.
ERIN BROCKOVICH (15)
10.25pm 5*
Starring:  Julia Roberts, Aaron Eckhart, Albert Finney
Drama, biopic
An unemployed single mother becomes a legal assistant and almost single-handedly brings down a California power company accused of polluting a city's water supply. Oscar-winning performance from Julia Roberts. Strong language.
NOW YOU SEE ME (12)
10.55pm Channel 4
Starring: Jesse Eisenberg, Isla Fisher, Morgan Freeman, Mark Ruffalo, Woody Harrelson, Michael Caine
Thriller, Drama, Action, crime
An F.B.I. Agent and an Interpol Detective track a team of illusionists who pull off bank heists during their performances, and reward their audiences with the money. Entertaining crime caper. Moderate sex references, violence, threat and strong language.
TOUCHING THE VOID (15)
11.05pm 4Seven
Starring: Joe Simpson, Simon Yates, Richard Hawking
Documentary, Adventure, Drama
The true story of two climbers and their perilous journey up the west face of Siula Grande in the Peruvian Andes in 1985. Heart-stopping documentary. Strong language and extreme peril.
THE TAKING OF PELHAM ONE TWO THREE (15)
11.05pm Sony Movies Classic
Starring: Walter Matthau, Robert Shaw, Martin Balsam, Hector Elizondo
Action, Crime, Thriller
In New York, armed men hijack a subway car and demand a ransom for the passengers. Even if it's paid, how could they get away? Superb thriller from the 70s. Highly recommended. Strong language and violence.
MACKENNA'S GOLD (15)
11.15pm Sony Movies Action
Starring: Gregory Peck, Omar Sharif, Telly Savalas
Western, Adventure
A bandit kidnaps a Marshal who has seen a map showing a gold vein on Indian lands, but other groups are looking for it too, while the Apache try to keep the secret location undisturbed. Tough western action with a good cast. Violence, mild language and sexual content.
BUILD MY GALLOWS HIGH (PG) (aka Out Of The Past)
1.10am Sony Movies Classic
Starring: Robert Mitchum, Kirk Douglas, Jane Greer
Crime, Drama, Film-Noir
A private eye escapes his past to run a gas station in a small town, but his past catches up with him. Now he must return to the big city world of danger, corruption, double crosses and duplicitous dames. Cracking film-noir. Mild violence.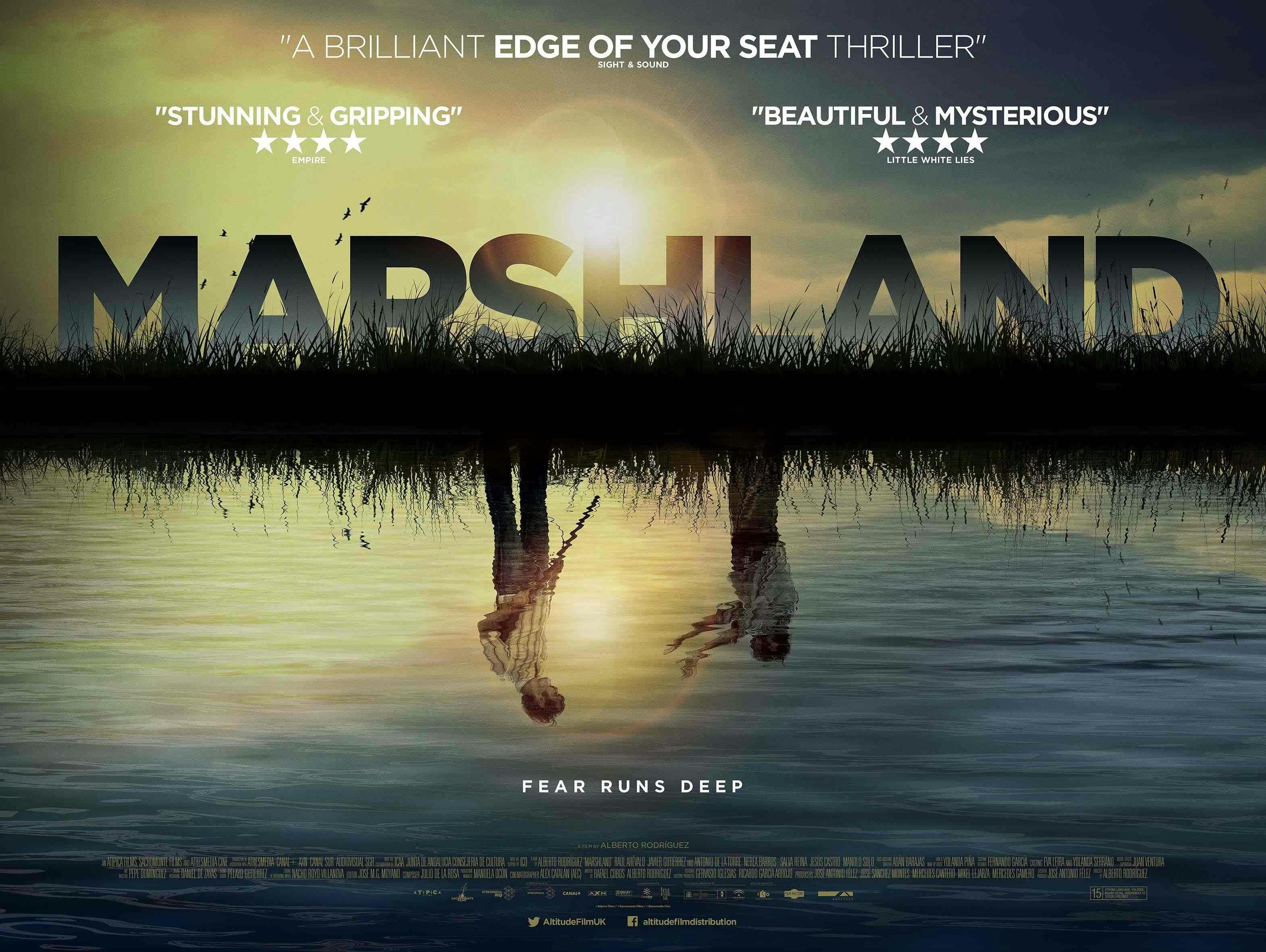 MARSHLAND (15)
1.45am Film4
Starring: Javier Gutiérrez, Raúl Arévalo
Drama, Crime, Thriller
Two cops lost in the deep south of Spain. One serial killer to catch. A lot of secrets and lies to disclose. Gripping thriller from Spain. Strong language, violence, injury detail, references to sexual violence. Subtitled.